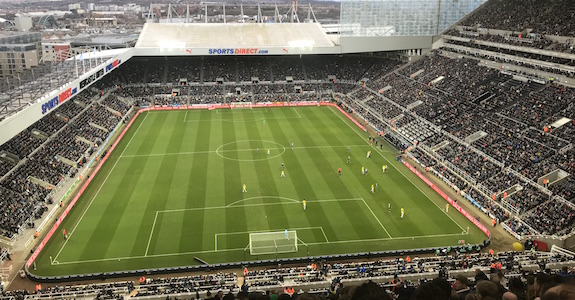 Hello. I'm an Oxford fan. I'm also a Geordie.
I've grown up in Newcastle, going to the cinemas, the pubs, the clubs, the gigs and, yes, the football. I've been to St James' Park at least six times, including for rugby matches and international football (the last time I saw a team in yellow play there was the Brazilian men's side at the 2012 Olympics), but I've also seen four or five Newcastle United games. I've seen them good – a 2-1 victory over Man City. I've seen them bad – a 2-0 defeat to Everton. I've seen them annoyingly mediocre in a 0-0 draw with Brighton.
Most of my football-minded mates support Newcastle – largely in the way that kids in Blackbird Leys might, purely because it's the local team, not out of any particular affinity for the side. I only know one or two who've been to away games, ever (probably not helped by the extra hour-and-a-half of travel time you have to undertake from Newcastle before you get to anything meaningful in football terms). Supporting a 'weird' team like Oxford isn't too much of a problem, though; people understand my reasons (my dad's from Oxford), and whilst there were debates, they often centred around Oxford's terrible football (I was on the bus back from a sports fixture when we played Newcastle in 2017; I can still remember the look on my mate's face when Simon Eastwood saved Newcastle's penalty).
Yet, for some reason, I never seriously considered supporting my hometown club. For many, that will sound like treason; I hope the fact that I chose Oxford instead will appease you. Ultimately, football in Newcastle is too emotional, either angry, dejected or euphoric; there's little middle ground. Geordies are the friendliest people on earth, but stick them in a lopsided bowl and force them to watch their team failing to deliver for two hours every fortnight and it's quite a different story. The club is in a bad way – over-expectant fans with a disinterested owner – and it's hard to see where the answer lies. Mike Ashley appears to have softened his stance on selling the club in recent years, but history isn't an attractive selling position, and Newcastle in their current state are hardly a sought-after asset, what Regent Street is to Monopoly – the expensive one that needs a massive effort to make it successful. There's no quick wins for football on Tyneside (in Tyne and Wear, come to think of it, considering Sunderland's current plight).
It felt weird on Saturday. In a way, Oxford United has always been something that's been external to home; my first game was at Gateshead, but barring that and a match at Hartlepool, every game has been at least a four-hour round trip. There's never been a football ritual for me, so the familiarity of the experience of Saturday – Metro into town, pints at the same pubs I go to, food at the same places I eat at – was unlike anything I've experienced, ever. It felt a bit like Wembley – I'm used to away days at places like Accrington or Scunthorpe, so the sheer numbers of Oxford fans invading my home town was slightly bizarre.
Perhaps the sad thing is that Newcastle weren't even that bad on Saturday – I've definitely seen them play worse. A combination of poor decision-making in the final third and a sterling performance from our defence, in particular, meant that they didn't seize the victory – on this occasion. But, in their crisis-ridden state, every misstep exacerbates the problems within the club, becomes yet more ammunition to hurl at Mike Ashley. Before the game, a bloke walked up to me in my yellow shirt and said, with utmost politeness, 'yous are gonna get f***ed today'. That morphed into a genuinely nice conversation about the game; I said that I thought Newcastle would win but we'd score; he said that although he wasn't sure about what the outcome would be, he'd just bet against Newcastle, because he had lost all confidence in his team. After the game, though, home fans, still unerringly polite, praised Oxford whilst lambasting their side. It's a very negative football culture – perhaps akin to our Conference years, the difference being that, in the Conference, we had a goal. For teams like Newcastle, or Everton, or West Ham, teams with proud histories, their goals at the moment consist purely of survival in the top flight, sapping joy from the fanbase.
I still look out for the Newcastle results, keep an eye on the squad, maybe just for something to chat about when the topic inevitably comes up. There was always only going to be one team for me in this game, though. In fact, outsinging the Toon fans at their own place – outsinging more than 45,000 Premier League fans at a ground known for its passion – was made even more special by the fact that this is where I grew up (the fans were unusually quiet, probably because of the £5 ticket offer, but I'm still delighted with that outcome; it's not often that the 'is this a library' chant is actually valid).
Newcastle is my home. But Oxford will always be my footballing home. With a disinterested opposition, the replay offers an opportunity for more headlines, to put that joy back into our fanbase, to unite it in a way that it hasn't been, arguably, since Appleton left. It also offers me opportunity for further bragging rights. Bring on the replay.