A WEEK OF CUP FOOTBALL
My indifference to the Checkatrade Trophy lessened just enough that I listened to the beginning of the game on Radio Oxford and also most of the second half. I'd be fibbing if I said I wasn't pleased we'd won.
Although I've vowed not to return to this tournament in its current guise with Premier League U21 teams participating, I'm just marginally happier with it now that the rules on team selection have been relaxed to such an extent that we were able to make so many changes to the starting line-up compared to that at Scunthorpe the previous Saturday.
I find it quite appealing to get a glimpse of fringe players in a competition that doesn't matter as much and in particular potential stars of the future. Cameron Norman, Luke Garbutt, Charlie Raglan and Sam Smith fall into the first category, with Harvey Bradbury and Aaron Heap in the latter.
The RadOx commentators made a compelling case for the vast majority in yellow shirts having something to prove and also made an excellent point regarding the progress Bradbury and Heap have made. Beyond expectations by quite a distance apparently and I think they mentioned that Heap, who is only 17, is captain of the U23s.  Without having such a team, our local radio station pointed out, a number of players currently on the books who look like they could be real assets for the future would in all likelihood not be at OUFC.
Funding the U23s won't be cheap. It shows we're not as penny pinching as some would have it. Someone must have a pot to piss in, provided it is being paid for with real money and hopefully is not saddling the club with debt we can't cope with.
The above was written on Wednesday evening.  As was, time to wonder where the Erick Thohir thing is going, if anywhere?
I woke up on Thursday morning to the news that Thohir had joined the board. Not that it is in itself particularly meaningful but Wikipedia lists his net worth as US$1.4 billion (2018).  In his time as Chairman of Inter Milan their highest finish was 4th and their lowest 8th in Serie A which will have been a huge disappointment for their fans. Inter were champions for five years in a row from 2005/06 onwards.
With interest I wait to see what he brings to Oxford United. These could be exciting times but I'm not going to get carried away. As ever it is a case of wait and see.
And then just a few hours later the news breaks that the club have been served with their second winding-up petition in less than eight months by HM revenue and customs (HMRC). So what is it? Can't pay or won't pay? Or an administrative oversight? Hopefully the situation will be addressed pdq especially now Thohir is on board. We don't want an unhappy taxman constantly hassling us.
Time to put this to one side and think about the forthcoming game.
Generally speaking I'd rather be drawn at home than away in any cup competition and also to be paired with a team that is not in our division. I was therefore quite pleased when the balls gave FGR a trip to the Kassam Stadium.
Given that they come from a tiny place, Nailsworth, their home gates which average 2655 in the league so far this season is highly impressive. They are of course the world's first vegan football club which is all down to Dale Vince their chairman and majority shareholder.
Pointing out that there's a non-league ring to this would be doing them a disservice because they are now in their second season as a Football League club and as they sit ninth in League 2 are only 12 places behind us in the current rankings. So in theory no-pushover, if there's ever such a thing in games like this. (As was probably the case when we beat them 1-0 in the second round three seasons ago. A game I attended but have no recollection of whatsoever.) Indeed they've only lost two league games all season, although these defeats did come in the last five. The teams that turned them over were the resurgent Cobblers and table-toppers Lincoln, so no disgrace.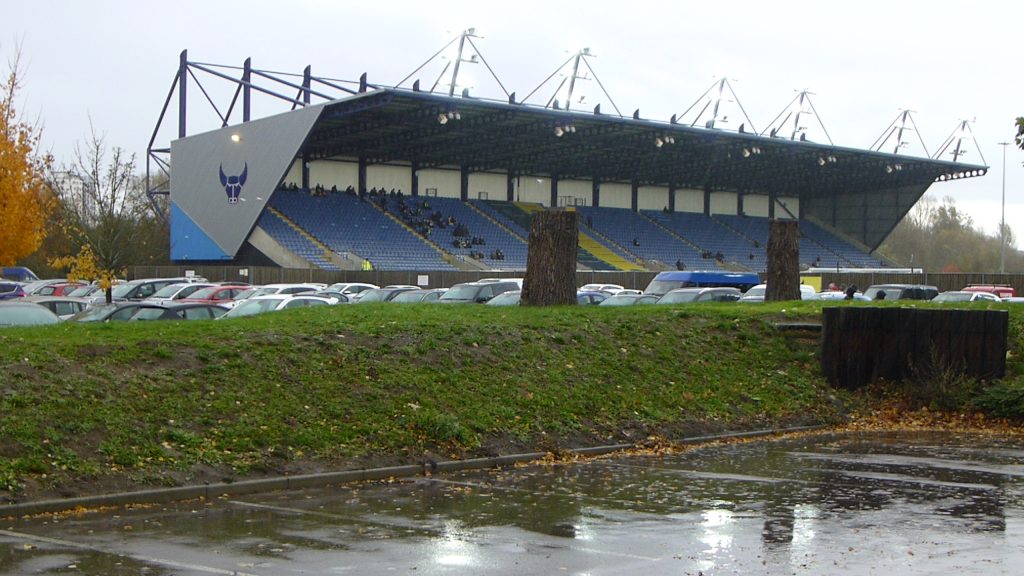 Oxford United 0 Forest Green Rovers 0 Entertainment 0
After half an hour my verdict was that we weren't good enough to win this game but possibly weren't quite bad enough to lose it. And so it turned out with a replay at the New Lawn to be faced a week Tuesday.
But boy are we lucky to have a second chance to progress to the second round. I have to disagree with Karl Robinson's assertion that we were not bad. We were bad; at times very bad. The only reason that we live to fight another day is that FGR's finishing was comically awful on a couple of occasions. Absolute sitters were spurned. And they hit the post a minute or so from the end.
So what if the shot count was 16-13 in our favour? So what if we out did them by one in the on target stakes, four to three? Our efforts never really worked their keeper, James Montgomery. We never really created genuine clear cut openings like they did. It was so noticeable that we have not got a switched on clinical finisher who can get on the end of balls cut across the box, and there were a couple of those, although they may have been intended as shots to be honest.
This display was the worst we've produced by some distance for quite a while. It very much reminded me of earlier in the season when it looked like we were only heading in one direction.  We didn't move the ball quickly. There were lots of misplaced passes when under no pressure whatsoever. There was little understanding and link up play and no great effort to find space and receive the ball in areas that would hurt the opposition. Marcus Browne, talented that he is, appeared to me to be playing more for himself than the team. It's not possible to physically run through opponents.
The high energy closing down we saw in the last home game just wasn't there and there was a lack of urgency throughout.
It would be unfair to blame the returning Luke Garbutt and Sam Smith (who by all accounts played well against Wycombe) for a return to the type of performance we saw here, but I did wonder what any common denominator might be.
Early on there was a lot of space down Rovers right flank and I was feeling that wouldn't have been there if Josh Ruffels had been playing. I'm hoping his injury is just a minor one.  Tim R, who sits in front of me, remarked about Garbutt: he's neither fast nor strong. I wouldn't disagree but did note that he played a couple of swift cute passes to colleagues further up the field. That though is not a full-back's primary function.
I recall Smith making one very neat lay-off for a team mate to run on to but that was about the sum total of his contribution. He's only 20 and I hate to have a go at anyone let alone a youngster but there's no getting away from the fact that things are just not working out for him at Oxford. Anything he won in the air went to no-one or into touch. He doesn't put himself about and when he did receive the ball in semi-tight situations just didn't have what it took to keep it. Whether that's control or confidence or a combination of both I don't know.
Garbutt didn't reappear for the second half due to a hamstring problem and Smith was replaced by Jamie Mackie on 63 minutes as was John Mousinho with Jamie Hanson.
Our captain was on a booking and wasn't getting on with referee Nick Kinseley, more of him later, so it was sensible to remove him even if he'd not been our worst player.  Too risky for me to have used all our substitutes with half an hour playing time remaining though.  If the changes are enforced that's a different matter.
This was a match in which mistakes, which were shared around many of the side, plus there being no hurry from either side to get the game going again after a stoppage, featured to a much greater extent than anything that was even half exciting. Well, nothing properly exciting occurred did it?
I suppose the only small crumb of comfort is that it only cost £12 to watch this cheerless affair. You get what you pay for, apparently. So I dread to think what horrors await us at Valley Parade in a fortnight's time.
Other than keeping a very fortuitous clean sheet and thus getting a draw to keep our unbeaten run going, there's very little in the way of positives that can be picked from the 90 plus minutes witnessed.
We did have a few players that are a bit more worthy of a mention than others but standards were pretty low so it could be interpreted as damning with faint praise, but here goes.
Curtis Nelson's quality was evident even in this mess.
Cameron Brannagan was one of our better performers. He dropped deeper and showed for the ball when it seemed like plenty were hiding.
Gavin Whyte came closer than anyone to getting us off our seats. Pace and ability to beat an opponent in more ways than one.
But that's about it. Were (m)any others better than bang average? Tony McMahon was steady I suppose, as possibly was Rob Dickie in his own way.
Although I'm grateful to be in the draw for round two I feel quite deflated. I'd slowly built myself up to believe we had a decent chance of league survival as our performances and points tally have slowly improved but looking at our squad today any comfort I'd talked myself into got a nasty jolt.
It was the realisation on listening to Radio Oxford on the way home what a crocked squad we've got and that's not just down to bad luck. I was obviously aware of it and have referred to it in previous FVs but this time it struck me as an even bigger issue than I'd thought earlier.
Ricky Holmes can't play every game because of his bad back. We knew that when we brought him in. He wasn't even on the bench here.
The list of Mackie's ailments read out on the radio was a long one. He was on the bench and the view was that he can't play two games a week. We knew that when we got him.
Browne, even though he is much younger, has injury issues too that we knew about.
Robbie Hall's history is well documented and we took a gamble when we got him back a few years ago.
I'm not sure about Samir Carruthers back story regarding the treatment table but we're not likely to see much of him.
Then there's Shandon Baptiste's shoulder and we'll likely never see Jon Obika again in an Oxford shirt. I know he's been a big disappointment, but we could get to the stage when we just need fit bodies.
On that note I can't get too enthused about Jordan Graham re-joining us. After tearing his knee ligaments for Wolves against Cardiff in January 2016 he was out of first team football for 15 months and has hardly played since.
What do we do? Just muddle along picking players like Smith when the broken bodies have broken again or are just in need of a rest? Gamble and see what the youngsters can do? Is that young Bradbury fella as good as his Dad? Or will we see significant movement, one way or both, when the January transfer window open?
At the moment I am not looking forward to the Gillingham game with much enthusiasm. Mackie is suspended. Oh yes, that's another way to lose players. And bloody international call ups.
Here's hoping Holmes and Ruffels are back but if I were the manager I'd be struggling to know who to pick as our striker (probably the wrong terminology).
As threatened earlier here's a few thoughts on Kinseley the man entrusted with the whistle. What a bizarre display. I often play back incidents in games on the internet or that I've recorded from TV at half or quarter speed to spot exactly what occurred when in real time it's all too quick to know. Anyone watching this referee would have thought he had such a control attached to his body that he kept activating from time to time, he was that far behind what was happening before our eyes.
On a couple of occasions he let play carry on when there was no hint of advantage and possibly not of a foul either only to blow a few seconds later. And his worst was when the visitors took a first half corner. The ball was well on its way into the penalty area before he blew. This prompted me to think he'd blown for a foul, probably to us but possibly for a penalty. Thankfully our players were playing to that golden rule, don't play to the whistle if the referee is a twat.
His consistency in fouls he gave and didn't give left a lot to be desired and how he allowed Browne to be blocked off a couple of times without punishment was, from where I was sat, inexplicable.
But hey- ho, he didn't cost us. Nor Forest Green who probably thought he was pretty crap too.
Are we saddled with him for the replay?
Finally a word or two on FGR. Hated their colours. Another real clash for us colour blind types and I know I wasn't the only one. I'm glad they couldn't shoot but have to say they knocked it around much better than us during certain spells of the game. I was quite impressed with no.8 Dale Grubb who ran at us with purpose and had energy in midfield. He's 27 years old and until last January was playing for Weston-super-Mare.  I don't believe everything I read on the internet though. Soccerbase have Grubb's stats at the Somerset club as league games played 2 and goals scored 57. Some player that would have been.
An example of the quality of facilities the club are supposed to be paying for