SHREWSBURY TOWN AT HOME
Some OUFC legends
125 YEARS AND COUNTING … THE HOURS TO OUR NEXT GAME
There's so much that goes to make up a football club. It is what it is at any one time but within that it has a fair bit of how it got there, its history including the good and the bad. When I started following Oxford United in the 60s I would never in my wildest dreams have placed us in the top flight for a few seasons or winning a major final at Wembley in front of over 90,000 people. Neither in my worst nightmares would playing outside the football league have featured.
It is quite right that the 125 years is celebrated but in the build up my focus was 99.9% on the 90 minutes of football against Shrewsbury Town and the pressing need to win three points, particularly given our perilous league position.
The past means a tremendous amount to me. The crack, the tales, the euphoria, the hurt, the despair, legendary matches, legendary players (some more so than others), the Manor, the away days, the people met and friendships formed.
But truthfully I'm more interested in the here and now and what the future is going to bring for OUFC.
It takes some believing that the club was formed in the Britannia all those years ago. I obviously drank a few times in the Brit. As it was so close to the London Road terrace entrance it would have been almost impossible not to have done so but it was never my regular pre-match place for refreshment.
I toyed with the idea of doing the walk but decided against it. Well done to the Yellow Army and those that did.
Pre-match there were way more bodies in the Quadrangle (is that what it is still called?) than there usually are. There was a singer with guitar set up in the corner and the sound he produced was a decent one. Shame then that after he'd finished one number only myself and Mrs FV clapped. Why aren't people more polite? Miserable gits. I feel the same when there's free and, at times quality, entertainment in pubs and the reaction is total indifference. But that's me.
My own personal nod to the festivities was in wearing my HUFC / OUFC half and half scarf. I think replica shirts, whilst they can look rather smart, are at the best of times a rip off at full price. It's not obligatory to buy one so I can't get too worked up about this and the same goes for the 125 limited edition orange design with black trim at £75 a pop that were available, and all bought I believe. (How much for the shirts actually worn by the players on the day?) It was reported in the Independent no less that the same design can be bought from Puma's own store without any club insignia for as little as £8.
If bought before the day, ticket prices were a greatly reduced £12.50. A great gesture. Before I gave it any deep thought I was of the opinion that the number of home fans that turned up was disappointing. On our four previous Saturday league games at the Kassam we'd averaged 5,929 home fans. On Saturday the number was 8,103. An extra 2,174. I was hoping for something much closer to a full house. But bearing in mind the football we've been playing and our home record, on reflection that's probably very fanciful.
Included in these figures obviously there's season tickets. I think approx. 4,000 were sold this season. No discounts for us. I wasn't as miffed as some but not for the first time felt a little over-looked and taken for granted. We did of course get £10 off in the club shop, so mustn't grumble.
As for the evening event, live interviews with club legends, drinks and canapes in the Sheldonian and a "superb" three course meal in the Bodleian – that wasn't for me either.  Again I hope those that did attend thoroughly enjoyed it and money was made for the Academy.
I'd much rather talk about the old days with a legend if and when I bumped into them over a pint or two where it would probably be so much more natural. That said, the interviews PRB does at the Manor Club for the Over 60s in the Cowley Workers Club are absolutely superb, as are his guests. I don't think you could spend a better fiver. Well done OUFC on this.
To attend the Sheldonian / Bodleian do set one back £125 (+VAT) and the host was Jim Rosenthal, a man I recall saying at the 25th anniversary meal celebrating the Milk Cup win that FOUL were not true Oxford United supporters. So no, not for me but each to their own.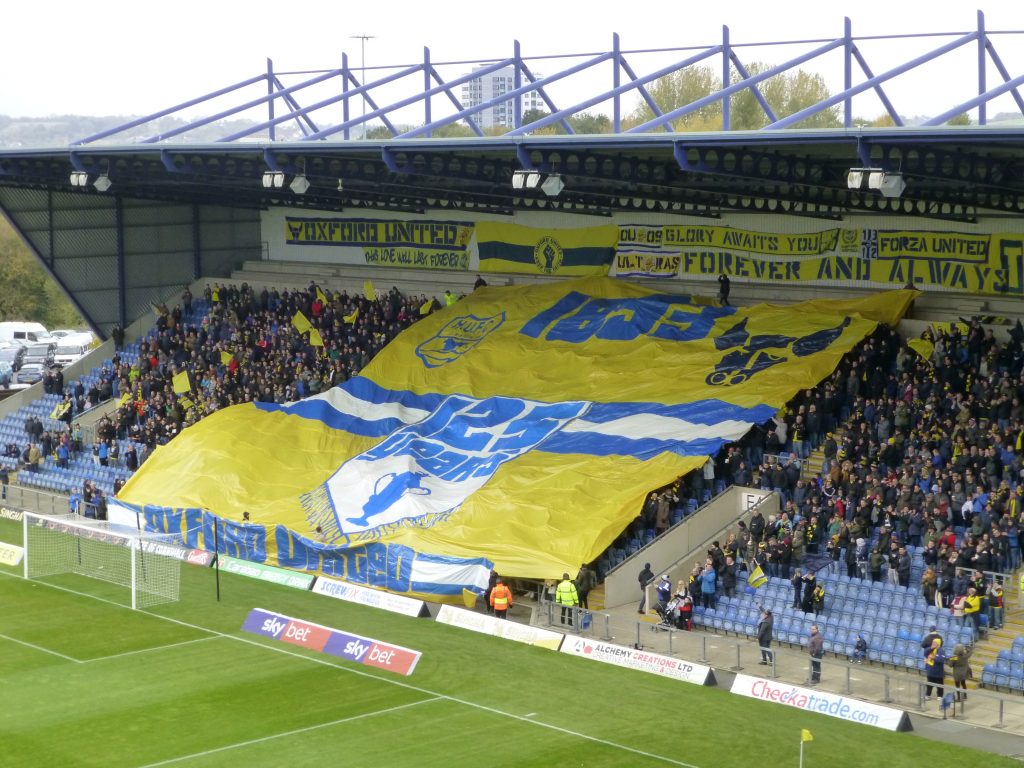 The 125 year flag in the East Stand was hugely impressive and not just because of its size.
But for all that something didn't seem quite right in my eyes. In the SSU there were many more people than normal taking their seats after kick off both at the beginning of the game and the restart after the break. There was no rush indicating they weren't bothered if they were to miss something and when the goals went in I wouldn't call the celebrations fervent.
Playing in that kit was also strange and took some adjusting to but if we win I'm not much bothered what colour we play in. Although I have to say I absolutely don't like red. That's not much to do with the team down the other end of the A420, more to do with colour blindness which is a subject I'm surprised is never discussed regarding football kits as the percentage of men suffering this, to varying degrees, is about 8% of the population.
But as often I digress.
OXFORD UNITED 3 SHREWSBURY TOWN 0
I had no idea how this would play out. I'd felt we had turned at least a bit of a way round that corner we have to traverse if we are going to head for survival and possibly a bit more. I was however loathe to say so as we'd previously had rude awakenings with goddam awful home displays and defeats. However, Shrewsbury's away record was even worse than our home record and that takes some doing. From eight games they'd managed just three draws and only managed to score five times. They had though beaten Barnsley in midweek.
There's no hiding the fact that they're not the team they were in 2017/18 having lost manager Paul Hurst, now out of work having lost his job at Ipswich, and many of their best players.
Lose and we could end up bottom. Win and we would be only one point behind the visitors.
Win we did and from the third minute on were never under any threat of not doing so.
Tony McMahon delivers a dead ball much better than 90 plus percent of what we've got used to since Chris Maguire left us. His corner was met with a really good header from Josh Ruffels who'd made a run towards the delivery that lots of defenders couldn't cope with. His marker, who was that fraction of a second slower to react, was more intent on a little pull than anything else. If we're starting to score such goals that is another positive as we manoeuvre round that bend.
Just over ten minutes later we'd got another from another head. Can anyone remember the last time we scored from two headers in the same game? I can't.
The cross came in from the same player, this time from open play.  James Henry and Cameron Brannagan having played the ball around between themselves before it was delivered.  Gavin Whyte rose well to get some power on the ball meaning Joel Coleman wasn't able to prevent the goal even though he got a hand on it. On that it looks like Whyte is both a pacey winger and a striker. Wow.
At that stage I thought this could be anything. Go on lads fill your boots. But not a lot happened in the rest of the first half which prompted my brother to comment that the ball was out of play as much as it was in. I couldn't disagree.
Most of the second period took place in much the same way, but as it wore on Shrewsbury had more semi-meaningful possession inside our half. There was this nasty thought that things could unravel if they got one but all their decent movement and passing took place in areas that didn't hurt us. Along with a lot of their defending, their shooting was rank awful and Simon Eastwood only had to make one good save.
There are some supporters who seem to refuse to acknowledge that we are improving and when we do something at least half decent write it off. As with the win against Plymouth there's been some of the "worst team I've seen" type stuff. True the Shrews were very poor but perhaps that was to some extent down to the way we played.
We now have a solid back four plus one in front. Penetration is not so easy. And the way we are now hassling opponents means it is much more difficult for them to settle and start playing their football. The speed with which Ricky Holmes sprinted back, at times considerable distances, to close down was phenomenal. Henry was doing the same but not in quite such spectacular fashion. Throw in the form Brannagan is now showing and we're a massively different proposition to what we were before this unbeaten run started.
Goal number three didn't come until the 86th minute and whilst we were way better than Shrewsbury I'm not sure it was by a three goal margin. A thoroughly clinical team on top of their game would have done to them what Wigan did to us last season.
That third goal told the fans who had travelled from Salop that it wasn't their day.
For the third time in the game referee Martin Coy, got a touch. In all honesty the ball was stupidly played straight at him. Brannagan then slid in to get it to Marcus Browne who sprinted past a turning defender before slipping the ball along the floor past Coleman and into the goal. It can't be all bad when we've got someone of his pace and quality to come off the bench.
To nearly round things off a few comments, or further comments, on individuals:
Ruffels – Got done once on the line a bit like Charlton but starting to look more comfortable at LB. He played well and if not MOTM as the sponsors had him then at least a contender.
McMahon – Other than his crosses he is now looking like the solid experienced defender he used to be at Bradford. The acid test will be when he is faced by a fast tricky winger. I thought he tired a bit midway through the second half when Shrewsbury had a lot of the ball.
Curtis Nelson – Class. Now he's back to what he was, he has to be one of the best centre backs in the division.
Rob Dickie – Got stuck in and willing to throw himself in the way of goal bound efforts. The Charlton wobbler well forgotten.
John Mousinho – Loved it when it was him having a go at Nelson for dwelling on the ball instead of getting it away.
Holmes – on that form he entertains. Long may he stay as fit as he appeared to be in this game. Another contender for MOTM with the only downside for me being the number of wasteful shots he had from distance in the second half when it meant we just gave possession away.
Jamie Mackie – did what he's been doing the last few games to great effect. He doesn't get much from referees and I can see why but there are times when he's very much sinned against. Lee Angol being the greater sinner in this tussle, and others, and for me a man lucky to leave the field being substituted and not on the end of a red card.
Sam Smith – he only had a couple of minutes but I so wanted him to score. He saw the ball once, failed to control it once pressure was applied and it was soon lost. Will it ever work out for him in our colours?
Well that's it, as I'll leave the Nile Ranger thing and quietness on the man from Milan joining as an investor to one side, other than to say what a sad day for football.
After the news of Glenn Hoddle's collapse there came the horrendous episode at Leicester. Live each day and be grateful. Thoughts go out to so many people and communities.