The Beer
Pre-match pints were consumed in the Coopers Tavern, an ale house in the true sense and quite possibly the best pub we will visit all season. Early days of course, with York still to come and the Trackside in Bury waiting for us in January.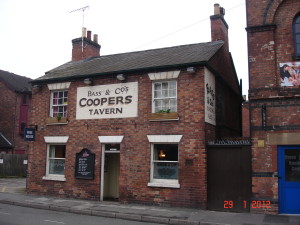 Why?
Over every pre-match beer and on every car journey to watch the yellows, or should that be purples (I really like the current away shirt. Less said about the home shirt and the sponsor's logo the better), there's always a debate and seeking of answers we can't really find.
We'd initially planned a 17 seat mini-bus but ended up with just four of us in a car! In the Conference days, if memory is correct, we packed the East Terrace at the Pirelli. On Saturday it was third v second in the Football League and we are no mugs on our travels, even if we did lose the corresponding fixture there last season 4-0. Our following was decent, but there was lots of space around us. Why? Why didn't we pack the place to the rafters? It's not as if Burton is that far away.
One of the theories is that money is tight, but hasn't it been tight since the crash of 2008?
I think a part of it is that when we keep travelling to the same places year after year some people get a bit bored with it all. Throw in a cup game and we've visited brewing territory eight times in the last eight seasons. I'll never tire of visiting Burton, not least because of the Coopers but I have often heard fans say, I'm going to Barnstoneworth (or wherever) because it's a new ground for me. Although Albion only moved to the Pirelli in 2005 there's nothing new about it for us.
In no way am I being critical of the stayaways – each to their own – but I think the lack of buzz at the Kassam is slowly transmitting itself to away days. Before anyone shouts, "Pompey", I think that was a one off.
The opposition
Last season Burton had the best home record in League Two with 17 wins; quite a contrast to just 26 in their first three seasons in the League following them being crowned as Conference champions in 2009. Having lost Jacques Maghoma and Calvin Zola it's debatable whether the Pirelli will be such a fortress this season but nevertheless it's not going to be the easiest of places to pick up points and Rene Howe is a decent acquisition.
The first half
The first few minutes were Burton's best when they came at us with attacking intent but it soon became obvious that our defence was on very good form. I felt as confident as I had all season that this would be the day we kept our first clean sheet.
Gaps had been conveniently left in the advertising hoardings to allow Rory Delap to sling his throws at us. With the linesman ignoring the rule that says the throw should be taken from where the ball went out of play we had more slung at us than should have been the case. But with no giant in the Burton ranks we coped with little noticeable unease.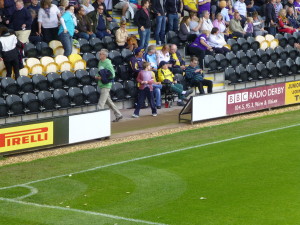 For our part the ball was mostly in the air and the midfield and forwards did nothing worthy of attacking note until just before the break when we played the ball about a bit on the deck.
The talking point of the first half was without doubt the sending off. It was the convergence of players that first alerted me to the fact that there had been an incident of some kind and when the referee and linesman got together I feared the worst. I was expecting an Oxford player to be walking off as we were the away side but instead it was Ian Sharps who went.
If he had deliberately kicked Dave Kitson or dragged his studs down our striker's leg then he got everything he deserved. Whether Kitson should have gone too is debatable. I suspect he should not and I suspect Gary Rowett was talking nonsense after the match. A football team that lacks discipline reduces its chances of success quite dramatically. We've been really good at maintaining our discipline but that doesn't mean that a little bit of retaliation isn't called for just to show the opposition that they can't push us around. Proportionality is the key.
And while we're on the subject Mr Rowett , you had two other players who picked up yellow cards and each later committed fouls that merited second yellows but Michael Bull in his first season in the Football League proper chickened out. So don't bleat on about the referee doing you no favours.
The second half
Our second half performance was thankfully a continuation of our passing game that had become evident just before the half time whistle and with the defence continuing to do what it had done in the first half, victory was to be ours.
Both goals came from us having players down the right who were eventually prepared to take on defenders and who were successful in doing so. We know that Alfie can do this and it didn't take long into the half before he had done it and won us a goal.
That Ryan Williams didn't do similar until the 85th minute meant we weren't able to fully relax until the very closing stages. That little run should have done wonders for his confidence.
There was no Football League Show so I've not been able to watch the goals again. (Shame on the Beeb. Plenty of us get off on League One and Two football you know).
Alfie was credited with the first and Danny Rose the second but I thought there was a case for each being own goals.
Alfie's took a deflection without which I'm pretty sure it would have gone wide.
Reports said that Rose bundled in the cross but there were a few bodies in the vicinity and a fair bit of scrappy bundling happening. I'm looking forward to seeing both again but they all count so it doesn't really matter.
Other than reasons already mentioned as to why we won this one it should not go unnoticed that Andy Whing had a much better game.
I thought Asa Hall was pretty good again too, in an unspectacular sort of way. I didn't hear any moaning that Callum O'Dowda should have started. In fact from what I'm hearing young Callum has lost form in training and is therefore very unlikely to start ripping defences full of seasoned old pros to pieces at this point in time.
It's not good when any of our small squad go off injured but we did look better with Dean Smalley on instead of Beano.
In summary
It wasn't spectacular, it wasn't a hammering of ten men but overall it was a very good and efficient away performance.