FAN'S VIEW 22/23 – NO.2: DERBY AWAY
More so than ever I had intended to cut down on the size of these Views but I've started off doing anything but with the potential that this could turn out to be the longest ever. There's a good reason for that though. The team we play in the opener and their recent history in particular plus the fact that the transfer window is still wide open.
Our opponents
Having been promoted from Division Three North in 1956/57 Derby spent 12 seasons in Division Two before making it back to the top flight in 1969/70 for the first time since 1952/53.
A lot has happened to the Rams since that promotion. When every other club played on half grass and half mud Derby instead opted for 100% of the latter at the Baseball ground. Their groundsman, if they bothered to employ one, had the easiest job in football. That playing surface didn't stop them winning the First Division when it really was the first division in 1971/72 under Brian Clough and 1974/75 when Dave Mackay was in charge.
We last played Derby 28 years ago. I was there but other than losing 2-1 the only thing I remember about the day is my, then very young, nephew nearly being crushed on the perimeter wall as a group of Oxford fans leapt forward to celebrate our goal scored by John Byrne.
Three years later they left their home of just over a hundred years, moving to Pride Park. It's hardly been happy times for them since. Their Premier League status only lasted until 2001/02 but after five years in the second tier they got promoted beating WBA in the play-off final.
Their return to play amongst the elite proved to be absolutely horrendous. Games played 38, games won ONE, drawn eight and lost 29. Goals for 20. Goals against 89. We've had some bad times but we've never been that shite amongst our peers, which admittedly has been at a lower level.
The Championship is, as any football fan who remotely follows the finances knows, a basket case of a league. Astronomical gambles are made on getting to the Promised Land which, as Derby found out, can be no such thing on arrival.
DCFC have never returned. They've been close but they're not now. A few months back they were closer to going bust than turning out at Anfield and The Etihad.
They've had four sets of play-off heart ache. 2013/14 – lost 1-0 to QPR in the final. 2015/16 – lost 3-2 on aggregate to Hull in the semis. 2017/18 – lost 2-0 to Fulham in the semis. 2018/19 – lost 2-1 to Aston Villa in the final.
I get much of my knowledge on the economics of football from Kieran Maguire on the Price of Football podcast. Very recently he referred to that game against Villa at Wembley on 27 May 2019 as the most significant in English football over the past decade. His co-host Kevin Day said surely not adding it has to be Sergio Aguero's last-minute Premier League winning goal against QPR in 2012. Maguire then explained. From a purely emotion perspective the Aguero moment yes. It's not just fans of Manchester City who will remember that forever but, as he pointed out, financially that goal meant very little as City had obviously already qualified for the Champions League.
If Derby and not Villa had come out on top we certainly wouldn't be travelling to Pride Park for our opener. Villa's accounts covering 2018/19 show a loss of £69m with wages to turnover being 154%. Clearly not sustainable and there would have had to be a fire sale of players. Jack Grealish would have gone for a fraction of the £100m he eventually went for.
Tellingly Derby have not published accounts covering that period or since.
Local businessman Mel Morris purchased a 22% stake in the club in May 2014 and the season after took full ownership of the club. He oversaw reckless spending and they broke their transfer record four times in three years.
That could not continue and in October 2020 Morris announced he wanted to sell. A deal with a Middle Eastern company didn't happen and then it was announced that a sale to Erik Alonso had been agreed. Alonso is one of these Walter Mitty bullshitters who should be identified as such following just a basic due diligence investigation. Of course he didn't have the funds. Maguire can sniff out these characters from a mile off and lists names that would have me running scared if they ever came near my football club.
In September 2021 Derby went into administration. Morris said he had "invested £200m". I'd say "spaffed" more like. Bills stopped being paid. There were major cutbacks. Wages were reduced and paid late.
Quantuma were appointed as administrators. These days going in to administration brings a points deduction and the 21 points County were hit with provided a knockout blow that they couldn't recover from. Without it they would have finished 17th and as it was still ended up above Barnsley. Wayne Rooney against all odds worked miracles with what he had at his disposal for almost his entire tenure. He was handicapped by a transfer embargo before the start of last season which was later relaxed but the EFL said any deals could only be struck under strict wage limits. Not long after the season had started they were given dispensation to bring in Phil Jagielka and Sam Baldock. Our injured striker scored twice in 13 games.
It was in the last few weeks before he left that it seems to me Rooney blotted his hitherto perfect Derby copy book by cosying up to Chris Kirchner. In early April Quantuma announced Kirchner as the preferred bidder. Kirchner had been making noises about acquiring Derby months earlier but that interest dropped off when Preston North End caught his eye. Even Peter Ridsdale at PNE saw through Kirchner who was all talk and no funds. But not Quantuma. Administrators make a lot out of administration and keeping things dragging doesn't do them that much harm once they've got the gig I'd suggest.
With no takeover materialising Derby were once again this summer under a transfer embargo. On 17 May Quantuma exchanged contracts with Kirchner with completion scheduled for 1 June.  Kirchner was given until 10 June to show evidence he could complete the purchase of the club. Obviously this deadline passed and three day later he withdrew his bid.
Kirchner is an American who is co-founder and CEO of a Goldman Sachs backed start-up tech company Slync. In the last few days he's been suspended by the company for flying around the world in his private jet to play in exclusive golf tournaments and meet celebrities in addition to trying to buy an English football club. All this whilst staff at Slync went 2 months without being paid. He's also been accused of buying a Ferrari Superfast 812 that costs approximately $400,000 the same month Slync secured a US government loan set up to help businesses struggling to pay salaries due to Covid.
You get the type. Anyway he's out of the picture but these "wrong 'uns" seem to be forever attracted to the supposed glamour that a football club can bring.
No longer owned by Mel Morris
Not quite there yet but another factor in this whole sorry saga was that Morris sold Pride Park to one of his other companies for £80m and then leased it back. This was all to do with trying to get round financial fair play rules.
Now Derby have a new owner who was also able to buy the stadium from Morris.  Derbyshire-based property developer David Clowes must seem like an absolute saint to fans of the club. That takeover was only completed at the end of June and the club came out of administration on 1 July.
It then became a mad rush for manager Liam Rosenior to assemble a squad and he's brought in some quite well-known names, particularly for this level, including David McGoldrick, James Collins, Conor Hourihane, and Nathan Mendez-Laing.
But can Rosenior mould a team?
Coming, Going, STAYING, and Coming
It's hard to keep up. Given Yanic Wildschut's almost immediate injury, wingers were needed. The first one of choice selected from the trialists was Josh Murphy who on Tuesday signed on a two year deal. Every squad should have a Josh. Our Johnson is too young to yet fill that role. Karl says Murphy is "a phenomenal talent."
That certainly didn't eat away at any optimism but then came Thursday when the Oxford Mail reported that "Blackpool have triggered the seven-figure release clause in Cameron Brannagan's contract". Derbyshire Live were at it too, "Oxford United boss Karl Robinson has suffered a major blow ahead of League One opener against Derby County. Midfielder Cameron Brannagan is set to depart the Kassam Stadium after his release clause has been triggered".
So I was resigned to this happening and just waited for the official announcement from Oxford United. When players leave I can usually make a case for the effect not being great at all. Football is after all a team game. But Brannagan is one I really did not want to see go.
An announcement of a departing player did come. Anthony Forde had taken the Hollywood dollar and had been lured to Wrexham. He only signed a new contract in March so we did get an "undisclosed fee" out of this move. He was only ever going to be a squad player. So win-win surely? Except that to be successful every club needs these "squad players" who are happy to be back up and fill in now and again. Suddenly we look very light at right-back but Karl says young James Golding was outstanding there in a recent friendly so we'll see.
Then the whispers started coming. "He's staying. Got a new three year contract" "Got it from a reliable source" "Yes, I've heard that too elsewhere". And lo and behold it's official.
I can't remember the last time I got as excited about an off the field event as I was here. A sneaky little whisky was called for before bed.
On Friday we added another winger from the trialists. Jodi Jones. Given the poor lad's dreadful record with injuries would a pay when you play deal have been more prudent than a one year contract? We'll see.
Derby County 1 Oxford United 0
There's a certain amount of keen anticipation for any game but this one had it in abundance. First game of the season. New ground for us, which is something that can't be said very often now. A 30,000 plus gate with the away allocation sold out. The home supporters sensing the dawning of a new era.
Pubs to be visited that are not regulars we frequent year after year.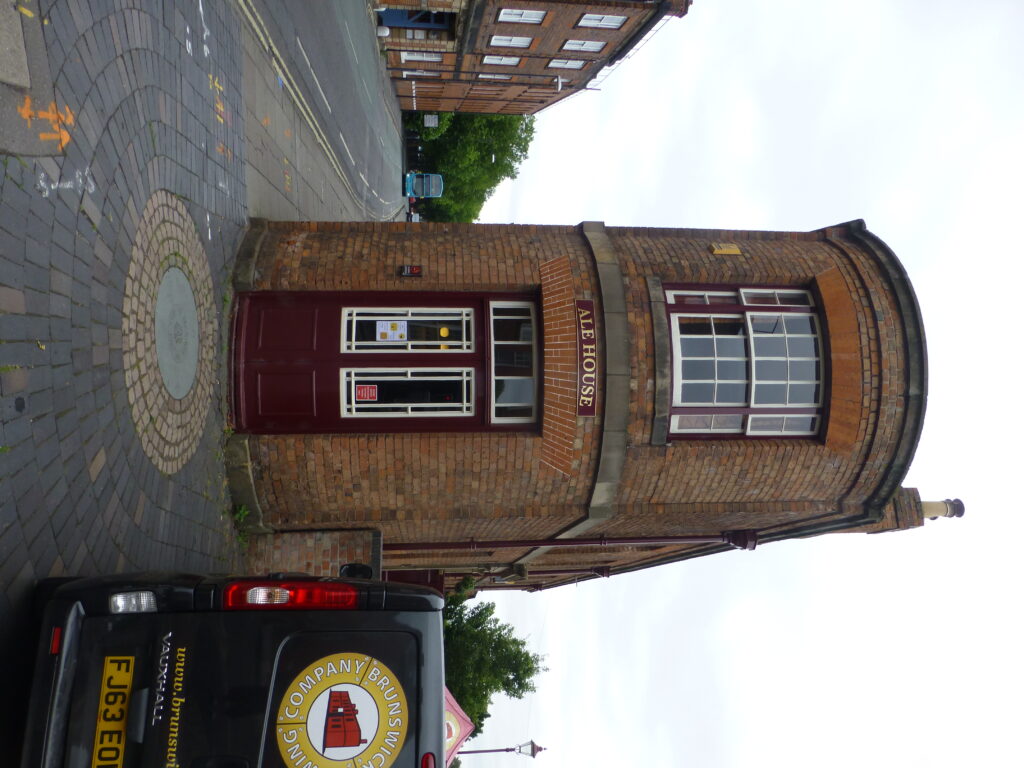 The Brunswick Inn.  Tardis size inside. 
By 10:45 having had a trouble free trip to the East Midlands we were outside the Brunswick Inn. This establishment set the bar just about as high as it can go for the coming eight months of football. It's one of the best known free houses in the country. Lovely old building, on site brewery and 14 different beers on hand pump including surprisingly one from my home town of Bicester. As the rear door was open we ignored the "home fans only" and walked in having been informed by Derby fans if you don't wear colours and there's not too many in your group you should be alright. "We don't open until 11." The landlord then asked if we were Oxford fans. He was told yes but assured that he wouldn't get trouble from us and that we had no colours on display. His concern he told us was that if the pub filled up with away fans his regular locals wouldn't be able to get in and would eventually go elsewhere. We, he said visited once every 34 years. But we didn't get thrown out and the bar staff were happy to serve us excellent ales as more and more of our supporters came in. Nevertheless we thought it best to move on after a couple.
Just the other side of the river the Smithfield was hosting a sizeable beer festival but having observed that the beers being served out back direct from the casks look quite flat, we opted for hand pulled drinks from inside the pub. Again of a high quality.
Not quite so in the third pub, The Alexandra Arms, which was a little disappointing.
No need to ask where the ground was or call up Google Maps on the phone, just follow the crowds.
It was rammed inside with no chance of finding allotted seats and our party lost each other in the masses. No matter there was at last a game to watch in a cracking atmosphere.
Decent view and only £20 to get in (£15 for over 65s). Compare and contrast that with the scandalous exploitation us travellers have to suffer at Bristol Rovers on our next trip out.
In summary we lost this game because as it got closer to a conclusion we started to give the ball away. Derby didn't do likewise. If you do as we did you are likely to get punished against a team with players of quality.
Although we did have chances they weren't many and we only managed two on target. A neutral would probably say we lacked a cutting edge. I've been banging on about it for ages but thought this was another glaring example where we need a big strong physical centre-forward as a plan B option.
Matty Taylor hardly got a look in and was only put through on goal once. He has little chance against one bigger centre-half but when he's being marked by a couple at a time when we were chasing the game, to still have the ball played to him in the air was dispiriting and told me the game was up.
That he got the ball played to him thus was because Derby had us where they wanted us. We were not able to pass through them nor were any of the players wearing their fine new YELLOW shirts dribbling round opponents.
In the final seconds of the added seven minutes sending Simon Eastwood up for a corner and leaving him up there whilst having two outfield players kept back as cover made no sense to me whatsoever.
Kicking towards us in the first half Oxford were easily the equals of the hosts. It pleases me to say it – we looked defensively quite solid. A settled back line with reliable cover in front should provide a base from which victories can be achieved. The Rams were more threatening down the right than the left but with Mendez-Laing operating there that was no reflection on Steve Seddon's performance although I was very surprised he started instead of Ciaron Brown.
Stuart Findlay looked a proper centre-half and there was an understanding with our captain Elliott Moore even at this early stage of their partnership. He produced a wonderful tackle to stop Mendez-Laing about half an hour in.
We had some early chances. A ball over the top from Moore looked like it had got away from Billy Bodin but he managed to use the outside of his left boot to angle it towards goal as keeper Joe Wildsmith came out to collect. It went agonisingly wide.
After patient build up play the classiest of flicks from Bodin moved the ball on to Taylor who shot wide under a bit of pressure from Jason Knight. For Matty that was about it. He's not going to put every chance away but should probably have done better.
Next came a tame James Henry shot into Wildsmith's arms but it was then Derby's turn to have an effort on goal. They took a very quick free-kick, a very debatable one, and Eastwood had to come out to block Mendez-Laing.
At the break there was no reason to feel pessimistic. Marcus McGuane had played extremely well. He looked leaner and meaner than he had done last season.
The second period began much as the first. Wildsmith saved a Bodin effort from a tight angle after the Ram's defence had not dealt with a Sam Long cross.
But as the minutes ticked by we began to offer less. It wasn't that we were tired; more that Derby had somehow got us where they wanted with regard to completely negating what attacking threat we had.
That didn't mean a point was not there for the taking. Brannagan had done brilliantly on the line keeping out a vicious Collins strike. More of that sort of stuff and we'd likely be okay.
But we began to give the ball away. It was clear that doing so was greatly reducing our chances of coming away unbeaten.
Alex Gorrin on in the 73rd minute for his first competitive football since November last year was guilty of having his pass intercepted by Louie Sibley. Understandable that he had not immediately picked up the pace of the game and was not aware what was happening all around. We got away with this though. The effort on goal that came from Mendez-Laing a few seconds later as a result was blocked by Findlay.
On 80 minutes it was Findlay's turn to give the ball away. Trying to slide it through the eye of a needle he instead played it straight to a white shirt. Mendez-Laing obviously. He seemed involved in almost everything. Absolutely no need to attempt such a pass so deep in our own territory particularly when it was all about being sensible and seeing the game out for a point.
The commentator on Rams TV had spotted that his team were "starting to pounce on a few loose balls". He also observed that "the keeper had no chance". Having seen replays I would concur and place no culpability at Easty's door. How unfortunate then that the blame has to be laid solely at Findlay's door given other than this his performance wasn't far from outstanding.
All in all Derby deserved to win.
Given that our footballing philosophy under KR is to retain the ball the stats are revealing and a touch concerning. We only had 42% possession and made 141 fewer passes than Derby. Their passing accuracy was 81%, ours 75%.
A low possession rate in itself is not a problem. Some teams like to let their opponents have the ball for lengthy spells and then hit them on the break. That though is not the way we play.
Some managers think the best approach is to get the ball into the box as early as possible whenever their team has the ball so again the possession stats won't be that important to them. To play that way a big forward who "gets on the end of things" is needed. We have no such player. Yet we played 64 long passes compared to Derby's 53.
How good the Rams turn out to be as a L1 outfit remains to be seen. Knowing would help put this loss into context. The bookies currently have them as third favourites to win it behind Sheffield Wed and Ipswich.
Not happy with what I saw but not despondent. It's just the norm now that we don't win the first league game of the season so we just have to accept it and move on. The last time we picked up all three points was at Oldham in 2017/18 which was the first of six consecutive seasons we've started away from the Kassam.