FAN'S VIEW 21/22 – NO.1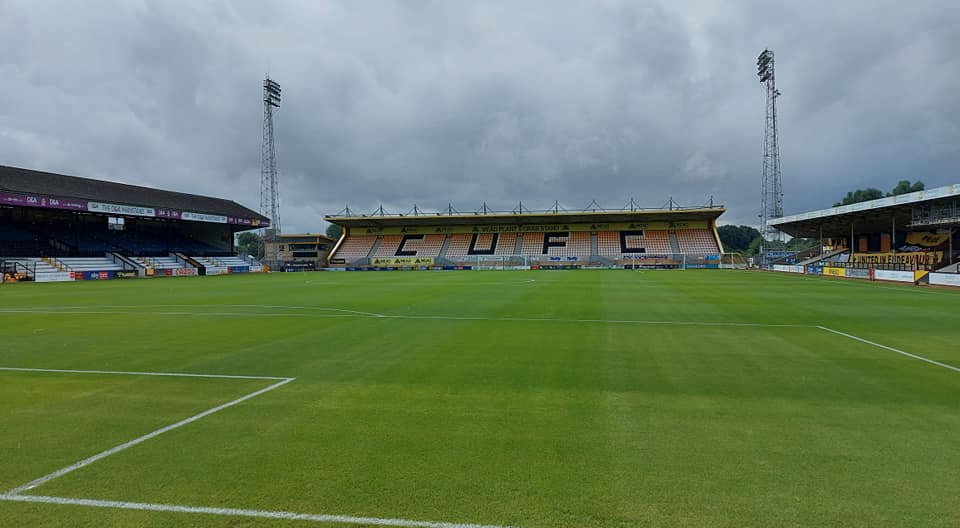 The Abbey Stadium. Photo, Simon Jaggs
We've been fairly cooped up for the last 17 months and as far as away football following has been concerned it's been a 100% shackling. So without doubt there's plenty of pent up emotion waiting to be released throughout the land but hopefully common sense and decency will prevail and the pressure cooker valve will not be fired skywards.
So much for decency at Wembley for the final of the Euros though which just goes to prove there are still irresponsible louts masquerading as football fans who give no thought to the serious harm they can and do cause to law abiding folk.
And it goes without saying that Covid-19 has not gone away. Double jabbing, yes lots of it. Population immunity, yes a high percentage. Covid hospitalisations falling, yes. But that is as of now and things can change quite rapidly. People are still getting infected. Some people are still dying from Covid and others are suffering the long term effects.
So as I and tens of thousands of other away fans run free to experience something we've not done for a year and a half, I do so with a touch of trepidation.
Then there's the nerves that every new season brings.
Since our return to League One we've been terrible starters to a campaign in all but one season.
After five games:
16/17 – League Position 18. W1 D1 L3
17/18 – League Position 9. W2 D2 L1.
18/19 – League Position 22. W1 D1 L3. Eight teams had however played fewer games.
20/21 – Bottom of the league. W1 D0 L4.  But we had played a game less than all but three other teams.
So what's it to be this time? How are we shaping up? Is the squad and team stronger than the one we had that went close, again, but was comprehensively put in its place by Blackpool in the first leg of the play-off semi-final?
We've still got seven of the eleven that played in both legs against the Seasiders.
Despite interest from Aston Villa, Jack Stevens is still with us. I assume he will start as our first choice stopper. Or were we just waiting for the Grealish money to flow into the coffers at Villa Park? "Come on guys, what's another five million to you?" Anyway we've still got Simon Eastwood who seems happy enough to be the back-up.
Our defence last term was fairly decent but it never convinced me that it was a rock solid unit that had a good chance of keeping clean sheets week after week. When I say defence I'm referring to the back four here but clearly every single outfield player has a role to play out of possession.
Last season in L1 Blackpool let in the fewest goals, 37. Hull were the second meanest conceding only 38. Both outfits start 21/22 in the Championship. The other promoted team, Peterborough had the joint 4th best defence with 46 goals against. Fifty six goals found their way into our net. We really do need to improve in this area if we are to take the next step. (And whilst we are doing so carry on scoring at the rate we did last season).
All players need time to get to know their colleagues and that particularly applies to the defence where a lack of being on the same wavelength can be very costly. Two of our regular back four have departed. The out of contract Josh Ruffels, now in the Championship, replaced by Steve Seddon. Rob Atkinson sold to Bristol City for a tidy sum after just a year replaced by the not quite six foot Jordan Thorniley who has come in on loan for a year.
Time will tell but I will say this – the return of the injured Sam Long will make us more solid in the right-back position. He was a huge miss in the play-offs.
In addition to Ruffels and Atkinson there were two other starters in both game against Blackpool who are no longer with us. Both were loanees, Elliot Lee and Brandon Barker.  I'd be quite happy if they were to feature for us again but neither does it bother me that they are gone. The latter provided some thrilling runs but as time went by it had to be asked more and more – is he a team player, is he a 90 minute man, is there enough end product? Easy to say when they're no longer wearing that yellow shirt.
So on the same basis with Ryan Williams (permanent), Nathan Holland (loan) and Gavin Whyte (loan) back through the door I'm telling myself that we're stronger. We've still got Cameron Brannagan and he'll only improve further after the potentially life changing illness he has had to overcome. Throw in Marcus McGuane and the assumption that he has got over his nasty injury and there has to be a reasonable amount of optimism.
Come Saturday at three o'clock we'll start to know for sure as we come out of the blocks for yet another marathon.
CAMBRIDGE UNITED 1 OXFORD UNITED 1
At half time the sun was shining, we were winning and much felt right with the world having just witnessed forty five minutes of encouraging stuff close up on an opponent's ground. When I say close that's perhaps stretching the imagination a bit because the Mead Plant and Grab (yes, really) stand where away fans are situated at the Abbey Stadium is some distance from the pitch.
At full time the skies had darkened, rain was falling heavily and we only had one point in the bag. Although there was clearly a lot of positivity to be had from the day much of that initial elation had gone because we'd thrown away two points. It's tight margins but we've got ourselves to blame. That and getting no help from referee David Rock an official with very little experience at this level.
Back in the Cambridge Blue
Going to and from the Cambridge Blue it was as if we'd never been away. There's something so familiar about many away day routines and this is one of them. At a guess I'd say I first had a pint in there about 30 years ago and I found it hard to believe this was the first visit for five years.  In a few years though this could be a thing of the past as CUFC are looking to move to a new stadium further out from the city centre.  This is the way of things as we well know.
For the home side this was the first time they'd kicked a ball in tier two for twenty years, nine of which were spent consecutively in the Conference. So very much a big day for them.
Walking up (or is it down) the Newmarket Road I looked across Barnwell Lake and through the trees I could see three of the old school floodlights. It felt good. "We hate Swindon" echoed towards me. I really started to get into the zone, though goodness knows why as I was only to be one of 6444 spectators not a participant. All I could focus on was the 90 minutes ahead. I turned right and proceeded towards the visitors turnstiles. Knowing we'd sold out and with not that long to the start I'd anticipated a bit of a queue to enter so when I saw a line of people waiting to get in I joined it. The two mates I'd travelled with then walked by. Stop pushing in I shouted only to be told they were going to the away end. Can't deny I'd won the "dick of the day" award by standing in single file with those wearing rather hideous orange shirts that are all blocks and the backs of deckchairs. Don't start me on kit design. I'm old school and crave relative simplicity. From a distance our "third" kit looked okay but close up I can't be doing with the various shades of angled blue on it. That's pretty crap too. And as for our "away" kit the colour could hardly be more depressing. Shockingly bad in my opinion. Massive thumbs up for the home kit though. It's simple. It's yellow. It stands out. We're the Yellows.  Provided there is no colour clash we should wear that away as well as at home game in game out.
My early assessment was that whilst we were winning on points with regard to playing passing football, the hosts were just edging it physically and that was in no small measure down to the fact that they were allowed to do so by the man who was supposed to be in charge. Not that we're shrinking violets.
In the first half there were a couple of incidents of our defenders getting hands / arms / elbows in the face in what looked like intentional fashion. Nothing given.
In every football match now played it is a free for all at corners. It's all blocking, shirt-pulling, pushing and shoving and the referee obviously has a nigh on impossible task in determining sinner and sinned against. A Cambridge tactic when the corners were theirs was to make as if they were being blocked off (possibly they were, possibly they weren't) and run into white shirts in an attempt to bowl them over. If one of them could take down two of ours all the better for them.
Joe Ironside the Cambridge no.9 is one of those big centre-forwards that cause problems because of their size and strength. Lots of jumping as much into his marker as trying to win the ball, lots of grabbing shirts and allowed to play that way by the referee. Yes, it is a man's game but where's the line that shouldn't be crossed?
Shilow Tracey was another who for a while looked like he could cause us some difficulty with his strong running but for the most part our defence coped rather well, with Jack Stevens not having to make a save that I can recall.
It would be no surprise if they struggled for goals having lost last season's prolific Paul Mullin who got 34 in all competitions. He's only 26 and turned down a new contract but with Championship clubs sniffing around a phone call from Ryan Reynolds persuaded him to drop two levels to the National League and cross the border to join Wrexham. Wonder how much he is on.
So that makes it all the more galling that we didn't win.
Dimitar Mitov in the Cambridge goal whilst certainly not over worked was busier than JS. He had to go down to his left fairly early on to keep out a James Henry header.
We were getting plenty of crosses in which asked questions of Cambridge and Matty Taylor, despite not being the tallest centre-forward around, was managing to get his head there at times and although none were golden chances, he wasn't that far away.
It was from another cross just before the break that we took the lead.  A fifty yard pass from Brannagan found Anthony Forde who took the ball on his chest before feeding Williams who looked a real asset. The Aussie's cross from near the by-line was contested by Taylor who placed himself in the centre of the edge of the six yard box between two defenders. This meant the Cambridge head could only get a slight glance on the ball which fell nicely for Seddon to hammer home with his left foot. It was a deserved lead.
The personnel may be different but here we go again – a full-back involved in the build-up and another the scorer. Having sung Long's praises I have to say that Forde looked accomplished at right-back. KR will have his reasons for selecting those he did probably dictated by fitness stats and what he has seen in training. The two defensive new boys looked fine to me. Thorniley's reading of the game impressed me and when cutting out balls was often able to turn them into cushioned passes to a colleague.
I wasn't expecting to see Mark Sykes starting with the squad we have but there was no doubt the team had good balance and there will be question marks over the full match readiness of some. Well, Marcus McGuane in particular.
Nathan Holland who the manager said would probably have started was missing because he had been contacted by NHS Track and Trace which has got a lot to answer for both good and bad. That could very much be the way things will go this season particularly when it comes to fans all crowded together. I want this thing well and truly beaten but there is of course no obligation to have the app and not everyone even has a smart phone. The rules keep changing and from August 16 those who have had their second jab at least a fortnight earlier will not have to self-isolate if they come into close contact with someone who has Covid.  It's a case of constantly watching this space.
The win would have come if we'd got a second and we had a great opportunity to do just that when Sam Winnall, a replacement for Taylor in the 66th minute, did well to win a long ball as he tumbled to the ground getting it to the rapidly moving Whyte. Henry and Billy Bodin had got themselves into positions beyond defenders where either would have had an easy chance if the ball had been delivered correctly. Whyte however did not seem to look up until after he'd played the ball across goal and wide. It was one of those that can be deemed neither quite pass nor shot. Much of what GW did was welcomed but little bits of play like that may tell why he is back with us and not thriving in the Championship.
Bodin volleyed a cross over from close range but may well have been penalised for a high boot if it had gone in.
Although we couldn't add to our one goal we still looked quite comfortable and all we had to do was play sensibly to see the game out even if it was becoming slightly more stretched.
That didn't happen though. We lost possession from a throw and when Ironside held the ball up well we had plenty of players close by to deal with the situation but were unable to whack it out of danger. Sykes got involved facing his own goal and instead of playing a simple pass with no risk attached to a team-mate in the left-back berth, took a touch and turned as if to dribble out. Madness because he doesn't have eyes in the back of his head. Paul Digby got the next touch and our man had brought him down in an instant.
Stevens made a valiant effort to keep Ironside's penalty out but couldn't quite reach.
No-one can argue that the decision to award the spot kick wasn't the correct one but at the other end of the park we had shouts that at the time looked worthy ones. A push on Forde, Moore impeded at a corner. No nothing going our way there either. Perhaps Rock only points to the spot when they're 110% nailed on.
So that's the first proper away day ticked off since March 2020. It's hopefully a start on the road back to normality of sorts. It will take a bit of getting used to.