FAN'S VIEW 21/22 – NO.9
Six games in that tiny feeling of how things are going to go gets a little stronger and I start to throw questions at myself.
Am I more or less optimistic now than before the off? Answer – Slightly less optimistic.
Is the squad as strong as we thought it was before we'd undergone any test?  Answer – Um! Not a straightforward yes or no. I do think that we have a strong squad. However a massive BUT has to be thrown in. Huge strength in midfield BUT lacking up top of strikers who can score goals. We know Matty Taylor can do it. We also know that his goals come in batches so not to worry that he has only got the one so far. At 31 he shouldn't be finished just yet but does need the service. I've not yet worked out whether he has been getting that or not. Unfortunately Sam Winnall is looking like a mistake every time we see him. He's been with us a year now and has made just five league starts. That leaves Dan Agyei. He's been here two years and he too has made few starts. Just 12 and has come off the bench 42 times. Unfair not to give him a run in the team many say. Good for his nuisance value and all that but if he really was good enough he'd be picked a lot more often I'm sure. I don't think he's quite got the class, know how or consistency.  If I was a wheeler dealer with the option I'd try and swap these two for a big tall centre forward who can properly hold the ball up and win balls in the air in both boxes. Anyone who has seen us this season will know how deficient we have been in this regard.
Which brings me on to the defence and their inability to deal with this type of delivery. With that being so can we really claim to have a strong squad? I was chatting to a mate about this the other day and he made the point that we are really missing Josh Ruffels and Sam Long when it comes to full-backs being able to really contribute to getting the ball away when it is above head height. Sam of course is still with us so we may well have part of the fix ready at hand.
At half time at Wimbledon we were top of the table. At full time we were eighth. Three teams below us with a game in hand could go past us if they win and five of the teams above also have played a game fewer. One of those teams is Wycombe.
No, of course it is not a local derby in the Swindon sense. I'm not going to bother to get into that but let's not pretend there is no rivalry and that this did not increase with what happened at Wembley on 13 July 2020. That they went up and we didn't was our fault. They did what they had to do and we didn't. Simple as that for me.
Now that they are back with us in L1 they will be stronger financially as a club. I've not done much research. Hardly any to be honest. But I don't think they splashed the cash even in an attempt to maintain their Championship status let alone chase the Premier League dream that many at that level do when seduced by the pot of gold that can turn out to be anything but. So with the parachute payment (or whatever it is called for those tumbling down to L1) they've been able to improve the quality of their squad to such an extent that they've been able to afford to employ footballers who like to play football as opposed to the old Wycombe physical way. Apparently Gareth Ainsworth never wanted to do that anyway but did so out of necessity because that was all little Wycombe could afford.
We shall see. But if I was a manager and saw a glaring weakness in the opposition I'd go for it irrespective of my footballing philosophy.
However this turns out, I'm expecting an interesting and competitive game. We've not dropped a point at home yet which is just as well as we've brought back just about eff all from our travels. We must keep it that way and start winning away if we are not to drop back from the pace even at this stage. Much as it provides for a buzz later on when we come with a run, I'm pissed off with bad starts.
OXFORD UNITED 0 WYCOMBE WANDERERS 0
Don't tell me there's never an atmosphere at the Kassam. With just over 9000 there including 1505 from Wycombe there was plenty of noise generated by both sets of supporters. The visitors looked boisterous, well for Wycombe, by the dividing mesh and perhaps have delusions of grandeur having briefly tasted the Championship albeit via iFollow.
The adrenaline was firing and once more it felt good to be back.
So after all, a leopard hangs on to its spots even if the option was there to discard them. Doesn't seem to matter what players he has at his disposal, the Ainsworth way is the Ainsworth way.
Every time I see his team play I, and no doubt many others amongst our support, think that I couldn't watch this every week. Perhaps that explains why Wycombe were unable to sell the full 1757 tickets they were allocated for this very short trip. Home gates of 4551 against Accrington and 5030 against Lincoln are telling.
That said, neither would I want to come up against the same style of opposition week after week but it soon became clear, as if we didn't already know, that of all our games this season the one with the least flow was to be this. Enough already. And the next outfit we host happens to be Steve Evans's Gillingham. Can't wait.
It goes without saying that at a bare minimum I 100% want us to win each and every game we play  but there are certain teams and managers where I'd increase that somewhat. Given their style I'll go up to at least 110% for Wycombe.
The ridiculous thing is they have some good players and are well organised and strong and just possibly, if they allowed a game of football to take a more natural course, might win as many games as they do now or even more. Why not give it a try?
I've written much the same as I have above many times before when we've faced such opposition and always then add something like the following which it is only fair to do again here.
I'm obviously looking at it from an OUFC perspective and fully admit that the visiting support will have a completely different view. They'll point out that the stats show the Chairboys only had three more fouls awarded against them than we did and that they only had one player carded. We had four.
I would however counter that by pointing out how inept replacement referee Christopher Sarginson was. He has been a Football League referee since 2008. I despair.
He was one of those officials who had you thinking he's either never going to show a card irrespective of the sin committed or will do so late on for something minor then start waving the yellow around willy nilly.
Early on it was evident that the Wanderers were pushers. On many occasions not much effort, if any, to win the ball but instead an arm or barge to stop one of ours playing the ball cleanly. Perhaps a booking would have been harsh but isn't there the un-written "totting up" rule? More often than not we didn't even get a free-kick.
And as for the shirt pulling I honestly think it was the worst I've ever seen. Mostly un-penalised even when Sarginson or one of his helpers had a clear view. There was one instance in the second half when one of ours had a massive tug on his shirt but managed to get away with no particular advantage but did get the ball to a colleague when the same again happened. Sarginson looked on with disinterest. Not even a word. To repeat once more – a shirt pull is not something that happens accidently. It is cheating. We do it too but in my eyes nowhere near as much as they did. All it needs is for a card to be shown each time and it would soon stop. Once this activity is stopped football would be all the better for it. It's that simple.
The first booking came in the 87th minute. Taylor rightly penalised. It looked nasty. Two minutes later Jack Stevens carded for time wasting. Absolutely ridiculous. Three more came in added time. Sarginson didn't have a clue what happened when Cameron Brannagan tangled with Curtis Thompson. I didn't see how they ended up on the floor but it looked like a 50:50 thing that could have been let go. That was until Thompson punched our man. That's a red. Sarginson took the cowards way out and gave a yellow to each.
In the first half Wycombe put their stamp on the game and had the upper hand tactically. They put three up front and kept them there to stop us doing anything effective from our playing out from the back catalogue.  That meant passing football through the mid-field didn't happen. Going long down the centre didn't work because that basically guarantees we'll lose possession. The remaining option is to fire balls out to the flanks for our wide men with pace, Gavin Whyte and Mark Sykes, but we had no accuracy when trying that.
If we were to break through their rear guard it would have to be quick incisive stuff. To his credit Taylor made run after run pointing for the ball to get beyond the last man and hopefully onside. But for him to have been picked out we would have needed someone with the vision of a Kevin De Bruyne in our ranks as we were so crowded out.
We did get through once when out of character Wycombe allowed Jordan Thorniley to make a lot of ground before slipping Brannagan in but the swivelled left foot shot was harmless.
Wycombe were much more threatening and Stevens was the busier of the two keepers. He needed to go down low to his left to repel a Jordan Obita effort and tip a Sam Vokes blast over the bar.
The defence as a whole though had improved compared to the performance at Wimbledon. I did not feel as uncomfortable here as I had done there when we were asked high ball questions. Given that Elliott Moore had not looked particularly great against the Wombles I thought the inclusion of Luke McNally was based on that but turns out there's an injury involved. On this showing LMc should retain his place though.
Defensively there was some sterling work undertaken and major contributions came from Alex Gorrin and Anthony Forde. For me they were our best players in that order with Brannagan not far behind.
Corners which we know have been an Achilles heel are always a free for all with blocking, barging, pulling, shoving, rugby tackling, gouging, kicking, and scratching being perpetrated by both sides on every occasion. It might be a surprise but I do have great sympathy for referees on such occasions. What's needed is 10 CCTV cameras but as that is never going to happen it is just a case of get on with it and don't be bullied.
Gorrin was tasked with marking Ryan Tafazolli who has about half a foot on him and it looked a mismatch when the grappling commenced but our Spaniard gave as good as he got and afterwards explained that he loves the physicality of the English game. A Gorrin chest and foot under pressure helped get the ball clear from one corner and Forde did even better to somehow head the ball away at the far post when own goal or deflection off one of the two Wycombe players throwing themselves into the action or a colleague close by seemed the likelier outcome.
In the second half as an attacking force we improved considerably and played some delightful football particularly down the right side. Penetrative passing was getting men in but that final bit of penetration to get the ball over the line was lacking and that was in no small part due to the standard of the defending.
With the momentum going our way, game management came into play with Wycombe doing their damnedest to stop this and Sarginson helping them along the way.  Again a bit of sympathy for the referee because a player's welfare has to come first. No chances can be taken. But did keeper David Stockdale really need treatment and the way he dealt with the Adebayo Akinfenwa and his nosebleed was not how one is meant to do things, surely?
I've no idea how their 39 year old barrel on legs got the blow to his hooter. Perhaps it was a foul. Perhaps it was really nasty. Perhaps it was an accident. When it happened Akinfenwa did not go down. Sarginson did not stop play. I spotted AA pulling his shirt and commented that the action has been so drilled in to them that he was doing it to himself. He then went down on one knee and began wiping his face. Shouldn't he have gone off for treatment? Instead the Wycombe medical team took four minutes to sort him out on the pitch whilst the game took a hiatus. Bet they weren't rushing. How long would they have been allowed? Five minutes, ten minutes?
Here's what Ainsworth had to say, "If I'm being honest, I think the timing of that was good for us. Him getting treatment broke their momentum and allowed me to get some messages in and we shored it up a little bit". Wycombe 1 Referee 0. Can we learn from this and introduce it into our game when need be?
An objective assessment would conclude that a draw was a fair result given what was allowed to happen and that we managed a clean sheet in such a contest is pleasing.
Not scoring though is less pleasing although we did come much closer in the second half. Brannagan having stolen the ball in midfield testing Stockdale from distance. Their stopper getting it around the post in unconventional style but it did bounce in front of him and may have been a very good save. It was the same man who forced another Stockdale save a bit later, this time to his other side.
For all that though in the final minute of the eight added it was Wycombe putting free-kicks into our box. As nothing came of them perhaps we really have solved that issue.
The lack of a credible alternative to Taylor is obviously still there. It's not fair to judge Dan Agyei on about 10 minutes. No time at all to do anything of note and in that time he didn't do anything of note. When I heard that Sam Winnall wasn't even on the bench I thought that was because the others had been considered better, but no he's injured again.
So where are the goals going to come from? James hat trick man Henry may have to be the answer when MT is having a quiet spell as we've got little else but he was on the periphery of this game. Given the midfield talent we have more performances like that and there will be a few saying why am I not playing instead.
On the subject of crocks we're without Marcus McGuane for a few weeks and there was me thinking he'd be the main man, or one of them, this campaign. We do though have Herbie Kane, Billy Bodin and Ryan Williams all unused from the bench waiting in the wings and it was great to see Sam Long get a few minutes on the park.
Having dropped some home points we now need to counter that by getting an away win at Cheltenham next week. We should be capable. Wycombe won there 3-1.
All photos – Simon Jaggs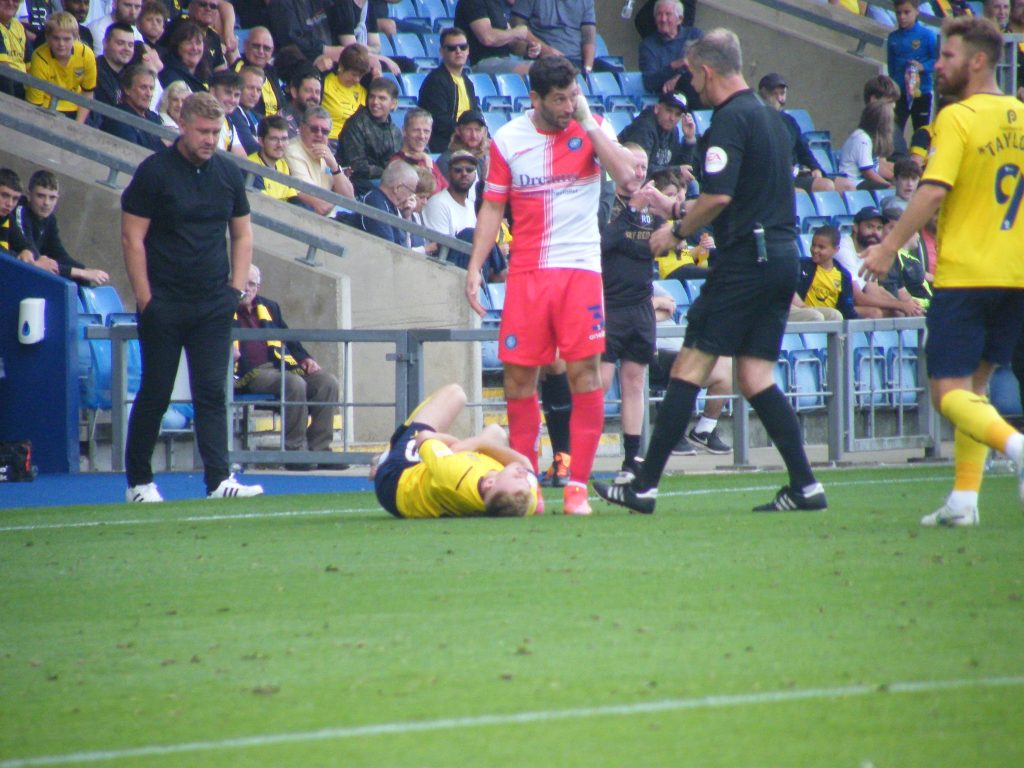 Sykes after being felled. His cries of anguish could be heard at the back of the SSU.  Pretty sure we didn't even get a free-kick
Genuine injury or tactical to stop our momentum? 
In this incident Joe Jacobson deliberately plays the ball with his hand but when  Sarginson eventually blew his whistle the free-kick went against us.  
A very lengthy time out