FAN'S VIEW 21/22 – NO.7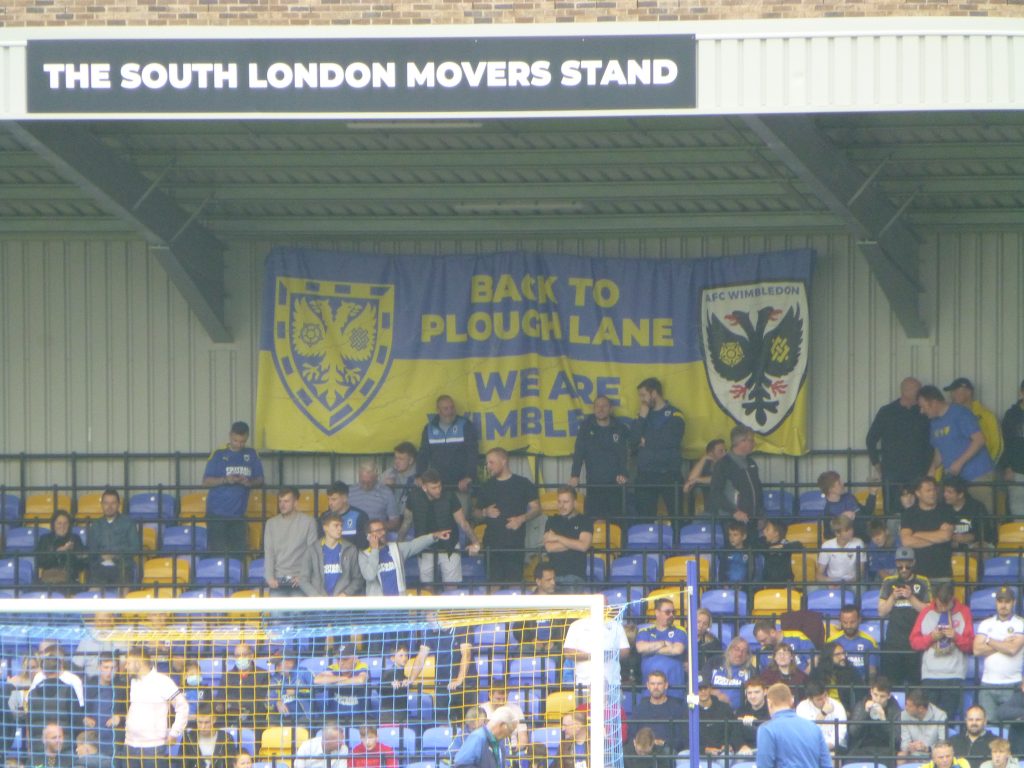 "New Ground" used to be two words that were excitedly put together back in the day by a certain type of football fan. That type being the train spotter, anorak wearing, ground hopping record keeping kind of guy. Okay, hands up, that's unfairly going down the let's stereo type people route and I have to admit with no embarrassment whatsoever in the early '80s I'd been to every football league ground. Each first visit was obviously a "new ground" shout out.
The 92 club which was obviously paper based wasn't that difficult to get in to. Firstly –and this may still apply today as it continues to exist in more modern form – one could lie but what's the point? Secondly there were 92 and that was just about it. Not until 1987 was there automatic promotion from the Conference replacing the bottom team from Division 4 (Now League 2). It was a further 16 years before that became two up two down. Also prior to Hillsborough, football clubs just did not move location. Roots Hall, Southend, built in 1955 was the newest.
Of the 20 teams in the Premier League eight are in new grounds. Try getting a ticket for them. Sell-outs, new technology ticketing systems and the hassle that goes with trying to use them as a neutral put paid to that. Once more time to lament rocking up on the day and handing over cash. Turn up in time and you would get in, no matter what.
Clubs lower down the pecking order have changed homes too and nearly every season now there's a newbie joining the 92. Sutton United, Salford City and Harrogate Town – who would have thought it?
I've not gone out of my way to refill my 92 glass but clearly when an Oxford United away fixture helps with a bit of topping up I'll take it. Not only is Plough Lane (Mark 2) a new ground for me it is also genuinely a new ground. Wimbledon played their first league game back just a few hundred yards from the original on 3 November last year without spectators, naturally.
This season it's different. Fans were there for the 3-3 draw against Bolton. Even though the capacity is 9300 there were only 7738 present. This was apparently a "test event" and Bolton sold 1200 tickets which was less than their allocation. As there were issues with some of this away support trying to kick off with home fans in the corner, we were limited to 1000 tickets hence many empty seats in our end. Crazy really being punished for someone else's wrongdoings. Memories of the European ban after our Milk Cup success come flooding back.
Additionally ticket details were only released eight days before the game because Wimbledon didn't know if it was going to go ahead or not due to international call ups. I'd no idea that there was potential for them to lose three players. As it turned out we had to do without Gavin Whyte which is something we just have to get on with.
Worries about ticketing problems on the day proved to be unfounded but having an A4 sized ticket which had been produced on the kind of printer many people have at home was a bit amateurish. Scanning and entry all went smoothly though with no hold up.
AFC WIMBLEDON 3 OXFORD UNITED 1
There's a brewery "By the Horns" really close to the ground and it has a Taproom. On match days tables have to be pre-booked. We tried but it was already full which was a bit of a pisser but no worries, Tooting looked interesting.
Coming out of the Tooting Broadway tube station I held back from a raised arm and cry of power to the yellows. That would have been childish, especially at my age and had locals thinking there goes another knob head.
As it was, just before midday the number one pub we'd picked wasn't yet open so we went in the Castle on the High Street. Well worth a visit for historical reasons but not the beer unfortunately. The small frontage belied a huge interior. It's a Young's pub and any real ale connoisseur will know Young's of today is nothing like the Young's that was based in Wandsworth.  And to compound matters, of the many hand pumps only one was on. The Special and it was anything but.
Back in the day it used to be a music hall venue and in the '50s and '60s Danny Kaye and Peter Sellers featured. In the '70s it was home to the Tooting Blues club and the Faces and Mott the Hoople have played there. On the wall there's a picture of the dear old Queen Mum pulling a pint. Hope it tasted better than the ones we were served for which the cost was an outrageous nearly six quid.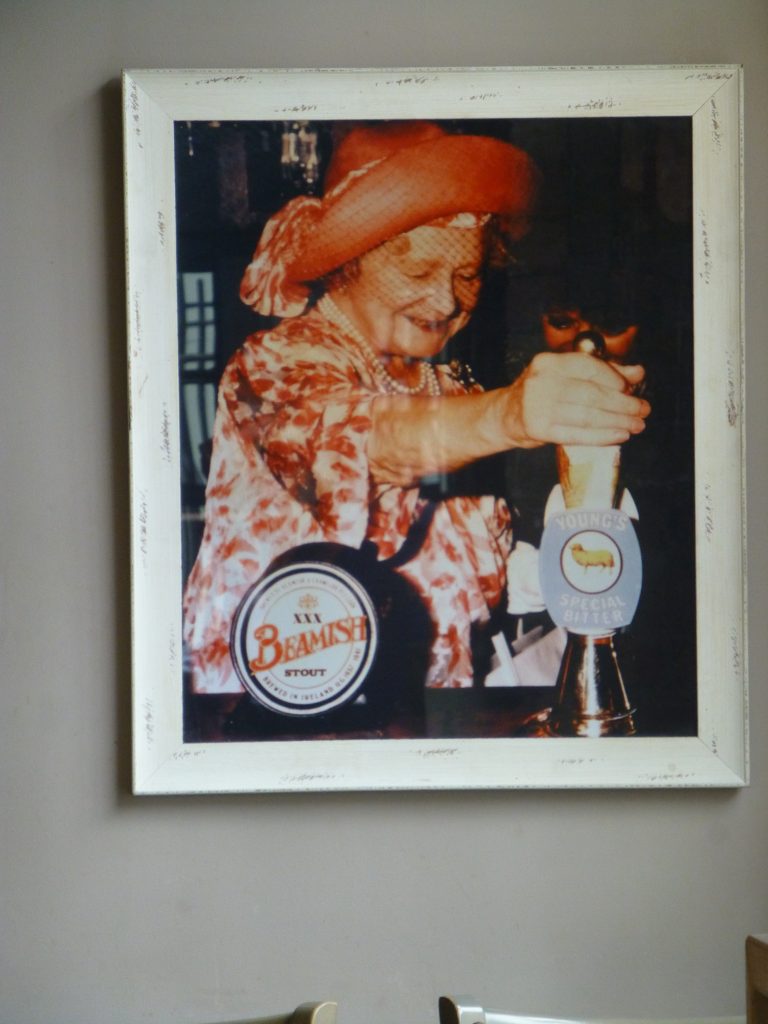 No hanging around and we were soon in the Antelope, the clock having struck 12:00. Another large pub and this one deserved to be full. It wasn't. Another group of Oxford Utd supporting real ale mates happened to be in there which was no surprise. They had reserved a table. There had been absolutely no need to do that. Only a couple of hand pumps had beer coming through and we were advised that one wasn't great. The other however, a local brew, was and, incredibly was just £3.80 a pint. See it can be done. Brownie points were lost though because when we returned after the game the only ale on was the not very good one.
There's another pub in the GBG a few yards away but the Graveney and Meadow had no real ale on at all, not even a poorly looked after one.
What is it with this post lockdown world?
Every match your team plays is informative. It can confirm something you already knew that was basically taken as a fact; it can give more weight to the body of evidence that you strongly suspected pointed in a certain direction; and/or it can start to shed light on something new.
None of the latter in this but definitely, for me, some of the others. Sorry but I just can't see that the 2021 version of Sam Winnall has got it for L1. The quality of the squad may be the best for many a long day but I'm one of those who thought that our cause would have been greatly helped if we'd strengthened up top before the window closed.
At the back it is increasingly looking like we can't defend high balls into our box be they corners, free-kicks or a cross from open play. This is not hindsight after this defeat. I was worried before their first and before number two found the back of the net I'd said to my mate that I wouldn't quite go as far as saying we were as dodgy as when we had Sam Slocombe in goal in such situations, but we weren't far off. FFS how tall is Elliott Moore? Okay, it's unfair to blame him when it's others who are (supposed to be) marking the scorer but I get no sense of a big dominant presence from him in these circumstances. I have to say the same about Jack Stevens and am starting to wonder, assuming that Simon Eastwood is back to somewhere near his best, if we're playing the right man in goal.
Whatever it is if we don't sort it out we're going nowhere and given the talent that we have, particularly in midfield, that would be criminal.
The Wombles' first looked so easy. No one properly marked Will Nightingale who got the initial header or Jack Rudoni the scorer. The second even bloody easier – a corner, Nightingale wanting it and getting a head on it. Easy, piece of piss. We didn't even put in a 100% challenge let alone that 110% footballers are supposed to have in their lockers. I'm even getting really pissed off as I write this now, many hours after the final curtain.
What's the point in playing good football, which we did when we had the ball, if we can't do the effing basics right?
On another day we could have won this with the chances we created but if we had done so that would have been papering over these glaringly obvious defensive inadequacies.
Walking back to the tube afterwards a Wimbledon fan engaged us in conversation. Turning point he said was the tackle Ben Heneghan made on Nathan Holland. With that I fully concur. It came not long after our West Ham loanee had replaced Ryan Williams, who hadn't been much involved, in the 66th minute. I'd started to celebrate us retaking the lead following a wonderful pass from James Henry, when Heneghan did the 110% thing. It was a tackle that was perfection but a goal should have been scored, surely. If that had gone in the initiative and momentum would have been back with us, allowing the home side little time to bask in the glory of having got back on level terms and I think we would probably have gone on to win.
Wimbledon had just five corners, we had 13 but never looked a threat from any as far as I can recall. I just knew it was going to be a blue head on the ball to get it away every time.
The Wimbledon fan's summing up of where his team are at was that they won't go down. I'd talk them up rather more than that. They impressed me and on that showing wouldn't write them off with regards to being thereabouts for a play-off slot. I suspect there may be very little to choose between many teams this season although when it all settles down in the months to come one or two of the big boys might push on and do a Hull/Peterborough.
Putting all the negativity about our weakness in both boxes in the air to one side, this was yet again a very entertaining game of football. It was played in the right spirit. The Wimbledon of old, the Fashanu elbows and the Vinnie Jones testicle grabbing have long gone as has the long ball game. It shows once more the depth of quality in the English game.
They deserved their win but I'm not sure whether the two goal margin was quite a fair reflection of the 90 minutes. That said they just cut through us for number three so possibly it was after all.
The move started from the Wimbledon goal line. Nightingale, who should have been put under great pressure, easily turned away from Winnall and found Nesta Guinness-Walker. With Henry jogging half- heartedly, the double barrelled one was able to make progress towards the half way line before slipping the ball to his left. It was then played down the line to Moroccan Ayoub Assal who didn't have much difficulty in beating Moore. Rudoni the scorer was completely unmarked with none of our midfielders having tracked his run. At that stage we were a long way short of 110%. If players had no energy left doesn't that suggest the wrong ones may have been replaced?
Usually I can see a lot of logic, even if I don't fully agree, in our substitutions but I'm struggling with much of what happened here.
We made all our subs when the score was 1-1. Holland for Williams, I get that, but taking off Alex Gorrin and Mark Sykes I can't work out. That left no room for manoeuvre with 18 minutes plus stoppages left. I can't fathom for one moment how having Winnall and Matty Taylor on together was going to work.
I thought our best two players had been Sykes and Anthony Forde and was both surprised and a tad annoyed when the former was removed. He's the one with energy in abundance and was causing the Wimbledon defence as much trouble as anyone. Herbie Kane obviously needs minutes on the pitch so that we can see this wondrous talent blossom in a yellow shirt but without AG out there did we lose something of the "holding role" a role that seems to have become increasingly important in the modern game? I'm thinking England with Declan Rice and Kalvin Phillips.
Anyway what's done is done but it looked so promising at half time. Taylor had headed just wide from a Henry cross and the crosser had hit the base of the post with a low left footer from distance. He also drove one into the side netting and others tested keeper Nikola Tzanev who didn't look too confident. The Dons had chances too. Yes. Good game of football that in added time got even better when Sykes robbed Hartigan and with Taylor sensibly playing statues and not getting involved a side footed finish gave us the lead.
We might have just taken the first period but the second with three let in and nothing added to our tally was clearly a different story even though we had additional opportunities to Holland's. Williams had a point blanker blocked by Tzanev and after a good move down the right Cameron Brannagan really should have hit the target.
It has been asked if we'd been out muscled again. Possibly, but I didn't think this was that much of a physical game with players coming together.
We've played three away games in the league now and have taken just one point. Far from good enough as we know but we also know we're notoriously bad starters, not that is in any way an excuse.
On the other hand our home record thus far has been perfect but I know Wycombe will very much test that in a week's time.  Until then we've got seven days to work on those glaring weaknesses. That's the first time we've had that luxury since the campaign began. Last Tuesday we played Cambridge in the Papa Johns and lost 4-1 but to be honest it hardly registered with me.
Anyway best reach for my flask and corned beef sandwiches as I tick off my first "new ground" for quite a while.
There's no doubt it is a massive improvement on Kingston but I thought it quite disappointing. Even though it holds over 9k it looked rather small. Five rows from the front it was difficult to appreciate what was happening at the other end of the pitch. The seats we were sat in were screwed on to a metal structure that I am led to believe is just temporary and the huge windowless wall behind the home end is bland to say the least.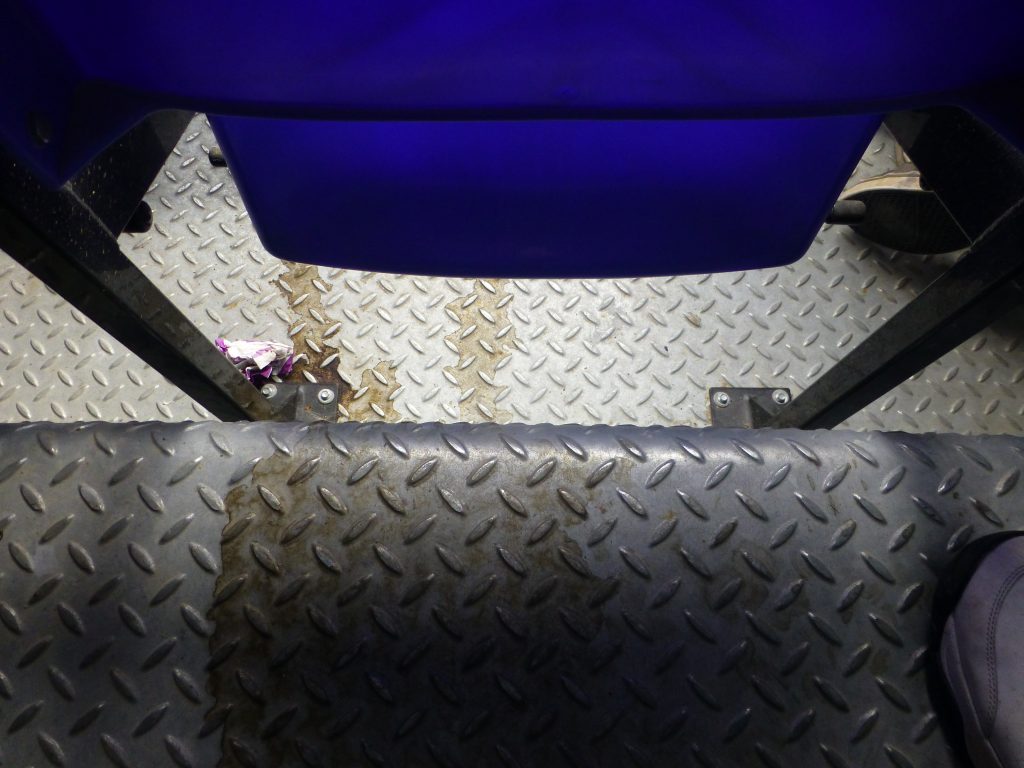 Wimbledon fans will not care one jot about any of this and rightly so. They're back home and there's no denying that this Plough Lane is compact and the place really rocked when their goals went in. All I can say to that is, fair play.