FAN'S VIEW 21/22 – NO.7
Away days, other than a crappy destination or two, are much preferred by most regulars who travel the length and breadth of the country for the crack, the company, the banter, the beer and different scenery.
Playing at the Kassam does bring some positives though that shouldn't be overlooked. We wear yellow for a start. And so far we've played two and won two. Away in the league just one point from two games and in the Carabao Cup a defeat and draw (okay, we got through on penalties but where it really counts when there are points to be played for that would have yielded just the one).
Lincoln have also got just one point so far away from Sincil Bank, a 1-1 draw at Gillingham and a 1-0 setback at Bolton.
Last season they went a tad closer than us but ultimately were also not good enough to beat Blackpool. Expectations are quite high for them to do well again and they've splashed the cash wages wise on recruiting Chris Maguire. Bit of a gamble perhaps but whilst with us Mapp showed that he knew how to get the best out of the Scotsman who isn't your run of the mill footballer. To be honest I'm not sure he would fit in with us now under KR where it all seems to be a bit more strength of the squad and no individual stand out super stars. We do though know that talent is sold at the right price because in the long run it is in the best interests of all concerned. Over 10 years ago Derby paid £400k for CM from Aberdeen and he moved to Sheffield Weds a year later for an undisclosed fee. Since then whenever he has moved permanently it has been on a free and that's been five times. Buying clubs will look at the total cost of getting a player and when no transfer fee is involved that leaves more for wages. Canny man with a canny agent?
Anyway we've no need to worry about what the man we loved watching for a season and a half may do against us because he is out injured and hasn't played for the Imps yet. He's got a calf problem and isn't expected back until next month.
It's not just him though. Mapp has declared a "bare bones" situation with eleven injuries and possibly two more. I'm expecting the tea lady and chairman to be named as subs.
 OXFORD UNITED 3 LINCOLN CITY 1
So it wasn't mind games. Our visitors were quite depleted with only five named benchers. But Liam Bridcutt, Anthony Scully and Conor McGrandles are decent enough players. Also let's not forget we're without Ryan Williams, Billy Bodin, Sam Long and I'll also throw in Jamie Hanson. They still beat us in the top trump treatment room game but that we've not really missed these players shows that there is a strength in depth here that we've not had before.
In the first half we were excellent. For most of the second not at the same level but still the better team and good value for our lead. At that stage I would have rated us at about 8 out of 10 bearing in mind that the opposition were not at their strongest. I'm a harsh marker though and when it was all over would have dropped that score down somewhat, perhaps even as low as 6.5. I doubt many will agree with this and quite probably it is unfair but no way did we see the game out in a professional manner.
Reasons why that was so? Losing Jordan Thorniley's cool head and reading of the game in the 64th minute was a big contributory factor. For the last few minutes I don't think Sam Winnall was such a nuisance up front as Matty Taylor had been. Then there's the possibility that general tiredness had crept in.
In those first 45 minutes we were supreme and looked a class above Lincoln. When we had the ball, and that was a lot of the time, we kept it really well. There were angles, one two's and penetration. There was confidence.
Goal number one came just twelve minutes in.  Lasse Sorenson waited for the ball to get to him. Thorniley didn't, he anticipated and came forward selling the subtlest of dummies to Bridcutt's left and going past him to his right. The Lincoln defence was doing a bit of watching of our man in possession and the ball plus Matty Taylor but not James Henry. The pass was right into Henry's path and after a few touches from inside the D he fired past the Imps teenage keeper, Josh Griffiths, on loan from WBA. A tremendous goal.
We do seem to have a bit of a vulnerability at the back when high balls are played in from set pieces and however much we may be on top in a game good work can be undone very quickly.
We'd looked like adding to our lead but didn't and from a corner Adam Jackson headed powerfully across goal and against the post. The luck was with us obviously, although we'd not dealt with it well. I'm not party to how any team sets up to defend in such situations and to be fair goals are not conceded from these as often as one may think but there appears to be more concentration on blocking and holding than attacking the ball to get it away. Lincoln had eight corners in total and did not score from any so we must on the whole be doing the right thing.
Not long after this scare our lead was doubled. It started with that man Thorniley again. He looked up and saw Gavin Whyte making a run that got him "in behind" and onside. Whyte's control was good and cutting back he side footed another inviting pass for JH to fill his boots again. Henry nearly being accidentally robbed by Gorrin, who needed to take a little skip over the ball, had to delay his shot a split second. The effort was taken from close to his first and cut back to the right of Griffiths. Another fine strike of the ball.
At the beginning of this half the free-kicks we were winning were down to the visitors being beaten for skill. There was nothing malicious in the challenges, we were just that little bit quicker than they were. Towards the end of the period though I thought the challenges some of them were putting in were much more malicious. Perhaps they'd reasoned if they couldn't stop us by fair means, bring foul ones into play. When I say they I mean their players because that's not the Mapp way.
We know our number nine is no angel. We also know that angels wouldn't survive on a football pitch. But when he and a black shirted man had gone down together in the six-yard box I'm pretty sure our man got a proper punch in the face which wasn't seen by the officials. He didn't make a big thing of it. Not long after, Lewis Montsma was rolling around holding his face when his face had not had a glove laid on it. Cheating, pure and simple.
After the break Lincoln improved and began to get their passing game into better working order. Again we didn't deal effectively with a high ball but got away with it although there might be quite a high price to pay. Jack Stevens just didn't get there and his one hand came off second best against Hakeeb Adelakun's head and body. When the ball dropped Thorniley had to stick a foot out to prevent the Lincoln forward getting a clean shot on goal. The impact he received as Adelakun fell to ground meant he soon had to be replaced. If it is anything that is going to keep him out of league games that will be a big loss. The ball meanwhile went up and down toward the cross bar in concerning fashion but Stevens to his credit pushed it over with Bridcutt about to pounce.
Instead of having the lead halved we increased it by 50% and put the game beyond Lincoln whatever I may have thought towards the end.  An excellent long pass from Mark Sykes to Henry who had intelligently taken off in that scurrying style of his exposed the Imps defence. Having looked up he picked Taylor out perfectly.
Having watched replays of both penalties given in this game my view has changed from at the time to now. I wasn't sure about ours, my thinking that Matty might have bought it. Clearly though he was chopped to the ground by Montsma.   The right person to give it away. Justice was done when JH completed his first OUFC hat-trick and has now gone past 50 plus for the club. A little stop in his run up but only briefly with the ball being emphatically despatched.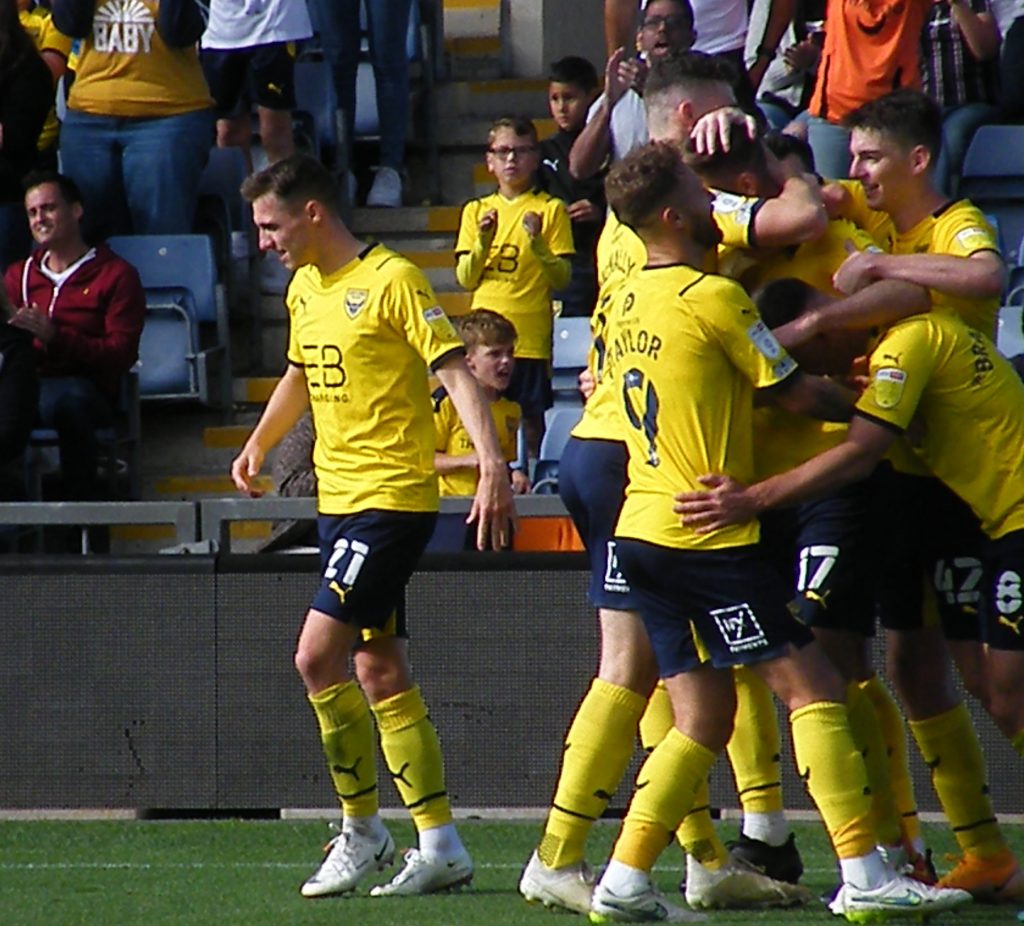 Celebrating James Henry's third. Photo Simon Jaggs
On the day I thought that theirs looked pretty much nailed on. Ed Bishop went past Gorrin too easily and was left facing Sam Winnall but having reviewed the evidence I'd argue Bishop ran straight into Winnall. It was one of those so "where does he go?" then. If we'd not been three up with just three minutes of normal time left I suspect there would have been loud protestations from those in yellow shirts. Scully put it away with no messing.
Slight jitters crept in and if they'd got a second very quickly I hate to think how it would have felt during added time.
It ended with a two goal cushion and placed us joint third on goal difference in a very tight league table after five games. Lincoln on the other hand are fifth from bottom but I think they may have gone away focussing on the final few minutes, thinking this lot are beatable and we'll be in with a good chance of revenge if we have a fully fit squad to pick from for the return fixture in early January.
There was no way Henry wasn't going to get the official man of the match award with the goals he scored and overall contribution but there were many others who could easily have been deemed worthy too. Thorniley is a stand out defender for me and Seddon's class as an attacking full-back in the first half shone through. Sykes seems to be improving all the time and this was another example of his energy levels appearing to be higher than those of your average footballer. Cameron Brannagan too had a game of great involvement and influence, again particularly in the first half. In the second when he pushed further forward he was not so involved and we found it harder to locate gaps and play through them. He managed something here that I have never seen in my many decades of watching football, he took a free-kick whilst lying on the ground.
The more I look at individual performances where none merit less than a seven out of ten with many deserving more, it makes my team assessment look a bit daft but I'll stick by it and claim synergy in reverse and that any ratings are subjective nonsense and not worth the paper they are written on.
So who is this new signing Karl referred to on the radio? Someone who plays in central midfield and it being an opportunity too good to turn down even though we're quite blessed with riches in that department. Seeing a bloke kitted out before the game stood next to PRB we thought he was about to be introduced to the crowd just before kick-off. The anticipation was killing me, I couldn't wait and as I was unable to read the name on the back of his shirt, on my brother's prompting I took a picture that I then enlarged.  "STAG DO".  Oh how we laughed.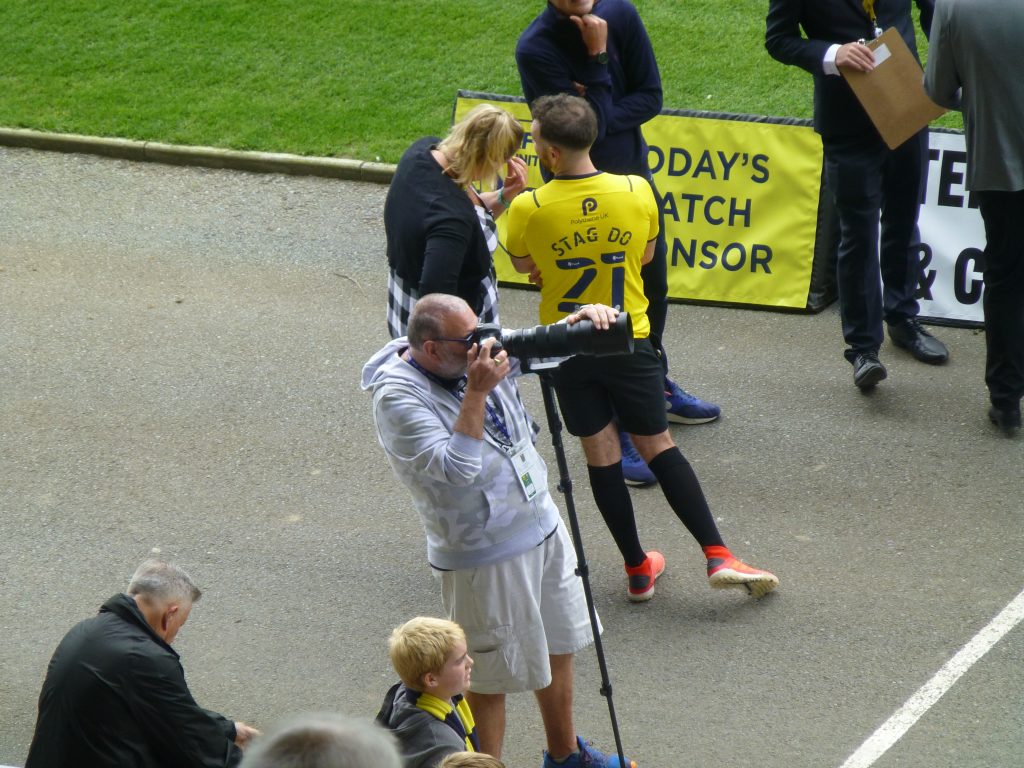 Finally I'd like to wish Michael Appleton all the best in his recovery. And a successful season but only as long as none of that success comes against us.