FAN'S VIEW 21/22 – NO.6
Our opponents
The most predictable starting reference point there could possibly be when it comes OUFC v QPR is obviously Wembley '86. The biggest day in our history? There are arguments for and against. Securing promotion to the top flight. Beating Shrewsbury 1-0 at the Manor though won't stick in the minds of many in the same way as that 3-0 victory does and I will admit I had to look the details up.
I'll also throw in our return to the Football League.
All unique experiences in their own way and all part of our history so who cares about which was the biggest?
My Queens Park Rangers memories begin years earlier. As a school kid their kit appealed to me. Blue and white hoops were different to the norm. And then there was the football they played. Exciting attacking stuff with mavericks in the team. These guys were entertainers. Rodney Marsh 211 appearances and 106 goals 1966 to 1972. Just the nine England caps. Then after he'd departed Stan was the Man. 255 appearances for Mr Bowles and 70 goals 1972 to 1979. The team he was in alongside Don Givens and Gerry Francis finished second in the top flight in 1975-76 just one point behind Liverpool.
I saw these guys play against Arsenal in a midweek game after a mate who supported the Gunners persuaded me to drive to Shepherds Bush. In those days kiddies you could drive to almost any game, park anywhere and pay on the gate. This was also an era when cars were not sophisticated at all. Very much a done thing to lock the door with the keys still inside.
I remember being stood with the away fans on an open terrace behind one of the goals. There were a fair few of them there but it wasn't packed and I clearly wasn't annoyed as they were when the home side mounted one of their attacks and popped the ball in the net. I'm not sure but I think it ended up a draw. Perhaps one day I'll be bothered to check the archives.
Having returned to the car it was time to work out how to retrieve the keys from the back of the driver's seat. Smashing the window was an option but what with? Reasoning that police were there to assist the public and we weren't far from Loftus Road I went back. A minibus load of old bill were parked up and the door was open. I explained my dilemma but this being the '70s and they being the Met only one thing was going to happen. They stayed seated and I was laughed at. Back to the car for a second time the thinking was we'd just have to kick the window in. "Having trouble lads," said a bloke driving by in a van. His helpfulness was in contrast to that of the PCs even if there was strong evidence that he may have been "going equipped". Among the tools and gear he was carrying was a plastic / wire hook arrangement for poking into locked cars between door and frame and hooking the catch up. By now with it being quite dark and the street lights not helpful he got his passenger to strike matches so he could see what he was doing. Down to the last match he quite apologetically said, "Sorry, if I can't get in this time that'll be it".  He was thankfully successful and I couldn't thank him enough. The offer of a pint was turned down. Busy man, he probably had stuff to do.
 CARABAO CUP ROUND TW0: QUEENS PARK RANGERS 2 OXFORD UNITED 0
I wasn't driving to this so was not in for any repeat worries, not that such an incident could ever happen again in these modern times.
For mid-week games parking near the Kiyan Prince Foundation Stadium and let's not forget why Rangers ground has this name, is a doddle. Plenty of spaces in the streets very close by after 17:00. Our chauffeur, who always does us proud, decided to get as near to the ground as possible. On seeing we'd got too close, pavement and bollards were negotiated in a u turn manoeuvre, the likes of which I've never before witnessed. And the "touch" in touch tight meant exactly that. It was delicately done to be fair and the motor bike didn't even wobble. So we were parked up and ready for the pub.
That was the Crown and Sceptre in Melina Road which had been recommended to us. Walking around Shepherd's Bush and sitting in the pub I could tell that QPR really is very much at the heart of this community. If I'd been born and bred there I would be really into the Rs. But I wasn't. I'm a yellow and sitting drinking pints of London Pride I pined for the Manor and the Butchers Arms where you would be served a pint of said beer that never once failed the quality test.
The Crown and Sceptre is a large back street local on the corner of Melina Road and Goodwin Road. A typical London drinking establishment.  QPR flags hang from the walls which also contain photographs of their legends from the past, ones already mentioned, along with reminders of TV of yesteryear, Arfur Daley and Steptoe.
A greyhound called Rapid Ranger (1998 – 2010) became only the third dog to win the English Greyhound derby on more than one occasion and a digitally composited artwork of this animal was created by photographer Gideon Hart. The one hanging in the Crown and Sceptre is the original. So there's a useless piece of information for you but stuff like that really appeals to me.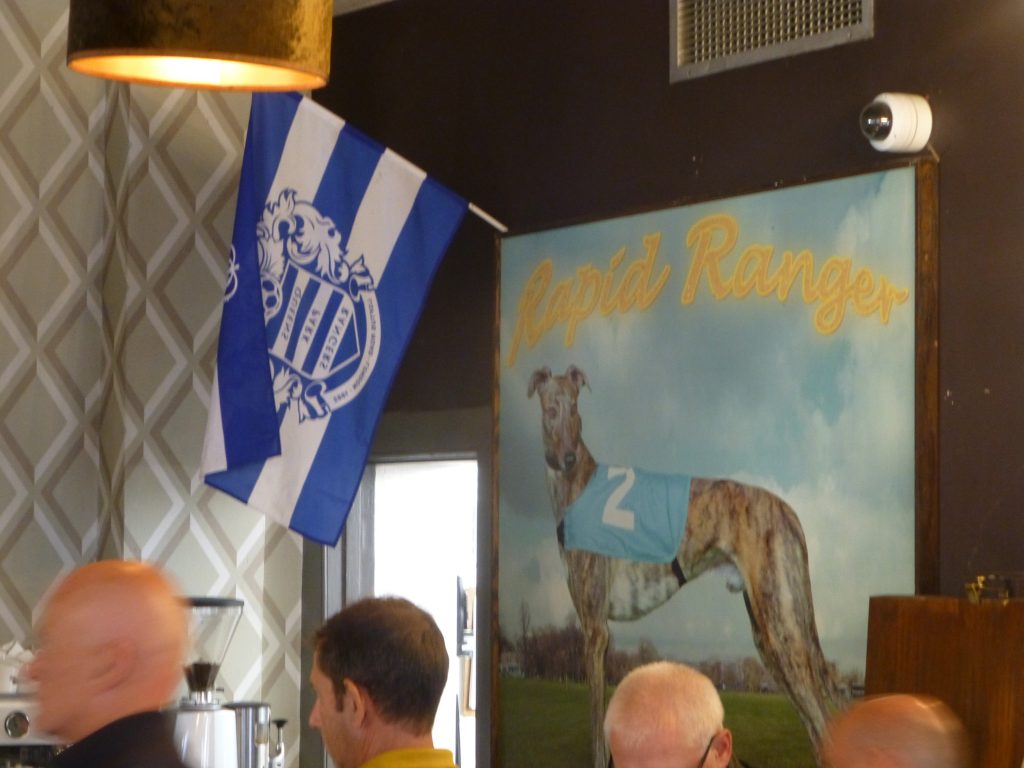 By my calculations the home team made fewer changes to their starting line-up than we did to ours. Five and six compared to the previous league games. So none of this we couldn't beat their second string unless it is acknowledged we were more second stringy than they were.
Irrespective of the stringiness of both outfits this game was played at what appeared to be a furious pace. There might have been an element of "near and far away" regarding my view of a game as I'm rarely this close to the action. Five rows from the front of the lower tier here I was probably better placed to appreciate the speed of the action than I am when in the back row of the SSU at the Kassam.
That view was a decent one but I know from previous experience that can't be said of many in the upper tier and if in the front row down below I suspect it would have been more about looking at ankles and unintentionally up shorts instead of being in a position to watch a move take shape.
I suppose even with a restricted view one shouldn't complain too much given the prices charged. Just a fiver for season ticket holders who were over 61 years of age. Outrageously good value. This policy worked. We sold out our entire allocation as one of our group discovered. He had to pay on the night and sit with the home supporters, who for the record were impressed with us but thought we had no cutting edge.
The capacity of the stadium is 18,439 but a proper football atmosphere can be generated with a lot less than that because it is a venue of the old school variety. A total of 8,154 came to this and both sets of supporters got behind their team.
We lived with the hosts for the first twenty minute or so and I thought it was a thoroughly enjoyable game of football to watch. That opinion never changed even in defeat when the conclusion was that 2-0 was probably a fair reflection and I couldn't disagree with the lack of cutting edge comment.
As we entered the second quarter of the match it had just started to show that they were that little bit quicker than we were and also on the ball individually that little bit classier.
Up until then it had been very even. For us Sam Winnall was crowded out and also had an effort blocked by Rob Dickie and Alex Gorrin shot weakly wide. Simon Eastwood had gone down by his right hand post to deflect an angled drive, which may well have been going wide, for a corner. Never knowing for sure in those situations he did the right thing as he did again in almost the same spot in his six yard box when he used his body to block  Ilias Chair's shot after the small midfielder had played a one-two.
Sometimes when an opponent scores a goal of excellence all one can do is stand back and applaud saying there was nothing or very little we could have done to prevent it. I did clap Dickie when he found the back of our net. He deserved it and has become a standout player in the Championship.
On the night I was wondering however why he was allowed so much space to do what he did and having watched it back again there is much we could and should have done to have stopped him. That's why he is where he is and we are where we are.
An Eastwood clearance found its way just beyond the centre circle and whilst Winnall just waited for the ball to come to him, Dickie eased past and took it on his chest. SW wasn't as switched on as our former centre-half and a proper challenge may well have prevented the run that followed. A rapid one two which Gorrin could do nothing about and RD was on his way. In an instant it was 3v3 and Dickie had options to feed a man to the right or left such were the positions of all six but I think knowing what he is capable of one of our centre halves should have come out to him instead of retreating.
Soon after Chair ran beyond Gorrin to receive a pass and Eastwood was once more required to block, this time with his left boot. The ball ended up only just going wide.
Rangers were threatening more to get a second than we were a first but we did come close following a Steve Seddon free kick. Looking like it had been played too long Winnall did very well to get onto it, leaping and raising a leg high to get the ball over Jordan Archer. Unfortunately for us it only found the top of the bar before bouncing out of play.
There was something fortuitous about QPR's second but again we could have done much more to stop it from happening. They had played the ball around patiently but we were giving certain opponents way too much space. We had seven men in our penalty area to their four meaning Chair and others who were further out had no-one anywhere near them. When he received the ball from the angle he was at, his shot was very speculative. Gorrin's attempted block didn't halt the ball and a possibly unsighted Leon Chambers-Parillon seemed to turn sideways on as if to get out of the way instead of going full body blocking mode. Result deflection past Easty.
The fear now was that it could become four or five. That it remained at just the two was a testament to our professionalism but we never did anything in the second period that even hinted at us getting back into the game.
I enthuse about the way Marcus McGuane passes the football but he didn't come out for the second half. I'm probably not seeing the bigger picture though and the Radio Oxford people don't think he is influencing games. Not match fit yet? He wasn't the only one who didn't start period two although Nathan Holland did enter the field of play only to be walked off by Amy Cranston. Having thrown up something obviously was amiss.
None of that helped with only one substitute option remaining although many thought Brannagan's presence made us better.
That final change was very young Josh Johnson for Winnall with still over 20 minutes to go. The lad was found with room to get a shot off on the right hand side of the penalty area. It was quite a difficult one to hit but the way he did so gave no hope that he was capable of creating a fairy tale.
Truth be told that probably was never what it was all about. Give it a go, yes. We probably did given what we had on the pitch at any one time and that was never enough to make a real impression. Learn from the experience individually and collectively. As a squad we'll be more aware of the speed of the Championship and the novices must have learned much from the evening. Tick. Plus we didn't do anything rash that would impact our chances against Lincoln on Saturday and that will have been at the forefront of Karl's thinking.
Back in Bicester by 23:00 and that's only 25 minutes later than we're usually home from the Kassam after an evening game. That's another thing to like about this fixture.
A couple of points to finish on.
I've been extremely positive about QPR but can't sign off without commenting on how bloody awful those moving electronic adverts are when you're looking directly into them. The orange one was blinding and when one of the white ones was having its turn it was a genuine challenge to spot the ball. I've not got a Scooby what they were promoting and even if I did I'd probably be anti the product it was pissing me off quite a bit.
We've worn our black shirts twice this season. We've lost both games. Wearing the white/ blue or yellow shirts we've not lost. Just saying. For the record QPR "away" shirts for 2021/22 are black. They've played two away games in the league this season and won both. Their tops on both occasions were those lovely blue and white hoops. Burn those black tops I say.