FAN'S VIEW 21/22 – NO.50
Well done to this lot for travelling down
OXFORD UNITED 1 DONCASTER ROVERS 1
Fifty, that's a nice round number to finish with. Obviously I wish it had been more. Fifty three would have done nicely especially with a joyous positive write up in the last. But we knew before today that it wasn't to be.
So let's call this game what it was, a post season friendly.
Sixth position we knew was mathematically beyond us and Donny were already relegated. Pedants may point out that if Wimbledon, Gillingham, and Fleetwood had lost along with Rovers beating us and there being a swing in goal difference of 27 between our visitors and the Cod Army we would be facing them again next season. Never in a million years was that going to happen.
As I've said over and over when writing Fan's Views I can only state what I feel and think. No pretence that we've done well when I've reasoned we have not or vice versa for that matter.
I left the ground on Trevor Kettle's final whistle feeling deflated. As far as Oxford United are concerned that's basically mostly been my condition over the past month and a half or, if not already, then one I felt I was heading towards as we've dropped away from the play-off slots. Four defeats, two wins and a draw in the previous seven games was nowhere near promotion form and prior to that we'd not banked enough points to give us a cushion to still be in there pitching despite this very poor form. Compare and contrast with Rotherham.
Yes, at times this season I've marvelled at some of the football we've played and have quite regularly been hugely entertained, but ultimately given where we'd got ourselves to I feel we've failed.
I know it's the done thing to stay behind after the final whistle of the final home game and thank the players for their efforts but I just wanted to get out of there. After each game when they've played well I'll stay behind and applaud loudly. When they've not I don't. It would be a token gesture. I don't do it for the sake of doing it because many others do. When I do such a thing it is from the heart with real meaning. The same applies to this end of season stuff.
If it was Karl's first season I would likely have a different take on it all but it's not, it is his fourth full season. Plans are always in place and realistic yet challenging targets are set. Apparently it wasn't expected that in the 2019/20 season we'd make the play-off final. We exceeded our goal then but now I suspect the hierarchy will look on this as something of a failure. I certainly do on the basis that we got ourselves up there then blew it; on the basis that we seem incapable of defending like a top team in this division; on the basis that we can't do wet, windy and cold midweek away games up north and on the basis that we very rarely beat teams occupying a top six place at the time we came up against them.
I can see that this will come across as being severely critical and there are many football clubs in a much less healthy position than us on and off the pitch and I have not forgotten that we finished in the table above Bolton, Pompey, Ipswich and Charlton. That's a pretty decent achievement actually but it's not something that will be long remembered like another play-off campaign would have been.
Ah, some will say but we got more points this season than last. We did indeed but it didn't get us into the top six. Progress? I'd like to point out here that for the curtailed 2019/20 season when we'd played 35 games, if points per game had been extrapolated to a full 46 game season our total, rounded up, would have been three more than we got in this campaign. (I've used 46 for comparison purposes even though if completed we would only have played 44 games given Bury's expulsion from the EFL).
Obviously stats can be played around with in all sorts of ways to beguile and mislead but there are some things which can't be denied.
Why were so many points needed to get into the top six in 2021/22?
I think that comes down to a couple of things. Things which are probably linked in one way or another. Firstly every time there is a drawn game a potential point goes missing. The more draws there are during a season the fewer points around come the final reckoning.
Here's the percentage of games that had a winner in L1 in each of the seasons since our return to that level.
| | |
| --- | --- |
| | % of games that were won |
| 21/22 | 44.75% |
| 20/21 | 40.40% |
| 19/20 | 46.25% |
| 18/19 | 41.67% |
| 17/18 | 42.39% |
| 16/17 | 44.93% |
The difference between this season than last explains why more points were needed now than then.
The claim that it's getting harder each season as more big teams end up at this level and (in theory at least) raise the bar. For that to be so the gap between top and bottom must be increasing as those relegated and close to being so gain fewer points as the top teams accumulate ever more.
Here's a table showing the average points of the top six, bottom six and difference between those in each of those six seasons. (19/20 – extrapolated).
| | | | |
| --- | --- | --- | --- |
| | Top 6 Av pts | Bottom 6 av pts | Diff |
| 21/22 | 87.17 | 37.67 | 49.50 |
| 20/21 | 80.67 | 45.33 | 35.34 |
| 19/20 | 81.42 | 38.42 | 43.00 |
| 18/19 | 86.50 | 47.33 | 39.17 |
| 17/18 | 84.17 | 46.83 | 37.34 |
| 16/17 | 83.67 | 44.83 | 38.84 |
I think the contrast between this season and the last is huge. This time it wasn't as if we were a couple of points short. Six more were needed.
This season we've been looked on as a free-scoring, entertaining team. Correctly so, but I take that with a slight pinch of salt. At the final count we were joint top scorers with champions Wigan on 82. The next highest scorers were Sunderland (79), MK Dons and Sheffield Wed (78) and – supposedly boring – Wycombe (75). They all made it over the play-off line.
The team that are missing here are the other side who achieved automatic promotion, Rotherham. They only scored 70 goals but as some still don't seem to fully grasp it's not just about scoring goals it is about keeping them out too. I'll come on to that.
Also the value of a goal can vary enormously. The seventh goal in a 7-0 win is nothing compared with that in a one nil win. How many times a team fails to score is significant. We drew a blank in eight games. Wigan in only three. Rotherham failed to register in 10 but they were so good at the other end of the pitch that ultimately it didn't matter.
Put the two together and you get goal difference – a no shit Sherlock statement, I know.
| | |
| --- | --- |
|  Wigan | 38 |
| Rotherham | 37 |
| MK Dons | 34 |
| Sheff Wed | 28 |
| Sunderland | 26 |
| Wycombe | 24 |
| Oxford | 23 |
Okay we were not far behind Wycombe and the Owls but it is no coincidence that the top six had the best six goal differences.
Right, now to the DEFENCE and I can't provide much on our behalf to be honest.
All these teams let in fewer than us. Rotherham (33), Wigan (44), MK Dons (44), Ipswich (46), Plymouth (48), Sheff Wed (50), Wycombe (51), Portsmouth (51), Shrewsbury (51), Sunderland (53), and Bolton (57). We conceded 59.
Another important stat is the number of clean sheets kept. A kind of value of goals against as the reverse to that of goals for. Letting in a fourth if you are already 3-0 down is less harmful, other than possibly to morale, than conceding just one when a team fails to score itself.
So, on to the number of clean sheets kept. Us, nine and we only managed one in the last 12 games. Wigan 16. Rotherham 23 and that included a run of 10 games when they only let one in. But we don't want to see that boring crap do we? Me, I do. Very much so.
I totally acknowledge that this league, like all of them probably, is incredibly competitive and there are (nearly) always 23 other teams doing their damndest to ensure we are unsuccessful but that's what competition is all about. It is glaringly obvious where we need to improve but it has been so for a while now with progress not being made.
On top of that the normal rebuilding will have to take place as bids come in to be taken or rebuffed, bids and offers are made to be taken or rebuffed, players on loan return to their main employers, players out of contract disappear, etc. etc.
And whilst I'm at it another area of note where we fell short is the number of away defeats. We lost ten. None of the teams above us suffered double figure losses. Pompey and Ipswich both lost one fewer. Wigan only lost three on the road.
That's it then. Let's think, have I forgotten anything? Oh, yes the match for what it was worth.
Can anything be written into a game like this?
Mildly pissed off that we couldn't beat a team like Donny but fair play to them for getting the draw and more than fair play to their 440 fans who travelled to Oxfordshire and got behind their already demoted team.
I thought that Sam Long had a very impressive game at centre-half and showed some leadership qualities which would have been a great help to James Golding. He was only playing because Elliot Moore's partner was giving or about to give birth, but in a way this is what games like this are all about, blooding a youngster or two. Golding won't be legal drinking age until August. It was a "who?" moment when the team was read out. We don't get them very often. We soon realised he was the "who" that had been getting rave reviews for his performances on loan at Banbury.
I'd say this was some league debut. We've no idea where this will take him. Remember Nico Jones, now unheard of at Brentford? Others have been before our eyes for a few moments never to be seen again. He looks like he could be around for a while. He had the physicality not to get bullied which is a start. Nearly scored too – at both ends. Jack Stevens saved him from an own goal against his name in his first game but that this didn't ruffle him is a big positive. At times he perhaps got a little too close to the man he was marking but that was more than outweighed by the good stuff he produced. Telling passes for a start. On another day he could have ended up with an assist.
We only played our football in brief spells and not surprisingly we lacked urgency.
Donny looked a bit more forceful than us and won quite a few corners attacking the East Stand end but once we went one nil up I thought that would be it. Before then we had a glorious chance which was built from the back. Cameron Brannagan played it square to Long whose lengthy low pass forward could be deemed penetrative as a Rovers defender just failed to cut it out. Matty Taylor turned it first time to Billy Bodin who found the run of Ryan Williams. Our Aussie kept possession under pressure but his pass that would have put Taylor in on goal was blocked. Bodin picked it up and with step over trickery and dummies got a ball over from the bye-line. Brannagan ran on to it and the net prepared itself for a bulging.  No need. He sent it way over and into the car-park. I was well pleased. All those scouts should have been heading for the exits.
Our goal came from pressing with Marcus Browne pressuring keeper Jon Mitchell. His clearance ran along the ground to be picked up by Marcus McGuane with a classy side, not back, heel taking a defender momentarily out of the game and setting up Brannagan for a run forward. He drove into the space ahead then released to Taylor on his left. Our number nine hammered a shot at Mitchell's goal. Our loanee from 18/19 made a strange effort to try and keep it out just helping it on its way in looping fashion for Bodin to chest in almost on the line. Poor goalkeeping.
The equaliser followed a corner that Jack Stevens was forced to give away with a very good save to his right to keep out a diving header. The dead ball was not played high into the box but cut back just shy of yards outside to Josh Martin. Presumably someone should have been marking him but they weren't. When it went in we looked at each other perplexed and said either that took a huge deflection or had incredible bend on it. Having played it back a few times I can't detect the former or that much of the latter. If I say poor goalkeeping again I'll probably be accused of being biased so let's just say one of those things.
I'm still trying to put my finger on why exactly I am so utterly disappointed but think I may now have a bit more of the answer. In 2019/20 when we made the final, fans were absent at Wembley and for both semi-finals. In 2020/21 I got to all games when fans were allowed back in. All three of them but for that semi-final against Blackpool where there were so few of us in the Kassam the atmosphere was surreal and obviously the 3-0 defeat when we were never really in it didn't help. I felt deprived. I craved the real thing and very much still do.
Anyway we've now got thirteen weeks to have a rest from all this. That's not long to re-charge our batteries. There will not be full switching off though. More than an eye will be kept on players in, players out, new ground progress or otherwise, change of majority ownership or otherwise etc.
Then there's a bit of checking what our rivals are up to but be careful when googling "Tractor Boys".
Bye for now. Hope you all have a good summer and are raring to go again on 30 July.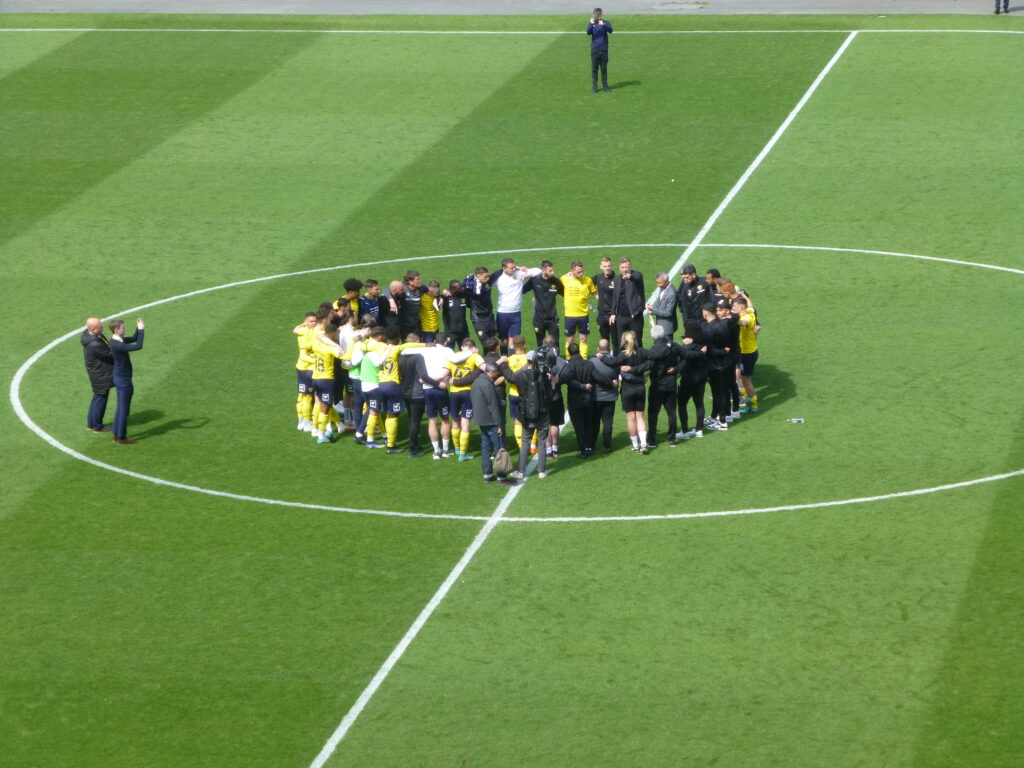 I wonder what Karl was saying to everyone after the game.