FAN'S VIEW 21/22 – NO.5
Our opponents
Bolton are another league one club – and there are quite a few of them – who are considerably larger than we are. For their only home fixture in the 21/22 league to date they drew a crowd of just over 16,000. That was a 3-3 draw with MK Dons. A week ago they came away from Plough Lane mark two with a similar score and on Tuesday won 1-0 at highly fancied Lincoln.
This will be no easy task for us and a win for the hosts would mean they leapfrog us in the embryonic league table.
In 2011/12 they were in the top flight but by last season had plummeted all the way to League Two but only spent one campaign there. I'm sure their fans will be expecting them to get back to the Championship in the not too distant future now that they are owned by Football Ventures (Whites) Limited who bought the club in August 2019 after it had gone into administration. Under the previous ownership they were only heading one way and it wasn't up.  As the Bolton News put it, they had been "pushed to the brink by neglectful ownership and crippling financial issues". Mention Ken Anderson's name to any Bolton fan and I'm sure comments made would include a few expletives at the very least.
BOLTON WANDERERS 2 OXFORD UNITED 1
Since 1997 BWFC have been located in Horwich, a town with a population of just over 20k, about six miles from their previous home at Burnden Park where they had resided for over 100 years.  So one wouldn't expect real ale seeking away fans to be rubbing their hands in joy at this trip. But you'd be wrong. It's a case of seek and ye shall find, provided you don't mind a bit of walking.
The Crown, a Joseph Holts pub, provides a good starting point and it was only about a minute walk from there to the next watering hole where it is what it says on the label. The Brewery Bar is above the award winning Blackedge Brewery and boasts many hand pumps. Absolutely top quality beer and a decent football chat with a group of home fans who were clearly into their ale too. That's the type of place I could spend hours on end in. With a football match to go to and other local breweries in the area whose products needed sampling before kick-off I didn't on this occasion. The walk to The Bank Top Brewery Ale House just over half a mile away provided unexpected entertainment when a car pulled straight out in front of a post office van which had to swerve onto the wrong side of the road to avoid impact. Postman jumps out and the driver of the car, a woman, did too and by her reaction didn't show much remorse. If the face to face encounter had been man to man the outcome may have been different to the one that saw both just drive away.
The Bank Top beers were more pints of quality. And Northern prices too, obviously. The stroll from there to the Macron Stadium took just over half an hour.
This was a great advert for level three of English football. Two teams who, on this showing, should be there or thereabouts. Two teams playing the game in the right way. Ball on the ground being passed around. No great evidence of dirtiness from either side – although we did pick up three bookings – nor cheating either.
However within that there were elements from us that were not quite up to the standard required to win games like this or even get a draw. Most of the standard stats indicate two very evenly matched teams but these stats don't tell the fine detail. They don't cover sitters missed. Or allowing an opponent to get a shot away when they really should have been closed down. Nor an analysis of efforts on goal that should have been saved.
At the start of any season it takes me a while to get used to watching the new recruits before there's automatic recognition of who they are at a glance. Plus it gets even more confusing when the starting eleven needs constantly changing due to injury to work out what's what and who is playing where. It also takes some doing to get my head round the fact that the Mighty Yellows wore that awful thoroughly depressing away kit. Yellow brightens the day for starters. All black does not. We're not the Kiwis rugby team.
For this game we were missing Ryan Williams. From what I've seen of him so far he's one of the very first names on the team sheet. I believe his is an impact injury so he should be back very soon.
Billy Bodin is out for four weeks. James Henry who I think has been quietly influential has a hamstring problem and only remained on the field until the end of play against Crewe because we'd already used all three subs. (If I'd had a vote I would have gone for keeping five although I can see why the smaller clubs were against as it plays into the hands of the richer ones who have stronger squads).
Anthony Forde returned at right back but Sam Long is apparently not quite ready yet. The same goes for Elliott Moore who was only deemed fit enough for the bench but the way Luke McNally has been playing it would have been an injustice to have left him out.
So quite a bit to contend with on this front and we're still in August.
Starting both Matty Taylor and Sam Winnall was a surprise and it was the latter who set up the former on 11 minutes to give us an early lead. We swarmed all over Antonio Sarcevic and Winnall, after a quick look up, sent Taylor sprinting away through the non-existent heart of the Bolton defence. On the day I never for one moment thought our number 9 had handled the ball as he brought it under his spell. Wanderers' manager Ian Evatt was convinced he did and after playing the incident back a few times I have to agree with him. First of all I thought a stuck out chest but it is much more arm.
Keeper Joel Dixon couldn't stop Taylor or ball and our man was able to walk the ball into the net.
Conceding at any time is a pisser, unless you're loads of goals to the good, but there is an element of truth in the bad time to let one in just before half time. Psychological and all that sat in the dressing room during the break mulling over having just been pegged back instead of feeling quite satisfied with job done quite well so far.
In those first 45 minutes we'd not looked defensively frail and there wasn't that feeling that the equaliser was definitely coming. But neither had we looked quite as solid and assured as we have in other games thus far.
Steve Seddon is a natural left back and looks a very good signing but there seemed something amiss with the space afforded to the Bolton attack down their right flank and at times it was 2v1 in their favour out there. We also managed to concede an indirect free-kick when Jack Stevens got his hands to a back pass when we lost our cool and control of the situation.
The first Bolton goal came after they had been allowed the ball with little challenge midway in our half. Perhaps we thought there was little danger in these circumstances. Even when Oladapo Afolayan beat Alex Gorrin rather too easily he was still too far out for us to be unduly worried. The shot he hit was dipping but I would expect a keeper who could see it all the way to have kept it out.
Before the second period began I would happily have settled for the point we had in our grasp. Lack of ambition yes but well as we'd played I could see the game more likely going their way than ours.
And so it proved on 63 minutes. Eoin Doyle, still sharp at 33, was onto a corner in a flash and angled it home as our defence was found wanting. Before today we'd not conceded an opponents' effort from open play and now we'd done it twice.
To our credit we didn't get dispirited and continued to keep the ball quite well when we got it without fully convincing we'd force the Bolton rear guard to buckle.
It was actually the home side who came closest to getting the next goal when a long ball to Doyle undid us as we'd undone them for our goal. As JS came out sliding and arms out to the right hand side of his penalty area the ball was played over him but luckily for us bounced across the six yard box and then wide.
We didn't panic and start lofting hopeful balls into the box and this sensible approach should have paid dividends in added time. After we'd moved the ball well, Nathan Holland beat his marker almost on the by-line and set up Gavin Whyte for the glory moment. With no white shirt within touching distance from seven yards out and in the centre of goal it wasn't seized. Instead of the back of the net bulging the ball was blazed high into the empty seats to our right. It was on his left foot. He's right footed isn't he? Question is should all professional footballers be able to do at least the basics with their weaker foot? This provides some explanation as to why Gav is back with us on loan and not ripping it up in the Championship.
But as I draw this to a conclusion I'll highlight some reasons for optimism.  We weren't far off against a good side. A few can play better than they did here. Winnall looked properly fit, showed some good touches and put in the work too. Marcus McGuane got 30 minutes. I think the bloke is real class and when he's able to go the full distance could have a massive influence on our season.
Leaving the ground a Bolton fan or two purposefully walked through our lot loudly proclaiming 2-1 and clearly looking for provocation. I think there was a taker and at least one punch thrown but I just continued walking across the car park, back turned, thinking perhaps nothing has really changed after all. And there was me thinking that as we come out the other side of the pandemic (although I'm not sold of the fact that we have yet tbh) perhaps everyone will have learned to get on together and for the most part the "football family" will come out the other side as a stronger unit. This wasn't Oxford v Swindon. Nor Bolton v Blackburn (not sure I've got that right). Not that I'm condoning anything in these fixtures of course. But as my mate said, there's a lot worse going on in Afghanistan.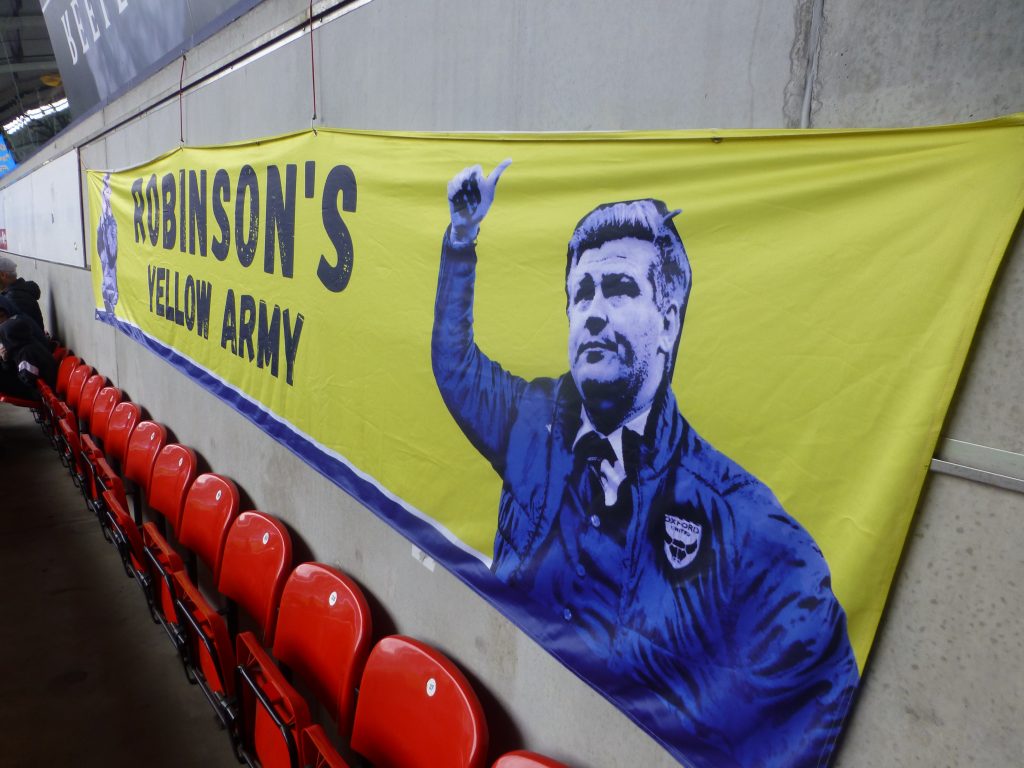 Next stop Loftus Road.