FAN'S VIEW 21/22 – NO.49
ROTHERHAM UNITED 2 OXFORD UNITED 1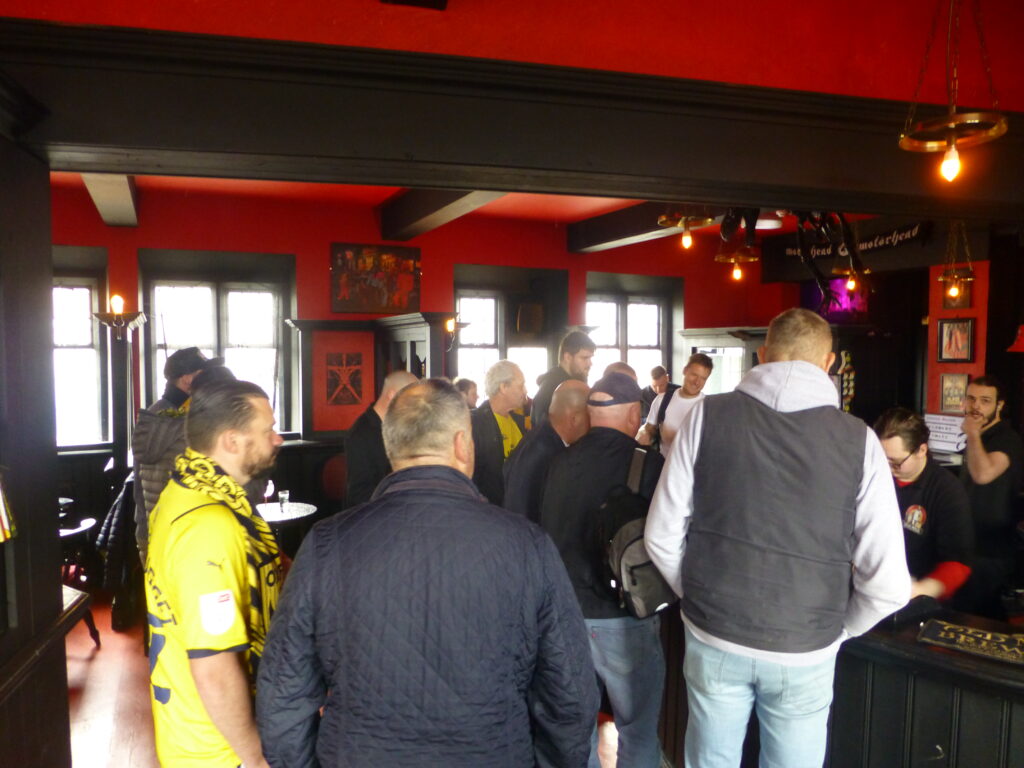 Oxford fans full of hope in the Bridge before the game 
I set out for South Yorkshire in optimistic mood.
I came away thinking that while we'd not been terrible, far from it, we'd not been anywhere near good enough to win this game and that was after taking the lead early on. Again we let that slip which leaves me asking is there something missing in our DNA?
And I don't think it should be overlooked that the Millers were no way the best team we've faced this season although they now basically only need to win one of their last two games to be guaranteed to yo-yo straight back to the Championship.
That seems to be something they're relatively happy with. When in tier two they don't splash the cash and gamble on their future as many do. Their wage bill at that level has been a fraction of that of the big spenders, especially those who have had their coffers over-flowing with Premier League parachute payments. There is something similar but on a drastically reduced level for Championship drop-outs and Rotherham are regular beneficiaries. Fair play to them I say.
Their latest accounts for Covid y/e 30 June 2021 when they were in the Championship include the following and provide a bit of insight into the difference between that level and the one they are now at:
Turnover including from player trading was £12.1m compared to last season in League 1, £9.6m, and the previous year in Championship, £14m. Of that £12.1m the biggest contributors were "central distributions £7.9m and commercial income £2.26m.
Cost of sales increased by 31% from £8.1m to £10.5m.
Remuneration including social security and pension costs were £8.2m. (Quick comparison with Norwich City FC here. As Rotherham were going back down the Canaries were bouncing straight back to the Premier League. Their wage bill was £66.6m over eight times higher than that of the Millers. Little wonder their directions of travel were different then. They will likely be playing each other again in the Championship in 2022/23 though.)
Loss before tax was £867k
Net liabilities were £770k
In the toilets which resembled public conveniences from the mid-20th century in the Cutlers Arms where home and away fans mixed without the faintest hint of a problem, I overheard two Rotherham supporters. "How do you think we'll do today?" one said to the other. The reply was "Oxford are free-scoring. Do you know how many times we've come back to win after going a goal down in the last five years?" The other guy didn't know but was told that it was very few indeed so if we went ahead they felt that they'd be in trouble.
Perhaps if they'd looked at our recent record they would have toned down their fear that we score goals for fun. Over the last six games, other than that quarter of an hour blitz at Fleetwood when we got three, we scored a single goal in four of the others and failed to find the back of the net at Plymouth. Hardly the form of promotion chasers particularly when keeping clean sheets is a huge problem for us.
The goal we got at the New York Stadium wasn't scored by a player in black (why not yellow) but one in red. Thanks. That is another indication that in recent games our opponents have largely been able to blunt our attack.
After we'd gone in front on ten minutes we didn't really look much like getting another although Marcus Browne did get a shot on target in the second half. Total shots on target from us were just two and we had a further four off target. Rotherham had a total of 16 of which six were on target.
They didn't play out from the back. They weren't a team to play through the midfield and were intent on getting the ball forward quickly yet still had 53% possession and made more passes than us. 284 to 259. They were more accurate than us as well. 62% overall passing accuracy and in our half 55%. We managed 53% and 48% respectively which, given what our game is supposed to be all about, I found quite damning. (My son without directly saying these accuracy figures were not accurate wonders how the term accuracy is defined because he couldn't believe that about every other pass we'd played had been inaccurate)
For our goal Sam Long did really well to take a 50 yard ball from Elliott Moore on his chest and get away from Jordi Osei-Tutu. I hardly saw the ball enter the net as I had my eyes on a well-placed Matty Taylor who I was expecting to convert the pulled back cross. It never reached him as an outstretched foot of Daniel Barlaser did it instead.
My thinking was that if we got to half time with this lead intact we'd be on for the win. If not I was fearful of the outcome.
We so very nearly made it to the dressing room before the turnaround unscathed score-wise. But even though the goal was scored in minute 45+3 (I can't remember many stoppages and was expecting the routine two minutes to be added) they'd been building towards it happening.
There had been sustained pressure and a couple of corners after Herbie Kane was caught dwelling on the ball which led to the first of these. Great player that he is this is happening much too often and really does diminish his value as a member of the team. (There I've said it).
Irrespective of that we had lots of opportunities to get the ball away and Long usually does much better in aerial challenges than he did against Rarmani Edmonds-Green who headed past Jack Stevens from close range to peg us back.
Even since we'd scored Rotherham had been the team with momentum which they'd gradually built and the expectation was that this set-back for us would boost their impetus still further.
The question was what had we got to fight back against that and turn proceedings our way? Sadly I think I knew the answer but one has to believe or perhaps pretend to believe. Realism can be a sobering thing but perhaps with all the skilful footballing talent KR has at his disposal one would step up and be the ultimate hero. Didn't happen.
And even if it had, with Wycombe beating Sheffield Wednesday, Plymouth getting a point at Wigan and other results involving teams at the top going as expected, it would probably have all been meaningless anyway.
We lasted until the 66th minute before the one point we had became no points. It was shocking play by Luke McNally that led to his giving away the penalty. He had all the time in the world to deal with a ball bouncing down the touchline. However instead of whacking it into touch or getting close enough to legally shield it, he decided the best course of action was to barge into Chiedozie Ogbene. The Rotherham no.11 made him look like a mug nipping past him and to the by-line. The man-handling that followed was enough for Charles Breakspear to point to the spot. Again the talk of £2m looked way off the mark but LM is still learning his trade. This was only his 27th league start for us but I don't like it much when learning on the job costs us.
I'm really trying hard to be positive about our goal-keeping and thought that JS made a very good save going down low to deny Ben Wiles when a long Ciaron Brown throw in had quickly turned into a breakaway for Rotherham. But I really think he should have kept out the penalty. It was nowhere near the post and at the height keepers are supposed to like. In his defence the homework that had been done told that he should stand still because the taker tended to put them down the middle.
Talking of penalties looks very much like we should have had one when Billy Bodin was brought down in the area but Breakspear was very unhelpful as far as we were concerned and anyway a draw would have been no bloody good.
Yes there's one game to go but honesty says it's meaningless. In the real world Doncaster have already been relegated but in the pedantic world of mathematical certainty, if they were to beat us and Fleetwood were to lose to Sheffield Wed and Bolton with a goal difference swing of 28 they'd stay up. They've got as much chance of staying up as we have of making the play-offs.
Yes we've been treated to some great football this season. Yes we've already got more points than last season when we finished sixth with 74 points but being brutally honest we've fallen short. I can take falling short in this ultra-competitive league, one in which the standard seems to keep rising as so many "big clubs" are now residing at this level, if we learn from our mistakes year on year and do our best to eradicate them. On the evidence before me I can't see that we're doing that and I rarely witness other teams, particularly the best ones, make as many mistakes in a game as we do.  So I find it hard to get a lot of this "unlucky lads", "brave effort" etc. We cock up too often.
And when push comes to shove we've fallen short. Apparently our win against MK last week was the first we've achieved all season against a club that had been in the top six at the time we played them. (I've not checked this for accuracy).
All this said we will finish above some "big" teams. Teams much bigger than us. Teams we will be playing again next season along with Derby County.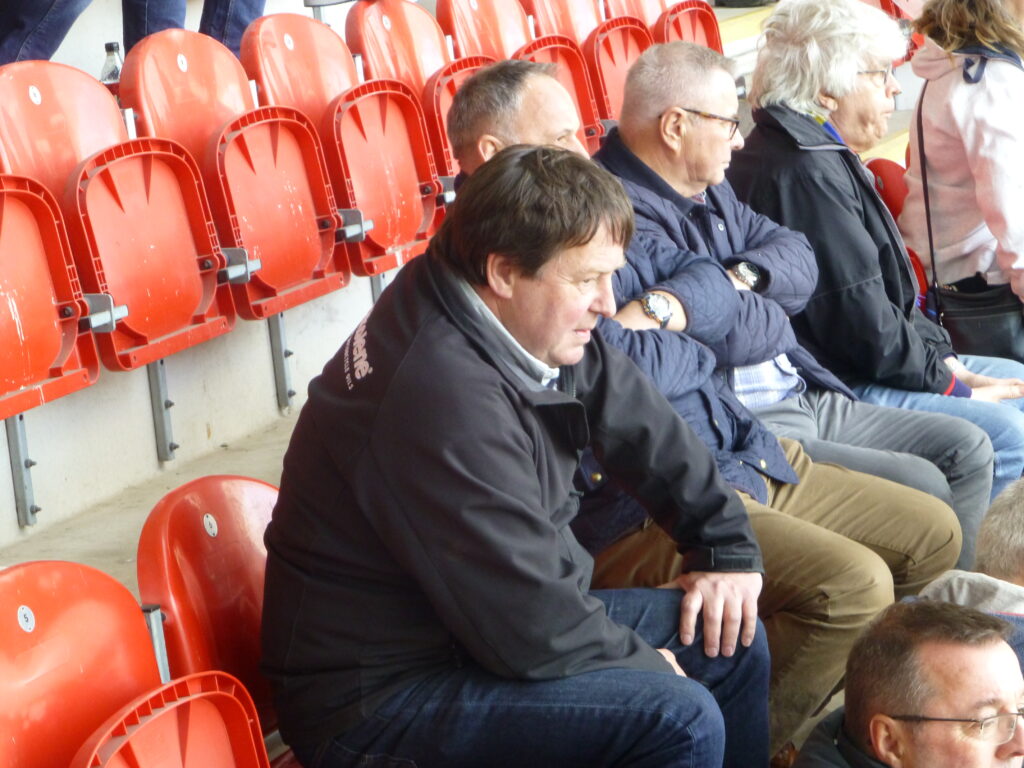 At the final whistle. All hope gone.