FAN'S VIEW 21/22 – NO.46 – SUNDERLAND AT HOME
Pre-match pondering?
The enormity of this game goes without saying. It would have been a very big one anyway but after we'd failed at Plymouth and Morecambe on the back of just getting a point against Ipswich, many think if we don't take maximum points from this one, that's it. That would leave us, if not with a mathematically impossible chance of top six, with even more battered morale than we have now.
This may not be taking place in a cold, wet and very windy environment up north of an evening (think Accrington as well as Morecambe) but we've proven more often than not that when it comes to games like this with so much at stake we've not quite got it. Perhaps one day? Perhaps on Saturday? But we're weak defensively when compared to the very top L1 teams, we all know that.
Although Sunderland have not lost since Feb 19, the bookies make us favourites. They're not stupid so that's something to clutch on to and boy after Tuesday night I'm still in need of a life raft to get me back across the stormy waters in my head to firm territory of play-off positivity.
So let's try. Other than winning 3-0 at Wigan they have not beaten all that much and are not prolific goal-scorers. Prior to that they went six games without a win and got turned over 6-0 at Bolton. Meaning they're far from unbeatable.
And we should have Cameron Brannagan back. No-one else battles like he does in midfield, the guy can play too and has now added goals to his game. Looking at some footballers you think they're winners. He's the one in our squad I'd most attribute that asset to. From Soccerbase here's the stats to make us feel better too.  They include all games not just those in League One. The win percentage of games he has played is 50%. When he has not played that drops to 20%.
I'm still very nervous about the visit of the Black Cats but I've managed to talk myself around to being a lot more optimistic than I was in the very early hours of Wednesday morning travelling back from Lancashire.
That's what I do – home and away. I'll do just about anything to watch my football club play. I could tell a story or two as I know plenty of others with the same mind-set as me could too.
So I don't want shit like this coming into my inbox from the club, "With the Kassam Stadium at maximum capacity, you might want to consider releasing your seat for one game only to enable another supporter who was unable to get tickets to experience the match. If you would like to do this, please contact the ticket office by 5pm today via telephone on 01865 337533."  No I don't F*****G want to. Yes I suspect that it may well be a request for those who can't go because they are ill or whatever to release their seat, but that's not what the wording says. It's totally embarrassing and comes over as absolutely unprofessional. Doesn't anyone check these things or does someone at the club really expect the most loyal of followers to give up their seat to a once in a season big game attendee? Get bloody real.
I'm on edge, I'm wound up. You can probably tell that. This game is absolutely huge, it's got to me. Isn't the first time and won't be the last. Hoping it's not the last this season.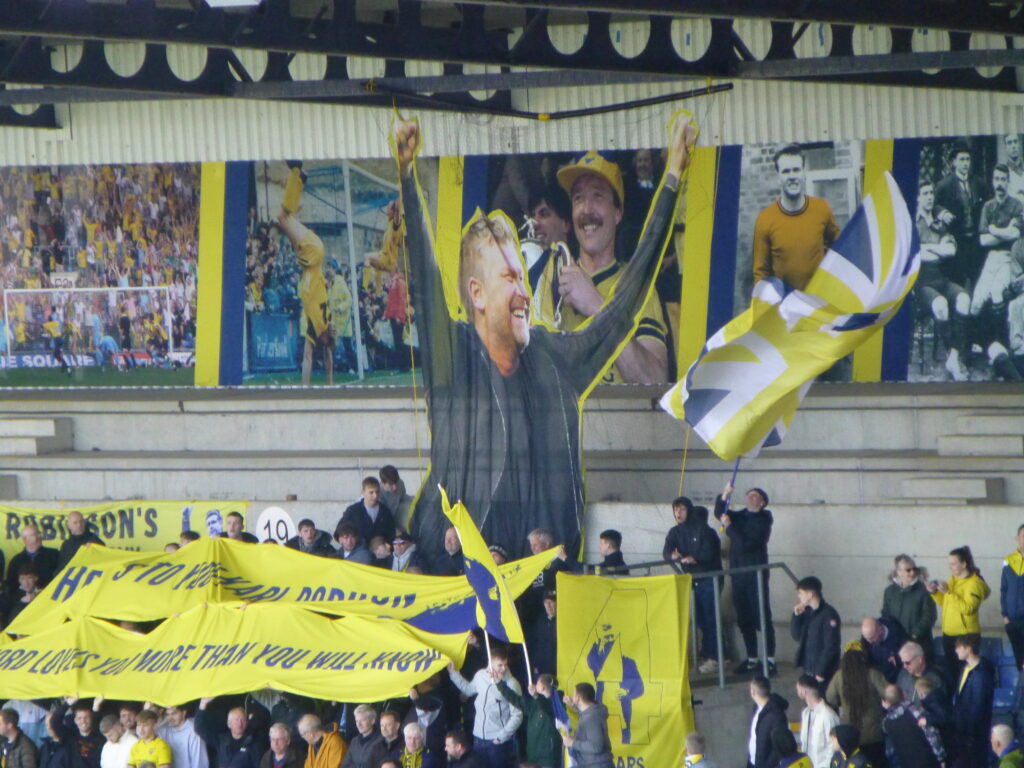 OXFORD UNITED 1 SUNDERLAND 2
I can find little motivation to put fingers to keyboard to produce the rest of this Fan's View but having written one for every game I've attended this season (ignoring the pizza thing that's all but one) feel duty bound not to give up now.
Couldn't face doing it on Saturday evening nor Sunday either.
So much for forcing myself to believe. Okay the play-offs are not yet a mathematical impossibility but here's the best odds I can find on these clubs getting promoted.
Wigan 1/50. Rotherham 4/11. MK Dons 5/4. Sheffield Wednesday 2/1. Sunderland 7/2. Plymouth 6/1. Wycombe 17/2.
You can get 40/1 on us going up with Skybet.
Three straight defeats at this time of the season and one point from the last 12 available is relegation form when exactly the opposite was required.
The number of times I hear yes but we play good football makes me want to scream. We've been doing that for quite a while now but it's not getting us to the next level and quite frankly that is very difficult to achieve.
There was a debate on Radio Oxford post-match about this sort of thing. Should we sacrifice a bit of our attacking flair for a more pragmatic approach which might/would (you decide) win us more points? Particularly when you're coming down the home straight after another long hard season and the men get sorted from the boys. I'm picturing the Grand National when horse after horse drops away.
Of course I want to see us play entertaining football. I don't want to see us play Steve Evans football. But I do want us to play winning football and that's about a lot more than possession and attacking.
What actually is entertainment when it comes to football? Losing a "seven goal thriller" most weeks?
The Harlem Globetrotters provide a load of fun but exhibitionists don't win trophies, not that they try to do so.  Cold wet and windy nights up north, they'd never take bookings in that environment.
But League One dictates we have to go to Accrington and Morecambe in mid-week. Much as our goal on the coast was the result of some of the best passing football you'll see over 90 minutes, that alone was never going to win the day.
There's so many short comings that have been highlighted time and again that we do not address season after season. I've been over them so many times it has become a yawn.
Another worrying stat is the number of away defeats we've suffered. Nine. On their travels Wigan have lost just twice and both MK Dons and Rotherham just three times. They're the top three. All of the teams that sit above us in the table have done better than us in this regard. Wycombe have been turned over five times and each of Plymouth, Sheffield Wednesday and Sunderland have suffered six defeats away from home.
Yet again after this defeat I heard that we were unlucky and could have won the game. It's tiresome. It happens too often for it to be luck.
I'd say in this encounter the only case for claiming that the gods were not on our side was when Billy Bodin hit the bar with a free-kick in the second half. An inch or two lower and it's a goal. Without doubt he's our best deliverer of a dead ball but I'd like to see him being a bit more influential in open play.
I even heard a fan moaning our luck because Anthony Patterson in the Sunderland goal had pulled off a wonder save to keep out a superb angled header from Ciaron Brown, who I think has been our best player recently, in the second half. Pesky cheating opponents having better players than ours. I'll ask again when was the last time you can remember an Oxford keeper making a match winning save? I'm struggling. And if I was to ask if Jack Stevens should have done better for the first goal I'll probably be accused of being too harsh on him.
He certainly wasn't the biggest culprit though. It came about after a Sunderland free-kick which had been given away by Herbie Kane, who to me appeared to try and tackle with his wrong foot. The only reason he was put in the position of having to make this challenge was that Sam Long had been robbed and not for the last time in the game. Our local lad who was back at right back had a poor game, in fact I'd go as far as saying that's probably the worst game I've seen him play for us. He's usually a pretty reliable sort.
Also we had a chance to get the ball clear didn't we?
Another part of this hard luck story is injuries and I wholeheartedly agree that Sam Baldock and Marcus Browne are huge losses. However is that just bad luck given that they've both been injury prone in the last year or so which was a known when we signed them? A gamble that might have paid off but for this season at least looks like it hasn't.
Other than a Mark Sykes shot which Patterson saved well the visitors had looked the more likely to take the lead before they did just that in the 16th minute.
Sunderland won't have been happy that Elliott Moore was able to rise unchallenged to head the equaliser about 20 minutes later but it is good to see us scoring this type of goal.
Back in it and hope rising once more we gave it a go in the second half but fell short. If a team can't put their chances away – and we have stopped doing that – they will fall short. I'm not one of these morons who yell "SHOOT" every time we get within 40 yards of goal or expect the ball somehow to mysteriously pass right through a defender and continue on its merry way to goal but even I kept thinking have a bloody go after we'd got the ball in the box in front of the East stand.
Then of course there was the sucker punch. Despite having plenty of men in our own half they were easily able to find an unmarked man between the lines who then ran unchallenged into our area. The scorer was completely un-marked. Yet another game with two goals conceded.
It nearly got a touch worse almost immediately when Cameron Brannagan laid the ball straight to a Sunderland forward who had a clear path to goal. The stop by JS was a very good one. I reckon Cam's mind had gone a wandering with the thought process being I want/need Championship football and I ain't going to get it here.
I'll give him his due. Even though he was a little match rusty he gave his all here and was the only midfielder or forward who I observed using bodily strength to keep or win the ball. We need more of that throughout.
For all I've written here I have enjoyed watching this team this season but I've made the reasons for my frustration very clear. I can't hide from them. I can't pretend they're not there. Before kick-off our away day chauffeur Tim came across to Mrs FV and said that in the car coming back from Morecambe I was the angriest he's ever known me and that's for quite a few years.
To make it from L1 to the Championship is getting harder and harder and having got ourselves into such a good position, to have blown it in the way we have is incredibly frustrating.
Let's pretend Wigan are already up meaning next season five from MK Dons, Rotherham, Plymouth, Sheffield Wednesday, Sunderland and Wycombe will still be in League One. Others who'll be there too are Ipswich, Bolton and Portsmouth. Very big clubs for tier three who will have viewed this campaign as one of great underachievement.  Oh, and Charlton too. Derby will be coming down and clubs that size will at some stage turn things around even if it might take quite a while given their off-field issues.
This season we've actually won more points per game thus far than we did over all 46 games in 20/21 when we finished 6th. 1.64 to 1.61. For the record in the curtailed season of 19/20 when we only completed 35 games we achieved 1.71.
Going back to the post-match radio Oxford chat there was consensus on what a good squad we've got and how bright the future is. However this group has all but fallen short unless they can pull off the most unlikely of miracles and other results go for us. If that miracle happens then they will go down as some of the biggest legends in our club's history. 40/1, no I won't be taking that for promotion and would probably turn it down if it was just for a top six finish.
Also what is being overlooked in such discussions is the fact that many of our team are here on loan. Ciaron Brown, Gavin Whyte, Nathan Holland and Herbie Kane. The latter having been a key member of the teams Karl has picked.
Throw in these things and the team next year could look very different to the one we have now. Players coming to the end of their contracts. Mark Skyes could go on a free. There's supposedly already a big offer on the table for Luke McNally.  Much larger clubs than ours will be sniffing round other players. There's ambition to play at a higher level amongst some players who know that they are good enough.
But for now there are still four games to play to finish 2021/22. We have to tell ourselves we really do have something to play for. Our next opponents Fleetwood on Good Friday absolutely do as they battle against relegation. Which team wants it most?
For all the steam that has come out of my ears I'm still looking forward to it. After the last four games I need to see us win a football match.