FAN'S VIEW 21/22 – NO.43
IPSWICH AT HOME
Prior to the game
There's been some insightful analysis posted on social media playing around with data leading to predictions as to where we'll end up when all 24 teams have played all their 46 games. What will be will be but I couldn't resist having a dabble myself regarding where the top ten are, what shape they're in and what they have ahead of them.
| | | | | | | |
| --- | --- | --- | --- | --- | --- | --- |
| | PPG | Current pts total | Max pts poss | Current Lge posn | Pts in last 10 games | Remaining games v top 10 |
| Wigan | 2.111 | 76 | 106 | 2 | 20 | 3 |
| Rotherham | 2.105 | 80 | 104 | 1 | 21 | 4 |
| MK Dons | 1.921 | 73 | 97 | 3 | 24 | 6 |
| Plymouth | 1.838 | 68 | 95 | 5 | 24 | 3 |
| Oxford | 1.789 | 68 | 92 | 4 | 19 | 5 |
| Sheff Wed | 1.757 | 65 | 92 | 7 | 22 | 3 |
| Sunderland | 1.737 | 66 | 90 | 6 | 12 | 3 |
| Wycombe | 1.711 | 65 | 89 | 8 | 13 | 3 |
| Ipswich | 1.579 | 60 | 84 | 9 | 19 | 4 |
| Portsmouth | 1.568 | 58 | 85 | 10 | 20 | 4 |
Make of that what you will. I'll be honest I now think it's going to be a bit harder than I thought it would as some of our rivals have apparent easier run ins than we have. I was surprised that only Sunderland and Wycombe have picked up fewer points than us in the last 10 games. But as we know form comes and goes and teams near the top can drop points to teams near the bottom. Teams near the bottom have to fight tooth and nail to avoid the drop. A team already promoted can take their foot off the gas. A team already relegated can relax and play better. These are well known givens so the only conclusion that can really be drawn is that we don't really know do we? Does such pondering help release the tension? Probably not. It's more akin to nervous fidgeting and boy are the nerves getting to me.  
OXFORD UNITED 1 IPSWICH TOWN 1
I'm still trying to work out how I feel about this game. Deep into the second half I was thinking this is a dog shit poor performance and I kind of still do whilst also fully supporting strong arguments against.
Those arguments against are:
We were at least the Tractors Boys equals in the first half and had we taken our chances would have gone in at the break a couple of goals up. (It was in the second half that we were woeful)
Ipswich are a very good side indeed. (Are they? Jerome thought so and said that if they don't go up this season they certainly will next time around. I rated them but I've rated plenty of teams that have come a visiting over the years. In 2021, Bolton and Plymouth for example.)
For all the visitors' seeming dominance and dictating of the game they didn't create many clear cut chances.
We had a few players who performed well. Herbie Kane and the central defensive trio. And there's no way can Simon Eastwood be faulted.
We kept going, didn't concede a second and got that late, late equaliser. We found a way. Not a way to get all three points but a way to get one and deny Ipswich two. That old adage, the mark of a good team getting something when they've not played well. Afterwards my mate proclaimed, that's why we're going up. I wouldn't go that far.
This was our biggest league gate since Wycombe six years ago when we needed a win to clinch promotion from League 2. Ipswich had sold out as expected and were another fairly raucous away following which ratchets the atmosphere up a few levels. That helps make it much more of an occasion but also brings an irritant in the form of gobshite chanting, which to be fair we're probably guilty of on our travels too. Better get used to this if we are to go up. Many sold out fixtures with away followings taking the piss, or thinking they can take the piss. We can handle it.
Kicking towards the fence end it was difficult to understand that the wind was actually with us. That's not the way it was meant to be.
In the first few minutes we played some tight passing football but when the game really got going and it became clearer what each side was about it wasn't us bossing it. Not once in the match did I think we had a period when I thought we can take this.
Ipswich didn't let us play. I heard it said not long before we equalised that they had "done a job" on us. Didn't win though did they? So how much of a "job" was it actually?
The Ipswich fans sang "shit referee". They were joined by a number of home fans. Not the worst we've had but early on I thought he should have clamped down more on foul play in order to let the football do the talking. Some fans will like his attitude though in not blowing up and letting the game flow. Possibly, but if he'd done so at the very beginning perhaps the game would flow a whole lot better later on. Just a thought. And when a game is all flow what better L1 team than us? Okay, perhaps there are some but on our day we're right up there.
Ipswich appeared to be aggressors early doors but having seen them get away with it Luke McNally decided to up the ante with what looked like a rugby tackle. He wasn't penalised so tried his luck again but didn't get away with it a second time. There was shirt pulling aplenty that never resulted in play being stopped and I have to say the biggest culprit I spotted was Sam Long. Bet they were all at it though. They have to be because if free-kicks are not awarded your team will miss out if you don't partake of this particular dark art.
A game developing along fairly feisty lines doesn't help us much and contributes to keeping our free-flowing football under lock and key. But I have to be fair to the men in blue, they achieved much of this incarceration of our skills by fair means and just playing very well with great belief. We were never given time and space to play out from the back or allowed to get passing moves going in any area of the pitch. When that happens we have to, from time to time, play long balls forward and with Matty Taylor up against a much taller marker the inevitable happens and that is not us retaining possession. This was one of our no.9's most ineffectual showings in an Oxford shirt but in his defence he didn't get the type of service on which he thrives.
The lucky recipient of such service in the first half was Gavin Whyte. First he was slipped through by a pinpoint Kane pass but shot left footed straight at keeper Christian Walton. Next it was Billy Bodin the supplier; this time it was a right footer, again straight at Walton. More evidence that Gav is not a finisher. He wasn't the only one who should have done better. Ryan Williams failed to make proper contact and put one wide.
Neither of those two had good games. Williams was given a particularly torrid time by ex-Oxford loanee Wes Burns. It's at times like this that makeshift defenders/wing-backs more skilled in the attacking part of the role than the defending one, are found out. That's no disrespect to our Aussie who probably though he'd be playing further forward when he signed, but our full-back cover is threadbare and that's been the case for some time now.
Not just them though, others were way below their usual standard too. Mark Sykes, Cameron Brannagan and Billy Bodin can all do better and I've already mentioned our leading scorer.  They weren't awful by any means though and in a way all contributed to the hard won point.
For all that the first half was on reflection acceptable but the second, if it had not been saved at the very death, would not have been for a team seeking promotion. Until we drew level I cannot recall a single second half effort on their goal. Now that is poor and shows exactly which way the game was tilted.
It was a bit of a surprise that Ipswich did not take the lead until the 70th minute. Only semi-desperate defending was keeping them out. It was just a case of getting the ball away but this was done in such a fashion that our opponents were able to immediately build another attack.  None of the attacks though really totally exposed us even if we did wobble a bit. That was until we lost out in their half. Marcus McGuane was the guilty party, lazily sticking out a foot looking like he was messing about in the local park instead of being fully focused and bang on it.  They came at us with pace and we were undone in a couple of seconds. The ball to Burns was a quality one and the cut back into our box found Bersant Celina who, unmarked, side footed home with clinical efficiency. Another option was another unmarked player, substitute Macauley Bonne. That screamed they were fitter than us and had more desire. We had no tracking back to match them on this occasion. As the commentator on the extended highlights said "the Oxford defence is all over the place".
The fear now was that we'd give away another and Ipswich must have felt confident they could add to their tally.
They came close to doing so but didn't and if a team can't put a game to be bed when they're bossing it you get the drama we got when McNally rose magnificently to head home an on the money Kane corner.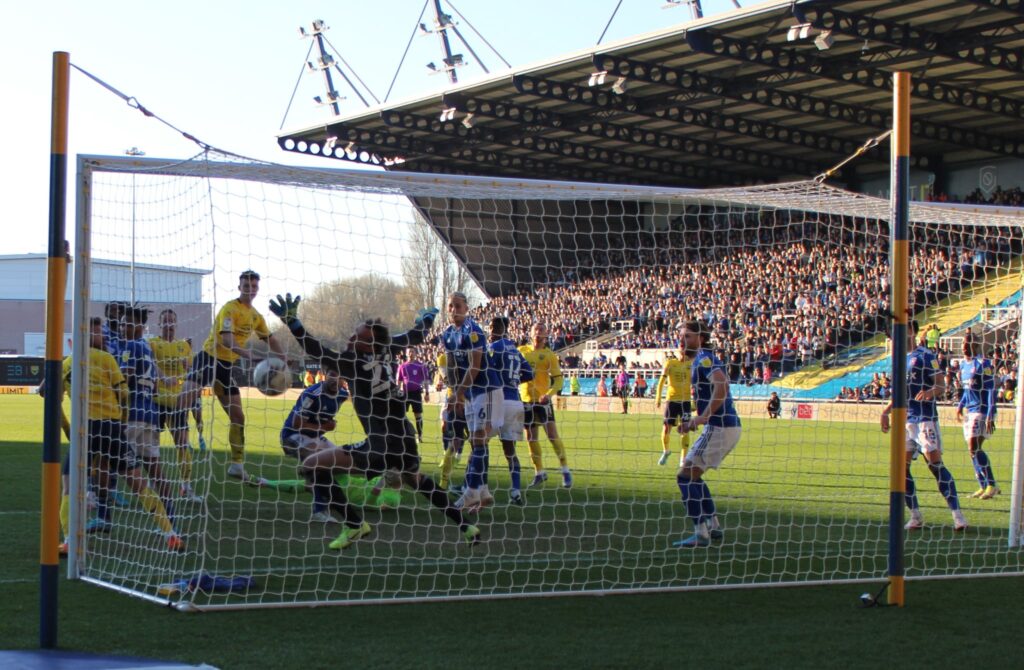 Photo, Simon Jaggs
Other results and jostling for positions
A few weeks ago most observers had Rotherham pencilled in as certs as L1 champions. Yes Wigan did have games in hand but a bird in the hand and all that. The Latics 4-1 conquerors of relegation threatened Morecambe are now just one point behind having played two fewer matches. MK who won 1-0 at Cambridge and are on the same number of games as the Millers are just four off the top spot. It's now a distinct possibility that Rotherham could miss out on the automatics. A few weeks ago when they were on a long winning run and not conceding goals their manager Paul Warne in an interview said that they were not playing well and were getting away with it. Seems he knows his team very well, as you'd expect, and that winning when not playing well can only last for so long. Losing 3-0 at home to Shrewsbury, even if they had to play from the 38th minute onwards with 10 men can't be good for morale.
I'm not unhappy with the Lincoln v Sunderland and Pompey v Wycombe games being goalless but what a bonus it was that the outcome at Priestfield, where Wednesday couldn't take max points against a struggling Gills, was the same. Remember what we achieved in Kent.
Plymouth easily putting paid to Accrington was no surprise.
So does all this leave us more or less likely to finish in the top six? I'd say about the same, possibly a little less likely but only by a very small margin. I can't help but feel that if Karl had a fit Sam Baldock and Marcus Browne at his disposal our chances would be massively increased. In this match he brought on McGuane, who I keep saying I rate but again disappointed in the short time he had. Nathan Holland had even less time to show what he can do so not a shock that he didn't have an impact and given the overall quality of our squad, Sam Winnall is probably just making the numbers up with no other viable options available.
We don't now have a game until we visit Home Park on 2 April, International call ups having taken a sizeable chunk out of the fixture list. Argyle though will be busy boys. They host Cheltenham, who have only lost three of their last 15 games, this coming Tuesday. Then next Saturday they travel to Ipswich. Should I be shouting "Come on you Tractor Boys"? And the only other L1 game of real top end of the table note on that Saturday features Cheltenham again. They go to Hillsborough. Should I also be shouting "Come on you Robins"?