FAN'S VIEW 21/22 – NO.41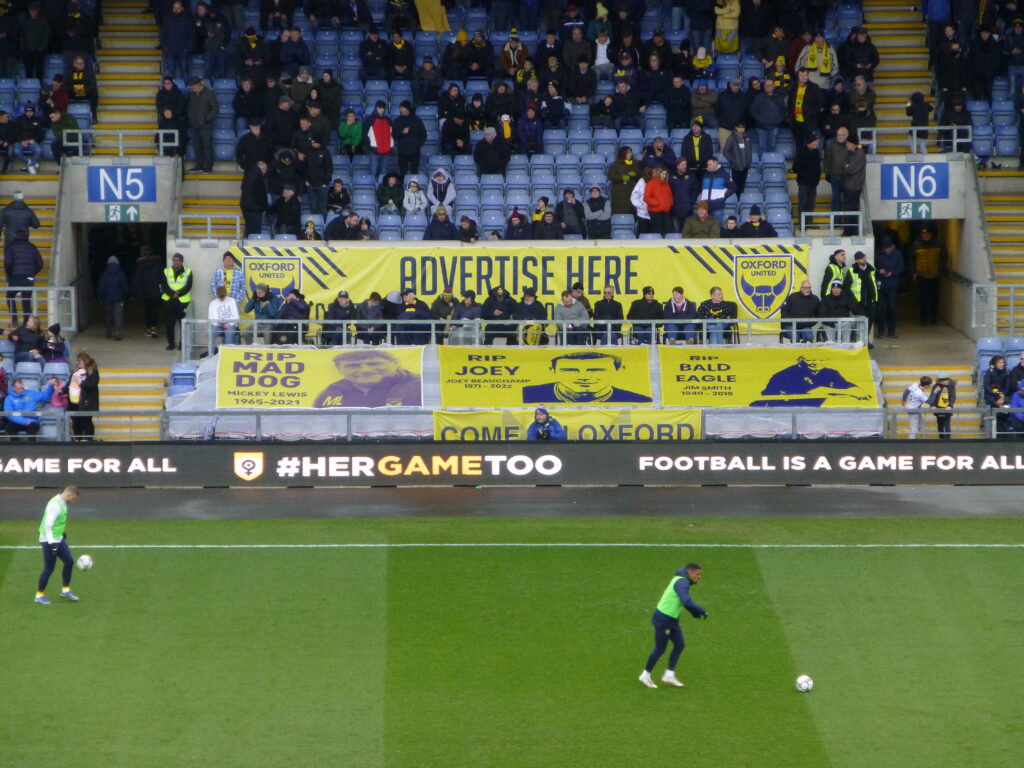 OXFORD UNITED 4 BURTON ALBION 1
When I raise in debate that our defending is not at the standard of the best in L1 I think some people just have me down as a moaner. They look no further than the happiness we get from currently being served some of the finest entertainment ever delivered by players representing our beloved football club. Believe me that side of our game brings me as much joy as anyone but I would probably rather the three goal margin here had been achieved without us conceding.
It has been clear to me for a while now that our approach, whilst not thinking that defence does not matter in the slightest, is very much that we'll trade goals and outscore the opposition. I had no doubt that we would do that against the Brewers. Some bookies, before they shortened the odds, had us at 8/11 to win this which I thought was an absolute steal. So did the tipsters on the Oddschecker site. Their little write up on this concentrated on how free scoring we are but noted that by playing this way we do give goals away. Yes, they've got it. That's fine in a game like this but as I've said more than once, the better the opposition you're facing the less likely this modus operandi is to be successful. We won't be playing Burton in the play-offs.
The first half saw us produce football of a level way above the norm one usually witnesses in L1. I glanced at the clock on the scoreboard and noted that it only showed four minutes. I couldn't believe what we'd crammed into such a short space of time attacking wise. If I had been asked how long had gone I would have guessed nearer a quarter of an hour. Same thing on 13 minutes, I'd have gone for half an hour. By then we were one up, the scorer Sam Baldock.
We are now so much better at keeping the ball from throw-ins than we used to be. Cameron Brannagan took one and received the return from Matty Taylor. Gavin Whyte had made a run which took a defender with him and CB's pass to Herbie Kane saw a first time ball bent high into the box. There was a row of four defenders waiting along with Baldock who wasn't the tallest of that group. Nevertheless he anticipated perfectly and with his head passed the ball across keeper Ben Garratt and into the net. Only seven minutes had ticked by.
Given the way the game was being played it was hard to fathom how we had not added at least one more goal as we reached and passed the 30 minute mark. We had got the ball in the net but Taylor was ruled to be offside and rightly so in my opinion.
Just as it seemed we might go in at the break with the score still as it had been from that seventh minute onwards, the game went mad. Four goals in twelve minutes. I'll ask a question as I often do knowing that some memory man (or woman) or person with the stats to hand may have the answer – have we ever been involved in a game with so many goals in such a short space of time?
35 minutes. 2-0.
Terry Taylor was robbed in midfield as yellow shirts pressed with purpose. Referee Sam Purkiss let a lot go in this game and only booked one player which was in stark contrast to the previous Saturday when he showed ten players the yellow card in Sunderland's 3-0 win at Wigan. There was a lot of a player making contact with an opponent to put them off their stroke instead of making any attempt to actually win the ball. Throughout the game much more from them than us I thought but a push by Whyte here made their Taylor's legs go a bit wobbly and that meant a simple pass to keep possession for his side didn't happen.
Baldock sent Brannagan away down the left and when Ryan Williams's shot was blocked our captain picked the ball up again and after knocking it about a bit with Williams popped a pass between two defenders to set up Whyte on the edge of the penalty area. When Whyte was with us first time he scored seven league goals in 29 starts but since then had only registered four times none of which had been this season and he's had a lot of game time. Finishing has not been his forte and I've gone along with the sentiment that he could do with a goal. This though was hit with perfection and screamed into the top corner.
40 minutes. 3-0
This was a goal of many passes and the finish of a top striker. One of our man bun men played a pass to Kane who manoeuvred the ball as he does to Brannagan out wide and got it back. First time he gave it to Whyte who just managed to keep control as he turned. The next recipient was Luke McNally. Him striding forward eating up the ground with those long legs is a magnificent sight. He doesn't need much of an invitation to come forward with ball at feet and isn't put off when he has to go past opponents but with space ahead it was positively beckoning him into it. To his right Mark Sykes also had space and when he got the ball it was another first time pass into the box that was expertly put away by Baldock for his second. Again I'd say it was passed into the goal.
45 minutes. 4-0
This came about again because of our harrying. Sam Hughes wasn't allowed to make his clearance an effective one and in an instant Brannagan had given the ball to Whyte whose cross to the far post was taken on the volley by Taylor beating Garratt who by now must have been totally bemused. That was some skill.
45+2 minutes. 4-1
This was a bit of a pisser. But only a minor pisser. No clean sheet again but I'll give credit to the player who rifled the ball beyond Jack Stevens. That was 36 year old Algerian international Adlene Guedioura. He's played 63 times for his country and has been around a fair while in this country having played for Wolves, Forest, Palace, Watford and Middlesbrough. After about half an hour as sub with Sheffield United this season he was released last month and signed for Burton. He knew what he was doing when he put that one away. I doubt many keepers would have stopped it.
The second half in a game like this is never going to replicate the first. There are many reasons why this is so. Standards that are set so high just cannot be kept up and with the game all but won there's bound to be a psychological element too. Kicking towards a bare fence can't help either and nor did the loss of Baldock only six minutes in.
Given the way we attack and defend I didn't expect to see a goalless second 45 minutes. I thought there would be one more or at the outside two. Wrong, obviously.
Categorically we should have got more though. Stevens with a long ball over the top allowed Taylor to play a pass to Baldock's replacement, Sam Winnall. Six yards and a few inches out he had the goal at his mercy. The miss looked comical and that's allowed when a team has a three goal cushion. It would have been anything but if we'd been behind at that stage. He appeared not to be alert enough to decide which foot to tap it in with. Making the case for not a howler after all is that a defender might well have got the slightest of touches on the ball just before it arrived to SW. All players can miss the easiest of chances though. To be honest I thought Baldock had a sitter that he should have put away, without Taylor being entered into the equation, when the offside flag went up in the first half.
When Winnall came on I heard comment that "this is a downgrade." Of course it was but what I've seen of Baldock recently the same could be said for him being swapped with about 98% of L1 forwards. Winnall's next effort after some more smooth build up play was much better. A low shot that Garratt had to get down low to keep out. I'm still trying to work out what a header he had was all about though.
I don't want to set us up for a fall by overstating our case but in this we looked like the Manchester City of League One and as I type this I've just watched the derby and have once more witnessed how good the blue half of Manchester is.
The way we set up and the way the opposition played against us meant we had attacking options galore. Three at the back allows wing-backs to get forward and we know the two we played there are not really specialists in that role but much more attacking midfielders. Both Williams and Sykes played their parts and that included doing the defensive stuff too as necessary. They're fit guys and good footballers.
But it wasn't just them coming through from the back. Our centre-halves took it in turns to venture forward as well. The visitors had no idea how to handle this or who it would be next coming at them. It was mostly McNally but Sam Long had a go too and Ciaran Brown was spotted up with the attack on occasion too. I thought they all did their defensive work very well too. I liked the way Long read the game and a couple of times swept across the back line to snuff out danger before it could materialise. Now I've seen Brown a few times I'm beginning to be more and more impressed. He goes about his business in a no nonsense unspectacular way and does everything I suspect the manager wants from him.
In midfield Kane and Brannagan were part of just about everything positive we did. (Actually I could say that about all of our outfield players). Sometimes I get a little frustrated when Kane doesn't move the ball quickly enough for my liking. However in this he removed any sting that Burton may have had with no fuss by dictating the pace of the game when there was a time or two in which the visitors looked like they might be a touch closer to actually building something. Brannagan was his usual self but without the goals of late.
There was plenty of quick play too. Compared with what we've been party to over the years this is a very pacey team. Which brings me on to Whyte. He is so productive in that position behind the two strikers. He's now provided the second most assists in our division this season.
The two up front work together as if they've been a partnership for years. I've not been a fan of a front two but on the basis of horses for courses I'm a convert. Not sure it will be the right way to go against all opponents though and I think Karl will be of that mind too. That said, both at times drop a bit deeper and join in the midfield play. This flexibility must have those we are facing guessing all through a game.
And one last word on Baldock. He oozes class. We've been slowly building the quality of the squad over the years and there's a possibility that he's the classiest of the lot. His movement is something else and the way he is able to do battle with bigger defenders by considered and legitimate use of his body is a great asset.
League One is such a competitive division and even this late into the season I think there are 11 teams still in with a realistic chance of going up. Accrington in 12th place with 46 points from 35 games are the highest of those without a hope.
They lost 4-0 to Pompey on Saturday when most other promotion chasers also won. That's Wycombe, Ipswich, Plymouth and Wigan.
The results which did us and all those teams a favour were Charlton 0 Sunderland 0 and Lincoln 3 Sheffield Wednesday 1. At times this season the Imps have had some dreadful results and languish in 18th position which is massively below pre-season expectations. However we saw for ourselves that when they can put it together they are a match for anyone. They're still to play Ipswich, Rotherham, Sunderland, Wigan and Pompey. They've already beaten Wigan and Sunderland the first time they played them.
Result of the day is without question MK's 2-1 win at Rotherham where they played with ten men for well over an hour. Perhaps the Millers won't win the title after all.
We're now done with Tuesdays but six of our rivals knock off one of their catch up games on 8th March.
There's some interesting fixtures that will be taking place elsewhere when we're in Shropshire next Saturday.  Bolton v Plymouth, Ipswich v Portsmouth, MK v Wigan, and Wycombe v Rotherham. Given that there are so many still in the hunt the fixture list is obviously going to come up with encounters like this and they can't all pick up maximum points. Interesting footballing times indeed.