FAN'S VIEW 21/22 – NO.4
There's a big difference to our previous opponents in that Crewe are a smaller club than we are plus in their two opening league games they've picked up just one point: a 1-1 home draw with newly promoted Cheltenham a loss of 2-0 at Portsmouth. So could there be the possibility of complacency? No, we're too professional for that.
I have an image in my mind of every club we play based on past encounters and kind of half knowing what has gone on in their history to bring them to where they are today. For me with Crewe it used to be all about discovering and bringing on young talent before it was much more of a thing at many more football clubs. The biggest success story being David Platt but there were others.
Sadly now when it comes to the Railwaymen I can't get Barry Bennell out of my head particularly after I caught up with "Footballs Darkest Secret" which is still available on BBC iPlayer. Lives were destroyed, parents felt guilt for not spotting it and what could have been top careers for some never happened because of emotional damage. Even those that did make it – Paul Stewart and David White – got little enjoyment from what should have been the best years of their lives. Bennell's latest sentence was in 2018 when he got 31 years. It's not just Crewe of course. Bennell coached at Manchester City and Stoke too. Then there's Bob Higgins who coached at Southampton and Peterborough. In 2019 he began a 24 year jail term. They're long sentences but putting them away earlier and throwing the key away would seem more like true justice to me.
These individuals are evil and I cannot get my head round how many in football who suspected what was going on, at best, turned a blind eye. Dario Gradi, come on.
I felt incredible anger watching this documentary series and had great admiration for these middle aged men who have after decades found the strength to speak about what happened. I also in a way feel quite sorry for the supporters of these clubs as clearly no right thinking person would want to be associated with this.
OXFORD UNITED 1 CREWE ALEXANDRA 0
It's a given that during a season all teams will have games and spells where their standards drop and this was without question our worst showing of the four games we've played so far in 21/22 by some distance. So to still come away with all three points at the final whistle is in a way very satisfying. I can't remember when we played so badly and still won.
The stats tell how poor we were. Oxford 49% possession, Crewe 51% (Source BBC). The OUFC site has us on 50% and Crewe 51%. Interesting maths but bear in mind that footballers can give 110%. Oxford's "duel success" 45%, aerial duels 43%, passes 350 compared to Crewe's 371, passing accuracy 69% to Crewe's 71%, passing accuracy in opponents half 58% with the visitors slightly worse on 57%.
We had 13 shots and only one, the penalty, on target. Of Crewe's seven just one needed a save from Jack Stevens.
There's a strong argument that we got lucky because the men from Cheshire were a weak team. A side of quality may well have put us to the sword playing as we did but it may be that we performed as we did because of the nature of those we were facing.
After the first minute or so I worked out that we wouldn't see as much football played as in many games. When we got a free kick or whatever Crewe would hold on to the ball just long enough to delay a restart but not quite long enough to get a talking too. When balls were returned to the taker of the kick they were thrown much higher than need be. Nothing illegal but a strong indication of their approach.  That's a tactic I very much remember from my low level playing days.
What I found much worse was the over physicality that largely went unpunished and was baffled by the final count of them only having committed one more foul than us. Fouls actually given and fouls that should have been given are of course two different things. Sometimes it is six of one and half a dozen of the other and I very much understood and appreciated the referee's shrug of the shoulders when a player from each side was giving as good as they were getting with shoving and shirt pulling right under his nose.
The way games are now being officiated suggests that there may have been an instruction to referees not to blow their whistles so often and allow the oft quoted "flow" to take place. Whilst to be welcomed, the laws of the game have not changed and when a referee allows play to continue after a player has gone right through the back of another well before winning the ball as happened here with Matty Taylor on the receiving end, the alarm bells really ring out. That showed the bar was set at a dangerous level with the risk of injury going up.
Taylor does his fair share of pushing and backing into opponents in a style a bit reminiscent of, but not as effective as, Jamie Mackie but there was none of that in this incident. Matty was getting nothing from the man in charge. As per shirt pulling was overlooked even when it appeared that there was just one perpetrator.
Referee's name – Bobby Madley, ex-Premier League. In 2017/18 he was adjudged to be making too dodgy decisions by a group of fairly highly rated former PL referees. He ended up getting the sack from the Professional Game Match Officials Limited (PGMOL) in August 2018 but not for being a crap referee. A mate who he later fell out with forwarded a video Madley had taken mocking a disabled man to the PGMOL and it was for that he got the boot. According to some poster on a Coventry City fan site he was "constantly called a fatty by fans whilst reffing. A bit body conscious so didn't take part in his kids sports day. Made a stupid joke by filming another kids disabled parent with a caption saying he fancies his chances this year".
He then moved to Norway and took charge of lower league games and has reffed in the six-a-side World Cup.
In February last year after discussions with the PGMOL Madley was allowed to refere in England starting back initially at grassroots level, before joining the National List which meant he could officiated in L1 and L2 from 20/21. He's still only 35 years old.
So there you have it, referees are human too and can lead a varied life within their profession. He was the referee for our games last season at home to Ipswich and Blackpool in the play-off semi-final. But at the time I wasn't aware of his back story.
It would be pushing things though to totally blame our sub-standard display on what Crewe did. Passes that went astray under little pressure were just bad play.
We know we're better than this so not a lot to worry about particularly as we fashioned a win.
Where I would up my level of concern though is with regard to that always seemingly present injury crisis. I've no information on the seriousness in each case but before this game we were without Elliott Moore, Sam Long, Anthony Forde and Jamie Hanson. Apparently Gavin Whyte was only on the bench because he has a foot problem. Nathan Holland who was out injured for 99% of last season went off after about a quarter of an hour. He'd clearly been a passenger for a couple of minutes before departing and as he did so indicated that it was an elbow that did for him. Ryan Williams pulling up after making a cross not long after the start of the second half gave me that sinking feeling for this match and others to come but him walking out on the pitch at the end tempered that slightly.  Billy Bodin was another who had to be replaced and this too was after a challenge. Fair or not I'd by then given up trying to determine such was the nature of the game.
The penalty was one of those when one player gets to the ball a fraction of a second before another. James Henry's very slow run up, make that walk up, had me nervous he would miss but he dispatched the spot kick with aplomb.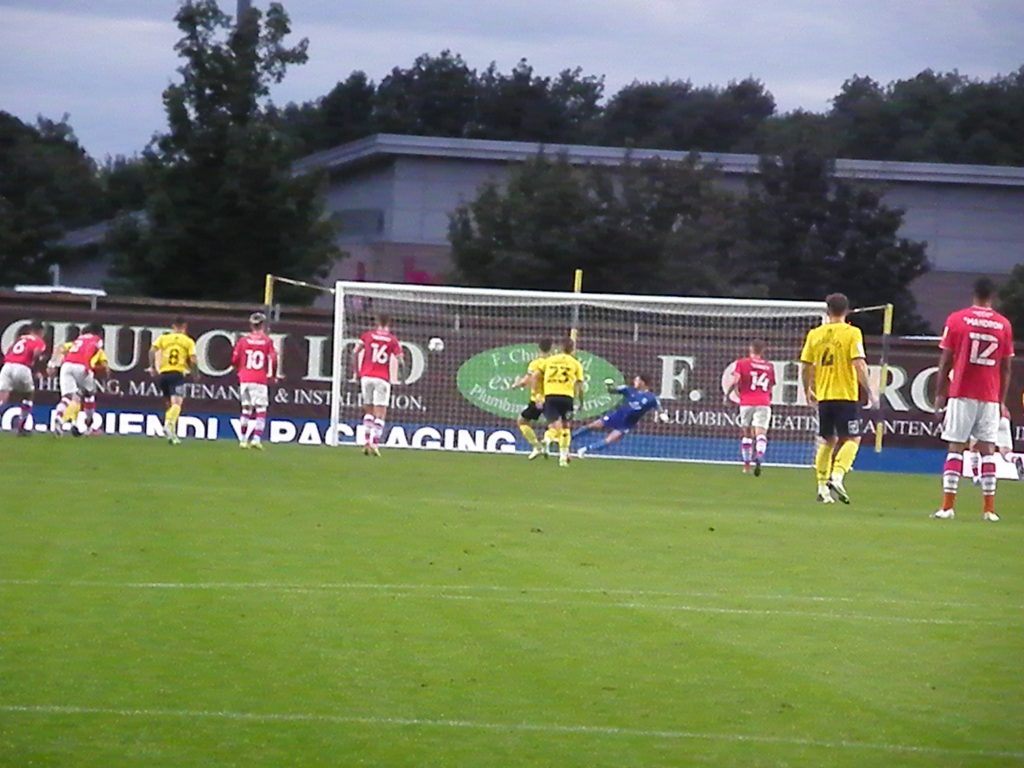 Keeper goes the wrong way. Photo, Simon Jaggs
Henry has not been that noticeable this season so far but is going about his work in a quietly effective manner.
An utterly terrible cross field ball from Oliver Finney went straight to Bodin who took it on his chest knocked it past a defender and then angled a shot come pass wide that a fully stretched Taylor just couldn't quite convert. A few degrees either way and it would have gone in, directly or via the boot of our no.9.  We really should have gone two up though.
The one Crewe effort on goal came after a very strange header from Mous, the replacement for Williams, with Luke McNally (aren't we superb at unearthing centre-halves but the less said about his one legged throw-ins the better) moving to RB to accommodate our coach. JS's positional sense was such that he made Callum Ainley's shot an easy one to keep out.
Dan Agyei's pace allowed him to make up a couple of yards on Terell Thomas and get a toe to Taylor's hooked forward pass as keeper Dave Richards came out. It went just wide meaning the lead remained a slender one and as the game progressed looked quite precarious.
Regan Griffiths had a header he should have buried but put wide. Rio Adebisi sliced one wide when it dropped to him. He is after all a defender but that was totally the finish of a defender.
Although looking increasingly tired compared to the men in red we hung on even if our defensive cohesiveness wasn't what it has been thus far. That said other than the two chances mentioned we were never forced onto the ropes.
I can't argue much with the man of the match award. Cameron Brannagan's work rate was once again exemplary and I'd put forward a case for Alex Gorrin too.
I wonder what Ben Knight made of it all. He's a 19 year old who came on as sub for Manchester City in the Charity Shield and signed for Crewe on loan the day before. Being at the club he is he must have something about him but must quickly come to terms with the difference in quality of colleagues he'll have around him for the rest of the season.  I was impressed how we got a number of men around him quickly when he got the ball and if there was any flame there that could have ignited Crewe we snuffed it out before it could take hold.
It wasn't the best of nights but it would have been way worse if we'd dropped points.
The number of home fans present, 6553, impressed me as I was only expecting a gate of about 6k including a couple of hundred from Cheshire. (204 as it turned out).
What didn't impress me, or my wife, was that a steward stopped and searched, or at least tried to (she couldn't get the knot of the backpack drawstring ties undone so he gave up!) her bag before she went in. Other women were having their bags searched too. I assume there's a right to do so but FFS. We've had season tickets since the stadium opened and never once before has this happened. The SSU is not a hot bed of violent activity, illegal drug taking, or passing of contraband, money laundering or any other underhandedness. We were playing Crewe who were hardly likely to bring a firm that us pensioners had decided to tool ourselves up ready to face.
What were they looking for? Did they know? What has changed? Has a risk assessment taken place that has identified something of which we should be aware?
I'd not noticed the stewards at all against Charlton but I'll hazard a guess this lot are a new bunch. There was one young guy stood right in the sight line of spectators who had to tell him to move when the game kicked off. I doubt he'd been briefed properly but fair play to the lad he was totally apologetic and moved immediately.
Don't get me wrong stewards are needed at football matches and mostly do a great job but I wouldn't want to get to a situation where they were to put anyone off going. In the greater scheme of things this was nothing but remember for whatever reason we no longer have the ultras and the colour and vibrancy they brought to the occasion.
Thankfully they didn't bring a drum. Crewe did. Shame that was allowed in. It's a bit painful but I was quite able to switch off. I'll give them their due. They made up for their lack of numbers with a decent amount of noise especially as their team isn't giving them much to cheer about. Their "Is this a library?" irked me much less than when delivered by Charlton's followers. At times our fans were indeed quiet but on the night we didn't have much to get enthused about either. Except those lovely three points of course.
Seven from nine. Nice start.