FAN'S VIEW 21/22 – NO.27
GAME ON
Every set of scheduled fixtures now has a large chunk bitten out of it. Tonight only four of the ten L1 matches that were due to take place will go ahead.
This is all down to Covid isolation with at times "not enough fit players through injury" slung in for good measure.
Now I'm very risk averse and can see a strong argument for calling a halt for a short space of time particularly to protect fans. I know a fair few who have paid for a season ticket who don't currently think it is worth turning up. In Wales from Boxing Day onwards sporting events are to be played behind closed doors. That's not good. Puts Swansea, Cardiff and Newport at something of a disadvantage I would say.
Alternatively I see the other side of the argument. Get on with it and play matches when each team can get XI and a few subs out. Otherwise the season will never finish and we can't have that. Imagine the outcry if there was a need for PPG for a second time to separate the lucky from the unlucky.
The EFL took a long time to provide clear(ish) guidance on when games can be postponed because of Covid. Clubs are expected to play as long as they have 14 players including a goalkeeper available. Those players can come from the club's registered squad list, any under-21 players not on the list but who have played in the league this season or any other contracted player not on the squad list but otherwise eligible to play.
I'm not suggesting clubs are manipulating the situation to suit but given there's shithousery on the field of play why not off it also? There might be good reasons why they don't want to play a particular match at a particular time. Are there any independent checks to verify the number of claimed Covid cases in a camp and the same goes for other injuries too rendering a player unfit to play? I'm not sure such checks would even be practical and that's without considering the cost of carrying them out.
A couple of days ago Wimbledon told the EFL they want clubs who postpone matches for Covid-19-related reasons to be "held to account." They've had back to back games that didn't happen. (Portsmouth and Charlton).
They said, "where it is found that a club was unable to fulfil a fixture, they must be held to account for all decisions which led to that position" seemingly thinking they have done more than many other clubs to ensure Omicron hasn't caused chaos. They had had "only 11" cases since the Omicron variant became prevalent, three of which were in their "first-team bubble" and "This is not by luck. This is down to hard work and spending resources our club ultimately does not have at its disposal".
Further: "It just doesn't sit right that, having gone above and beyond our means to ensure matches can be fulfilled, we will now be at a disadvantage – trying to navigate a very congested second half of the season with a small squad."
Perhaps they've got a point, perhaps not. Whatever, I think it is safe to say we're going to be tormented by and deeply unhappy with this bloody virus for a while yet. There's going to be no universal agreement on the right way to go about things in football or the wider world.
We have to take things as they come and perhaps should just be grateful that we have a game to go to tonight.
(I've just written the above before leaving for the Kassam).
OXFORD UNITED 3 AFC WIMBLEDON 0
Before tonight's game the Wombles were unbeaten in five, winning three and drawing two. I'd therefore reasoned that they'd be much more of a threat than they turned out to be but obviously no complaints on that score.
When one team beats another this easily there's always the question was it down to the winners being that good or the losers being that bad? It's usually a combination of both but a team being on song can make those they're up against look dreadful. In this case though I'll cast my vote on this being a terrific display and that's what made those in red look one of the worst outfits we've encountered this season. My brother made the point that however dreadful a team looks they almost always have one player who catches the eye as being better than the rest. Not Wimbledon here.
At the New Plough Lane in September they'd wanted it more than us, they'd bullied us out of it and we'd looked vulnerable every time a high ball was played into our penalty area. Absolutely none of that here. Both teams were different teams on this occasion.
Some of the play we produced was stunning. Our midfield passing kept possession but it wasn't that at times meaningless going nowhere stuff with the opposition sitting comfortably looking on. This was laced with incisive forward passing, telling movement off the ball and cutting through their back line almost at will. This doesn't just happen. We've built up to it with many hours of hard work on the training ground. Credit all round.
Usually from the back row of the stand it's easy. The best option for the man on the ball can often be spotted quite easily by those who understand the game (imho some fans do and some don't) but for the players in the fray these things can't be seen unless they're a very special breed. None of that in this encounter. We were producing effective patterns that I wasn't able to envisage were about to happen.
This was very much a team effort with all sections of the side – defence, midfield and attack – joined together in harmony, but certain individuals merit special praise.
There's no-one better to start with than Herbie Kane. This was another outstanding performance from him. I don't recall him giving the ball away. He can see things and he found space throughout. I just love the way he lets the ball run across his body before taking a touch when that is the right thing to do to get into that space. He's got one hell of a range of passing and covers incredibly well defensively without having to rush back to get into position. He's not the tallest around but will stretch just enough to prevent semi high balls finding their way into our half.
One thing he doesn't do is score goals. He got two in four starts for Hull and four in 37 for Doncaster and has yet to register for his parent club, Barnsley, who paid £1.25m to Liverpool for his services. Most of his appearances for the Tigers though have been off the bench. Goal-less for us too but for me that is absolutely no problem whatsoever given what else he brings to the team. I can hardly remember him having a shot in his time here. Is that because he doesn't have faith in his own ability to strike a ball goalwards? Or is it because he has so much vision he invariably spots a colleague with an even better chance of hitting the target than he himself has. I'd go for the latter on the evidence I saw here.
After the game to hear the news that he's staying with us to the end of the season was a double helping of cherries on top of what we'd just witnessed. We had to pay a fee to his parent club to remove a recall clause which could have kicked in once January arrived.
Given that Barnsley, who would be bottom of the Championship had it not been for Derby's points deduction, have picked up just 14 points from 24 league games I can't quite get my head round this.
How good is the Championship? Have the Tykes given up? How much was that fee?
Robbo said, "Its tremendous business by the people above us." It certainly is. But still no news on the take over other than the constantly trotted out, "these things take time".
Another question has popped into my mind – Does the rest of the season include the play-offs should we end up in that arena again?
Ryan Williams was the sponsor's man of the match and I wouldn't put up much of an argument against. On this form it's hard to see how he can be left out. He's another of our players with seemingly endless energy when he's fully fit. He gets back and does the necessary off the ball stuff, is a strong direct runner with the ball, can beat a man and slotted in as though he's been playing regularly all season. He hasn't. He's hardly started since the early weeks.
Elliott Moore was a colossus at the back and such was his mastery of the Wimbledon strike force, he had plenty of time to bring the ball out from the back in the style of a Rob Dickie or Luke McNally.
Then there was Sam Long. No, I'd better stop otherwise I will have gone through the whole team.
To be honest I wasn't quite as enamoured with everyone as these. Mark Sykes had a slow start but fair play to him he did get going as the game progressed. Gavin Whyte was the biggest disappointment but this could be because we've now set such high standards and he did provide a wicked ball in for our second. Comparisons with those around him may be unfair but every time we see him the thought that is hard to throw off is that he's not Championship level. Speak to Cardiff fans and I think they'll agree. Our target is of course the Championship as it should be for about half the teams in L1 and that's just in the short term.
We didn't take the lead until the 27th minute but could have just about ensured the three points had been secured before then anyway such were the chances being created.
Whyte got on the end of a Williams cross from the left. Or more accurately should have got on the end of the cross. He got there but then didn't make contact with the ball when a goal was there for the taking.
There was sustained pressure in and around the visitors' penalty area with no tangible reward but we knew we were the dominant force. Cameron Brannagan went close with a right footed effort.
The lead came from a raid down our left, the flank where we looked most dangerous. Steve Seddon took the ball forward before moving it on to Williams. The Aussie's second connection was a cut back pass to Sykes who had cleverly found space (yes that again) near the penalty spot. His first touch set himself up perfectly for a shot which was despatched in the fashion an out and out striker would be proud of. That's his 7th of the season and third in the last four games. Perhaps our top two scorers this campaign won't be Matty Taylor and James Henry.
Wimbledon were struggling to get off the ropes and the situation demanded that we land another blow which we did eleven minutes later.
This was a goal that had quality written all over it scored by a team with a finely tuned engine. Sykes to Moore – our captain joining in the football further up the pitch. A pass to Long and before it has even reached our RB, Whyte has set off on a run pointing to where he wants the ball next played. Long obliges and Whyte looks up before first time playing one of those balls across goal that defenders find so hard to deal with. Matty came in on the stretch as he does to reach double figures in the league for the season about a month earlier than he did in 2020/21.
"Two nil and you still don't sing" sang the Wimbledon fans to add to their unoriginal "we forgot that you were here". What are you, bloody goldfish? Oh for a game when a set of supporters comes up with something new and genuinely witty.
I suppose 780 isn't a bad turn out for a mid-table team at best and they never turned on their team as they were getting turned over. "Your support if f******g shit" they chanted. Open your ears and eyes. We get bigger crowds than they do. "Only got three sides."  Maybe so but we play in a bigger ground than they do.
They might not be MK Dons but class seems to be lacking, as does respect and appreciation for fellow fans across the country who were originally pro the originals and very anti the new team in Bucks.
I wondered what the opinion was amongst them as to how their team had done against us and went on-line to find out. Couldn't locate anything but surprisingly and unintentionally found comments on an Ipswich Fans Forum about Wimbledon fans going to Portman Road early in the season. "A big mob of them among us walking to the station" causing trouble and trying to fight anyone from Ipswich. What is the world coming to? Utterly depressing. Glad we beat them."
Back to the football, which is why I go. (And for the beer and company on our travels, naturally).
There could have been even more goals for us before the break but there wasn't and whilst we were still totally in charge thereafter probably didn't quite hit the heights we'd done in the first 45 minutes.
Taylor found the back of the net again but was correctly given offside.
Brannagan appeared to have a chance at least as easy as the one Whyte missed early on, but only connected with fresh air and not the ball. In mitigation perhaps the attempted block on Whyte's ball in put him off his stride pattern.
After Wimbledon were unable to clear after a corner due to our pressing, Whyte put in another telling ball with the requisite pace and bend to the far post where this time it was Long doing the sliding in and finishing.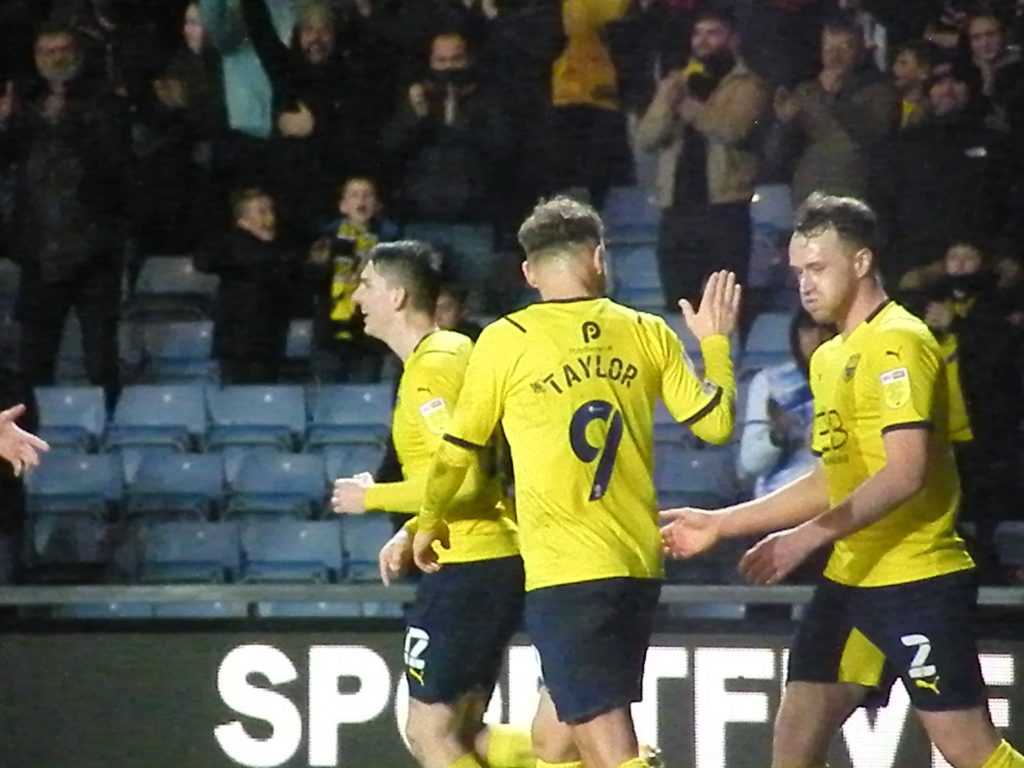 Scorer Sam getting the congratulations he deserves. Photo, Simon Jaggs
Can I change my mind about Gav, please? Looking back at replays can help pick up plenty that was missed at the time. On the night he was pretty good at the business of assisting goals.
From then on with no real need for another it was rather more even and Wimbledon looked as likely to score as they had done at any time during the game. Not that even now it much looked like we would concede.
To have a sub of the calibre of Marcus McGuane to come on gives a good indication of the strength of depth we have here. And Anthony Forde as a sound reliable option. That's with no Alex Gorrin for the foreseeable, James Henry for a couple of weeks and Nathan Holland on this occasion.
Except in one position of course. We can all see it. We all know it. Sam Winnall looked overweight to me and when he runs appears to have to put in every last ounce of energy to get some decent momentum. The opening of the transfer window is imminent. A case of watching and waiting for all supporters.
Before I sign this quite length FV off a mention of two things.
Trevor Kettle and his bookings and non-bookings. We should no longer be surprised but it doesn't mean we direct a little bit of anger his way even if it is the season of goodwill to all men. I will thank him and his linesman though for not giving the ball out for a goal kick for us because when we played on it was the start of the move for our first. It looked way over the line from the back of the SSU and I could have sworn players from both sides stopped, waiting for a whistle that never came.
Steve Seddon and the time he takes before throwing the ball back into play. Is he the tardiest around in this regard?
Happy New Year and hope to see a good Yellow gathering on Saturday and more of the same back at Grenoble Road, Covid permitting.