FAN'S VIEW 21/22 – NO.26
OXFORD UNITED 2 WIGAN ATHLETIC 3
Please tell me why we played this game
I suspect I may well have a very different take on this game to the majority of Oxford United supporters. I know for sure that I was getting angry with what was coming over on Radio Oxford as I was listening in the car on the journey home.
What a great club we are. (Yes) What a great bloke Karl is. (Yes). All we wanted to do was get the game on whatever the circumstances because that was the right thing to do. (Absolutely effing NO). No, no, and thrice no.
Radio Oxford said we had the option to call the game off. I'll believe them on that. I've done no research to confirm that as fact. What I do know is half of the games in L1 were called off. Six of the ten in the Premier League were called off. Five in the Championship and eight of the 12 in L2 were not played.
There's talk of fine margins. Doing that little bit extra to gain that advantage and get that win. So why the **** do we want to go ahead against a very good side with no Covid/major injury worries? A side that are on form and second in the table just two points behind the leaders with a game in hand, when we are without Herbie Kane, Cameron Brannagan and Nathan Holland due to Covid?
I'm convinced that with Kane and Brannagan in the side we would have won this.
Also throw in that that there was no Luke McNally either meaning that we had Sam Long at centre-half not right back. Plus on the day we lost James Henry in the warm up.
Now if we'd have won or even got a draw I probably would not be having this rant but the painful truth is that we lost and we need not have.
Yes in the circumstances the players in that makeshift team deserve huge credit for getting as close to taking something from the game as they did. Yes it shows what spirit we have in the club and what depth.
Thing is for me though it should never have come to that as you will obviously have gathered by now.
During 90 plus minutes we've started doing the shithousery stuff to try and gain maximum benefit. By the same logic why on earth would we start a game we didn't have to when we were in a severely handicapped situation? Were we arrogant enough to believe that on the bench the likes of 17 year old James Golding, Ben Davies who has played no league minutes for us or anyone, Mous and Dan Agyei would be sufficient to turn the game our way if it was going against us or enable us to see it out if we were leading but under the cosh?
Of course we'll never know what the outcome would have been if we'd not been hit by Covid but if at the end of the season we fail to achieve automatic promotion or a play-off spot by three points the person in our camp who made the decision that this should go ahead needs to take a serious look at themselves.
The Covid curse
I think I've written in previous Fan's Views going back over a few months that we have not seen the last of the impact of this horrible virus on our football spectating.
My personal view is that once the postponements started to pile up, this weekend's entire fixture list should have been binned. That was even before I saw our starting line-up. Get that circuit breaker in now – not that I'm totally convinced it will work but give it a try.
It's not just the players, it's the fans too.  Omicron ain't hanging about. Yet we've got, according to the Times newspaper, six million refuseniks who have not and will not be vaccinated with attitudes like "I just don't see the point in being vaccinated – the virus is mainly fatal to the middle aged."
There's also a figure being bandied about that 25% of EFL players have not been vaccinated and don't intend to be. Again I don't know if that is true. I don't know if our players who are currently out due to Covid actually have it, are ill with it, have been in contact with someone who has it or have or have not had however many vaccinations. If they've done everything sensible to ensure they don't get the virus – and we all know there's no guarantees however careful one is – then I wish them all the best in getting back in a yellow shirt in the shortest time possible.
If however they've not been jabbed I would be struggling to say that I don't feel some contempt and in that case we deserve to lose to fully fit opposition.
It's blatantly obvious that I, like everyone, want to get back as close as possible to the old normal as quickly as we can. Can't see that though, sadly. There were signs up asking (not demanding) that fans whilst in closed areas should wear face coverings. Did everyone? Did they bollox.
I've got a feeling that this game could be our last for a little while. Boxing Day at Pompey? Got my ticket (postal service took 9 days to get them to me) but wouldn't even say it's 50:50 to be on. Portsmouth got their game called off by the way. Lincoln? Not even bothered to get a ticket yet.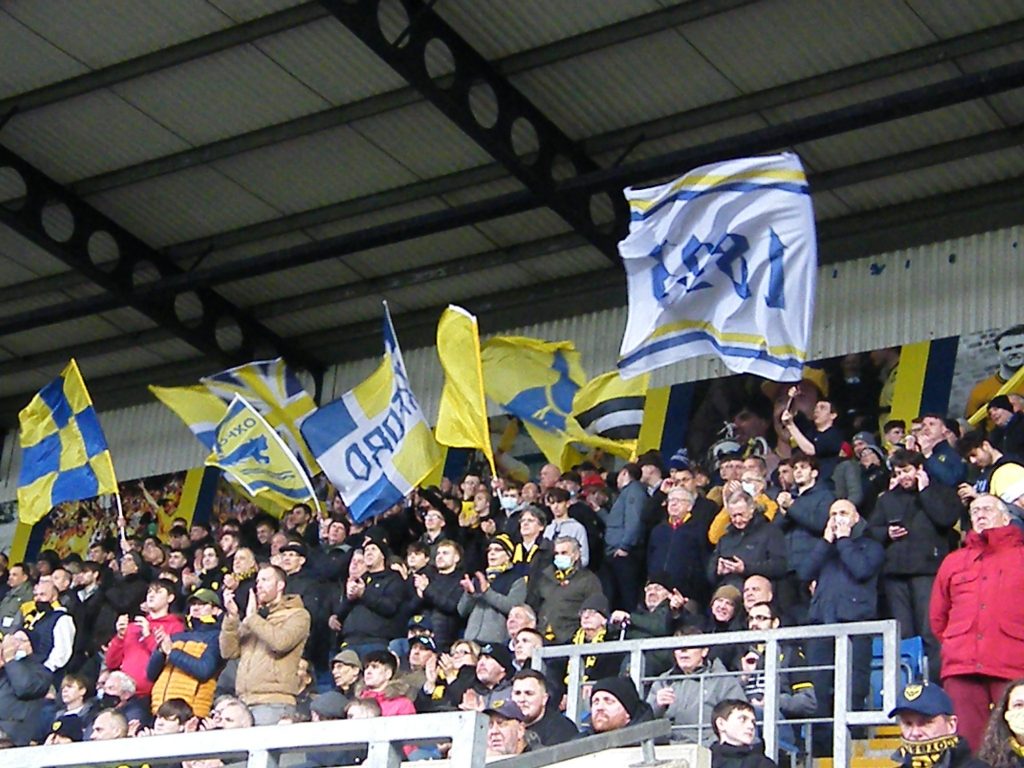 A bit of colour. Good to see some flags back. Photo, Simon Jaggs
The game
Given what was what, we started proceedings in tremendous fashion. A team that appeared to have belief in themselves, on the front foot attacking the East Stand with purpose. That may have been down to a feeling that we are not going to let any of this stuff get the better of us as a unit and individual players realising that they needed to seize a rare opportunity.
On that note Ryan Williams was a standout from start to finish. Fair to point out here that if we'd had a fully fit squad he probably would not have started.
The way we started was soon put into perspective when we went a goal down in the eighth minute. Like the other two we conceded it was poor defending and even this early on it wasn't as if we'd not had a warning.
Wigan had already looked strong and direct with players of good technical ability who were able to get past yellow shirts quite easily.
We'd already struggled with a corner from the visitors' left hit dangerously to the far post before Max Power took another which went just a bit further and was nodded back across goal for Will Keane to easily head home from point blank range. Question here though – was Steve Seddon fouled? He appeared to be pulled to the ground and if he'd remained on his feet possibly could have affected the outcome. Shithousery/dark arts? Or just one of those things?
Just over 10 minutes later Matty Taylor, our most deadly of finishers, missed an absolute gimme. That was set up by a superb piece of swift interplay between Gavin Whyte and Mark Sykes. Instead of just keeping it down our no.9 got a bit under the ball and sent it crashing against the crossbar. Up it went, down it came and once more made contact with the frame of the goal before going behind for a goal kick.
If it had been Dan Agyei in this situation he'd likely have been crucified but as it was Matty he wasn't and we knew that the next chance he had or the one after wouldn't be squandered.
On 32 minutes the home support could be forgiven for thinking this might turn out to be a game to forget. Nowhere near that 0-7 nightmare, but the signs were not positive ones.
The chance that Power converted was a gift. Seddon should have been able to head the ball away from danger easily but he put it right into a danger zone on the edge of the box and it was gratefully dispatched first touch. Also the initial cross from James McClean was allowed to happen with little done to stop it.
Looking quite vulnerable defensively I did fear the worst. Not that we wouldn't make a game of it. Not that we wouldn't score. But that we'd let more in.
Also red shirts were on us like a rash, sprinting to close down. We didn't seem to be doing quite the same to them and then there was the shithousery. From them. If MK fans thought we had mastered this art last week they should take a long look at the Latics. It began from the very start. Foul after foul more often than not when we tried to get a flow going and to our credit we did at times. They knew what they were doing in sharing the yellow cards around collecting five to our two. I'd say that ratio was about right but novice L1 referee James Bell took way too long to pull out the first card. If he'd done that it could only have helped us.
When our guys went down after being fouled "you soft southern bastards" sang the hard men from the north ignoring what their team were up to.  There were a couple of occasions when a Wigan man was already on the way to the ground before an Oxford challenge came in. Cheating wimps but Bell was easily conned.
The final stats gave us 58% possession but I never thought we were able to knock the ball about with ease as we often do in the central midfield area and felt quite early on this was largely down to no Kane because he is always available to receive a pass and to a lesser extent the same can be said about Brannagan. Wigan's approach may have had something to do with this too.
Anyway we were not given much time to feel sorry for ourselves as almost from the kick off the deficit had been halved. We didn't piss about, just went for it. The ball was moved at pace. All one or two touch. No dawdling. An Anthony Forde throw was headed by Billy Bodin to Taylor who moved it on to Gavin Whyte. Our loanee, having probably the best game since his return, skipped round an attempt from Jack Whatmough to stop him and then laid the ball into Williams's path. The unmarked Aussie scored with his side-foot despite Curtis Tilt's efforts to stop it.
The second half was a pulsating affair. It contained a spell when there were some real old school tackles going in. No complaints, both sides just got on with it. Hard but fair all round I'd argue although perhaps I've got my 1970's head on and many a referee would have blown when Bell didn't.
Our equaliser obviously came from Taylor. Elliott Moore played a great lofted pass down the right flank which Forde took expertly causing Joe Bennett, in only his third Wigan start, to slip. This bought a split second and he was then able to deliver a tantalising ball that was read by a lightening quick of thought and limb predator. 2-2.
Clearly well back in the game now I am a bit ashamed to say that if there was going to be a winner it would more likely be them than us.
Gavin Massey took an air shot when he had a chance as easy as the one Matty missed and claimed a penalty. Bell made the correct call which was nothing at all.
Eastwood blocked well from Callum Lang and on another occasion when it really looked like they would retake the lead Moore performed a text book tackle.
So it appeared that we might get over the line and take a point. I began to believe. Much good that did.
With Forde out of his RB position Mclean had a pretty clear run and Moore coming across was unable to stop his momentum or the shot that gave the visitors their third.
Six added minutes were no good to us. Nor was our substitute.
To sum up, I'm proud but angry. And I don't care if anyone wants to point out Wigan's away record.