FAN'S VIEW 21/22 – NO.25
MK DONS 1 OXFORD UNITED 2
Milton Keynes is not a place that appeals to me and the MK Dons is a football team that I dislike intensely but to write a FV in at least a semi objective fashion I have to put prejudices aside and try and give a fair appraisal of what was what.
Franchise have "got no history." Not entirely true now, they've got results in the record books going back to 2004. A whole 17 years' worth but every football club has to begin somewhere. Most though don't get the luxury of being dropped straight into the Football League from nowhere. Right, that's it for now, I'll let it go.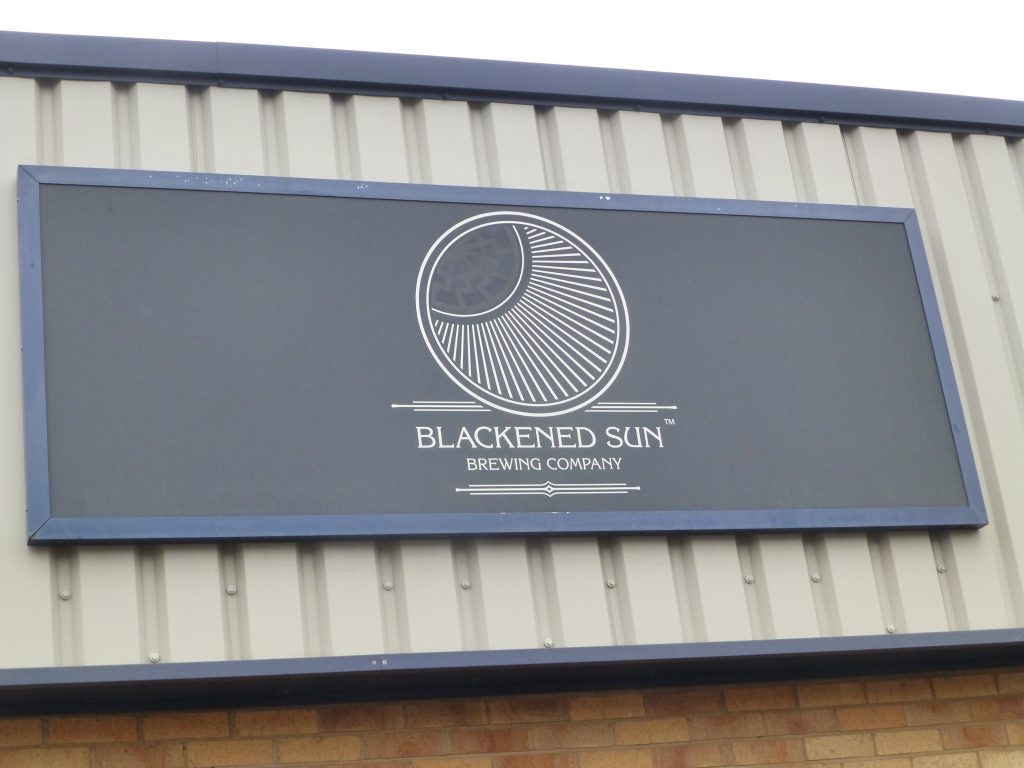 First pint was consumed in the Blackened Sun Brewery Tap. It's to be found, like quite a few modern day small breweries, on an industrial estate and is as far removed from a traditional pub with a century or so of memories as one can imagine. It's kind of sterile which it has to be otherwise the beer would have to be poured down the drain and also it was very cold in there. All that said I liked it a lot and thought the beer I had was very good although I have to admit that it would have benefitted from being a little warmer.  Would I go back? Absolutely yes, but not until summer time.
Our second port of call was the Chequers in Fenny Stratford. It serves Vale beers, is a traditional pub (south of England style) and welcomes away fans, which was nice. In fact from what I could work out the only people drinking beer in this pub were followers of the Yellows. It might have been quite small but there was no obvious problem with over crowdedness.
Then on to the match.
I rated the performance that MK put in during the first 45 minutes as the best I'd seen from any team we've played against in L1 this campaign thus far. Their white kit stood out, they moved the ball quickly and incisively, had players who looked totally at ease with the game of football being played and didn't seem to be making mistakes.
Hiram Boateng had them one up with only eleven minutes having elapsed. They cut through us with ease and for a fair bit of the half it looked like they might well do so again. I feel though I must once more throw in that Simon Eastwood should have done much better.
The way the game was progressing it looked as though we could end up losing by two or three at least. If that had happened I clearly would not have been happy but would not have been totally dejected because if you come up against a good team who are bang at it on the day these things can happen. It wasn't as though we were playing badly.
As the half wore on we got back into it a bit and I began to become convinced that we would get a draw from the game. There was no way the hosts would play as well in the second 45 mins as they had the first. That's not the way football works and I'd say that anyone who thinks otherwise does not remotely understand the game.
Good teams know how to do the correct things out of possession. To be resilient in the face of a bombardment or on song opponents. It won't be pretty but it is absolutely necessary when the occasion demands it as it did here.  I think there are some fans who don't appreciate this. They just get irritated because we're not controlling the game, winning, and scoring a goal every time we attack.
Easty made a good save from Troy Parrot and there was some proper defending to keep the goals against column recording just the one.
At the other end Matty Taylor finished as he does after Mark Sykes had broken at lightening pace down the right. He was marginally off-side but that proved we had what was needed to turn this game around. It wasn't like that was going to be a one-off however well MKD were playing.
The start of the turning of the tide was there for all to see as the half was drawing to a close. Cameron Brannagan should have made us level before the break. Andrew Fisher in the home goal passed to our man instead of one of his team mates. Bran had a clear run but his shot was appalling. He is a great asset to our football club. Work rate and desire to win second to none and a fair amount of skill on the ball too but just think what his value would be if he had anything above bang average finishing ability. (Actually don't. If his shooting was better he'd be gone probably).
The travelling Yellows to the left. Photo, Simon Jaggs 
Kicking towards the 2,000 plus OUFC fans in part two after the first couple of minutes we were the dominant force. A force that had belief.
Stadium MK might not have the tales to tell and the feel of a Hillsborough, Portman Road or Fratton Park but an atmosphere to match those we've seen at these venues was soon cooked up. We fed off the team. They fed off us.
The ground may have been less than two thirds full with empty seats staring at us from all directions but the way it rocked as we pressed that certainly did not detract from the occasion.
There was only a quarter of the game remaining when we drew level. A Herbie Kane free-kick was headed home at the near post by Taylor. One moment he was just about marked, the next after a couple of steps he was free and did the necessary without a defender trying to deny him. It was quite close to Fisher but the keeper couldn't react quickly enough to sort his body out sufficiently to keep the ball out.
We should have grabbed the lead soon after but Sykes, when clean through, instead of shooting with a very high chance of scoring, decided to make a pass that was easily cut out. Memories of James Henry in the play-off final against Wycombe.
Never mind though, we were in the ascendancy and did soon after get the lead for the first time thanks to a gift from the fake Dons. In the recent past we've seen them over-playing from the back like no other side around. That had not been evident this afternoon but in the 79th minute they were at it once more. Fisher played the ball short to his left. We were marking well and when it was moved on to a midfielder coming back towards his own goal Marcus McGuane was there too. This meant the next pass was back to Fisher but Taylor was on him in a flash. The MK custodian's dribbling skills were of a very poor standard and when Nathan Holland robbed it from him the ball ended up at the feet of Sykes who controlled in the D and this time made the perfect decision and finish.
Not a done deal by any means given there was, with added time, still at least a quarter of an hour to play and the men in white now began playing again much more like they had in the first half.
Easty's legs came to our rescue when an equaliser looked more likely than not.
Sub Gavin Whyte who replaced Holland in the 84th minute might have sealed it but Fisher did better this time.
Then in the seventh minute of the minimum of five added we lost a man but with only seconds left this wasn't the immediate concern. A free-kick a few yards just outside the penalty area was. It was tamely plopped into SE's grateful arms.
Game over. Another three points on the road. Up to fifth. A game in hand on fourth placed Wycombe. Three points behind third placed Sunderland. And the same behind second placed Wigan who have played one game fewer and who just happen to be our next opponents.
It's never the time to get carried away but if we can't be quite optimistic now, then when can we be?
A small note of caution though. MK were without many of their first choice players due to Covid stuff and other things. We've been there and done that. It's just a case of getting on with it. For them no Harry Darling, David Kasumu, Max Watters who has been banging them in, Peter Kioso, ex-you know what team Scott Twine and Mo Eisa.
I can't sign off without making comment on shithousery which over the past few years has become an accepted and integral part of the game. Accepted doesn't of course mean that it is acceptable. But when referees officiate as they do if a team takes the moral high ground and refuses to participate in the "dark arts" they will lose out.
We were late arrivals at these antics. In fact I don't think I ever used the word in relation to my football club until Jamie Mackie came along.
There was an article in the Guardian three years ago which said this, "Shithousery is a fairly nebulous term, taking in as it does pretty much all the dark arts employed on a football pitch – everything from diving to headbutting via haranguing the referee and time-wasting. Generally, in its most simple guise, shithousery is an attempt to gain an advantage by unfair means and therefore it has existed around football for a long time". Tracing the word back to its origins it was apparently used in scouse slang back in the '60s and "The Concise New Partridge Dictionary of Slang has an entry for "shithouse", with definitions "an extremely unpleasant individual" and "a coward"."
For me there are levels and degrees of shithousery but no time to go into that here.
I'll pick a few quotes from the MK fans forum the Concrete Roundabout to continue the debate. (And yes I do acknowledge that they have passionate fans too. There, I've said it)
""Who the hell was picking up King of the Shithouses Matty Taylor, you can't leave a guy like that alone at a freekick, he doesn't need invitations to score like that, in fact there was another O's player that could equally have landed the blow …" Ah, Matty. He certainly learned a lot from Jamie. NB: Orient are the O's we're the U's (terrible unimaginative nickname). Make that the Yellows.
"What followed the goal was pure nine carat shithousery from Oxford, 10-15 minutes of doing anything to disrupt the flow of the game and our urgency to want to get back into it. Football purists will hate it, and I guess I do to, but in a funny twisted way I had to admire them. Every throw or free kick we had was contested, the ball was kicked away, torn from our hands, players pushed each other and at every given opportunity they were in ours or the refs face, players went down and feigned injury, even the sideline got involved with some faux routine involving a mix up with a substitution, Oxford have taken this to another level and turned it into an art form. You might not like it, and I get why, but do you think Matty Taylor will give a shit when he is running round Wembley with the Play-Off Trophy, do you think the smile of admiration on Robbo's face as he watches his players parade the trophy will be any less beaming as he knows Oxford shithoused the final minutes against us, of course not. If a ref is soft enough to let them get away with it, when its obvious what is going on then all's fair in love and war……we didn't just lose, we were educated in how to get across the winning line, another valuable lesson that you can only hope we learn."
Finally I'd like to point out that the first bit of shithousery, probably the most blatant bit of shithousery happened when the score was 1-0. Oxford were pressing down the left a white shirted defender in possession was under pressure by the corner flag. Our man didn't put a challenge in. The white shirt took a dive of which Tom Daley would have been proud. It was right in front of where I was stood. It was embarrassing. Referee Tom Reeves was a few yards away and must have seen exactly what happened and didn't happen. The free-kick was given. Embarrassment on top of embarrassment. In a nutshell my friends you have the reason shitehousery happens. And in this instance I'd argue Mk started it and if they had been the ones with the slender lead going into added time would have done exactly what we did. Also we shouldn't forget that Reeves added time on to the added time.