FAN'S VIEW 21/22 – NO.23
Oxford United 0 Rotherham United 0
Over the last few days the temperature has dropped dramatically, yes, but the Breeze Block (make that Freeze Block) Stadium takes off a few degrees extra compared to the outside world.
That wind chill was quite evil and we're not even in December yet. The speed of this wasn't the most extreme we've witnessed doing its worst at our three-sided home but still had more than enough about it to have a significant impact on the game.
In these Covid times I usually wait a few minutes before my half time visit to the toilets to avoid the most crowded period and did so on Saturday. I might as well not have bothered. I've never seen the concourse so rammed with bodies taking shelter. The man sitting to the left of Mrs FV didn't return for the second half.
So this was very much one of those games where huge credit has to go to each and every person on the field of play and that includes the officials. If the action is not in the half of the pitch they are tasked with patrolling, a referee's assistant can be particularly vulnerable to frost bite.
With the wind mostly at their backs, although it was a touch unpredictable, the visitors were the dominant force in the first half.
They're not top of the league for no reason and the yo-yo they play with year after year is on its biennial (L1) upward trajectory.
There's absolutely no denying that we were a lucky team to be level at the break. Rotherham hit the goal frame twice and missed many chances one would expect a team in their position and on their form to have buried. They'd scored 14 in the previous five league games.
The Freddie Ladapo header that hit the bar came back off Luke McNally and went just wide. It could easily have been an own goal.
Getting away with it was soon a theme of the match and was again demonstrated when Connal Trueman cleared a back pass that wasn't the best against Ladapo for it to cannon just over the bar.
But why shouldn't the footballing gods smile on us as we'd lost so many to pick from through the negativity of Covid positivity, illness and injury? Only fair to even things out a bit.
Anyway given how depleted we were it has to be said that the team performed admirably.
In the second half we had much more of the game although it has to be acknowledged that the Millers looked much more of an attacking threat than we did when it was our turn to face the wind.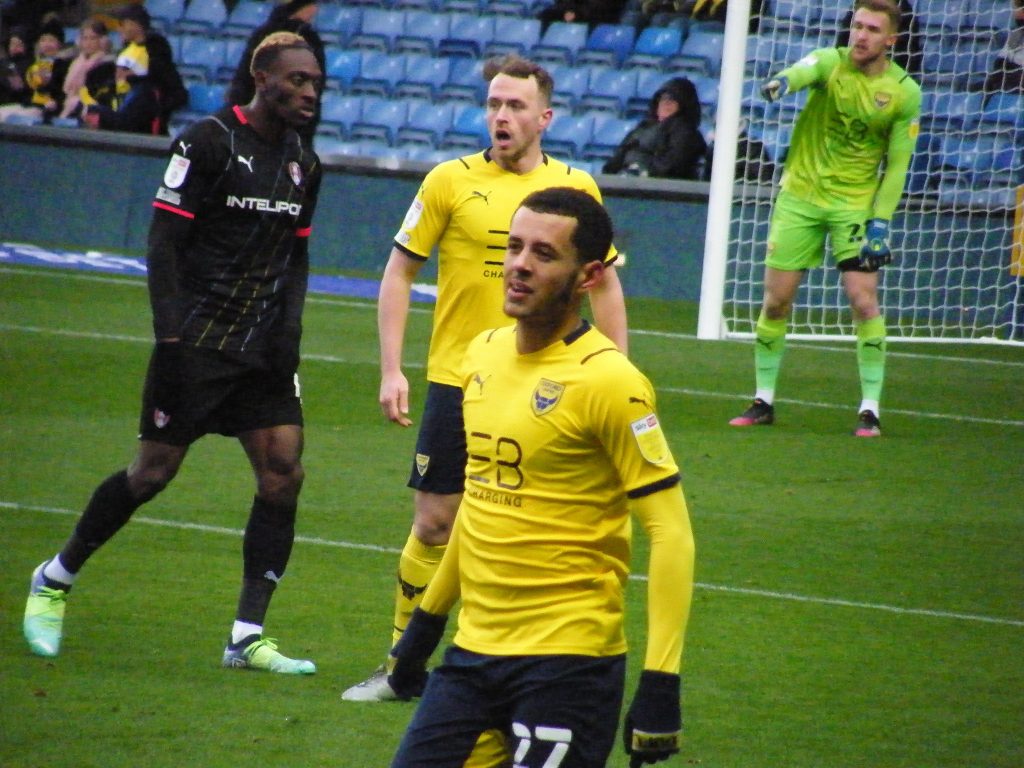 Photo, Simon Jaggs
Although our chances were few and far between, Nathan Holland, our man most likely to, did work Viktor Johansson in the Rotherham goal and in the final analysis it has to be pointed out that we actually had five shots on target to their one although total shots were 16 to 9 in their favour as was possession 56% to 44% and passes 333 to 277. They edged it on passing accuracy too. None of this happens very often on our own patch.
After this game I more than ever have us down as genuine contenders and by this I mean with the potential to go all the way. Not easy obviously and how those top players returning from isolation are fitted back in and those that have picked up the baton are treated will be important. It also needs to be noted that some who have had Covid may take a while to get back to match fitness whether that be down to the debilitating effect of the virus or lack of full training with the rest of the squad.
What we saw here was everything that was lacking in that collapse at Bristol Rovers and I suppose in the way that we contrived to lose to Stevenage in the EFL Trophy. They simply wanted it more.
Here the heart, desire and willingness to battle to the final whistle made me proud to be an Oxford United supporter. A clean sheet against this lot was an achievement.
McNally was as good as he had been against Fleetwood and one tackle he made was of the highest quality when he got back to take the ball as clean as a whistle when a Rotherham goal looked very much on the cards.
On the subject of tackling what a cruncher Jamie Hanson put in just in front of the dugouts. Real old school. Perfect. To be applauded. Boot on other foot would have had us yelling for a foul under the excessive force law. He's been criticised rather a lot since he's been here, possibly unfairly because injuries have not been kind to him, but possibly fairly because when he has played he has not shone. However in this he gave his all and was not found wanting. I did get a little worried in the first half when he'd ventured far up field and then when we lost possession was quite slow getting back, but that never happened again.
Sam Long was as ever 100% committed and more and I can only remember him making one mistake and quite a minor one at that. Each time I see him I'm thinking more and more "leader."  We have lacked those in the past.
Steve Seddon also played his part and given that we were without the ball for lengthy spells and didn't let a goal in the rest of the side must have done their jobs too.
In midfield Cameron Brannagan was all energy and closing down. Herbie Kane does that too and his class on the ball was as per usual a joy to behold. Marcus McGuane needs game time to get up to full speed and there are times when I wish he'd move the ball on much quicker than he does.
Gavin Whyte is not suited to playing as the main striker down the middle but whilst there he ran around a lot and as Karl Robinson said of James Henry "running around is all I can ask" after he'd humorously mentioned that JH had set a new record for passing the ball to the opposition. I'd noticed that and didn't think Henry had a good game at all. If he continues to perform like this his place may well be under threat when those missing return to the training ground.
Dan Agyei got another 20 minutes. As per, nothing stood out to say, keep me here, I'll do a job. He shot quite weakly after one of Holland's efforts felled a defender and the ball came to him. Perhaps I'm being unkind, perhaps it was really awkward. Perhaps one day he will explode for us and we'll all be saying, yes I get it now. But my memory of him from this game will be this incident and him stumbling over the ball when crowded by red shirts on the edge of the box.
Next Saturday instead of facing Sutton at home in the FA Cup we're off to the Stadium of Light. This will be another severe test. The Black Cats have played the same number of games as us and have three more points. Their home record reads played eight, won seven, lost one and have only conceded four league goals there.
When I say "we" I mean the team and supporters but that won't include me as due to other commitments I'll be missing my first OUFC game, excluding the Papa John type thing, for a few years so there will be no Fan's View from me covering next Saturday.
For all those who are going. Enjoy.