FAN'S VIEW 21/22 – NO.21
WIGAN AWAY (WITHOUT ANY FOOTBALL)
Many times in these Fan's Views I've stated the bleedin' obvious – Covid has not gone away. High profile cases are in the news. Kevin De Bruyne is out for Manchester City this weekend and Eddie Howe couldn't attend in person his first game in charge of Newcastle United. The team news for a few clubs includes the line that player x is back after being in isolation.
I knew all that but put it completely to the back of my mind as I was picked up just before 9:00 by our reliable driver Top Man Tim.
A list of pubs had been compiled from the Good Beer Guide and we were dropped off outside the Raven Hotel at 11:40. Inside were three Oxford fans we'd planned to meet up with later but they'd also arrived in good time courtesy of the rail network. (Who needs HS2?)
Bit early for a lot of people to be in there but quite a lot there were. If I didn't already know it this and our other stops told me that Wigan is very much a drinking town.
Kitty gathered. Round purchased. Walking back to the table I was met with a "game is off." Trying to process this, I thought why is that? Then almost immediately the truth dawned.
I then stepped out of the pub to ring Mrs FV. Don't know why. Perhaps to save her ringing me to tell me what I already knew. A guy in a yellow and blue scarf happened to be passing. "Are you an Oxford fan" I asked, which was a stupid question because of course he was. I informed him there would be no match for us later in the day. He thanked me and proceeded to the station where he was to meet his father for a now non-football day.
When one of our group who lives up north entered the Hotel he first of all wasn't having any of it. "No, you're winding me up".
With no game to go to at the DW Stadium, what to do? In my younger days I would have immediately been sniffing out an alternative fixture. Nowadays the pub has more appeal. We could even have got into Ashton AFC free apparently. Thanks for the offer but no thanks.
So it was onto the next pub, obviously. Tap 'n' Barrel which was my favourite of the lot. Smaller, much more modern than the others, quality beer and not so many customers. Actually there were only two others in there. A smartly dressed couple. Both Wigan fans. Him very much so, been to the Manor, still does a few away games. He wasn't too happy that the game had been called off and mentioned that his team had been forced to play with youngsters. That though was under the previous dodgy owners when the club nearly ceased to exist and loads of staff, including players, had to be let go. Covid is different and seven positive tests is a lot. A long and friendly chat ensued and given that Saturday was their 28th wedding anniversary and by way of celebration they had paid for a pre-match luxury meal package and all the trimmings I can sympathise with their quite well hidden annoyance.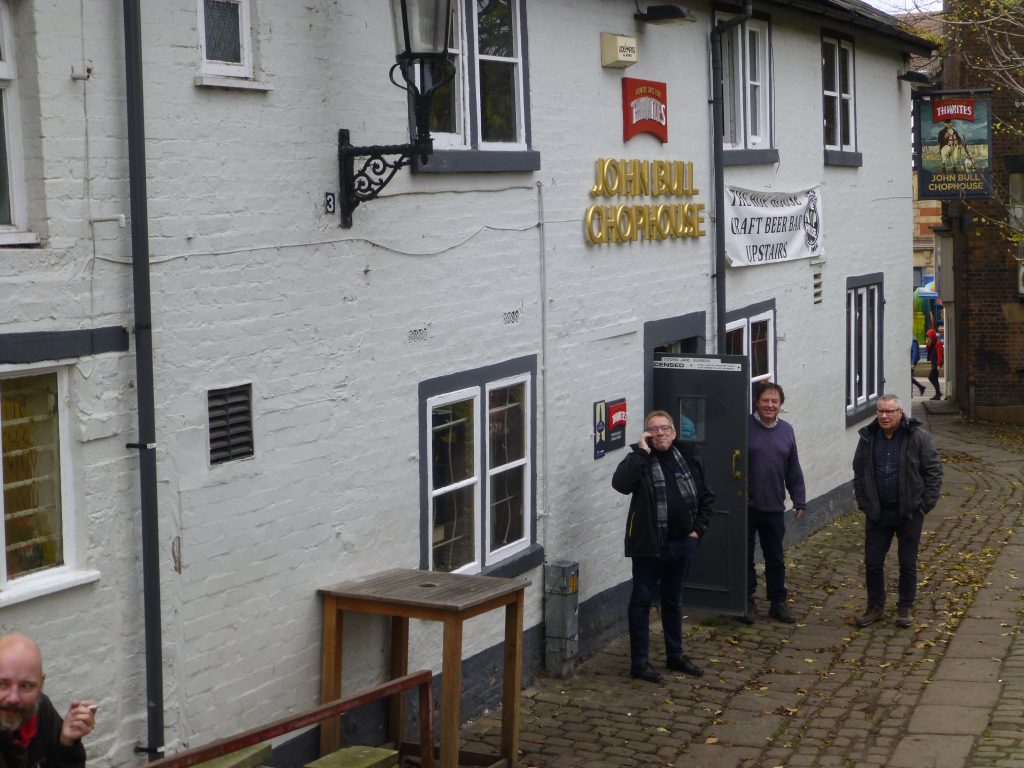 The Anvil was next. More Oxford fans just passing the time and finally the John Bull Chophouse. In each of these we had a few kind words from the locals with regards to our wasted journey. We pointed out that with the beer involved it wasn't wasted as such and that we were already looking forward to returning when a new date was fixed. There appears to be plenty more decent pubs there that we didn't get to go to.
Almost certainly the man wearing a Wigan shirt and large hat in the Chophouse had a much greater wasted journey claim than Oxford people who had travelled a mere 150 miles ish. His accent was American and he had flown over from the States apparently.
We even managed to take in one of the best pubs ever when close to home to round off an enjoyable day that we just had to make the most of.
None of this of course alters the fact that we've got a bit of a crisis to overcome and with that a probable reduction in the likelihood of us finishing top two/top six. A backlog of fixtures never helps. Nor does having to play games when a significant number of the squad are not available or if they are, may not be in full working order.
For this to happen isn't good at any time but particularly so now because we needed to get the Bristol Rovers collapse out of our system. As it stands that is the last game played and could be so for a little while yet. Fleetwood on Tuesday? Rotherham on Saturday?
It is also a shame we couldn't play Wigan now. They may have started the day in 2nd place six pts ahead of us having played the same number of games but their recent home form is poor. They've lost 3 of the last 4 so it's not as if would have been entering a fortress.
I have to say that I don't think we'll be the only L1 team to be brought to a halt by Covid before the season is out given the daily increase in cases and the approach of winter.
The priority though in all of this has to be the health and well-being of players, management, staff and fans alike.
So take care all, and for those who are ill, get well soon. And get that booster jab as soon as offered.