FAN'S VIEW 21/22 – NO.20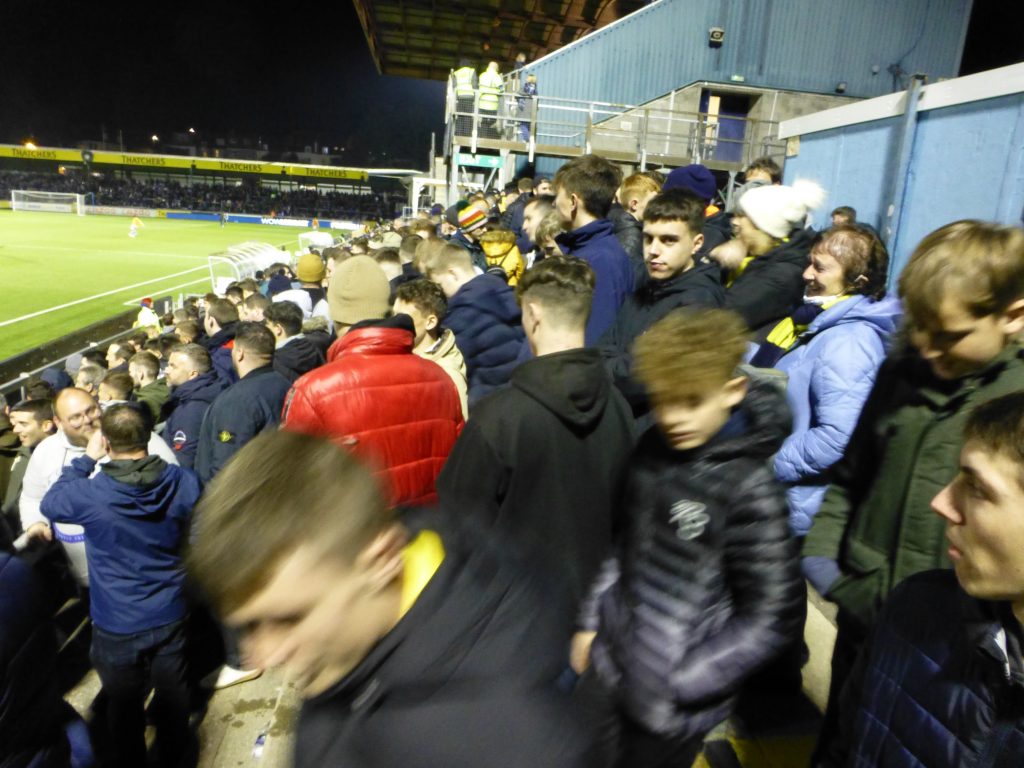 F.A. CUP 1st ROUND REPLAY: BRISTOL ROVERS 4 OXFORD UNITED 3 (a.e.t)
A game that we didn't want and should never have had to play but that tired cliché "it is what it is" very much applied, so tickets were bought because as a fan it was my duty to attend.
Once the football day, from early afternoon onwards, got underway I thought it was going to turn out rather enjoyable. That was until the last two thirds of the second period of extra time which naturally changed my disposition dramatically.
In the second half when Matty Taylor came on I thought we started to play our football and once we'd got those two goals so very early in extra time our class shone through. After all we are League One and Rovers League Two. Being two goals to the good with only 10 minutes left it goes without saying that we should have seen the game out.
What our opponents had was spirit in abundance, never say die attitude and a deep desire to work and work until the very last. I'm not saying we weren't trying. No way. But we didn't have what they had. What they brought to the party (and that's what it turned out to be for them at the final whistle) trumped what we brought.
They deserved it and I have nothing but admiration for them. Not that I know much about the division below us but for a side at that level, after seeing them at the Kassam, I concluded that at the very least they will be in the mix for promotion come May. Chatting to a Gashead in the pub beforehand he had less faith in his side than I did. "Nowhere near", he said.
You can say what you like about Joey Barton but he certainly got his team playing in this and they did it without fouling and cheating as far as I could tell. So again fair play, literally.
Another thing that absolutely helps them is the home support. They never got on their team's back when they were 3-1 behind and from our terracing we could detect what they were building on theirs as it became 3-2, 3-3 and then …. Well. Talk about sucking the ball in. There was that feeling. There were 4234 Gasheads in the ground but it felt like a lot more. The Blackthorn Terrace that houses home fans is some distance from the pitch so just think what influence they could play if almost within touching distance. Compare and contrast with the East Stand at Oxford.
First thing that went right for me on the day was the S5 bus from Bicester to Oxford being a couple of minutes late so I jumped on an X5 which goes straight through without stopping multiple times. Also its destination is Gloucester Green not Magdalen St making easy walking to the station so I wandered up to get my ticket before heading for the agreed rendezvous.
Walking back into the centre I bumped into a girl I used to work with and had a nice catch up before getting to the agreed meeting place, the Bear. Nothing rushed, all very pleasant and it got even better. Our fine city has its fair share of great pubs and the small establishment in Alfred St with all the ties is one of them.
It's difficult to get away from the old days. I look at Gloucester Green now and think of the Greyhound, the dingy drinking hole we used to go in before getting the coach from right outside or the football special to away games many many years ago. And whenever I drink Fullers beer (it almost always has to be London Pride for me) it's the Butchers Arms hidden away in Wilberforce St in Headington that comes into mind. I can honestly say that I never had a bad pint in there before home games at the Manor and I did have quite a few but that was also a long time ago now, sadly.
I knew I'd get a good pint in the Bear but expected to pay a lot more for it than in many establishments. I have no problem paying for quality. But no. To celebrate 176 years of Fullers each of the three pints I purchased cost £1.76. Result.
Trains and a bus got us stood outside the first of our usual two ports of call when we visit the Gas waiting for it to open at 5 o'clock. I had to keep reminding myself it was 7 o'clock kick off. Bang on time the Annexe opened and soon there was a few Oxford fans. Time passed with the usual chat and I was starting to really look forward to a game I'd originally had little time for. Not only does the Annexe give a discount for card carrying CAMRA members but also anyone who can show a bus pass. Old gits rule.
The Drapers Arms, micro pub, a friendly place with good choice of quality ales is just a few minutes' walk from the ground. I was getting more and more into it.
Then the football.
First half 0-0. A draw was the right outcome at that stage with neither side having done enough, or perhaps more accurately being allowed to do enough by the opposition, to merit having gone in front.
It went without saying that KR would make changes but I had not expected to see John Mousinho donning the shirt. I had to remind myself that it was Mous out there and not Elliott Moore. Mous has not played a full game for a year and that was in the Football League Trophy yet here the 35 year old last the normal regulation time. In that first period the coolness he has was evident and alongside him Luke McNally looked like he's got what it takes to get a proper first team spot back. I say pairing but there was a third at the back, Jordan Thorniley.
I feel like I have to apologise every time I mention Dan Agyei but I can't get away from the fact that I just do not think he's got it. No way. He was given another chance here and left no noteworthy mark on the game. Surely a loan spell has to be coming up in the January transfer window with someone else coming in.
Kicking towards their fans for the first time it only took the Pirates three minutes to take the lead. We were attacking but Herbie Kane lost the ball easily. That's not a good sign. Anthony Forde was then beaten when greater resistance would have helped our cause. A ball forward down the wing suddenly had all but two yellow shirts out of the game for a few seconds at least and as Brian Clough educated us: "it only takes a second to score a goal". Away went the winger. We quickly got bodies back but that was all about the getting back not the how do we become a proper defensive unit again? There wasn't time for that. The pass found an unmarked Sam Finley just outside the penalty area. What didn't help here was that moments earlier the scorer and Marcus McGuane had accidentally crossed paths, the result of which was that our man took a tumble. Had he stayed on his feet Finley would have had a marker and the chances of him scoring would have been greatly reduced. Unlucky.
With Taylor on soon after we looked a different team. We now actually had someone up front who could control the ball, hold it up and bring others into play. This he did almost immediately, playing in Ryan Williams who was chopped down for a penalty. Up stepped not James Henry but Matty himself. Confidently despatched it was all set up for him to piss off the home faithful even more.
There were a couple of chances both ends but an additional half an hour it was to be and three minutes in we'd established a two goal advantage.
For the first Williams delivered the ball forward to Taylor and sprinted away moving the return first time to Billy Bodin in as much space as you're ever likely to see on a football pitch. Good incisive play by us? Poor defending by them? Probably a combination of both. Bodin took it on well and slipped our second beyond James Belshaw.
Taylor was again involved for our final goal. It was his cross that Steve Seddon glanced home, probably off his shoulder.
At that stage we were the ones looking in control and were knocking the ball around well but I didn't have the same confidence I had at Portman Road that we would not let goals in.
Confidence that we would definitely win the game did grow as the first couple of minutes of the second half of extra time ticked by. After all they need two and even then we'd be in with a chance in the lottery of penalties.
Rovers second was pretty basic stuff. We let them get a cross in and Sion Spence got between our two centre-halves to head home. Ignore the line-ups on the official OUFC site which shows that Mous played a further half hour more than he actually did with Moore remaining on the bench. (Doesn't anyone check these things?)
Perhaps the Moore / McNally combo isn't anywhere near the best available from the four centre-halves we have, and that's classifying Long purely as a full-back now.
The equaliser came when no-one was anywhere close enough to stop Aaron Collins receiving the ball midway into our half and being able to turn and run with it. He might have cunningly used a colleague as a shield before getting a very good shot away from distance but we should have done much better in closing him down. I might well get criticised here but I think Simon Eastwood should have saved it. Great strike, yes but he had a clear view of it.
We'd not had the balls to defend what we had at 3-2 so what was to come next wasn't that much of a surprise. We just pathetically crumbled even more. No-one galvanised the troops.
Forde's effort to make the ball ours out on the touch line was utter horse shit. So in came a cross. Stop crosses, stop goals. Eastwood looked like he didn't know where he was let alone that he was aware he was on a football pitch with a goal to defend. Sam Long was second best to a blue and quartered top and Spence had an easy chance to complete our humiliation.
Big question – have we really got the winning mentality in this camp of quality footballers?
Or was it another case of the manager experimenting and learning lessons/getting it wrong?
Substitutions with Saturday in mind? Mark Sykes with his energy taken off too soon?
A big worry here is how this will affect our confidence ahead of the trip to second placed Wigan who came through their extra time with the right result.
I hope the players are feeling as I do which is that it has to be put right and we must never fall apart like that again. All I can do is get into the DW Stadium and get behind the team which I will do.
For one reason or another I've not had a good poke around the pubs of Wigan before our games with them but hope to rectify that and it does look like there are some interesting places to go. From spending some time working there thirty years ago I see the Swan and Railway is still there and looks exactly the same.