FAN'S VIEW 21/22 – NO.2
There's always an element of disappointment when we're drawn against a side we've met regularly in recent years. Burton very much fall into that category with a trip in the league scheduled there later in the year. It could have been a team from the Championship that we rarely cross swords with. Reading for instance. Or a new ground for some. Colchester would have done it for me. Not Sutton though but I suspect the Gander Green Lane of today bears little resemblance to the one I visited over 30 years ago.
Never mind, there's worse places to go than this part of Staffordshire with its brewing heritage.
As the prize pot for the Carabao Cup is insultingly derisory the only way to make any meaningful money in the competition is from the 45% gate money each team gets from each match played. For that to happen there needs to be a sizeable crowd paying more than peanuts to attend. I don't think the cash from live coverage on TV is worth mentioning either.  So let's just go with it's all about the glory of winning football matches. Particularly in round one against a team that hasn't got a very large fan base.
Hold on a tick, better check I'm writing about the right thing here. I've got an email in my in box from OUFC – "The U's kick off their Papa John's Trophy campaign away at Burton Albion on Wednesday 11th August. Tickets for the game are now on sale in-person, by phone or online."
I already have a ticket but for the Carabao Cup tie not the Papa John's Trophy. Quick check to see if I've mistakenly broken my boycott. No, the basic error is not mine. Come on guys / girls we don't want to come over all micky mouse. How long would a quick sense check take before the send button is pressed?  Perhaps I'm just a pedantic grumpy old git these days.
 CARABAO CUP ROUND ONE: BURTON ALBION 1 OXFORD UNITED 1
PENALTIES: BURTON ALBION 2 OXFORD UNITED 4
The Coopers Tavern is another of those very regular and familiar away day haunts that we've been visiting for more years than I care to remember. Without doubt it is a very top pub but after my pint of Joules (the brewery which owns the pub) Pale Ale I detected a slipping of standards. That was just a minor setback though with their Pure Blonde bringing them very much into redemption territory. As light and refreshing as it said on the label and "Brewed with spring water and no less than 3 hop and 3 malt varieties".  We were also given a little taster of the Slumbering Monk. A premium ale with real depth to it. More real quality.
Much as it will bore many it just seems totally appropriate to bang on about it when in Burton.
The current landlady who has been there for four years describes it thus on Facebook, "Our pub is unique, you will not find another like us in Burton. We are the only place to offer Joules's ales and craft keg alongside some guests. To me the pub lends itself to the olden days: no juke box, no gaming machines, complete strangers talking and enjoying themselves. Just a beautifully conserved real pub with its four quirky rooms and lovely ale yard."
But of course we wouldn't have been in there if it wasn't for the football. It doesn't take the locals long to suss we're "not from around here". I told them why we were in town. One of the young bar staff started talking about "we" when it came to the BAFC but when I asked him about Sean Clare he went blank. Another beer server pointed out the first guy was really a Bluenose. I was able to come over all knowledgeable and inform that in the same round five years ago we beat them 1-0 with a goal in the last minute of extra time by Liam Sercombe. That might actually have been impressive if it wasn't for the fact that these details along with a picture had popped up on Facebook earlier as my memory from five years ago.
We're all getting more aged now and our "Old Gits on tour" as a mobile unit are not as agile as of yesteryear which meant meeting up with an additional member of our party much nearer the ground. The Hanbury Arms is quite a large back street Victorian local. It is just 650 meters from the Pirelli Stadium apparently. I didn't know it existed until a few days ago and it is one of those pubs when you first enter and look at the hand pump(s), see just one fairly ubiquitous real ale on and go for the Guinness. Having seen a pint of Marstons Pedigree poured which appeared to have some life in it I opted for the same.  Whilst it was drinkable I would probably have been better served with the black (actually it is an extremely deep ruby red colour) stuff.
This pub will suit many fine and seems to be very much into pool. If I'm in there again perhaps I'll just have a short or JD and coke.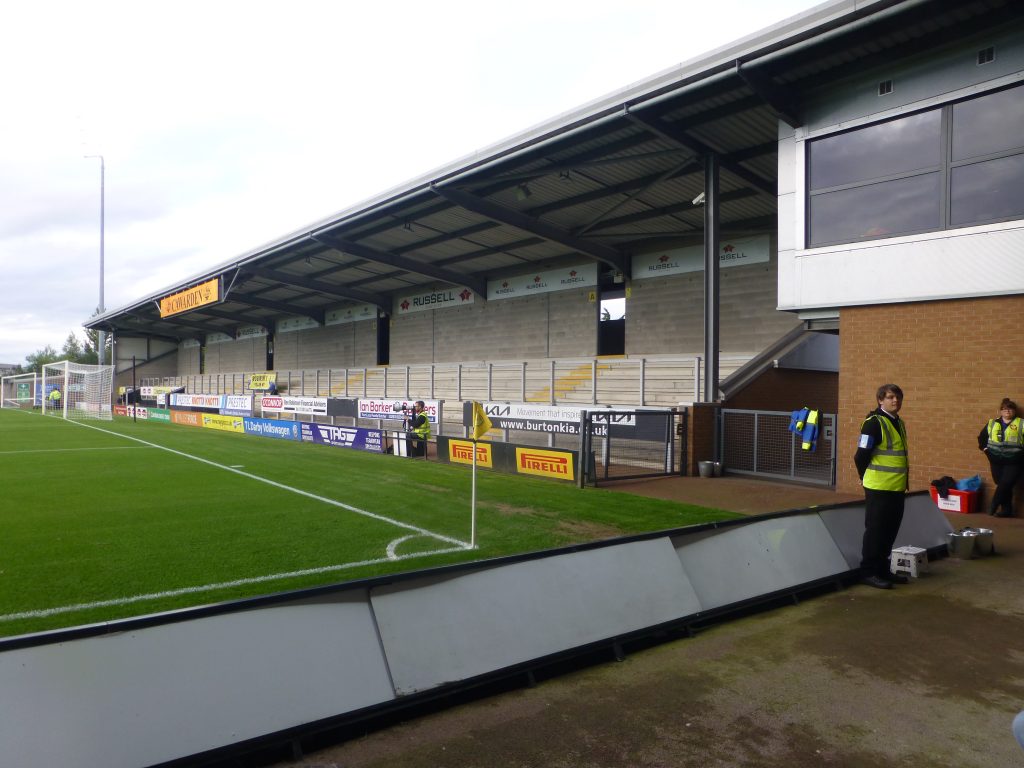 With the terracing behind each goal being denied to the followers of both sides we took our allocated seats which were situated just one row from the front which meant an almost pitch level view and obstruction when anyone walked by. I've known a lot worse but have always thought those who get in early to make sure they get a ticket should be given the best seats in the house i.e. those in the back rows.  There you go, another grumpy old git comment as is why were there no concessionary prices for such miserable folk? Twelve quid ain't bad I suppose and the amount charged has to be agreed by both clubs.
Burton's line up only saw one change from their opening league game whilst only three of our guys who played at Cambridge started in this. Basically our current B team then.
That the Brewers had a Leak (Ryan) in their defence should have stood us in good stead but it didn't turn out that way. He's a Welshman too. Comedy gold in the hands of someone who knows how to work such material but that's not me.
A football club's DNA dictates the way they play whatever the personnel wearing the shirts on any particular day. That was clearly evident here as we passed the ball from white shirt to white shirt (59% possession).
My perception was that, like on Saturday, we were coming off second best in most physical battles. That though is not fully borne out by the stats if they are to be believed. We won 59% of the duels and 51% of those in the air.  However of our attempted 21 tackles we were only successful in nine of them. That I can understand. I don't see us as a tackling team, more of one defensively that keeps its shape and forces the opposition in to errors but have probably got that all wrong.
Again I thought we defended pretty well. We had good shape and never got really exposed but on reflection if Burton's first XI had not been so woeful in front of goal I would probably have a different take on this. Twenty shots with just three on target.
Where I detected a difference to the showing at the Abbey Stadium was in our likelihood to score a goal. We might have had 12 shots here but for most of the time didn't look like finding the back of the net.  Creativity was lacking which may have been the reason I once again concluded that Sam Winnall had not contributed much. It's like when Matty Taylor looks out of form. It's the inevitable "but no-one is making chances for him" which is hard to disagree with.
I can't find fault with any of the others nor can I really point to any of them and say that they stood out.
The game very much looked like it would reach penalties without a goal being scored and with just six of the 90 minutes remaining odds on it ending up 1-1 would have been very long indeed.
The powers that be have decreed there will be no extra time in the first five rounds of the League Cup this season. Can't be having that prolonged tension and last trains home being missed.
I was a bit critical of Mark Sykes at Cambridge but against Burton I had noted how much energy he had but was still a bit taken aback, in a good way, by his contribution when we took the lead in the 85th minute.
Josh Johnson, who has not yet reached his 17th birthday, had not been on the pitch ten minutes when he played an accurate cross field pass to Anthony Forde. Options were quickly assessed and Forde sent Sykes away down the wing. Our man from Northern Ireland was as full of running as in the very first minute. No dribbling was necessary such was the calibre of Forde's pass and the first time ball across the box was met by Nathan Holland who touched it past keeper Ben Garratt either expertly or luckily. That I can't decide and I don't care. It was a pleasing goal. A goal of efficient simplicity.
It was that usual all we have to do now is see the game out story.  We even brought Mous, who I never thought we'd see in an Oxford shirt again, on to help this come about.
What could possibly go wrong? We knew Burton didn't look very competent when it came to finding the target and luck too had been on our side. Early on we'd been unable to deal with one of many long throws we had to contend with from Thomas Hamer. John Brayford, who has gone for a few million in his time but has played more games for Burton than any other club, stuck a foot out and sent the ball looping up and then down onto the bar. The bounce that followed was not over the goal line. I knew that for a fact at the time as I was almost in line. You can appeal all you want you Burton players but you are wrong.
Patrick Omari kindly blocked and sent wide a goal bound Brayford effort but his lack of positional sense would probably have meant offside for blocking Simon Eastwood's view even if the ball had found its way past our number two stopper.
In the second half an unmarked stooping header from a corner was stopped on the line by Sykes but that was about it. They were never going to score.
So we did for them. Mous of all men. The man brought on to ensure, well you know. That was in the 90+6th minute. Referee Seb Stockbridge had indicated a minimum of five but even that had seemed generous.
Perhaps Mous thought we've won it once, let's go out and win it again on penalties giving the fans a bit more to get excited about and for good measure I'll get the winner.
Penalty no.1 – The experienced Lucas Akins who has been with Burton since 2016. Saved by Eastwood with his feet. A good start. Easty looked confident throughout this game to me. Back close to his best. That should keep Jack Stevens on his toes. (0-0)
Penalty no.2 – Sykes. Not a long run up but plenty of power. In off the crossbar. Phew! Keeper got nowhere near. (0-1)
Penalty no.3 – Conor Shaughnessy. Eastwood made a decent attempt to get to it but the shot was too good. (1-1)
Penalty no.4 – Forde. A man who is good with a dead ball. A great pen sending Garratt the wrong way. (1-2)
Penalty no.5 – Tomas O'Connor.  Easty went low. The kick went high slapping against the centre of the crossbar. Up and away it went. The 429 Oxford fans cheered some more. We'd forgotten that YouTube clip where the ball hits the woodwork and goes skywards the keeper rushed out celebrating an emotive victory. With an incredible amount of spin on it when it comes back to earth the ball then hits the ground near the penalty spot and launches itself into the net with goalie twenty yards away. SE got up and fisted it away when the ball returned. It looked like it could have gone in. (1-2). Certainly advantage us now.
Penalty no.6 – Dan Agyei. No, he's stood too central. But wait he's moved to the right before taking the run up. Good. Shit, he's stuttered with a stride to go. No problem. Keeper goes one way the ball goes the other. Nice one. (1-3)
Penalty no.7 – 89th minute sub Frazer Blake-Tracy. Pressure? Miss and Burton are out. He does one of those little skips and Eastwood remains rooted. Cocky in the extreme. I love penalties like that when they go in and I can admire that here because I know we are going to win. (2-3)
Penalty no.8 – Mous. As scripted. All power and confidence. (2-4) "See lads I told you. Listen to your coach"
A rather satisfying evening and an appealing draw in the next round.