FAN'S VIEW 21/22 – NO.17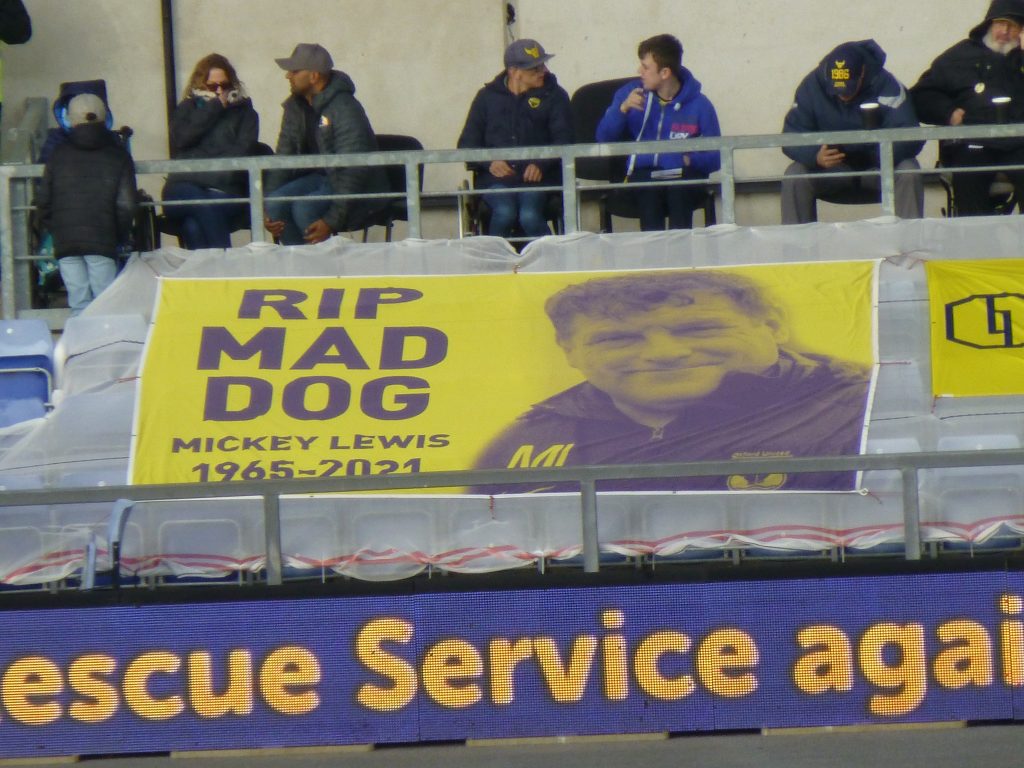 OXFORD UNITED 3 MORECAMBE 1
I don't know if it is because I write these Fan's Views or if my mind would automatically do it anyway but brief one sentence summaries keep forming in my head as every Oxford game I watch progresses. It's as if I feel a need to be ready with the briefest of immediate summaries should Selfy stick a microphone under my nose at any time during the 90 minutes even though I know he's not around doing this any more.
I think it was at 1-0 when it was "this game is riddled with errors." I spoke it out loud. Then followed up with "I don't think we're looking anywhere near good enough". Tim R in the seat in front of us concurred: "8th or 9th at best".
Yet here we are with the win here consolidating sixth place and just four points off second spot and only five behind the leaders but with a game in hand on them.
Every week there's many a result that throws up the "good enough?" question. Sunderland, who we'd all fallen for believing had finally got themselves properly attuned to L1 and how to rise above it, spanked 5-1 at Rotherham. That doesn't look "good enough".
So perhaps the teams that will be good enough come the end of the season will be the ones that have the least "not good enough" games and on top of that getting three points when deemed "not good enough" has to be a bonus. So perhaps we're very much doing alright after all. Possibly much better than my analysis after each game is telling me.
Morecambe, who began and ended the day in 19th position, might be on a bad run having  now only picked up one point from 15 (a draw last week away at table toppers Plymouth) but to me looked a fairly decent side. I've definitely seen worse. Tim thought they had something of Accrington about them. I can see that and given the size of their club, fan base and no doubt budget too, one cannot but admire them also.
They did not make it easy for us. That should be a given for any team. If it wasn't there wouldn't be much value in regularly watching football matches.
As is our way at home now we started quite brightly in the first ten minutes or so but then the Shrimps began to have more of the play. Defensively Steve Seddon appeared quite vulnerable but we more than matched that with the pressure we were putting their right back under. Anyone attacking down that flank was causing him difficulty and Nathan Holland in particular was giving him a torrid time.
When our first goal came just before the half hour mark the contest had settled into quite an even one. Scoring from a corner isn't something we've been doing that often recently but that was how we opened our account. Elliott Moore won James Henry's delivery but his header would have gone wide but for a spectacular overhead kick from Matty Taylor which fired the ball across the six yard box right onto Seddon's head. He could hardly miss and didn't.
We could have had more but at this stage there was nothing about our play that screamed "ruthless" and being honest the visitors didn't deserve to have gone two behind before the break. The closest we came was a shot from Holland that he curled a couple of feet past Jökull Andrésson's left hand post.
Just after the restart Greg Leigh beat Sam Long (all full-backs get beaten occasionally) and his low ball just evaded Simon Eastwood's stretch to fall to Ryan Delaney who was totally un-marked five yards out. It was another he could hardly miss situation. But he did. Very much a head in hands moment for all in red shirts and very much it'll probably be our day thoughts for those in yellow.
Morecambe's finishing up to that point had been wayward to say the least but this absolutely topped the lot. However they brought with them a record of scoring goals as well as shipping them. Their goals per game scored ratio was the fifth best in the division but only six teams were worse when it comes to goals conceded.
The last time they'd failed to score was on September 18, which coincidentally is the same as us, and in Cole Stockton they had the joint leading scorer in the division so there was a strong likelihood they'd register at some stage.
After the game our manager was happy to contrast Stockton with our number nine. He mentioned it not only being goal scoring a manager is looking for from a goal scorer. It's other things too like assists, link up play, holding the ball up etc. I'm with you all the way Karl.  The BBC stats site now has Stockton scoring a goal every 123 mins played, MT 200 mins. Stockton's goal conversion rate 29% and shooting accuracy 59%, Taylor's 17% and 43% respectively. But showing that Stockton has two assists to our man's one indicates this could all be bollox as we know Matty provided the assist for the two goals he did not score here. Data analysis, or should that be deep data analysis, plays an increasingly important part in the modern game. Any club that doesn't go along with that will get left behind, but as Karl says you've got to use your eyes too.
And on that note I would no way want to swap our goal scorer for theirs. I honestly think Taylor has become a better player since he returned to the club. His goal scoring instinct looks so natural and he is as sharp as ever but he now, as I've commented before, comes deeper and joins in the build-up play in really effective manner. Unlike Harry Kane when he attempts the same, Taylor looks like he's enjoying doing so and wants to be on the pitch with his team-mates. Then there's the hassle and pest contribution and know-how that comes with being in his early 30s. That and having witnessed Jamie Mackie close up.
Sure enough Stockton did equalise for the team from the Bay but that would not have happened had Henry converted a penalty 13 minutes earlier. It would have just halved their deficit.
The spot kick was won by Taylor. I think won is probably the correct term. It was classic MT on the end of a long ball having anticipated and gone between two defenders.  Andrésson read the situation well too and came out to block which he kind of did but somehow ball and Taylor got goal side behind him. There were three defenders patrolling the six yard area intent on protecting the goal. Having played the incident over a few times I think the keeper did probably give Taylor's shirt a little pull, but the evidence is not conclusive. The linesman should have had a good view. The fall to the floor was theatrical.
So Henry had a present to mark his 200th appearance for the club. That present was skied into the East stand. Later it very much looked like he was trying to make amends but when he burst towards goal he thrashed hopelessly off target. We know he can strike a ball but today it was as if he'd forgotten the basics. If he had Robbo wouldn't keep picking him.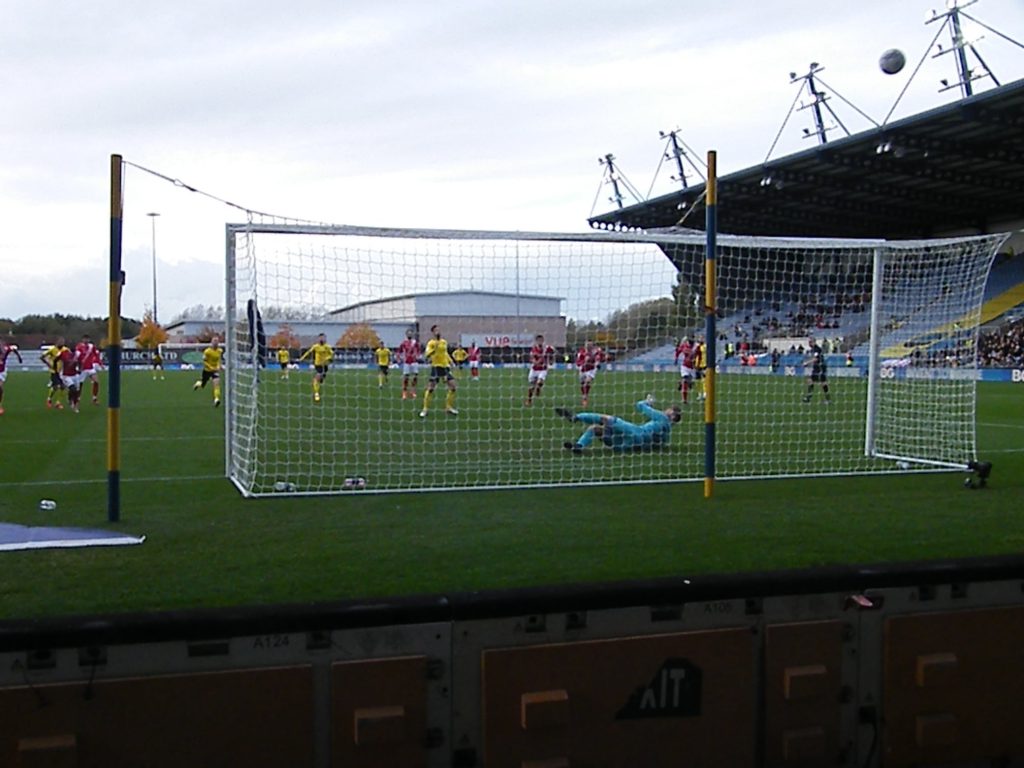 Spot the ball competition. Clue it is not in the goal. Photo, Simon Jaggs
Stockton's goal was an angled volley from a right cross that came over from the touch line. It was that good I clapped it. Rarely do I do that but when an opponent does something that good it's only sporting to do so.
With 26 minutes of the 90 still to go there was no clear evidence which way the game was likely to go.
We don't have much defensive cover and lack any credible alternative to Taylor up top but one thing we do have is midfield / wide men strength in abundance.
Holland and Alex Gorrin were replaced by Gavin Whyte and Marcus McGuane. These replacements were due to take place at the same time but pedantry ruled. It was this thing about socks, or whatever it is that goes over sock / legs and pads that needs to be the right colour. I don't understand it all I'll admit but there seemed to be a need for MM to put some yellow tape over some showing white. Utter madness when one glanced at the nine outfield players still allowed to run around on the pitch.
That summed up Lee Swabey as an official for me. This wasn't a hard game to referee. There was no overt nastiness with players trying to kick lumps out of each other but even so he didn't seem to have what was going on under total control. It's that old gripe – throw-in taken from the wrong place, throw-ins about to be taken from the wrong place and the thrower told to go back only to go forward instead another three or four paces with the referee looking on but the game allowed to proceed. Shirt pulling not penalised. No authority.  I find it impossible to respect such officials.
It only took us nine minutes to re-take the lead. Simon Eastwood cleared long, high and accurately from outside his area to Seddon on the wing. Our full-back, who brings something to the party going forward, controlled superbly on his chest then delivered a centre for Taylor. Matty being fully switched on to what was happening was able to beat the much taller Ryan Delaney in the air and nod the ball down setting up a contest between the onrushing Mark Sykes and Andrésson. The keeper threw himself but Sykes got to the ball first, getting it over the line with the very top of his shoulder. That was all about bravery but if he can add goals to his game his improvement, which has been impressive, will continue.
It wasn't until the 87th minute that the deal was sealed. Seddon returning the favour of an assist to Taylor with a clever sideways heel pass which was finished with the trademark dink.
We can be better than this but there's much to be positive about. As ever we played pleasing football at times. Long looked totally back to the proper defender we know he is. The one that really likes a tackle. And quite possibly for me the best bit may have been the re-emergence of McGuane. As I've said before when he was first with us on loan before his injury I thought he was something special and I got rather excited when we signed him permanently. I was expecting the team to be built around such a talent but he started this campaign nowhere near his previous standard, clearly not being properly fit and then came QPR. After that he wasn't seen for two months until Tuesday night, which I'm not going to waste my time making comment on, when he got 78 minutes against some kids and now the last 20 minutes here. In that short spell I thought he oozed quality. Putting him in alongside Kane, who I didn't think had the best of games in this, if that clicks, will give us a L1 midfield to dream of. Could be a big IF though. And then there's the matter of fitting in others and keeping them happy. No Cameron Brannagan here and Ryan Williams must be champing at the bit.
Best temper this optimism a bit though with areas of risk. How would we cope if Taylor got injured and we've only currently got one fit experienced keeper although I assume if something bad happened to Easty we'd be allowed an emergency loan? Plus we lack cover in certain positions at the back.