FAN'S VIEW 21/22 – NO.16
BURTON ALBION 1 OXFORD UNITED 3
Overall this season up to Saturday I've not been overly impressed with what we've achieved. It's been okay but nothing more. Whilst never being concerned we'd struggle near the bottom, neither had I taken from our better performances – and there have been some pretty decent ones obviously – that we were looking like the real deal capable of joining in the mix at the very top of table.
That was before our display at the Pirelli Stadium. The best we've played for some considerable time and certainly this campaign. When a team does as well as this over ninety minutes perspective is called for. How good are the opposition is a question that needs to be asked.  And also consideration given to their style of play.
The Brewers are not considered to be one of the power houses of L1. Anything but to be honest. Their home support is low in numbers and on the day I also thought in passion too. The gate for their previous home fixture against Morecambe was just 2477. On Saturday a total of 3359 turned up. I'd have to guess at how many were of the Oxford yellow persuasion because as is often the case the away attendance figure is not publicised. I'd guess between 800 and 1000. The fact that what started out as an all ticket affair for us travellers turned into pay on the day was a disappointment and hinted that perhaps our support isn't quite as great as some would have.
How many?
The size of a fan base thankfully is only one factor that dictates how far a football club can progress and establish itself at a particular level. We must remember that Burton started the day one point and one place above us, albeit having played one game more.
I quite rate them and Jimmy Floyd Hasselbaink as a manager. What I saw here was that if allowed to they would play proper passing football on the deck and in their loanee from Blackburn, Connor Chapman, had a player that caught the eye. He had creativity but also demonstrated a noticeable degree of frustration when what his team mates were producing wasn't quite to his standards.
Looking on fans forums of our opponents can be quite informative when trying to work out just what we've beaten, drawn or lost to. Taking account of the views on the "burtonbrewers" proboard seems I may have over-estimated the degree of difficulty we had to overcome to achieve this result and how good their manager is. I would though throw in with some force the argument that we were so good that we never allowed them to get going. Having gone a goal up before a minute had ticked by, we dominated throughout.
Here's a few comments from that site:
"We looked like strangers, square pegs in round holes not understanding the formation or tactics."
"I see a 3-4-1-2 line up and I just despair. This is Jimmy at his worse. We're playing effectively a back 7 of central defenders and full backs. We're going to set up not to lose, sit deep, concede possession, and hit the long balls."
They think their squad is too large, "35 very mediocre players not being very well managed"
"Jimmy did say something like we must try and stop them playing and not give them the ball easily. How is that going to happen with Bostwick in the team doing his usual hoof and hope play."
"Jimmy said we were second best today, I disagree we were a poor third best."
Fair dos to them they did give us credit.
"I actually enjoyed watching Oxford especially 2nd half with Brannagan, Sykes, Henry and Holland plus others, looking very good players and running the show."
"I have to say that Oxford are a very well drilled and talented side who have been together for a few years and reached the play offs in the last two campaigns. They completely outplayed us from start to finish and it was a relief to only lose 3-1 as in reality it could have been anything. When playing a team like Oxford who beat us 5-1 and 4-0 in last season's league games the last thing you want to do is give them a helping hand and boy did we do that."
Sometimes the stats provide a reality check to what the eyes tell the heart and brain has been witnessed. Not on this occasion.
Possession 60%. Passes 483 v 324. Passing accuracy 70% to 53% and in opponents half 63% v 45%. They had seven shots only one of which was on target and we know where that ended up. In marked contrast our count was 22 with an impressive nine on target. Burton very much had keeper Ben Garrett to thank for keeping our goal tally down to just the three.
It helps in winning football matches to be alert from the first second of play to the very last and to punish mistakes that those you are facing make.
One nil after 49 seconds. Nice but the inevitable, "we've scored too early" could be heard. Not a problem as it turned out. Anything but.
Burton kicked off, couldn't keep hold of the ball and when it came to Sam Long he looked up and belted it forward from well in his own half. Frazer Blake-Tracy (FBT), who was given the hook in the dressing room over the HT cuppa, moved as if to cut it out but without appearing to have bothered to have thought a few basics through. Which foot to do it with? He went with his left but it looked like that was the wrong option but would probably have cocked up with that too as he had not taken a step a foot or so either way to set himself correctly to make proper contact. Meaning he made no contact at all and in the blink of an eye predatory Matty Taylor was on the edge of the area with just Garrett to beat. Low and hard all along the ground under and through the keeper it went. Simple and clinical from a top finisher.
There could have been so many more but on this occasion no blame can be attached to the white shirted players who got the efforts away but not beyond Garrett.
As one would expect when the whole team is functioning smoothly with all working parts being in harmony with all other parts many individuals were shining.
One such player was Mark Sykes. He took a Long defensive header under control and after some very neat footwork played a little clipped pass which found Cameron Brannagan's superbly timed run taking the entire Burton back line out of the game. Garrett rushed out and blocked well. No disrespect at all to CB but with MT on the top of his game I wonder if our no.9 would have converted this chance.
Sykes was at it again soon after. This time it was James Henry he sent away and having got to the by-line our joint leading scorer turned beautifully to create just enough space to get the cross over. This time it was the upright not Garrett that kept the score as it was although the keeper may have got the merest of touches.
We had players darting between the Burton lines and the ball was being popped down similar routes as they struggled to contain us.
Just before half time Nathan Holland was first onto a low Long ball aimed at the penalty spot. The record books show a Bostwick own goal. That nicely rounded off a most satisfactory first 45 minutes.
Kicking towards the travelling support Oxford continued as before with Holland working Garrett after coming in from the wing.
Although not remotely looking to be at risk of letting the lead slip we were unable to extend it as the second half progressed. Then with 10 minutes left to go that lead was halved as for the first time we came up with a terrible mistake of our own.
Long headed a ball behind himself as he did enough to stop Kane Hemmings getting in behind him but Chapman seized on the loose ball and weaved his way swiftly to the bye-line. Steve Seddon had something of an FBT moment. Under no pressure of note he slipped as he placed the ball into the danger zone instead of make proper contact to propel it far from our goal.  Substitute Charlie Lakin buried the gift.
Nothing changed other than we'd not kept a clean sheet. Over the next few minutes we just carried on playing our assured football and four minutes after letting that goal in had re-established a two goal margin. A long ball from Herbie Kane, who was back to his best, was contested by Taylor who, losing out in both the height and numbers stakes, came out tops because he was switched on and focused.  Conor Shaughnessy pointed, Matty sprinted, got the ball, Garratt came, got the man.  Samuel Barrott signalled penalty and with the spot kick Henry, calmness personified, took sole first place in the race to become our 21/22 season league leading scorer.
Having been quite disappointed in Elliott Moore in some games so far I need to say that in this I was anything but. I thought he was totally dominant in the air and looked an imposing presence. Perhaps he wasn't facing the tall most physical attackers around but you can only beat the players you are up against.
Burton upon Trent being the brewing capital of Great Britain has a brewery on almost every street corner ranging from the huge Molson Coors to the much smaller enterprises such as the Tower Brewery and the Burton Town Brewery. Every time our football club brings us here it is obligatory to take advantage.  It is standard practice for us to start in the Coopers Tavern as we had done for the Carabao cup tie in August. An unspoilt pub which is a strong contender, of which there are many, for the best on the League One circuit. It's owned by Joules Brewery which is actually located in Market Drayton just over 40 miles away.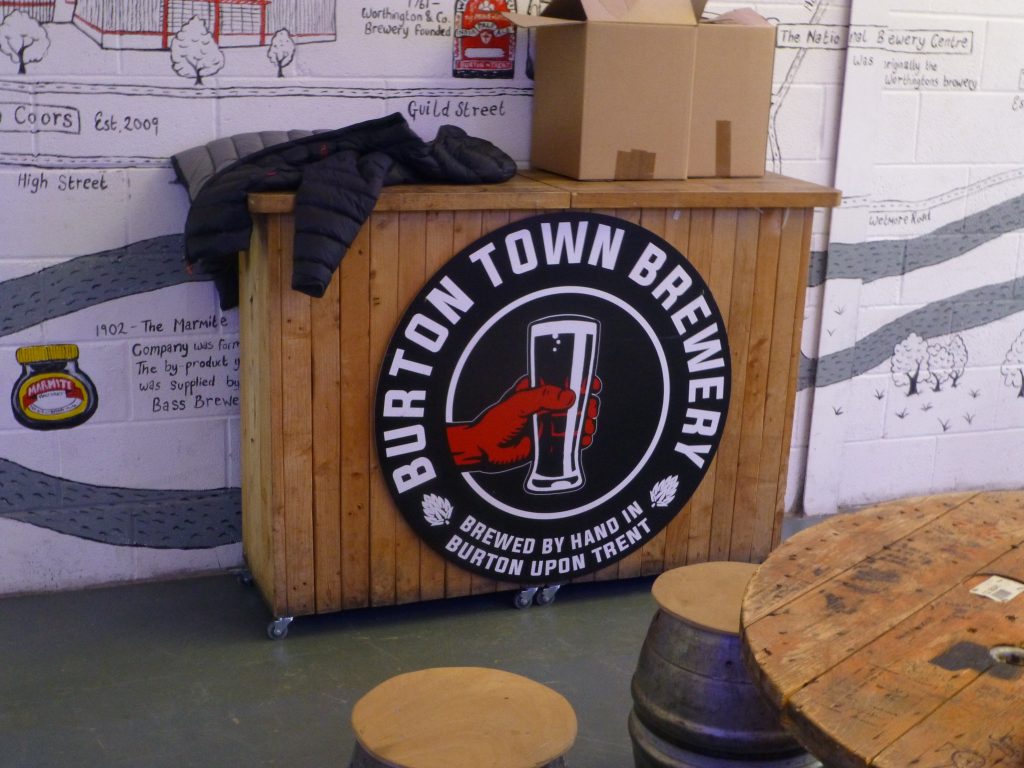 Breweries like the Tower and Burton Town have Taps on site that are only open for a few hours a week. The Tower Brewery just on a Friday from 16:00 to 0:00 which is no use to us thirsty football fans. Just round the corner though Burton Town opens up from midday to 15:00 on Saturdays. Never been there before but this opportunity was too good to miss and only a 10 minute walk to the ground. The beer could not be faulted and choice of styles a real bonus.
This and the Coopers set the day up nicely and what followed did not disappoint.