FAN'S VIEW 21/22 – NO.14
OXFORD UNITED 1 PLYMOUTH ARGYLE 3
Argyle arrived at Minchery Farm top of the league and departed top of the league. I'd say they were the best team we've played in the League so far this season. Form comes and goes and as only three from 24 go up I wouldn't put up much of an argument against the statement from Tim R who sits immediately in front of me that they won't go up. But for now they look very good and I totally get their fans revelling in the moment. They've got more confidence in their side than I've now got in ours although I did approach this one full of optimism, quite convinced that we would win and predicted a 3-1 triumph.
For the second Saturday home game in a row I had a few beers in the Royal Blenheim and walked the four miles to the match. On my away travels with United I've extolled many cities and towns for their drinking establishments but have recently come to realise that we've got some genuine top candidates on our doorstep for the very best pubs around. (Pity they're not a bit closer to the Kassam though). The Blenheim is now owned by Everards who lease it to the White Horse Brewery and they run it with Titanic. Any Oxford fan who has followed the U's to Burslem to watch us play Port Vale and has ventured into the Bulls Head will know what Titanic beers are all about. A few minutes before I left to head to the ground a Plumb Porter reserve hand pump clip appeared. Strange person that I am a sniff of a quick half someone had purchased was enough for me to decide I need to get back in there within the next fortnight to consume some myself.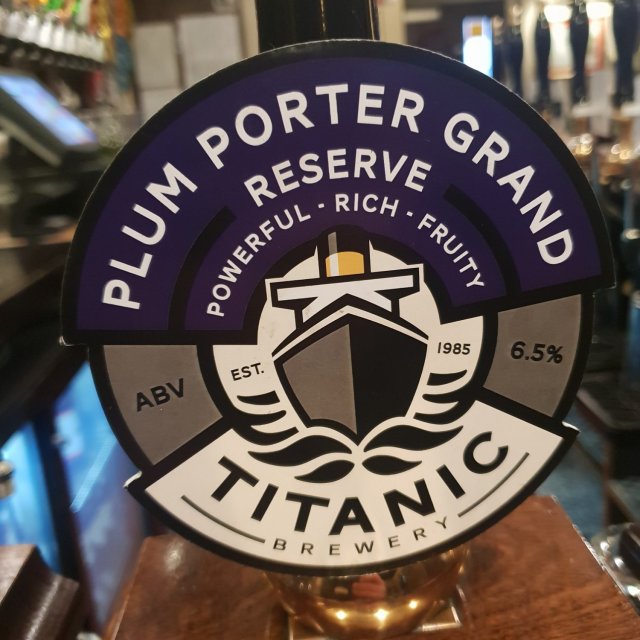 Like us following our team all over the country there was a small group of Janners in there. They said the Blenheim is the pub they always head for and can find no reason to move to another before going to the match.
On the stroll southwards there was another group of visitors, this time younger and more vociferous walking amongst the traffic and letting it be known they were from Plymouth. Oh the excitement of being at the summit. Enjoy it whilst you can.
Having lost to a side in very good form or perhaps just a very good side full stop there seemed to be quite a few of our fans not too unhappy, just a bit annoyed that we missed chances, chances that weren't too difficult to do better with and if converted would have led to a very different outcome. Not a lot wrong. On another day. All that sort of stuff.
I get that stance but no way can I go along with it.
For me we got what we deserved, a two goal defeat. Forget Joel Cooper and Sam Winnall (no idea what's with him), we had a full squad to pick from and were without question second best in this. We shouldn't have been.
With so many to choose from Karl should have had a strong hand to bring to the table. Selection wasn't a task I would have wanted to perform though. That didn't stop me mulling over who I would pick as I tried to drop off to sleep on Friday night. There were some obvious starters and although Alex Gorrin wasn't the first name on my team sheet he wasn't far behind.
My thinking being that with Argyle doing so well we needed to have enough players on the park who would put in the hard yards, do the defensive graft and contribute to a solid cohesive shape. We needed to have a plan to stop them being effective when they had the ball. Even if a team only has 20% possession as long as they are lethal during that spell and can defend with relative ease for the other 80% of the time they will win and deservedly so. For the record Plymouth had 44% possession.
In Karl I just about always trust and I'm not usually one of those fans who claims to know better than the manager and is convinced that the team they've picked in their head would have done so much better than what happened in reality. However I don't think there's any way I would have started with both Gavin Whyte and Nathan Holland and quite possibly with neither. Yes on their day they can cause opponents headaches with their pace and skill but what about the back tracking, closing down of space and defensive covering?
Battles have to be won to win football matches. Physical battles and battles of the mind between the managers. Against weaker opposition the flair players can be released to roam free and do their stuff but no way can the Oct 2021 version of Plymouth be categorised as weak opposition.
Mark Sykes, who replaced Whyte with just over twenty minutes to go, on current form is a package bursting with energy and can just as likely be spotted buzzing around at the back helping out the defence as bringing the ball forward.
Anthony Forde who played in front of Sam Long at Sheffield a fortnight ago provided assistance for our right back and has done a decent job there himself too.
As I go down this route I also need to mention of Ryan Williams. He's another I can picture in my head doing the defensive graft as well as the attacking stuff and also did pretty well himself when having to be a make-shift right back.
Neither Williams, Forde nor Gorrin came on even when it seemed to me we had no answer to stopping Plymouth looking very dangerous when they had the ball.
I was going to gloss over our loss to Stevenage in the Papa John's nonsense but as what happened here mirrored that to some extent, it is hard to do so. Starting well. Playing some excellent football and looking a class above the opposition for a few minutes and taking the lead. Then as the game progresses sadly lacking the organisation and deep rooted desire to get the job done. Somewhere in there it appears there's a lack of professionalism. That little bit extra to be a winner in the long run. Playing as we do we will win some games, possibly quite a few games but we'll never be termed "winners" unless something fundamental changes. Last season we weren't quite winners nor the season before.
I'd go as far as stating that Matty Taylor's finish that put us one up so very early on was world class. We'd knocked the ball about a bit and when James Henry got possession just inside our half he looked up and saw our no.9 making that classic run of going through the gap central defenders are bound to leave from time to time. Taylor's control with the outside of his right boot bringing the ball instantly under his spell and immediate clipped finish past keeper Cooper was sublime.
Unfortunately that's as good as it got.
We held that lead for just six minutes. Contesting a ball, Henry appeared to just half-heartedly wave a leg and Argyle ended up in possession. Ryan Broom passed to a colleague in the full-back position the ball then being moved forward. An outstretched Plymouth leg might or might not have made contact but whether or not it did, Jordan Garrick was away down the left. He was faced with Elliott Moore, Long not being on the premises. Arms went up appealing for offside. It wasn't. The Oxford man who next got close to Garrick was Jordan Thorniley who allowed the man on loan from Swansea to come back onto his right foot and score. Very very poor defending all round but no blame can be put on Jack Stevens.
Argyle had played the ball first time and had looked to get forward. No thought of keeping possession and slowly working their way back into the match.
The writing covering the final outcome of this encounter was truthfully soon on the wall. In the 25th minute only the post saved us from going behind.
Once again Moore was in the right-back position. He got touch tight to Garrick who gave a lesson in hold up play. He took the ball away from our captain then, turning the other way, made space before feeding Broom on the wing. With Long being slow to arrive on the scene our covering man was Herbie Kane who did his best but initially had two Argyle men to contend with and the cross came in where they had four waiting. We also had four there but none were able to prevent the strike on goal.
Kane for me was not only our most accomplished, influential and creative player by some distance but also an example of what a midfielder needs to do defensively. I can't recall anyone else taking the ball from an opposition player in the way he did.
This stay of execution didn't last and six minutes before the turnaround we were behind.
Argyle worked the ball to their left flank and on the half way line Long was beaten with ease, the ball then being moved on to Luke Jepcott. Second touch he'd laid it into the path of Panutche Camara who swept home from the edge of the penalty area.
There are some who almost ignore a goal towards the end of a match when a team trying to equalise is caught on the break and goes even further behind. Likely to happen but a risk worth taking is the logic. In this instance I'm not having any of that with regard to Plymouth's third in the 84th minute because there were so many similarities to what had gone before. They were moving the ball about and slotting it between yellow shirts. Substitute Danny Mayor walked beyond Long, laying the ball to Conor Grant. Again it was played first time into the area and it took just one more touch, a fine finish from Camara for his second, to put any comeback out of the question.
There may have been a lack of midfield cover in front of the back line but the four defenders themselves need to play much better than this if we are ever to get round to consistently beating the better teams in L1. Long looks a shadow of the player he was last season and it has to be asked if he's been brought back too soon. On the other side we have Steve Seddon and although we tried to convince ourselves that he was an upgrade on Josh Ruffels, that's not looking so at the moment. My son thinks he's nowhere near as good as Josh defensively and I can't see that there's any way we'll now get the goals we did from the LB position. Centrally we are no longer witnessing Thorniley looking calm and assured on the ball and likely to start something off. His partner Moore was beaten way too often. There was one instance in the second half where he again went tight to challenge for a ball somewhere near the half way line only for the man he was up against to take it and get away in what seemed to be a seasoned pro against someone very new to the role he was supposed to be fulfilling. Nowhere near good enough. Stop and think. This isn't working. Perhaps I should try something different like standing off and seeing what happens then.
Nearly everything I've covered thus far is on the defensive side of our game but it can't be overlooked that our shooting at the other end of the pitch was pretty atrocious. Henry missed about three really presentable chances in the second half and Whyte did similar. Again that simply is not good enough. All players miss easy chances from time to time, that's a given, but to do so on numerous occasions is criminal. The only functioning true finisher at the club is Taylor and I thought he was a bit unlucky not to quite get on the end of a couple of other chances that came his way. A mate though thought these failures to convert were as bad as those I've just referred to.
The argument will go that on another day we'll put these chances away and give some a tonking like the one we dished out to Accrington. That's as maybe but on Saturday we didn't and that means instead of being 6th and two points behind Plymouth with a game in hand, we're 9th and eight points adrift of the Pilgrims.
Although those three points are gone, Tuesday night gives an opportunity to get back to winning ways on our own patch. Shrewsbury are third bottom. I look forward to it with interest, particularly with regard to the starting XI Karl will go with. I'd make changes.