FAN'S VIEW 21/22 – NO.12
Since our first encounter back in 2010 we've played Accrington many times making them very familiar opponents. Every time I feel almost obliged to say small club, small budget and small fan base, punching above their weight and then go on to praise them for what they have achieved and continue to do so. And that's without adopting a spoiling long ball style of play.  (You know the types of outfit I'm talking about. Those that have recently come visiting).
John Coleman seems to have been their manager for ever. It's actually since 2014 but he was previously in that post from 1999-2012.
They were a point better off than us having played the same number of games and although they'd only picked up one point from the last three games the two defeats were against Sunderland and Wigan.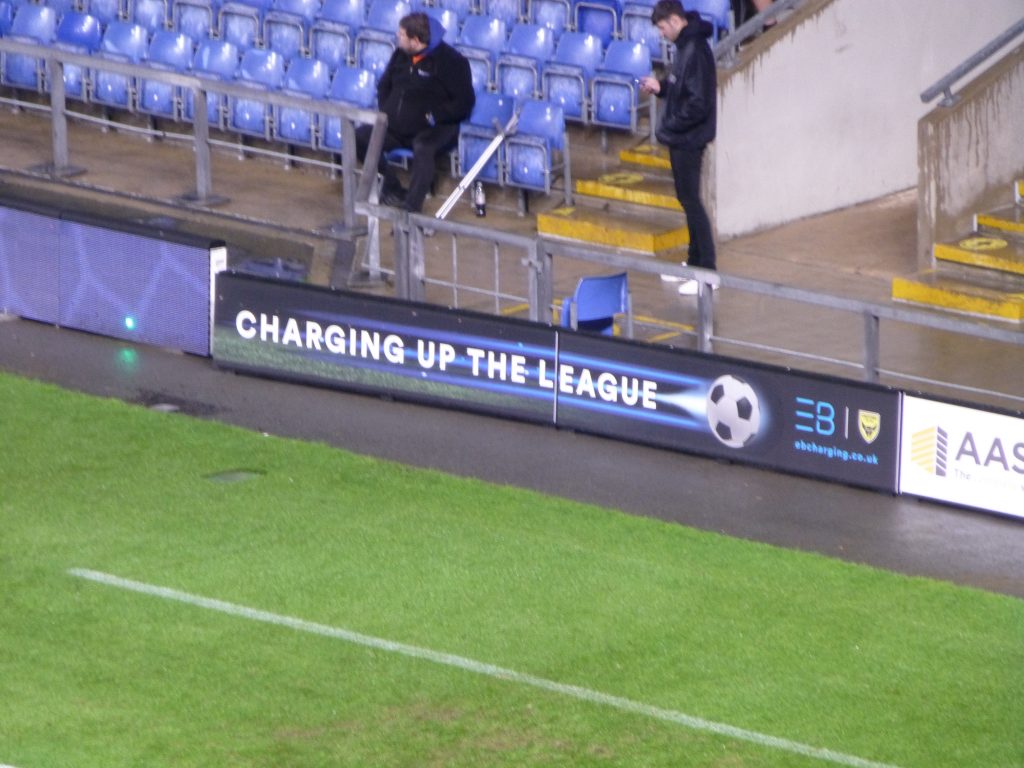 OXFORD UNITED 5 ACCRINGTON STANLEY 1
We were firmly reminded that summer has gone into hibernation for another year. The downpour was relentless although it kindly decided to stop before the walk back to the car afterwards. It was cold. Too cold for late September but then I remembered that the SSU has its own thermal system.
In these conditions and with so few away fans present plus the fact that we were never in any danger, it wasn't surprising that there wasn't much of an atmosphere hanging over the Kassam during this one.
I'd predicted the away attendance would be 49 and a drum. I was wrong. It was 81 and no drum. One has to genuinely admire them particularly with the lack of availability of fuel at many filling stations. (What a screwed up country we are). A near 400 mile round trip requires a lot of diesel or unleaded and some tanks wouldn't even hold enough. So a round of applause for supporters club coaches and electric cars perhaps.
5573 home fans might not seem a lot but again in the circumstances not bad at all. Many Oxford Utd fans live a considerable distance from Minchery Farm.
I also predicted an improvement on Saturday and a 3-1 win.  That was down to knowing how Stanley play and a feeling that we wouldn't keep missing chances as we had done on Saturday.
So a 5-1 win then and all is suddenly rosy in the garden. Well, not quite.
Some of the football we played was delicious to watch and goals scored of a very high calibre but I have to say that I thought a four goal margin flattered us a touch and we didn't begin the second half well.
In our half-time discussion a mate thought we had been really poor without the ball. I acknowledged that we hadn't been great but wouldn't go that far. I had though made comment in the first 45 minutes that we didn't look like a clean sheet sort of team.
And we weren't but thankfully didn't concede until three up and not two. We got to that stage though by having one of those could very easily have been 2-1 but a minute later was 3-0 instead moments. That was very early in the second period and if our lead had been halved then it could well have been as they say a very different game. (Montrose v Falkirk perhaps).
When Ethan Hamilton got his head on a corner and hit the post I convinced myself it had crossed the line before James Henry got it away with his left foot. There is of course no way we can really see from such a distance away when the margins are so very fine. Replaying the incident it is still impossible to tell because the ball was in the air some distance above the line. With no goal line technology in L1 perhaps we got away with one there. Whether it was in or not we got lucky. The ball could very easily have hit Jack Stevens as very much in vain he dived to his left.
That informed Accrington it was never going to be their day and by the time the own goal came in the very last minute of added time they wouldn't have been surprised.
The final stats count makes for interesting reading. Possession 51% /49%. Passes 441 to 418 with their accuracy in general and in opponents half being slightly better than ours. Tellingly though ten of our 16 shots were on target and we only had two shots from outside the box. In contrast Accrington had 14 shots but only three on target and eight of that total were from outside the box. To all those people in the crowd who still think the right thing to do is unleash an effort at goal from 25, 30 or 40 yards out. It's a low percentage of goals that are scored from outside the box. All six here were converted inside the penalty area.
A couple of those Accrington efforts came early on and in that period I thought we only seemed to be about 75% at it in terms of tempo and possibly endeavour too. It looked a bit training groundish. Our passes were sideways and back but it wasn't so much that which got me it was the lack of speed with which the ball was being moved.
Patience can win the day though and it was early doors.
Having a player who runs at defenders with pace and skill can also win the day. In the 18th minute we were knocking the ball around as we do, when Cameron Brannagan passed to Nathan Holland midway in the Accrington half and facing towards the Oxford goal. This time instead of tapping the ball back to Brannagan he turned using the outside of his right foot and suddenly had his marker Yeboah Amankwah on the wrong side. This was different, Accrington weren't expecting this and Holland was away.  Amankwah got back of sorts but not by enough to put in a challenge without conceding a penalty. Holland also had centre-half Ross Sykes on the retreat and sneaking between the two red shirts had the ball break nicely off a heel which helped him continue on his merry way before executing a cool side foot finish.
Six minutes later he found the back of the net again as we were really putting on the style.   Elliott Moore played the ball forward and Holland picked it up just about on the half way line. I have no idea what Accrington's defensive plan was but to allow him so much space again given what he'd just done was suicidal on their part. He again turned and sprinted forward with the ball. They may have had the numbers but we had the initiative and skill to make that advantage meaningless. Holland's ball to Matty Taylor was quickly moved out to the left where Steve Seddon had positioned himself. (Get those full-backs attacking and we'll reap rewards). SS played it low first time into box and Holland having continued his run moved across Sykes (the Accy one) and finished expertly once more. This with his left. His first with his right.
Number three in the 50th minute all but killed the game as a contest. Anthony Forde intercepted and from that moment Accrington were not defensively set properly. They were chasing back mostly wrong side of the ball as Forde picked out Holland who in turn sent Taylor away. His run had been timed to perfection making appeals for off-side fruitless. The dink over keeper James Trafford was sublime.
Photo Simon Jaggs
The ease with which we let Hamilton run through us to pull one back was a bit of a concern as we had not looked rock solid at the back, but 3-1 never became 3-2 so the jitters never came a visiting and ten  minutes later we'd restored our three goal advantage.
Henry robbed a dozing Seamus Conneely and scampered forward. Mark Sykes met the ball in on the stretch and we had another.
The fifth demonstrated what strength we had on the bench with Ryan Williams, a 64th minute replacement for Holland, tormenting his marker before a saved Brannagan shot hit Michael Nottingham and went over the line.
There were very much some plusses to be taken from this game. In the previous FV I mentioned our best assets being Taylor's finishing and the class of Herbie Kane. Matty delivered again as did Kane who is an exceptional talent but it is incredibly pleasing that I've not yet once mentioned him in this piece which tells me that others had upped their games.
Forde was good at right back and Sykes justified his return to the team. Brannagan and Henry both improved on their previous showings.
Man of the match – yes, Holland and on this evidence we can include him in the best assets category. I, and I think many others, were beginning to have labelled him an injury prone light weight. Just goes to show what a fit footballer can produce. If he can stay out of the treatment room we could be in for a few treats. He's already scored as many goals for us as Brandon Barker did last season. There's flattering to deceive and delivering.
Now back down to earth again.
The side we beat here was one that allowed us to play football. We need to find a way to beat the Wycombes and Gillinghams of this world.
This was at home. Unbeaten with four wins and two draws. Away it's just one point. We're away on Saturday. That needs sorting out.