FAN'S VIEW 21/22 – No.10
All things considered seven games in I can't rate our start any higher than average. That to be fair is way better than we're usually accustomed to with the norm being that it takes a while for Karl to get the team fully functional.
With fans back in attendance, home form in general has gone back up again which obviously means away form has travelled in exactly the opposite direction. Unbeaten at Grenoble Road with three wins and a draw is something to be proud of but that won't get us into the play-offs or better if we're crap at picking up much on our travels. One point from nine so far hints that to be so. Time to turn that around without further ado.
We need to improve at both ends of the pitch to match the best in League One to date. We're only 14th when it comes to goals scored per game with 1.29 on average. Defensively we're a little better at 9th with an average of 1.14 conceded with our second clean sheet of the season against Wycombe helping in this regard.
Cheltenham are shown to be better than us attacking wise but defensively are yet to keep a clean sheet and are third worst in the division. Surely beatable then. The bookies think so.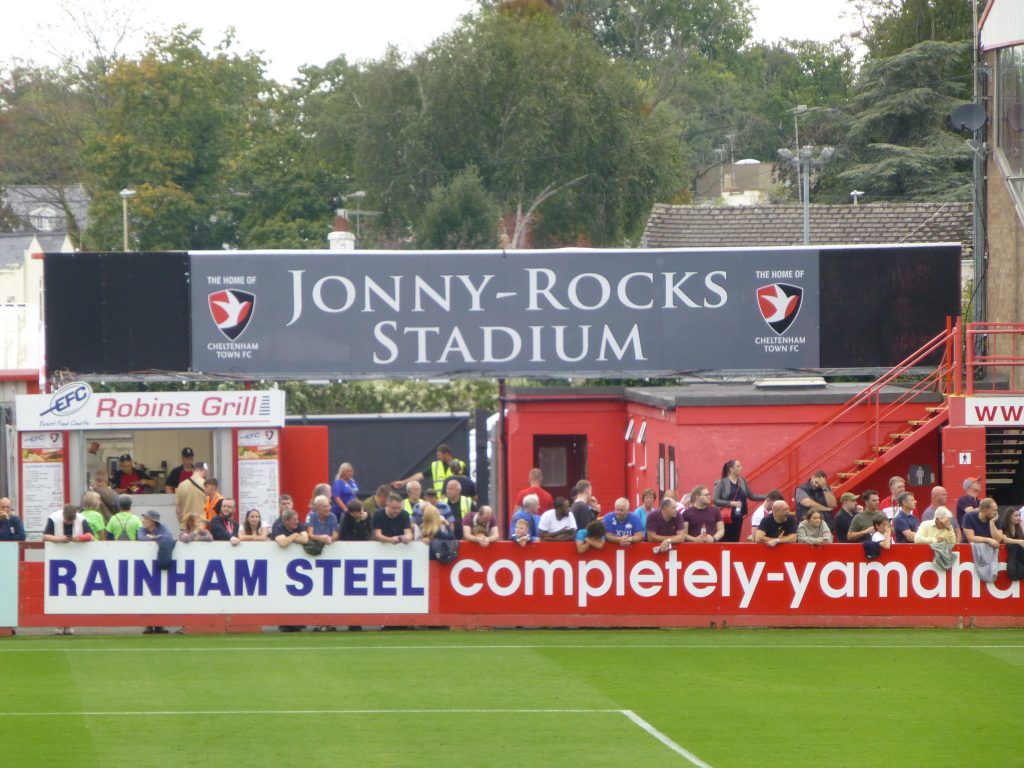 CHELTENHAM TOWN 1 OXFORD UNITED 0
Confirmation indeed that we are crap away from home. One point from twelve now and we couldn't score against a team that every other L1 opponent so far could.
This was another fixture that emphasised how much of a cock up it has been not bringing in another front man. One who can score goals. One who has physical presence and is six foot something and can and is willing to jump. That wasted Sam Winnall wage is something I think about every game like this that I watch. Dan Agyei? He had another 20 minutes and once more no way looked the answer. He did turn away from a couple of players on one occasion and gave a slight hint that something might happen (it didn't of course) but overall no way was he sharp enough. He doesn't seem to have the control and touch required for this level of football and doesn't get off the ground when the ball is in the air and needs challenging for.
Whenever I write anything like this I usually then ask am I being unduly harsh? I've seen enough of not seeing Winnall to know that I'm not wrong there – and what I have seen of him I know I'm not wrong there either. As for Dan, not seen a great deal but certainly enough to know.
But to be fair many of our players at best were nothing more than mediocre and that includes some who have looked way better than that in some games.
Matty Taylor no more gave the appearance that he would score than did Agyei. That said I think he works tirelessly with sweet FA service. Not once can I remember there being a ball slotted through for him or any one in a yellow shirt getting to the by-line and cutting the sort of pass back that an instinctive finisher thrives on.
Actually I can't remember many of our players beating an opponent let alone resembling much of a threat. Should we be expecting Gavin Whyte to stand out a bit now he has dropped back a level? What he is showing is that he certainly isn't Championship class. I heard someone sat near me comment, "how on earth did we manage to get money for him?" For me Mark Sykes appears to be the better player with much more to his game. He was one of our brighter lights in a dull team performance.
Nathan Holland came on but just looked light-weight. Ryan Williams remained on the bench. In the first few games he looked a real player. After injury is he still not fit? Probably.
All this is bringing me to the conclusion that it is all going to shit even this early on. That view is probably helped along the way to quite an extent by the lack of Cameron Brannagan. Although there's nothing to be gained by speculating why he wasn't there, it's almost impossible to stop oneself doing so. We're told it is not to do with injury or illness but nothing more. Surely if it was a family matter where privacy was needed that could have been put out in a one sentence statement by the club.  So, are we going to lose him for a while because we needed him here. His should be one of the first names on the team sheet.
Alex Gorrin did okay and Herbie Kane had quality that didn't belong in such a mundane football match but without CB there was something missing in the centre of our midfield. At times there was yards of space there that the home side was able to call their own.  Given that Kane has hardly played any football for quite some time I was surprised he stayed on until there were only a couple of minutes remaining. What I saw of him on a day when there was very little to get excited about was mostly positive but there were a couple of times when he pissed me off by trying something fancy when a simple pass was the much more effective option.
Sam Long did well enough defensively, including one excellent header flicking the ball away, but other than the minute against Wycombe this was his first football of the season and he was left on until the final whistle. I thought this showed and that the game was crying out for Anthony Forde's fresh legs and also his dead ball delivery. Any free kicks we had along with our corners were nothing but ordinary with the chance of them resulting in a goal seemingly as likely as Donald Trump becoming a Democrat.
I heard comment that we didn't deserve to lose because Cheltenham had only one shot on target and we had five. My assessment would be that, although these Robins didn't deserve to win a game that had league two written all over it, because we couldn't even score against such poor opposition we got exactly what our performance merited, eff all.
Just about all our shots on target were from James Henry in the first half and all but one were never going to go in. They were very easy to stop. One though was superbly struck. A moment of magic in this depressing fare. When the ball had been played to him his first touch put it onto his left which wasn't ideal. Having not been closed down it was quickly put onto his right and unleashed with venom. Scott Flinders' save was of the highest standard. Bastard. I had just started to crank up my goal celebrations.
These efforts though were from outside the box. We were unable to get in amongst them and fashion anything much nearer goal and therefore with an increased chance of actually converting.
We did manage this once in the second half though. Perhaps Kane would have been better off shooting but instead set Whyte up for a shot which was excellently snuffed out with a block tackle.
The closest Cheltenham had come to getting a goal before they opened their account in the 68th minute was when Luke McNally smacked a cross against his own post.
Although we didn't look totally composed in defence neither did we look as if we were going to crumble at any moment but that may have been down to the opposition we were facing. However I was about to say we're looking very open here when we did open up and allow them their one shot. It ended up being an easy finish. We did not create any easy finishes. Better one easy finish than ten difficult ones.
Flinders kicked long from his hands and Jordan Thorniley, not the tallest of defenders, failed to get a head on the ball. I would expect a 100% determined big physical centre half to have done so. Neither the crosser nor the scorer, Alfie May, were marked. Simply not good enough.
As we're not scoring many, one for them was enough. We had 22 minutes plus the five added to really go for it and show our class and that we had it in us to dig deep and get something out of the game. We didn't.
I'm not quite sure what my expectations were at the start of the season but I do know they were a bit lower than those of some people.  What I also now know is that these expectations have been lowered still further. With no strike force of note and too many sick notes I cannot, however hard I try, envisage a top six finish. So with that in mind, for now at least, I am trying to train myself to not get too pissed off when we play like this. Just a shrug of the shoulders and an acceptance that's the way it is with what we've got. Enjoy the day out, the beer and all that goes with it. I think there's a 50:50 chance I'll be able to do this but heaven forbid if we put on shows like this regularly we'll be inviting a visit to the bottom four and that doesn't bear thinking about.
So what of the rest of this sunny day? What enjoyment did it bring outside of the 90 minutes of actual football? Truthfully not a lot really. Just 50% of the pubs visited.
The day didn't start well for me. Nothing disastrous but perhaps a hint of things to come. On away days I always get myself a fry up before I leave home in order to fuel myself through the day.  I managed to drop one egg on the kitchen floor and as I made a failed attempt to grab it cracked a second egg in my hand.
It was my turn to drive. Not having researched properly I was unaware of the Blenheim Palace International Horse trials which resulted in traffic jammed into narrow country lanes unable to pass freely both ways.
We still arrived in the Spa town just gone midday and things were looking up at our first port of call, The Cheltenham Motor Club which just happened to be near my usual parking spot when I visit this part of the Cotswolds. It has won the National CAMRA Club of the year award three times including in 2020 and is open to non-members. They were welcoming and just for good measure they had a beer festival on. As I would be behind the wheel again in about five hours I knew I would have to restrict myself to four halves of weak beer as I made my way to the ground. Never mind, quality over quantity. And this was quality with a good choice of about 10 beers from independent breweries.  It was a venue that we could easily have remained in for hours but there was a schedule to keep and football match to attend.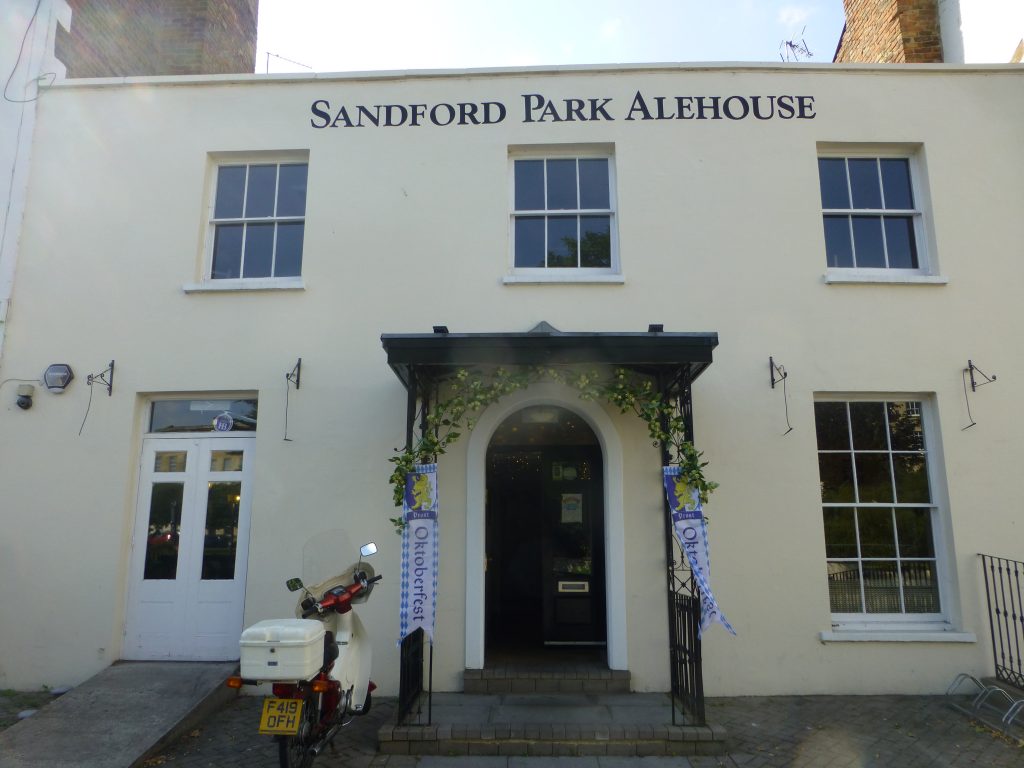 Next up was the Sandford Park Ale House. I've visited here before and had been impressed as I was again this time. I'd not realised there was a large beer garden out the back and the marquee there was occupied by many Oxford fans who have a nose for ale of the highest calibre. Again the beers were from independents. This pub only opened in 2013 and two years later won the CAMRA national pub of the year award. It changed ownership in September 2019 but standards have not dropped. Highly recommended.
Unfortunately it all went downhill from here even though the next two watering holes were also Good Beer Guide listed. One of the reasons we moved on to Whittle Taps was because Titanic Plum Porter is listed as a regular there and that is the favourite beer of one of our party. Did they have it on? Did they heck. And the choice was just three ubiquitous beers. The least bad option was Timothy Taylor Landlord which we all opted for and that was acceptable nothing more.
The final stop en-route to the Jonny-Rocks was the Kemble Brewery. Some really like this place. I used to but don't any more. At one time it was a top back street boozer but on our regular visits a few years back we'd detected a deterioration. There has been a change of ownership in recent times and it is back in the GBG but I find it hard to justify on the evidence we were presented with. A couple of our drinks had to be taken back to the bar. They looked okay but both smelt and tasted off. Fair play though they were changed for something good. Here the Plum Porter was actually available. The connoisseur had a pint. It looked fine to me. Smelt of plums too, as it should. The initial verdict was "this isn't right". That was the correct call. The pint had soon died with no head and nothing clinging to the side of the glass. It ended up down the drain and not the throat.
To make matters worse for me the pub was packed with no social distancing or mask in sight as far as I could see. I was happy enough stood on the pavement but had to venture inside to the totally inadequate toilets. I did put my mask on for this and was in and out as quickly as possible. Most people seemed oblivious to the risk although I heard one mate comment, "Its Covid Central in there."
Previous experience has told us to beware of the stewards at this ground. A couple were checking tickets as we walked to the Colin Farmer stand on the side which was fair enough as Oxford fans were also situated behind the goal. I did though keep a firm grasp as I held it up for inspection. My mate was going through the same process and I thought perhaps there had been a few customer care courses undertaken since we last visited. Wrong. In semi-aggressive tone he was asked "You Oxford or Cheltenham".  The correct answer was given in polite fashion, "Oxford".   For me this was almost certainly a comment to try and get a reaction. The days of home fans trying to get in amongst visitors to have a scrap are long gone. These were tickets for Oxford fans sold by Oxford United to season ticket holders.
Inside I asked another steward if people are being told to sit in the allocated seats as tickets contained rows and numbers. She gave a little roll of the eyes and shake of the head. At least one then knows where one stands (sits). Making fans sit in specific seats is damned near impossible to police but if tickets just state the holder is entitled to an unallocated seat the regulations mean not so many can be sold. I get this. And for me I ended up with a better view. One row from the back as opposed to seven from the front. The seats in the front row provide a scandalous view. £26 full price for this.
Photo, Terry Taylor
No more rants for now. We've got a week to wait to see if the team can put matters right. I'd like to say I'm looking forward to the visit of Gillingham. Make that Steve Evans's Gillingham, so I'm not.