SEASON 2020/21 No.53: PLAY-OFF SEMI-FINAL SECOND LEG
The build up
Given what happened in part one there appeared little point investing any emotions in preparing oneself for part two at Bloomfield Road. See that mountain over there? Bloody high isn't it? And get to the top of it only for the mist to clear and reveal the true peak miles further skywards. That's about the size of the task. It needn't have been but we created it.
So why bother? Quite a few reasons actually. Istanbul. Pride – at the bare minimum make a contest of it this time and I'd hope it would provide some evidence regarding the make-up of the squad for 2021/22 which will be upon us before we know it.
I wrote the FV following the three goal defeat quite quickly but can't help thinking about that performance and will continue to do so until we've played again here. One thing I didn't mention but have done so in the past is the overall size and physicality of our team compared with others. Speaking to people afterwards and picking up views on social media it was a topic raised again and one I have to agree with. Let's be honest Blackpool looked bigger and stronger than we did. Men v boys was also mentioned.
I'm not saying there's no room in the game for lightweights but despite the now unacceptable habit of old when man as much as ball could be taken, football is still a game where strength is important. Liam Kelly, who has been injured recently, is one that falls into the not very large category. We've not got muscle waiting in the wings.
Look where Jack Payne is now and Alex Mowatt. Both had undoubted skill on the ball. Payne I thought didn't have the physical presence, Mowatt not mobile enough but much more chunky. Relegated to L2 with you know who or captaining a Championship team in the play-offs. I might be making too much of this issue but thought I'd throw it out there.
Players can only get the bodies they've been given into peak condition and I'm pretty sure our boys will mostly have done that so how on earth can we make the return leg a very different game of football to the first? We had a couple of days to search and pray for a miracle.
When we played at Blackpool in the regulation season we were lucky to come away with a point. In their first visit to the Kassam this season in March they again didn't allow us to score whilst getting two themselves when we couldn't deal with corners. So safe to say we've had no answer to them whatsoever and yet we didn't set about that first leg with any game plan that suggested there's something different here.
Although I've obviously missed travelling away I am now secretly quite pleased that I won't have to suffer the hurt of seeing at close quarters Tangerine celebrations when it's all over.
So, if there is a miracle it will be ginormous.
BLACKPOOL 3 OXFORD UNITED 3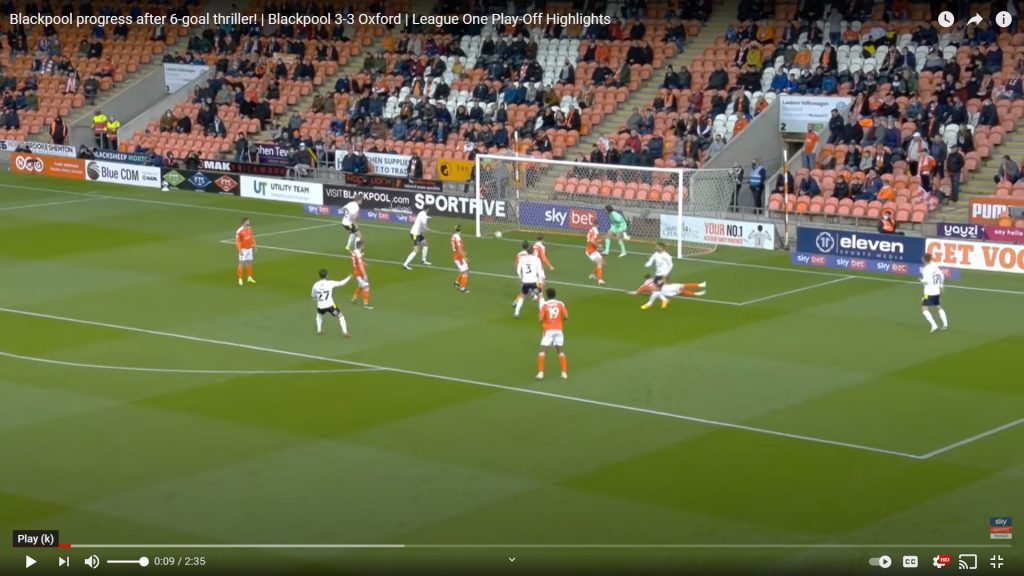 It started rather well
So, am I supposed to be pleased that we salvaged a little pride here? Honestly I'm not sure. Happy that we didn't get turned over again and if this had been the first leg, well that would have been a different kettle of Ken Fishes. However I suspect the home side knowing that before the start they held such a substantial advantage, played the game accordingly and if they'd at any time needed to produce more would almost certainly have done so. Proof of that came when they equalised in the 11th minute and when it was our turn to pull level for the first time they popped back ahead just two minutes later. It was them saying, no you don't, no chance on both occasions.
They'd shown what they were about from the off and when we took the lead in the 7th minute it was against the run of play. I thought Mark Sykes bought the free-kick from which the goal resulted but this type of thing is part and parcel of the game today so you take it when it goes your way and get animated when the opposition does the same. I could of course be wrong and have missed a little trip.
Their defending of that free-kick told that they weren't infallible at the back after all. Kevin Stewart got tangled up instead of clearing Josh Ruffels' header and Matty Taylor did his predatory thing.
Did this start have me genuinely believing that the miracle was actually on? Well, no it didn't. Obviously it was a touch likelier being only two goals instead of three adrift but I'd already seen enough of Blackpool at our place and in the opening minutes to conclude that we weren't going to keep a clean sheet.
Elliott Embleton's curled effort from outside the box was class. The way Blackpool ran at us with no messing said a lot about the way they play the game. They're not a long ball side but neither are they a patient possession outfit willing to knock the ball side to side for half an hour inside their own half.
The ball for that goal had been gifted to them by a poor James Henry pass. In the final analysis I'm sure a lot of sloppy conceding of possession can be identified even with the stats showing that we had 61%. Not that JH was under pressure in this incident but I do think that at times we try and play our game in much too tight and congested areas and whilst I'd agree that we have some players who are technically gifted I do wonder if they, or any one in L1, are up to this.
Two minutes later the message to anyone who had dared to dream with real belief was you twat. Not for the first time against this lot we couldn't defend a corner. This one was played to the far reaches of the six yard box and Dan Ballard, on loan from Arsenal, extended his body to get a head on the ball and bring it back into the danger area. Kenny Dougal met it whilst all makeshift RB Anthony Forde could do was grapple with him. Perhaps trying to play the ball might have been a good idea, hey but to be fair I thought overall Forde didn't do badly considering. I didn't, however, think anyone was playing particularly well.
Sky summariser Lee Hendrie did a bit of summing up with "Oxford are causing their own problems".  I was willing to second that. We even managed a foul throw ffs.
As the half wore on I thought Blackpool looked a level above us which might well be where they'll find themselves next season. I didn't think that we were together as a team in the same way as they were.
We did start the second half a bit brighter and Henry, who disappointed me not for the first time of late, hit the post after we'd put together a positive attacking move.
It wasn't long though before we'd got ourselves level. Again Blackpool defended a free-kick poorly. Rob Atkinson got the wrong (well right for us) side of his marker and was able to head easily across keeper Chris Maxwell for what looked a bit of a soft goal but it was a good finish.
We decided almost immediately to match and surpass the Seasiders in the defensive inadequacy stakes leaving Jerry Yates unmarked a few yards out to restore their lead. It was so so easy.
Yes we did equalise with about a quarter of an hour to go and credit to the maker of the goal, Dan Agyei, and the scorer Olamide Shodipo but it was basically meaningless even though we still kept trying to get another through to the end.
Despite some feistiness, which was as much our doing as theirs, I wish Blackpool well in the final. They absolutely deserved it on their, and our, first leg performance.
Off the pitch what on earth was going on because in many areas of the ground there were no masks? The rules were the same in Lancashire as they were in Oxfordshire on Tuesday night. Police were present yet neither they nor the stewards did the enforcing. It's attitudes like this that bring the problems that lead to lockdowns and fans sat at home whilst their teams are forced to play in empty stadiums. (NB: It wasn't just them though, having watch a lot of the other play-offs on Sky I ask is it just us who are the good guys or have I wrongly taken behaviour in the SSU to be representative of the Kassam Stadium as a whole?) Also it was clear that in at least one area of the ground social distancing was not being observed with fans congregating together.  There was also a report of a bottle being thrown and smoking in the ground.  I despair. Fans have been away for so long surely they should embrace their return it in the correct way and with respect. And I'll add if we'd won the first leg away we wouldn't have sung "you're ****ing shit" at our visitors in part two. We've got more class than that. (At least I hope we have). I used to have a lot of time for Blackpool fans, especially those I chatted to outside Bloomfield Road a few years back when they were boycotting because of the Oystons but this sort of behaviour prompts a re-think. Were they really season ticket holders?
Anyway it's done.
So a few quick questions and ponderings now that our 2020/21 campaign has ended.
How did we do? I'd go for a 7 out of 10 which is perhaps a touch on the generous side. The three teams immediately below us in the table Charlton, Portsmouth and Ipswich are without doubt bigger clubs than us so there's evidence that we outperformed them, just. We made the play-offs, they didn't.
There were of course periods during the season when on threes and fours out of ten, like at the start, and others where we hit eights and nines. Where we largely failed was against the top teams.
In the ten games we played against the five sides that finished above us we only picked up six points whilst our rivals took away 21 between them. We won just one and drew three losing all but one away and failing to score in seven of those games. On the face of it the goals for column with us being third best in the division indicates that finding the back of the net isn't a problem but when we really struggle to do so against the top sides it clearly is.
In contrast in those games we only kept our opponents goal-less twice. Defensively I think we're only about average and that is an area that needs improvement. Full-back cover obviously. Actually more than cover given JR is almost certainly off to pastures new. And am I the only one who thinks our centre-halves lack pace?
If our ambition is truly to become an established top 30 club in the country we've clearly got some way to go because that means challenging for the play-offs not in L1 but in the Championship with the Premier League in sight. Yes, time for a lie down.
I'd argue that we're currently right at the lower end of the top 50 as our finishing positions the last two times indicate. I also think it won't get any easier to maintain that position. The big three that finished just below us are not going to go away. Newly promoted Bolton are a sizeable club and they seem to have put their ownership and financial woes behind them. Two of Blackpool, Sunderland and Lincoln will still be with us and whilst we've already seen Hull and Peterborough promoted those coming down may be major threats.
Rotherham don't risk their financial future by throwing money at the Championship and very much have themselves set up to yo-yo straight back up again which is something they've got quite used to. Sheffield Wednesday are another huge club for tier three and one day may again awaken. For now though they are something of a financial basket case. There's always a few around. Derby County too have been in that category for a while now and whilst they finished one point above the Championship relegation zone there's a slight chance we'll be playing them in L1 in the coming season. There's the possibility of a points deduction following breaching of financial fair play rules. They had failed to adhere to accounting standard FRS102 covering how a club records the benefit of player registrations over the lifetime of a player's contract. (Amortisation – for accountancy nerds). Naughty. The Disciplinary Commission now has to decide what happens next but the EFL said there was "no definitive timescale" for proceedings. As a body the EFL at times are quite pathetic. This needs sorting with immediate effect and a decision made on what the punishment will be and if any points deduction will be applied this season just finished or next. If it's the former Wycombe would survive and we'd have another big club joining us in L1.
I have just realised what I'm doing here – moving on to next season and the reality of what we might face as I try to quickly put another failed play-off campaign into perspective and the history books.
Let's not ignore the fact that L1 is a very good level of football and we've turned ourselves into contenders although it will be no easy task to maintain that position let alone push on.
I suspect given budgets in L1 we've just about punched our weight, but this is guess work. It always has to be because accounts do not have to be lodged until nine months after the year end date. Yes we know Hull will have had a much bigger budget than Accrington but there's much in between that we don't know about.
It was for this reason that a few seasons back I started to delve in my amateurish way into the finances of football clubs after quite a few of our, not very well informed as it turned out, fans insisted that given our budget we were under performing. It was quite revealing what others were paying and we have to remember we're hamstrung when compared to many by having to pay a rather large rental and service charge bill to Firoka without even having an asset we can sweat.
On that note I'll refer to the Sunday Times. Each week there's a short column entitled "My Club" when a celebrity answers questions about the team they support. It's one of the first pages I turn to. Vicky McClure, her of AC-12 fame is a Notts County fan. Sorry couldn't resist a bit more Line of Duty.
On May 9 the celebrity was broadcaster Jim Rosenthal. Jim's response to Karl Robinson? "He's got a tune out of the players for the past two seasons. With a big budget by League One standards he should have done better".  So here we go again – does Jim know all the details of all the finances of all 24 L1 clubs? I suspect he doesn't even know ours although I could be wrong but this sort of talk annoys me. For the record his "best of times" answer was, "I was ITV Sport's main football presenter when Oxford reached Wembley for the 1986 Milk Cup final. They played like a dream so I put on a big yellow hat and declared my allegiance. Before he went on to ruin the BBC, John Birt was in charge of ITV. Not a man noted for his sense of humour, he thought a presenter showing partisanship wasn't on. It set my career back. The hat never made it out of Wembley".
Must have bought another one
Very different times. What times are ahead we can only guess for football in general and OUFC in particular but after such a difficult period in the history of the world I'm just glad to still have a football team to support. I'm already very much looking forward to 2021/22 and being back at the Kassam in person, travelling to away games with my mates and having a bloody good crack. That doesn't mean I think it's a given that this will happen although I'm much more optimistic than I was.
Stay safe and sensible everyone.  Enjoy the summer when it can be bothered to put in an appearance and come back to OUFC much refreshed in August.