SEASON 2020/21 No.49: PLYMOUTH AT HOME
Pre-match
I knew we had three games remaining but after Wimbledon, or more specifically those two dreadful minutes at the new Plough Lane, I couldn't have told you which order these matches were coming up in. I'd switched off. Written the season off as far as the play-offs are concerned.
The match preview on the official site informed, "The U's need a win to keep their push for the play-offs alive". They can say nothing else. Mathematically it is still possible. We can now achieve a maximum of 74 points if we take the nine still on offer. Hull and Peterborough have already gone beyond that total. To also do the same, Lincoln and Sunderland only need one more win. Including today they have five and four games remaining respectively. That leaves Blackpool and Charlton who each have five to go. The Seasiders need just six points to end up out of our reach and the Addicks eight. Then there's Pompey too, as I type this they've just beaten doomed Bristol Rovers and are now three points better off than us having played the same number of games.
No need to say "get real, people". I think we all are.
But there is a football match to be played. Albeit one without Brandon Barker (so much for him being back for this), James Henry and Sam Winnall (again).
In Henry's case the laws of the game are crazily out of proportion. Red card for denying a goal-scoring chance but AFC ended up with a goal anyway. Double jeopardy as we had to play for over half an hour with 10 men. No make that triple jeopardy as he's suspended today. Yes, it is the same for all players at all clubs but for me it is something that needs addressing.
Prior to kick-off there was only an infinitesimal chance that Plymouth would finish the season in the bottom four. Picking up just two more points would prevent that happening as would Rochdale failing to win all of the games they had left which has now already happened. That of course does not mean they would be easy prey especially as they would be smarting from a 6-0 drubbing in the week.
OXFORD UNITED 3 PLYMOUTH ARGYLE 1
The boys in yellow kept their end of the bargain here and from our point of view so did Charlton and Blackpool, both losing at home. That Peterborough won at the Valley as they go head to head with Hull for the title is no surprise but Shrewsbury taking all three points at Bloomfield Road is. Pressure.
It's not always the case that we get hold of a game from the off but we did in this one.  We were the front footers and one man in particular was the leader of the charge. Dan Agyei was all pace and power down the right flank and playing like that he is very difficult for defenders to contain.
With the game not even 10 minutes of age we'd started to accumulate corners and chances were coming. Efforts from Rob Atkinson, Olamide Shodipo, Mark Sykes and Agyei didn't open our account though and truthfully there was no claim that a better outcome was deserved.
On top but not all working parts were operating as intended. Shodipo's touch left a bit to be desired and a shot from Josh Ruffels in the 14th minute was the wildest yet. It was also noticeable – and not for the first time this season – that Matty Taylor was appearing much deeper in positions where he's not going to boost his goals tally. Part of the game plan or just wanting to get involved?
As we moved past the quarter of an hour Plymouth were coming into it a lot more and we no longer looked quite as effective.  For an angle that could hardly be tighter Byron Moore hit the post with a header after he'd done all the hard work himself getting past Sykes rather too easily.
Now things were happening at both ends of the pitch.
The biggest happening thus far arrived in the 29th minute and it came at the right end for us. Elliot Lee, who had only done stuff which had me wondering if he really is worth trying to keep when it all starts up again in August, whipped in one of those free-kicks that is begging someone to get on the end of. It was a clinical finish. It all happened in a flash and I wasn't aware which United player had got it. Given we're really sharing the goals around these days it could have been any of them. Turns out after all that the delivery doesn't have to beat the first defender. Not if they're going to do what Joe Edwards did.
We could have had more before the interval. A wonderful ball from Shodipo, as if playing a golf shot which was tight up against a bunker wall, landed on Sykes's chest. He controlled, swivelled and drove a hard low shot goalwards from close range which young Michael Cooper did very well to keep out.
Cooper had to go down once more to prevent a Taylor header beating him after we'd won a corner and got the ball over after a pass or two beforehand.
It was looking quite positive but all it takes is one free-kick or corner that is not properly dealt with and a single goal lead is no more. It is therefore important as far as possible not to give away these dead balls. But what can a team do when a referee decides a fair challenge merits being penalised? That's what Brett Huxtable did in the last minutes of the half but thankfully we made sure nothing came of it.
Most of the publicity Huxtable gets is down to his lack of mobility which in turn I assume is down to his size which makes him one of the most recognisable referees officiating at our level. How much ground those in charge cover during a game is not one of those matters which troubles me but I bet someone has the stats somewhere. I don't think Huxtable is a bad referee at all, particularly when compared to the Trevor Kettles of this world. In this instance though after blowing his whistle he ambled over and marked out where the kick was to be taken from with his spray. It was nowhere near where the alleged foul had taken place. Was he really that far away that he couldn't see?
The second half commenced in different fashion to the first. The visitors were the ones who showed the greater quality. I wouldn't say we were awful but no way could I claim we were playing with 100% sharpness.
We weren't playing in their half, weren't getting the ball away when we needed to and didn't look secure. Ragged would be a good description.
Time for some game management said the Rad Ox boys when Sykes stayed down ignoring the fact that he seemed to have been studded. That said he did recover so they may have been right all along.
There's not much point feigning or over-playing an injury to take the sting out of the opposition and kill their momentum if it just goes back to the same as it was when the game gets underway again.
The equaliser was one of those we could all see coming as plain as day.
Danny Mayor was allowed to turn and run from midfield too easily by Agyei. Mayor's pass which dissected our rear guard like it did not exist was finished by Niall Ennis in a way that if he keeps repeating it will have clubs from above sending scouts down deep into Devon. His first touch with his left foot placed the ball perfectly into the penalty area and he opened his body up just enough to ping it home with his right. Our Jack was well beaten and on the face of it was not to blame. However I'll ask this, if he had come out of his six-yard box to narrow the angle could he have reduced the likelihood of Ennis converting? Keepers and their coaches will know.
Although a nothing game for the Pilgrims they celebrated as if it meant something. I like that.
The previous 20 minutes had not provided evidence that lead to concluding we could turn the contest back our way. Agyei had gone quiet and no-one else was showing that bit extra that inspires victory when a team is not playing particularly well. It's not clear who that is down to because most of the players were doing their jobs in an okay kind of way. None though were getting a tick in the "Exceeded Expectations" box on their appraisal forms.
It was round about now I was thinking – and not for the first time this season – we're paying Matty a lot of money for his goals and he's only got four since late January and that's a lot of games ago.
Truth be told that whilst not giving up completely I didn't hold out a lot of hope.
Four minutes after being pegged back Taylor had scored and we were back in the lead.  Eleven minutes further on and he'd done it again. That told me good and proper.
Why we needed to let a goal in to get us playing again you tell me, but play again we did and ended up worthy winners with all the stats backing that up.
At the time I had not appreciated what a great goal Matty's first was. It was put together in the tightest of space with no margin for error and that it came from a throw-in made it even more pleasing. Sam Long released the ball from hand to Lee in the box. It was as accurate as any pass with the foot. Lee's control was top notch and his ball to Sykes was sent back low and with pace just inside the six yard box where Taylor like a dart was between two defenders and arrowed it into the roof of the net off the crossbar. There was no stopping that. It is a goal worth watching over and over and demonstrates the value of moving the ball quickly. We were back at 100% alertness here. 110% if that's allowed.
Karl felt now was the time to make some substitutions with Anthony Forde and Alex Gorrin chosen to represent OUFC in the stead of Lee and Agyei.
Our drive forward continued – not that this was always easy to work out because iFollow were up to some of their usual tricks. In one piece of play the camera operator decided not to follow the ball and we debated whether he (or she) had taken poorly and there was a need for first aid to be called. That or they had just nodded off, although I can't see why anyone privileged enough to be inside a football ground watching live action would permit their body to do that.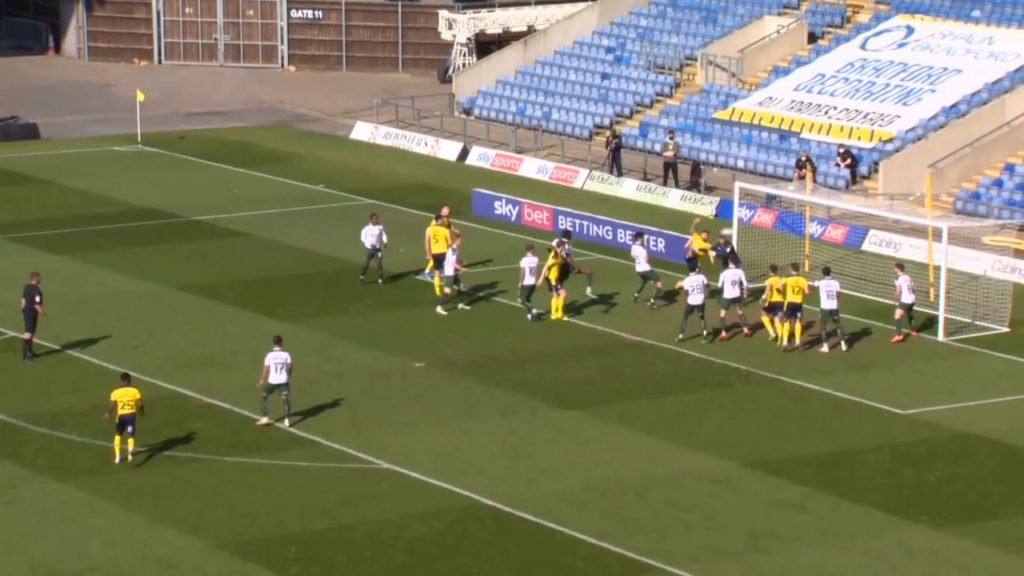 3-1
There was no sitting back from us. One decent break and then from a corner Moore hits the bar. The third came from yet another corner. Moore with the strangest of flicks and MT swinging home from inches out. Another one that was never going to be kept out. It now appeared that we were moving and reacting that bit faster than Plymouth.
Once more these goals were proof, not that it was needed, that if a team gets the ball into the penalty area and has the right players to attack it, goals will come. In Taylor we have a poacher who has to be one of the best in L1 even if it does seem from time to time that he has gone into hibernation. Add in that Moore, Atkinson, Ruffels and Long can all win high balls and we have a number of players who can deliver them with quality and we're in business.
The rest of the game was seen out quite professionally and here we are still alive with just two games to go.
Tuesday night without a game for our team will be a bit weird. There are plenty of other fixtures though and it will be nearly impossible not to follow certain scores as the action happens. Unlikely we'll come out of it like we did this Saturday but we can but hope.
There have been many times this season when it no way looked like we would still be contenders at this stage, but here we are. Others have greater claims but there's an unpredictability in L1 that isn't found higher up the pyramid. This gives it a unique appeal and is also our source of hope.