SEASON 2020/21 No.38 HULL AWAY
If you know your history
Every away game without fans is a day out following the boys that we'll never get back. This one is lamented more than many others by quite a few because for them it would have been a new ground ticked off.
Hull City moved from Boothferry Park, a very dilapidated old school ground, in 2002 to a then modern purpose built stadium, the KC owned by the Council – a home they share with Hull Rugby Club. In 2016 an OM was added to the name of the stadium.
We've only played there twice. I have no recollection of the game but a diary note confirms I attended the first of these in August 2003, a 0-0 draw and that I travelled on a LRC coach.
The second I can very much remember. It took place on 17/01/2004 and was a top of the table clash in Division 3 (the fourth tier, now League 2).  Hull were in first place and we were second on the same points but with a game in hand. We'd only lost one of the 26 games played. It didn't take long for realisation to dawn. We went 3-0 down. Steve Basham pulled one back but we never got close to them. An own goal put us further behind before we got it back to a slightly flattering 4-2. There were 21,491 in attendance. That's a big gate for football at that level. I remember walking out afterwards knowing that we weren't very likely to remain near the summit. Home fans walking towards us as we left were not in the mood for friendly banter, more like just verbal abuse at best. I wanted out of there but to rub salt in it took a while to get out of the car park. I've not been back to Humberside since.
Looking back that league table makes interesting reading. Yeovil were 5th, Huddersfield 7th, Swansea 8th, Torquay 9th, York 10th, Bury (gone) 13th, Boston 15th, Macclesfield Town (gone) 16th, Kidderminster 20th and Darlington 23rd.
At the end of that season we ended up 9th, three points outside the play-off slots having only picked up 18 points from the last 20 games. The promoted teams in order of merit were Doncaster, Hull, Torquay and Huddersfield.
Five years later Hull were in the Premiership. We completed our journey quicker than they did. Destination the Conference arrival in time for the 2006/07 campaign.
Yet here we are again and we've already drawn with the Tigers at our place this season.
This time they are top and we're 15 points behind but from three games fewer.
Hull City 2 Oxford United 0
Here's the evidence if ever it was needed that we're almost certainly going to be playing out the rest of the season in mid-table mundane style. That's sometimes just the way it is. No particular criticism directed in any particular direction. So best just to accept it, sit back and relax without getting wound up about anything and hope that for 2021/22 we'll not get off to such a bad start and have a squad that's fitter and more capable of going the distance at the right end of the table.
Again we failed to score. We've got just three in the last seven games and two of those were against a woeful Swindon side.
We've still not managed to beat a team from the upper echelons of L1. It's not by being unlucky that this happens, it's because we are not good enough.
Approaching almost every game however much my head says we'll lose and whatever I may say to people around me there's always some measure of positivity in my heart.  When I saw the team sheet included Cameron Brannagan that positivity increased and kept doing so when I saw how well Dan Agyei played in the first quarter of the game. But cool analysis of what's actually happening out on the pitch reins that in massively.
Agyei was winning the ball and using his strength to hold it up and also run with it and that's not something I can remember consistently from an Oxford forward for many a year. He looked to be a genuine danger and potential goal threat himself but there was never any colleague close by to form some proper link play partnership. It was as though we had the first piece of the jigsaw pointing the successful way to goal but nothing else to go with it. As the game went on DA's effectiveness diminished.
A Matty Taylor alongside him perhaps? It's a regular cry from some to get two up front together. That though is outdated football thinking and what is often ignored is the fact that playing two strikers means a body has to be removed from another area of the pitch.
To be fair there were quite a few decent balls whipped into the box that no-one quite got on the end of. Food and drink to Matty, but only when he is in form, which he is not. Close but not close enough.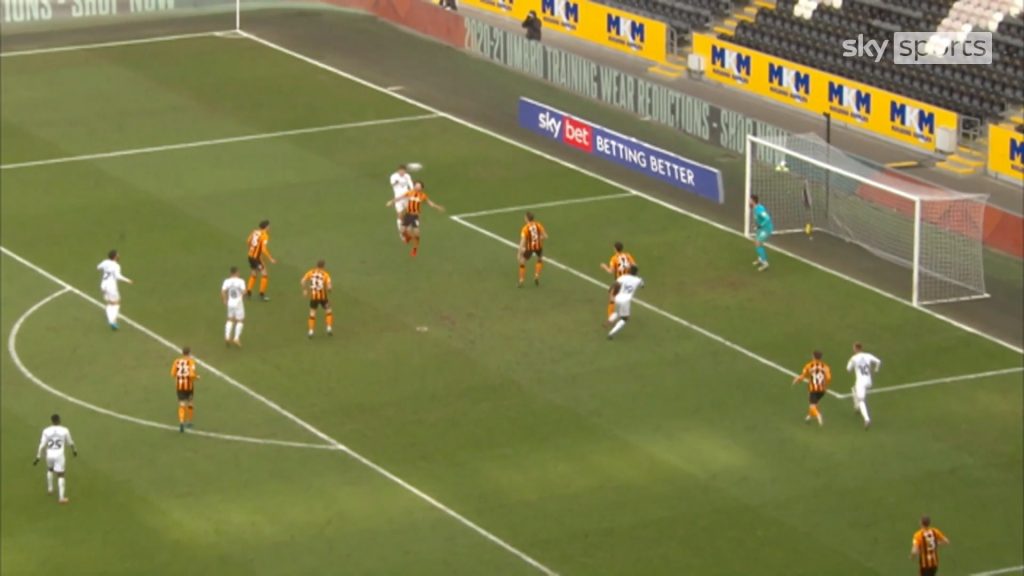 With about half an hour gone Josh Ruffels headed down and onto the post. The final stats gave us 63% possession. 436 passes to Hull's 246. Our passing accuracy is recorded as 82% which doesn't tally with how I'm replaying the game in my head. Elliott Moore under no pressure passing a simple ball square and into touch more than once. For us six of nine shots on target. For them three of eight.
So does this tell the story that we were the better team and were unlucky? Not for me. I'm not having any of that. This happens too often to hold credence.
The home side must have looked at us and concluded this lot don't look much like scoring. They'd also sussed that we were weak at right back. Anthony Forde in that position was more a Sean Clare than a Sam Long and that's not his fault.
Although they'd done nothing of note prior to this Hull targeted that area of the pitch and took the lead in the 22nd minute. A long cross field ball found Keane Lewis-Potter on the left wing and it wasn't the most challenging of times he will ever have on a football pitch as he took the ball into the box and scored with ease.
We didn't look as good in the second half of the first half as we had in the first – and in the second half proper I thought we were pretty crap. Lewis-Potter's second was even more of a gift after Elliott Lee had lost the ball in central mid-field.
Whatever the stats say a performance like this will very rarely beat a decent side. Other than Agyei's early efforts and Mark Sykes for his endeavour I would not say any white shirted player had a good game. No one could be accused of letting us down badly but being just about okay isn't going to win any medals. Not one of Shodipo, Brannagan, Lee or Jamie Hanson stamped their personality on the game. Neither can I say Brandon Barker did when he came on. He lost the ball as much as he went past opponents. Again I'm not sure it's his fault if he didn't look the dazzling player we hoped he might be when he arrived. Like with Agyei there was not any noticeable understanding and link up partnership type stuff. It's almost telepathic when all working parts of a team are in tune with each other. We're way off that.
I thought Hull thoroughly deserved this victory but didn't come across to me as a side nailed on for promotion. They were infuriating at times in the way they managed the game and I'll add, at times, referee Anthony Backhouse. If that's what's needed to get the job done its totally understandable.
Oh for crying out loud. Doncaster, Blackpool, and Charlton only drew. Lincoln and Accy lost too. Perhaps it's not quite time yet to put the slippers on and slouch in front of iFollow in "on the beach" mode. That's more of a dream than ever. Now just supposing we beat Donny on Tuesday.
To do that though we have to start doing many things on the football pitch much more effectively than we have been doing for a while now. Like putting the ball in the bloody net.