SEASON 2020/21 No.36 CHARLTON AT HOME
Sad Times
I was sat at the kitchen table this Saturday morning eating my breakfast when my wife said, "Mickey Lewis has died".  My reply was "What?" as in that can't be true but sadly it was. I knew he wasn't as old as me but hadn't realised how much younger until now. Taken way too young as many are and so suddenly. This world can be a very cruel and unfair place. R.I.P Mad Dog. May your fighting spirit live on in Oxford United forever.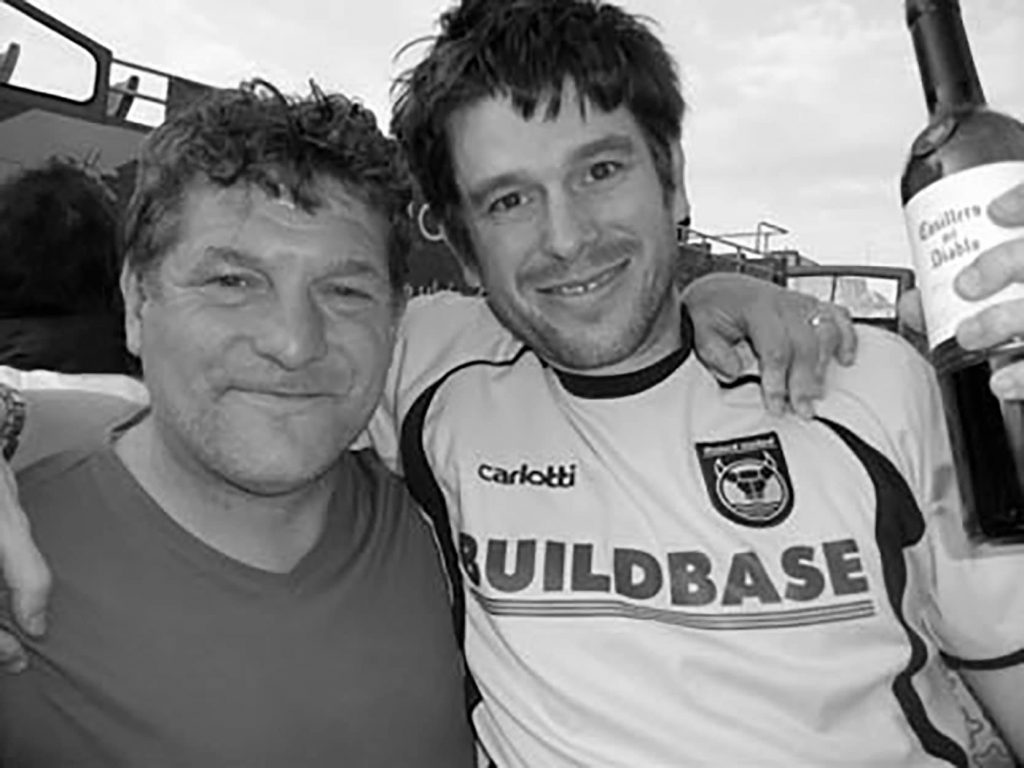 I'm sure I will have some photographs of him somewhere but when I saw this posted on Facebook I knew I wouldn't be able to match it. Mr Deadly the Roadie is happy for me to use it here. Thought I'd nick some of his words too, "He was as formidable off the pitch as he was on it. Was always there to lead me astray when the programme had been put to bed. And it was no different when this picture was taken in 2010 – moments later, a nice policeman told me I had to bin the bottle (which Mickey had just given me) or I would be arrested."
We've lost a couple of fans too.  My thoughts go out to the families of Roy Lester and Alby Wilks along with Mickey's too. Those two were familiar faces like so many we used to see home and away week in week out when we had freedoms we can probably only now appreciate. It is best not to take anything for granted. When we get back to watching the Yellows in person – and that day will come – I'm going to savour every moment more than ever. Not just the action on the pitch but being part of the Oxford United family.
Our opponents
One of the many football topics that is regularly touched on by commentators and pundits and covered in more depth in longer newspaper articles or blogs is that of big clubs playing at a level that is considered to be below their natural level. The two that are first quoted when it comes to L1 are Sunderland and Pompey. As Ipswich are now experiencing their second season at this level, not having made an immediate return to the Championship, they are now often mentioned in the same breath. Charlton never seem to come into it but I don't really know why. Including the current campaign they've spent half of the last dozen in L1 and half in the Championship. Obviously they're a larger club than we are and in 2008 after they'd been relegated from the top flight, still averaged over 23k at home.
Like many clubs Charlton have appeared to have what can be termed ownership issues for many years now.  It's complicated as the saying goes. I have not got the patience to try and work out the current situation but there may not be clarity to be had. Thomas Sandgaard bought the club in September last year but it wasn't clear whether the sellers had the right to do so. There's a saga involving East Street Investments, Lex Dominus and Paul Elliott (not that one). By comparison we know what's what with us and that's saying something. Where is the money coming from though?
On the field Charlton's form is worse than ours. Four points from the previous five games. We managed six. That said they've been much better away than at home. They're not suffering from injuries to the extent we are. Alex Gilbey and Ryan Inniss are out but that's about it. Chuks Aneke limped off in their last game, a 1-0 win at struggling Wigan, but managed the first half at the Kassam. They did though have to change their right back in the 18th minute of this game but bringing Chris Gunter on didn't weaken them.
I've now more than ever decided to take the one game at a time approach which is sensible at the best of times. Each as a one off event and then see where that takes us. With so many players out in my mind I've cast us as underdogs.
OXFORD UNITED 0 CHARLTON ATHLETIC 0
This, although again goal-less, was another game that in its way was a good advert for L1. Less the flowing football we saw against Peterborough at the same venue four days earlier, more a hard fought ultra-competitive no quarter given type of game. The Addicks committed twice as many fouls as Peterborough did and that's just those that were given. Sixteen is a lot and this obviously did nothing to enable our game to flow. Tom Neild booked just two of the visitors. Whilst many of the little trips probably were not worth a yellow on their own, under the totting up procedure (whether it exists or not is debatable but it should) and in the interest of seeing a match more akin to our previous one, he should have produced the card more often.
Here's an interesting stat that fits this thinking. The total pass count in the Charlton game was 700 but against Peterborough it was 930. For the record the number of long passes was the same in both as near as damn it. Does this mean that the ball wasn't in play as long in the second of these two matches or that there was much more dribbling and hanging on to the ball? I assume the analyst will know.
From the first whistle this was an even contest with neither side managing to get the upper hand at any stage. A draw therefore was a fair result but I'd argue the team that marginally shaded it was us but not quite by enough to justify the extra two points. To have ended up with nothing would have been a travesty so take a bow Jack Stevens.
We've now settled into a pattern of hardly conceding but at the same time scoring at the other end has become an objective that we, at present, seem capable of only rarely achieving. So we're obviously now talking draws or the game going 1-0 either way. In our last five games just three goals have now been scored.  Earlier in the season the luck was with us with the frame of the goal repelling enemy efforts. Now the same structure isn't doing us any favours. For the second game in a row a post has prevented Anthony Forde from registering.
However, the neutral commentators on iFollow rightly note a lack of composure in front of goal. It's impossible to disagree. That's also borne out by the fact that only three of our 14 shots were on target. Put this right and we just might put our feet down and put together another impressive winning run. Are we capable? Have we got fit players who can put the ball into the back of the net? Plus, will Matty Taylor re-discover his goal scoring form?  I wouldn't bet either way on any of this.
In all this the back line deserve great credit for doing their job really well and the same to a great extent can be said for the rest of the side carrying out the defensive side of their game. What I found very pleasing was the way Jamie Hanson fitted in at RB. Nowhere near the issue I thought filling Sam Long's vacancy was probably going to be.
Another who came in as a starter and did us proud was Forde, the man who came closest for us. He will have been with us two years in July but hasn't played much. He's only 27 and on this showing proved he could do more for us than just being a filler-in. Potential replacement to take over the James Henry role? He's four and a half years JH's junior.
It wasn't just those who we don't look on as first picks when everyone is fit that gave cause for optimism. Cameron Brannagan gets better by the game and to be fair to Alex Gorrin, although he did give the ball away somewhat, managed to avoid that tenth booking and is available for Tuesday night which I hope is a good thing. We'll see.
Slightly digressing from the game here, AG doesn't quite lead the way in L1 bookings. One ahead in first place is another player on Oxford United books. Sean Clare has appeared seven times for Burton and picked up four yellows to go with the six he was shown playing for us.
This positivity has to be balanced with some disappointments. Liam Kelly and Olamide Shodipo could really have done more to stamp their personality on the game attacking wise. I thought the latter in particular wasn't doing enough and was surprised the former was the first to be withdrawn. As it was Shods completed the full course. I can't remember him doing much more than having a sensible low shot in the first half that hit a defenders leg and travelled on by for a corner. It could have deflected in but those little things are not going our way at the moment. Similar to Taylor he is experiencing a goal drought.
With Matty on the bench we had Dan Agyei leading the line and we got the usual good and bad. He has a physical presence lacking in all our other midfield and attacking players and that strength gave the Charlton defence a lot of problems. They weren't comfortable at all. But he was one of those who lacked coolness in front of goal, slashing over the fence and into the car-park. I also thought his laying off could have been improved as often as not. This is L1 though and if he had the finishing and finesse he would probably have Championship clubs sniffing and pondering offers of a few million.
The biggest talking point of this fixture is without doubt the penalty incident in the last second of added time. It looked a soft one but was impossible to tell from the camera angle iFollow gave us. There were too many bodies in the way. Absolutely gutted and convinced that the kick would be hammered emphatically beyond JS to prove that when your luck is down it will remain down for some time. Hammered emphatically it was but our keeper matched that with a flying dive to his left and strong hands and wrist sent the ball hurtling over the bar. Referee Tom Nield pointed for a corner but then realising that last second had been eaten up immediately blew to bring proceedings to a close. Phew!
So just about a case once more of as you were regarding League table positions except we now have one game less in which to hopefully make up ground on those above us. Of the top three Hull and Lincoln won but Peterborough, who so impressed at our place, lost to JFH's re-invigorated Burton. Sunderland, Donny and Accrington also won and if that keeps happening the play-off slots will be booked up before we've even got in the queue unless we start regularly getting three points again pdq. Ipswich did lose though and we've ensured Charlton remain just a point ahead of us with fewer games remaining than we have.
The craziest result of all this weekend though must be Northampton 4 Portsmouth 1. Until Tuesday night the Cobblers had not won a game in 2021 and had looked bloody awful when they came to Oxfordshire in early November and mid-December. Evidence then that nothing can be taken for granted and any team in tier three on the day can beat any other. So probably many twists and turns for many teams in the 12 -17 games they have left. Here's hoping we're still twisting and turning in the right direction and have something meaningful to play-for deep into spring and beyond. The treatment room says not but the heart always over-rules logic and says yes we will.
But for now back to the one game at a time mind-set.
And the next game is ……
And isn't there a wrong to right?