SEASON 2020/21 – No.25
BURTON ALBION 1 OXFORD UNITED 5
All away trips currently denied us will be missed by the resolute few hundred who used to be there every game come rain, shine or, as in the final stages at the Pirelli Stadium on Saturday, snow. Some though will be mourned more than others.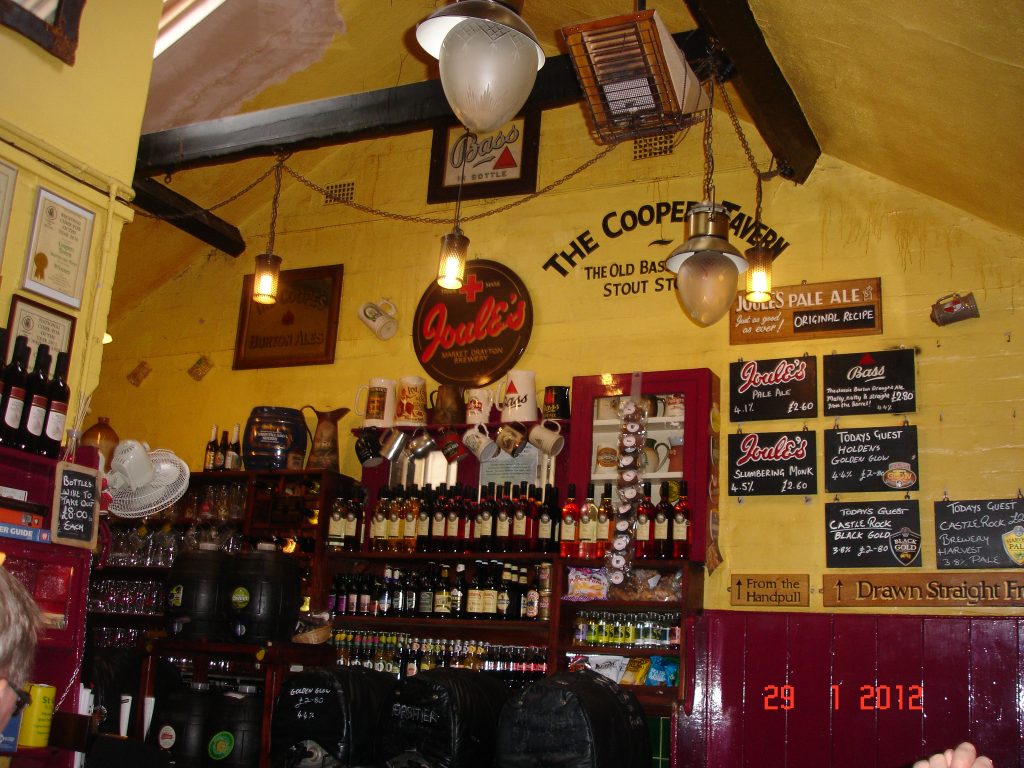 It's an easy journey to Burton. It only takes about an hour and a half by car and on arrival you are in a brewery town. As it now can't happen it has to be imagined. Arrive just before opening time and into the Coopers. Not the largest of pubs but still boasting multiple rooms. For us though usually straight through to the intimate tap room at the rear. Uncomfortable benches for seating (comfort would be wrong here), barrels for tables with the cask stillage within touching distance and a blackboard listing the Joules beers plus others available. Never a bad one in there.
It's just over a mile and half walk to the ground and there are other pubs worth popping into whichever route is taken. For now though days of old just have to be imagined as new experiences cannot be created other than in front of the TV.
But let's be thankful for small mercies. At least we had a game to watch. On 29th Dec seven of the allotted L1 games were called off due to Covid. Today our division lost five fixtures, three to Covid and two to frozen pitches.
Covid is sadly the dominant force impacting the way we live as we take tentative steps into 2021 and as such cannot be ignored when any reasonable debate about football at both club and national level takes place.
The EFL is now to introduce twice weekly Covid testing for players and staff and at least initially that will lead to more cases being identified and postponement of matches as a result. It certainly won't mean fewer games getting called off. In the long term though it should be beneficial and help stop the spread.
Only the most biased of deniers who continue to quote false statistics and come up with the wildest of conspiracy theories, along with head in the sanders, fail to see that the dreadful crisis we're in is getting even worse. How many of us have said "Happy New Year, let's hope 2021 is better than 2020. It will be."   Then we add a questioning, "Won't it?" That's because we don't know. If it is going to be, it won't be just yet. Vaccinations need to kick in and work down the chain of the most vulnerable to the more fit and healthy but even then there are those who are adamant that they won't have a needle stuck in them for the common good. Meanwhile the number of daily cases continues to soar to new record highs with the latest strain being 1.4 – 1.7 times as contagious as the original. Statisticians will know how significant that is. And we've got people who still insist on raving and others who even now won't wear masks in shops and remain unchallenged – and that's without the schools situation.
This is the background to the early weeks of 2021 and until brush strokes of genuine brightness have consigned this gloom to history, we have the very real risk that this season will go the way of the last. What's the absolute maximum number of games that a team can play in a week without complete physical and mental breakdown? Chance of fans again being back in grounds in limited numbers this season, next season? Back to no restrictions and away travel on the agenda once more? At present I can't see any of this happening for the remainder of the 2020/21 campaign and I'm dubious about 2021/22 too. However, a lot can happen in a short space of time for better or worse.
So we take the hand we've been dealt. I sit at home Cooper-less and beer-less (because it would never be the same) in front of the screen.
Matty Taylor back in for Dan Agyei, expected. Alex Gorrin back from suspension replacing the man serving a suspension, Liam Kelly, expected. I'd also expected to see Jordan Obita replacing Olamide Shodipo which didn't happen but not Jamie Hanson out and Anthony Forde in. Which very much tells just what a squad game football is these days especially with five substitutes allowed and also, despite what the snipers may claim, Karl Robinson is well on top of it all.
It was a bit of the old never a good time to play a team when they are on a terrible run. They can't be that bad really, can they? Burton had won two, drawn two and lost six at home. From their last ten league games they'd garnered just six points and had lost the last four. Then on Friday it was announced that their vacant managerial post was to be filled by former manager Jimmy Floyd Hasselbaink. He'd led them to the L2 title in 2014/15 before buggering off to QPR after just over a year leaving Nigel Clough, a man who, whatever the situation may be, I think is really the Burton manager, to take them up again, this time to the Championship.
So a new man waiting to get his feet under the managerial table, viruses permitting, on Monday morning sat in the stands looking on. The home players bound to put in that bit extra to impress their new boss. Bound to work hard and be much more difficult to breach than they had in recent games.
Typical, but that's the luck of the draw of the fixture list. The way events played out was nothing like this – in fact the opposite. If the word typical needs to be applied it would be more appropriate to attach it to my thinking, my pessimistic, negative thinking. Better to prepare for the worst, I say.
What Albion were trying to achieve in the way they started and played most of the game made no sense to me. None of the hard work, the closing down, the we will not be beaten attitude. That would have been the sensible approach given each team's recent form even if Jake Buxton had not lost his grasp and slipped off the managerial merry go round four days earlier, let alone now. What they did was play a bit of football, or more accurately most of the time try to play a bit of football, when they had the ball, but nothing else. As we were vastly superior to them all over the pitch in terms of organisation, understanding and quality that was madness. But if that's what you want, bring it on.
The pitch wasn't in pristine condition but did have enough green grass to allow football to be played and the referee Peter Wright took the same approach, spying an early foul on Marcus McGuane by Stephen Quinn and producing a yellow card. Most referees let these things go unless they happen much later in a game. This was the correct thing to do.
The first goal wasn't long in coming. Every goal we scored had a stamp of class on it. This one started with us dealing with a ball played forward by Burton. Gorrin, sitting deep, played a side footed cushioned volley to Josh Ruffels. In his LB position Ruff took one touch, looked up to confirm that Taylor was in his natural habitat in a just on side position and lofted a ball over the top. Will Taylor score? Yes. Pick that out. It was an improvised lob of sorts that found the net as keeper Kieran O'Hara rushed to the edge of the D but still didn't get there first. Watching it travel on its way I thought there's no way that's going in but the camera angle probably made it look like John-Joe O'Toole should have made a better fist of keeping it out.
Double the time into the game, double our lead. A James Henry cross from the right was awkwardly headed out by John Brayford only to the edge of the penalty area where McGuane, a player who gets better and better, pulled it under his spell with an outstretched leg, took it on his chest and moved it to his right to Sam Long, who has now become an attacker in addition to the sound reliable citizen defender we knew he was. His first time pass gave Shodipo the ball. Will he score? Yes. Another case of Pick that out. He moved it to his right and twisted his body to unleash an effort from 17 yards out that gave O'Hara little chance.
We had to wait a bit longer for our next. All of 13 minutes this time. More attacking down the right with most of the same characters involved again. Henry to the overlapping Long, control, movement to the by-line, ball pulled back with just the right amount of height on it to the edge of the six yard box where it was dispatched by Shodipo for his second. He looked a real finisher here. Perhaps it's not just Taylor. Oh, yes we've got Sam Winnall too.
We were operating so comfortably it was a valid consideration whether we could get a cricket score. We would have been moving into that territory if Henry had not missed a very easy sitter. All he had to do was side foot into an unguarded goal from just outside the box after an Albion defensive failure.
Now Burton began to improve incrementally. O'Toole headed a corner over the bar. It was encouraging that there was a heated discussion in the Oxford ranks as to who should have picked him up but now we weren't defending as well as we had been and were no longer picking everything up in midfield. Burton looked better and were definitely trying to play football. They cut through us once.
Then they pulled a goal back. Quinn had time to get a shot away from outside the box. It took a deflection off Rob Atkinson and struck the post. The luck that had been ours and our current keeper's in previous games was absent this time. The upright provided the most obliging of assists for Kane Hemmings.
Hemmings is one of those players who I just couldn't rate that highly on what I saw during the two years he was with us. Six league goals in 22 starts and 18 substitution appearances isn't a great return from a striker who didn't bring a lot else to the party. He didn't look L1 quality but has and is scoring elsewhere. Now for our division's basement club and previously in L2 for Mansfield when we loaned him out and Notts County.  He's also done it in Scotland for Dundee in the top flight before he joined us and again last season in the Championship.
Up until now it was the least tense I've been watching OUFC for many a game but now there was a tiny niggling doubt crept in. We couldn't cock this up having had a three goal advantage could we? What if they get the next goal and get really fired up?
From a corner Atkinson headed over. Perhaps we would get a fourth and totally kill them off?
At the start of the second half the game was a bit more even than it had been at the beginning of the first. Half time sub Ryan Edwards had a shot for the hosts and for a few moments I wondered if the pattern of the game would become more akin to minutes 35 – 45 than when we'd been utterly dominant in the first half an hour.
Any such thoughts were quickly proven to be wildly pessimistic. Atkinson went on one of his runs and that's a good sign provided he doesn't lose the ball, which he didn't.
Our 4th goal
In the 53rd minute the three goal lead had been restored. It was a proper quick passing footballing goal. Long intercepted a Burton through ball and found Gorrin who immediately turned and continued moving the ball forward. The opportunity was there. None of this sideways, backwards, slowness stuff even though we still had a comfortable lead. McGuane had soon switched play to Henry on the right who, instead of trying to go past the man who came over to mark him, ran parallel to the area before placing a perfectly weighted pass into Ruffels' path. It was not a pass that was labelled a possession keeper, as 99% will be but one that screamed hit me true. And JR did just that from distance.
Another move hinted that we really did have a grand chance of doing our goal difference a whole lot of good. Having played a one-two with Henry, Long got close to goal before firing the ball across for Shodipo's hat-trick. From inches out with no-one to prevent him claiming one of the sanitised match balls he somehow contrived to get it over the bar. Impossible to do, but he did it. I'll try and be a little bit generous by noting that it did come at him with a lot of pace, but really. It was a goal that almost anyone could have scored, provided they'd got into that position in the first place. It just had to hit you and it would go in. Maybe I'm just saying that to put off those QPR fans who are demanding his recall as a replacement for Bright Osayi-Samuel, who won't sign a new deal with Premier league clubs sniffing around.
Seven minutes after his first Ruffels had done it again. This was another move from one side of the field to the other that was a pure joy to watch with many of the usual suspects involved. Shodipo won a header on the half-way line which was tamed by an outstretched leg of Taylor who swivelled and set McGuane away. Across the field and forward he went before moving it on to the ever available Henry who once more linked up with Long. This time the colleague our RB played the one-two with was MM who pulled it off with an outstanding back heel leaving three yellow shirts (we weren't the yellows on the day) out of the game. This time the ball was pulled back a little further. This time it got the finish it demanded supplied by Ruffels' right boot.
In the last FV I asked when was the last time we had both full-backs score in the same league game. I was expecting it to be John Shuker and Dickie Lucas or some other combo from over 50 years ago. But no, "Berliner" put me right – "26 October 2019 Oxford United 3-0 Rochdale (Long, Ruffels, Fosu)". Memory is going.
So, when was the last time one of our full-backs scored twice and the other provided three assists in the same league game? I'd wager never, unless of course someone knows better. What a pair of local lads we have in the two wide defensive berths.
Although there was still about half an hour to play we didn't score anymore and got a tiny bit sloppy on occasion but that didn't matter because the goal frame at the opposite end to the one that set up Hemmings had decided to be Steven's mate using its 90 degree angle to see over a Charles Vernam shot.
This wide margin win was in no way flattering and, despite it being against a side clearly in dire form, gave further evidence that we're now well back on track. Where that track will lead is not yet clear.
We're 12th in the table as it stands. We're 12th on a PPG basis. No team below us with games in hand can realistically catch us. We've not got games in hand on any team above us. Early in the season both goal scoring and goal prevention was a real problem for us, hence the sensible suggestion that we should be talking about a relegation fight unless these issues were sorted as we won two and lost six of our first eight league games.
We've now got the 7th best ratio of goals scored per game at 1.5. On nine goals, Taylor is now joint 4th leading scorer behind only Jonson Clarke-Harris (Posh), Luke Jephcott (Argyle) and Joe Pigott (Wimbledon). Shodipo also features in shared 13th position with six and for the record Hemmings has scored eight times in the league so far.
Defensively we're only 16th best but that's harder to turn around statistically speaking than it is to right the wrongs of a failure to hit the target at the other end. Goals conceded cannot be wiped out but now we have a central defensive pairing that look strong, dominant and also confident. Behind them Stevens is vocal, sweeps up outside his area well in the main and isn't frightened to come and catch high balls.
Other great news in the sightings of Sam Winnall and Cameron Brannagan, particularly the latter given the circumstances of his enforced lay-off. And this time Sean Clare and Mark Sykes didn't even make the bench plus Liam Kelly was unavailable through suspension. Yes, very much a squad game.
On that note what on earth are we going to do in the transfer window? KR has said that he has had to have a re-think given the recent form of some of those he brought in. I'd agree with that. Don't unsettle. It took us many weeks to get to where we are and by doing that we threw away many points. We don't want to be taking any steps backwards unless they are forced upon us.
We still need specialist cover at full-back and centre-half but who will want to come in who is any good knowing they are more likely than not to be just back up?  As for the maximum squad restrictions I assume there should now be two slots going begging with Joel Cooper back in Northern Ireland and Mous finished for this season at least.
Finally a very well done to PRB on his award.