MILLWALL HOME – EFL CUP ROUND TWO
The opposition
Millwall got promoted to the Championship via the play-offs in 2017 beating Bradford City 1-0 in the final. We finished that season just four points behind the Lions and with a better goal difference. We're still in L1, Millwall are currently 10th in the Championship and Bradford are back in L2. A couple of years on and things can change, but not always and if they do, certainly not always for the better. That season was our best for ages and we've not emulated it since and I can't see us doing so this time around.
Millwall though look to be a solid, honest hard working difficult to beat outfit that will never quite have that extra bit of class to make the Premier League the way things currently stand. Their life now is all about Championship survival.
A quick glance at their accounts shows a loss of approx. £5m in the last set published. Total equity is (980k) made up of Called Up Share capital £45m, Share Premium £23m, Capital Reserves £21m and Retained deficit (£90m). Total staff costs were £13.4m.
The ultimate controlling party of MFC is Chestnut Hill Ventures LLC a company incorporated in the USA. This company is ultimately controlled by John G Berlyson and Richard A Smith as a trustee of the Phillip Smith dec'd Will Trust. Their estimated net worth is approx. $175m.
Berlyson, who is chairman, first became involved in 2007 before taking full control.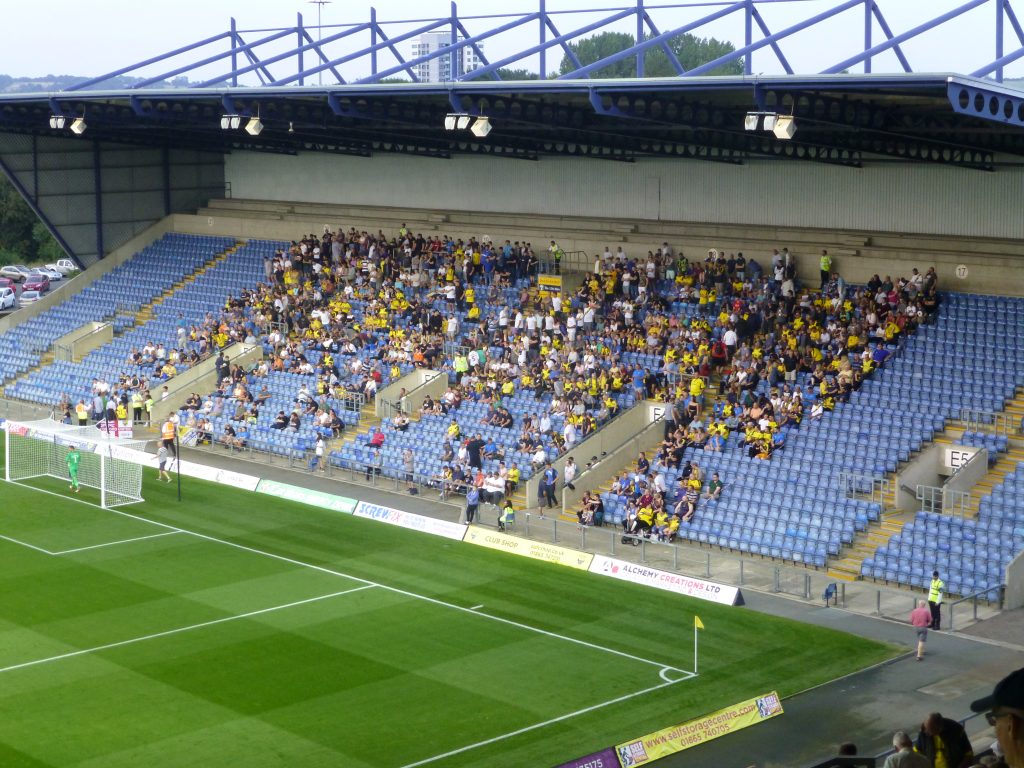 Not the biggest of crowds
Oxford United 2 Millwall 2
Then penalties
Oxford United 4 Millwall 2
The overriding thought driving away a couple of minutes after Mous had struck the last of our four perfect penalties was "what just happened here?" It really was difficult to get my head round it all. How can we play as we had done here and get through to round three and yet come away from Bloomfield Road just over a fortnight ago with nowt considering how well we had performed there? With just four minutes of the 90 remaining what actually occurred was never on the cards. That it did makes sport what it is. NB: I said sport, not football, following England's defeat of the Aussies in the third test. I'm still marvelling over that too.
When I saw the number of changes Karl Robinson had made it didn't raise my confidence levels.
As the first half progressed the visitors to me were obviously the better team and after they took the lead with about half an hour played my summary of the situation to my son was that we were clearly second best but weren't being humiliated.
The second half saw them still on top and they increased their lead seven minutes in.
Both goals came after we had lost out in the air. For the first Tom Elliott (a much bigger forward than any we had on display) nodded a high ball on for Jon Dadi Bodvarsson to run through and score. We had a six foot five central defender who couldn't stop Elliott. Mous didn't put in much of a challenge to stop the scorer either.
For the second Jason McCarthy was allowed way too much room on the right wing to get a cross over and Bodvarsson came to meet it at the near post and glance the ball in at the far post with no Oxford player reading the situation.
They were quicker than us and finding space so much more easily than we were. When we had the ball we passed it about a bit but this never had any zip and was more often than not done in areas where we were never going to hurt Millwall. There were times when the player with the ball had to stop and scratch his head thinking what do I do with it now as there was nothing much on.
We didn't look to be together as a team and whilst no player was performing dreadfully there was a mix of half decent and quite poor stuff from most of them.
With players coming back from injury, not being fully match fit and a brand new almost reserve team my assessment deserved being challenged and during this second period it was politely pointed out to me that we were playing a team from a level above and weren't doing that badly. I had not then appreciated that they had only made four changes from the team they put out in the league the previous Saturday. In contrast we'd only picked two outfield players who had started the game at the Memorial Stadium. Bodvarsson is an Icelandic international and played in the humbling 2-1 defeat of England in the 2016 Euros.
So perhaps the pattern the game had settled into was no surprise whatsoever. It could have been a lot worse than 0-2 with Sam Long gifting a golden chance in the first period and in the second our defence being completely undone with Bodvarsson hitting a post instead of completing his hat trick.
Our substitutions made a difference but I didn't think anywhere near enough for us to be able to salvage anything.
I was concentrating on the game and had not noticed some leaving the South and East stands from a quarter of an hour to go onwards. They got what they deserved. Much less value for their £12 than those of us who remained seated.
Even when our first goal arrived on 87 minutes I thought the Lions would just play the game out in such a way as to ensure we couldn't lay another glove on them. Then when just three minutes added time were shown it was "no way" will it happen.
Ben Woodburn, who arrived in the 67th minute, had helped turn us into a more attack minded force. He turned and ran forward with rather more intent than others had shown. With the outside of his foot he found James Henry who had come on ten minutes later. Henry was another who contributed to our increase in attacking threat. He rolled the ball into Mark Sykes's path. The man from Northern Ireland did well to get to the ball first and fire off a low shot from just outside the area. Keeper Luke Steele was well beaten, probably with the aid of a sizeable deflection.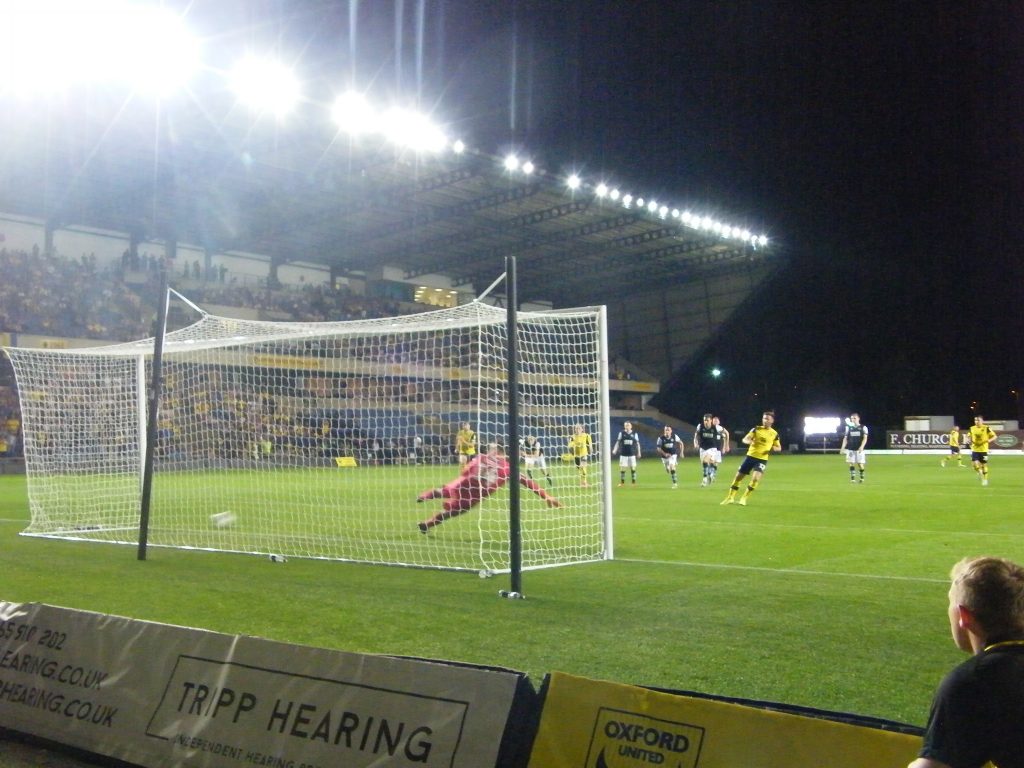 Photo, Simon Jaggs
Those three minutes are of course a minimum and it was on 90+4 that Henry equalised from the spot in what was the first of five perfect penalties taken by Oxford players. Perfect not only because they went in but also in the way they were struck. Superb nerve. Nerve that the Millwall players could not match. To be fair to them they were probably in a state of confusion still trying to work out why they were being required to try and beat Eastwood from 12 yards when a few minutes earlier they'd been almost cruising to victory.
With the clock ticking down It was good to see that we were genuinely giving it a go and at last getting the ball forward quicker and into and around the penalty box. Given the situation I was not advocating complete patience but did think there was a time or two when we slung the ball from right to left wing and it didn't come off. On one of these occasions George Thorne was unmarked in the middle pleading for the ball and he let the person who failed to find the intended target know that the easier option was the one that should have been taken.
It was a total shock when the penalty was given based on the way referee Craig Hicks had gone about officiating for the vast majority of the match. In the first half there was the most obvious shirt pull you will ever see. It wasn't a little tug, it wasn't subtle nor was it on the blind side of Hicks who wasn't far away. It brought the yellow shirt out in a triangular shape. At that point I genuinely thought Hicks had to be bent, what other explanation could there be? Also in the second half there was another pull when we had a corner. This one was a bit more hidden but Mous had had enough and when a bit later there was a stoppage in play he went across and demonstrated to the fourth official what was going on; not that this sort of action can do us any good.
Long put a high ball into the area and Elliott Moore, by jumping with a defender, ensured that there was no clean header away from the danger area. As the ball bounced high Woodburn went to take it with his right foot and was caught by Aiden O'Brien. I've played the incident over and over and think it was the correct decision but by no means as clear cut as some of those that weren't awarded.
That Moore was up there and being a nuisance was significant. I don't want to get obsessed about our lack of height up front but as I consider it a factor that cannot be ignored. I'd intended to take pen and paper and note down every time the ball was hit high and down the middle into the Millwall half and then record the outcome in one of the following categories:
Header won by defender with a good clearance or nodding the ball to a teammate;
Header won by Oxford player causing a problem for the defence or retaining possession; and
Oxford player not winning the header but preventing the defender clearing effectively.
It goes without saying that I forgot to take writing implements but do remember the first challenge was lost. I rarely take my eyes off what is happening when the ball is not dead but turned to my family and said, see told you so. My son got quite angry and said it doesn't matter we've picked up the loose ball, which we had.
There are now more detailed match stats available and although not split between defence and attack one such piece of information is percentage of aerial duels won. Oxford won just 27%. It would be too simplistic to say I rest my case but it is as plain as day that we need to work on this at both ends of the park.
Occasionally I give a little assessment of each player, particularly focussing on those that have not got much of a mention in the main narrative of events. It would probably be fair to do so now given each in their own way played their part in this remarkable late turn around.
Simon Eastwood: I can't blame him for the goals conceded but there are those of the view that he should be commanding his penalty area better than he does. One spot kick save and a first half effort he did well to keep out helped get us through.
Sam Long: He didn't let his dreadful back-pass make his game go to pieces and will know he's currently second choice to Chris Cadden so to keep going as he does showed he's a fit squad player. He got forward a lot as our full-backs have to but delivery and quality were not always there. I did note one piece of fantastic skill when crowded out in front of the South Stand there appeared no way he could get the ball away from Millwall players but he did by flicking it up in the air and then volleying it down the line. Little moments like that stick with me.
Kevin Berkoe: In the few minutes he had against Peterborough in the previous round when he played further forward he never seemed to get the pace of the game. I wondered what KR was up to playing him at left-back here.  His positional sense for this role obviously leaves a lot to be desired but he showed no little skill on the ball and never got given the run around.
Elliott Moore: Gets beaten in the air too often for someone his size but improved as the second half wore on. Perhaps he needs a bit of time to attune to the pace of the English game.
John Mousinho: For me not a central defender and much greater value to the team playing in front of the back four but is that a position we use and if so, is he going to be selected there? Cool penalty to seal it proving he shoulders the captain's responsibilities well.
Jamie Hanson: On 25 minutes someone said is Hanson playing? Fans often say such a thing in sarcastic fashion but I genuinely had not noticed him so had to ask the question myself. The number 20 shirt was pointed out to me. Perhaps he's doing good unseen work but all fellow Oxford fans I've spoken to about him are rather disappointed in what we've seen. He joined us last summer for a fee that so far has not been justified.
Mark Sykes: I've felt since just before the start of the season that there's something not quite right between him and the club given that he didn't appear as prominently in the friendlies as I was expecting and then to hear he could go out on loan says the feeling might be that he is not yet ready for regular L1 football. What he did here might prove he is closer than previously thought. He has though only started seven league games and come on as sub twice since he came to Oxford in January.
Shandon Baptiste: Excellent to see him back. He's one of those players who can run with the ball and I don't think he's doing the wrong thing even if he hangs on to it for a while. I like the way once he's gone past a player he positions himself in such a way as the only way they can tackle him is by fouling. A fit Baptiste will be like a new signing.
Robbie Hall: My thoughts on RH so far have been that he's no longer good enough, but this game showed he still may have something although I can never see him as a week in week out starter. He spent more of this game in the middle than he has done in his other outings. This meant he was nearer goal and as he moved forward didn't have so far to go before it was time to get a shot off or make a pass and therefore less likely to be caught out through lack of speed. He showed he can pass a ball and produced the best shot of the game when he hammered a free-kick in the direction of the top corner only to be denied by Steele getting a hand to it. My statement that "Robbie is having a much better game" was met with an "I agree with you" from the Tim in front who then added "but he still looks about 5 minutes away from the end of his career". I then contributed my own, "I agree with you".
Anthony Forde: Still not yet fully up to speed fitness wise but is clearly a steady player with quality that belongs at least near the top of L1. He will be an asset.
Jamie Mackie: Never looked remotely like scoring let alone getting on the end of anything but did his usual stuff in "shit-house" style. He willingly ran from man to man, almost always getting there a bit too late, when we were attempting to close down. This didn't work as we didn't do it collectively and I wonder if we could have better used his energy.
Each of the three subs I've already mentioned. Each of the three subs was a successful penalty taker and in Henry's case he did it twice. A master tactical move by Mr Robinson?
Finally a little mention to the ten or so young lads who, with it only costing twelve quid or less depending on age, had decided to sample the back of the SSU quite close to the half way line. Good banter boys you woke a few old gits up with a bit of singing. A new set of ultras in the making?