BRISTOL ROVERS AWAY
The opposition
A couple of years back I spent a bit of time when composing Fan's Views in looking at the finances and ownership issues of our opponents. Having read our latest accounts and knowing of the plight of Bury – a club that may no longer exist when this is being read – Bolton and various others I think the time is right to delve a bit once more.
Key things of interest to me are:
Did the club make a loss in their latest accounts?
Does the balance sheet show them in the red or black?
What is the wage bill?
How much is their commercial income?
Do they own their own ground (whatever that means)?
And of course, who owns the club?
On May 29, the Registrar of Companies issued a notice to Bristol Rovers Football Club Limited that it will be "struck off the register and the company will be dissolved" unless the accounts covering 2017/18, which by law should have been sent to Companies House by the end of March, are filed.
Failure to submit accounts is a criminal offence but thousands of companies are late in doing so every year and Rovers are not the only guilty football club. The initial threat to dissolve is not much more than a gentle reminder.
Bury, Bolton, Blackpool, Oldham and Sheffield Wednesday all failed to hit the target. Most names here won't be a surprise but I'd not realised the Owls were in the ****.  They sold Hillsborough for approx. £60m to owner Dejphon Chansiri to get around spending rules. This enables the club to show a pre-tax profit of £2.5m. Without this sale there would have been a pre-tax loss of £35m.
I can't fail to picture football below the Premier League being one giant house of cards that keeps defying all logic by not collapsing into one big heap of never to be paid off debt.
Anyway back to BRFC. Given they failed to meet the deadline I'd be surprised if the accounts, when they did get to where they should have been a couple of months earlier, made great reading.
Their accounts were lodged almost immediately they were prompted to do so and show to the year ending 30 June 2018 they lost £2.6m and net liabilities of £12.6m.  Due to group undertaking within a year was the sum of £12m. Wages and salaries including social security costs was £5.6m. Turnover was made up of football receipts of £3.5m and other receipts, whatever they are, of £2.3m. They made a profit of £580k on player sales.
The controlling party of BRFC is Dwane Sports Limited by virtue of holding 92.6% of shares in Bristol Rovers 1983 Ltd.
The principal activity of Bristol Rovers Football Club Limited is unsurprisingly "that of a professional football league club". From the Bristol Rovers 1983 Ltd accounts, "the principle activities of the group are that of a professional football league club and the operation of a sports stadium".
On reflection it might have been more sensible to just concentrate on the "1983" accounts but these don't show profitability even with the stadium thrown in. The loss on ordinary activities before tax was £3.3m.
Basically a revolving credit facility with Dwane Sports, which is registered in Jersey, keeps the football club going. The main man is Wael Al-Qadi, a Jordanian banker (Arab Jordanian Investment Bank) and it is his family that owns Rovers through these various companies. They bought it in 2016. Whether Gas fans trust him I have no idea. New stadium? No tangible progress. Seen it and heard it all before.
On the pitch they've got exactly the same number of points and goal difference as us. The record so far says they're not as good at scoring goals as we are but better at stopping them going in at their end. It's hard to be worse, although pointless Southend have managed to concede ten already. Other than them no team has let in more than our seven. If we don't see Elliot Moore starting I'll be a bit confused and also angry.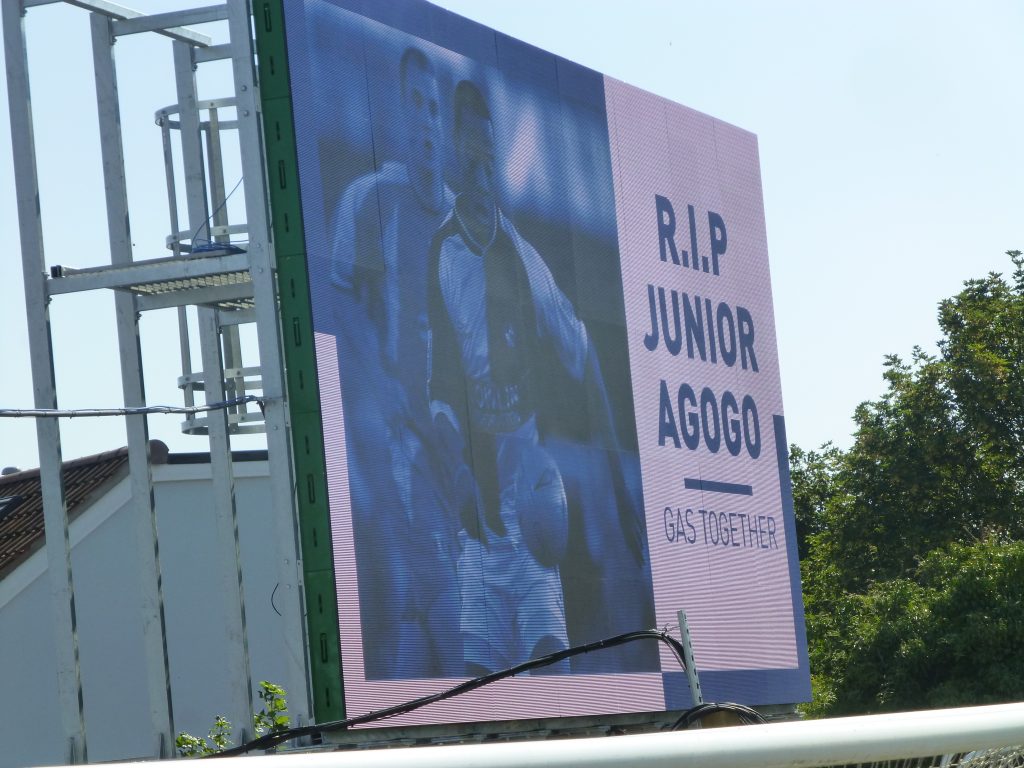 Bristol Rovers 3 Oxford United 1
Anyone who has read my previous FVs this season will know that a couple of weeks before the season was due to start my outlook was one of great pessimism but that veered the other way to one of much greater optimism following our first three league games, even though only four points were accumulated. That I'd been swayed was down to the evidence I'd seen on the pitch and the knowledge that a centre-forward/striker was about to be brought in along with one other player.
Two further games have obviously provided more evidence and what I witnessed at the Memorial Ground told me that our performance against Burton was not a one off.
Against the Brewers John Mousinho partnered Rob Dickie at centre half. We let in four. Against Rovers Mous was replaced with 6 foot 5 Elliott Moore. We let in three. Leaking two goals a game on average will see us relegated. None of the teams that went down in 2018/19 were quite that bad.
Again here our defence didn't have a great deal of effective protective help from elsewhere on the park. But I think a huge problem was that compared with Rovers we very much lacked physicality. An elephant in the room?
As we've come to expect now the referee gave very little protection to the team trying to play football and this never helps us but I have to admit that even in the fair but robust challenges we were second best.
Charles Shakespeare was the man tasked with being in charge. From the start it was obvious he was not going to do so. Tariqe Fosu was targeted and deserved better protection. Every game he gets chopped down three or four times with weak referees not clamping down immediately. There was one very nasty attempted tackle before the game had hardly got going, not even sure it was on Fosu, but it gave Shakespeare a golden opportunity to say "I'm the boss". A bit later there was a similar incident and he did brandish a card but that was too late. He also missed lots of off the ball stuff where runs were clearly blocked.
A question I have often asked over the years is do we need to start doing more of this ourselves? We're nowhere near as bad as many teams at our level but by no means totally innocent. I give you Jamie Mackie but we do have some fans that get annoyed with him whenever he does what he does and gives away, quite rightly, a free-kick.
After the Burton game I wrote "wouldn't it be a bonus if we'd got someone who could win high balls up front because occasionally that's needed when passing football can't get through a brick wall"? I'll now admit to having held myself back quite a bit in writing that and I hope I'm so very wrong in what I'm going to write now but I think there's a pretty good chance Matty Taylor is the wrong signing. It's not his fault he's not that tall and the same goes for Mackie too. I'd also say we're rather short of tall lads in midfield when compared to those we come up against most weeks.
It has to be a big if with his injury record but there is a possibility that George Thorne could give us height and dominance in midfield. I'm told he's a big strong player who in the past has controlled midfields at a higher level than we operate at. Let's hope he's in full working order soon.
After I raised the question of height in the Burton FV someone asked why height matters so I thought I would really pay attention to high balls played forward and how our men up front respond. I didn't count how many but we didn't win a single bloody one. I can also only remember once that we managed to prevent the Rovers defender getting the ball cleanly away. It was so effing predictable what was going to happen.
At times it looks as if we want to score the perfect goal – pass, pass, pass, pass, pass and then pass, pass …. . If that were to work and we had the players to pass our opponents off the park, create chance after chance, someone to finish these lengthy spells of possession off by putting the ball neatly into the net and referees that allowed it all to happen, we'd be in heaven. But sadly this is the real world and we are a L1 outfit with L1 players being refereed by men who have been lucky to be allowed to progress beyond park football.
Early on in this match we were playing this possession passing game and to finish off one such piece of play with a goal on 27 minutes tricked me into believing that pure football may win the day and I was out of order questioning size, strength and all those other silly things.
Ben Woodburn's finish was one of precision from well outside the box. Unlike many footballers who will just put their foot through the ball for the sake of it he showed technique and understanding often lacking lower down the leagues.
There wasn't much that impressed me but our young loanee did. It was just as much for the other stuff he did as the goal. Many times he got back to cover danger putting in the often unnoticed hard yards.
The final stats show that we had 60% possession which is as I saw it but our 11 shots with four on target to their 10 of which three were on target surprised me. I didn't think we'd had a shot on goal until we went one up and can't recall many, if any, of those registered shots being very close to adding to our total.
We only held the advantage for 10 minutes. The equaliser came following a ball that was whacked as high as possible into the blue sky above and when it dropped into our penalty area Moore was only able to head it to the unmarked Ed Upson who, from the same distance out as Woodburn had been, smashed the ball past Simon Eastwood.
Not long after we were behind. Josh Hare got a cross in from the right wing. Johnson Clarke-Harris a six footer who can seemingly head a ball got his nut on it and scored. He out jumped Moore with our man appearing to be a bit flat footed having not positioned his body in the right place for any proper sort of take-off.
After the home side had drawn level they had started the process of turning the game their way and when they got their second I thought for all our possession the Gas weren't being hurt that much and not having to defend desperately to keep us out. There was one piece of scrambling about pinball in the Rovers six yard box after an Oxford corner but we had no-one able to prod the ball home.
On 77 minutes the game was definitely up for us. A poor United clearance was won unopposed in the air by a blue shirt who nodded it to Ollie Clarke who showed good trickery to get past some pathetic attempts by our boys to stop him. He found substitute Tom Nichols who was able to swivel and turn in the six-yard area and increase his side's lead.
After that I was just glad when the game was over and I could get out of the blistering heat.
Others may disagree but I thought we deserved to lose by a couple of goals. Some of our defending was really bad. I would have thought it impossible that Moore won't improve for us and form a good partnership with Dickie. If he doesn't we could be witnessing the current level of leakage continue.
James Henry didn't have the best of games and we know what that means.
Something else that I don't think helps our cause is that the only width we have is from the full-backs. There was so much wrong but how can this be after Sunderland, Peterborough and Blackpool? Is it all in my head?
The usual pre-match pubs, the Annexe and the Drapers Arms didn't let is down though, other than having to drink out of plastic. More than understandable given the police presence on the Gloucester Road. 30p per pint CAMRA discount too.
Due to heading down to Devon after this defeat and therefore only writing this stuff after a horrendous journey back home on Bank Holiday Monday, the shelf life of this particular FV is quite limited with Millwall coming up tomorrow. That could be a good thing as there's lots I would rather forget. No points, not having played well and injuries does not make for an enjoyable Saturday.
Opted to be on the terraces in the baking heat with no shade not sit in this excuse for a stand. Both areas over-priced.