BURTON AT HOME
Loan signings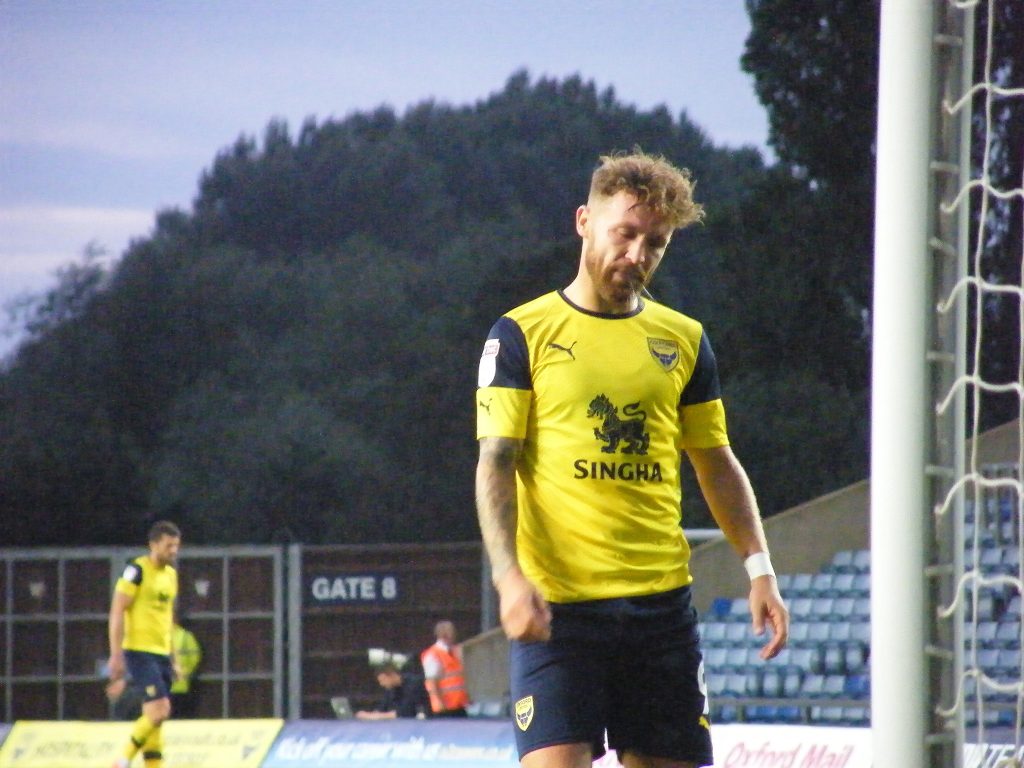 Back in an Oxford Utd shirt. Photo, Simon Jaggs
Monday saw two new additions to the squad as Matty Taylor and George Thorne joined on loan. Surely this should shut the incessant moaners up for the time being at least.
These signings and the squad we've now assembled tells me the club are serious at making an assault on the play-off places. Whether we'll achieve such an aim and these latest recruits are a success remains to be seen of course.
I have little recollection of MT when he was with us previously as a teenager when we were in the Conference but what little I can remember, I didn't think he was up to it. That he left to play for Woodstock (I think), Didcot and North Leigh before playing nearly 100 games for Forest Green in the Conference suggests this assessment was correct. However as everyone knows he made his name at Bristol Rovers in three divisions (Conference through to L1) scoring 61 league goals in 102 starts. This very impressive record tempted him across the city to City, who being the bigger and more successful club naturally could pay more, much to the chagrin of Pirates fans. I'm sure they'll give him a nice friendly welcome back on Saturday.
If he can reproduce his Rovers goals per game ratio for us then we'll have an ingredient we've lacked for a very long time. My internet research tells me he is only 5ft 9 tall. I could have sworn from the TV clips I've seen he was bigger than that. My image of him is of a fairly big lad who puts himself about and scores lots of goals in a no nonsense non-flashy manner.  Goals will do me fine but wouldn't it be a bonus if we'd got someone who could win high balls up front because occasionally that's needed when passing football can't get through a brick wall? I don't think we've had anyone like that since his much, and unfairly, maligned namesake Ryan moved on.
Our second signing was a surprise to me. I know even less about Thorne than I do Taylor. My first reaction was do we really need another midfielder?
I'll admit to feeling slightly uneasy about this. Thorne has the same agent as our Head Coach. He's 26 years old and has played very little football having suffered an injury plagued career. Is it a case of here we go again? Here's a quote from Robbo, ""At one stage George Thorne was the best player in the Championship, until he had that leg break". The year of that break was 2016. He has also had two other serious injuries. In the summer of 2016 in a friendly for Derby he damaged his cruciate knee ligament and was out for about nine months. He spent the second half of last season at Luton but only came on as sub three times.
The fee the Rams stumped up for him was over £2.5m so he should be no mug and – if fit – could help us fly as he supposedly has something our other midfielders do not. I'm looking forward to finding out.
Good luck to both the new boys.
The opposition
Based on home grounds, size of support and history we come out as a much bigger club than the Brewers who it is easy to forget have only been a football league club for just over a decade. Where they trump us though is in more recent achievement and their financial soundness.  To make it to the Championship and survive for one season, albeit by just one point, is a noteworthy achievement for a club so clearly punching above their weight. I believe their budget was only about half of the next smallest in that division.
Their latest accounts, year to 30 May 2018, covered that second season in the Championship. They made a profit of £500k on which they had to pay tax of £104k. (Good to hear some pay their fair share).
Shareholders' funds were £6.7m. So no debt.
Turnover was made up of gate receipts of £1.8m and commercial income of £11m. It has to be said yet again: if only. Direct wages and salaries paid amounted to £8m and indirect came to £924k before NI and pension costs. This gives a tiny hint of what comes with Championship football.
So far this campaign Burton have lost both of their home games 1-0. Each to a relegated side who are expected to do well with a sound chance of going straight back up. Manager Nigel Clough said after their Saturday defeat: "We need to take it out on Oxford".
Away though they won 2-1 at Gillingham and I'm not expecting an easy game but one that I think will be pleasant on the eye.
Oxford United 2 Burton Albion 4
On many occasions when I've been mightily disappointed after a defeat I've been known to slip into effing and jeffing mode. Driving home down the A34 I stared straight ahead and produced a "bollox, bollox, bollox … and more bollox". "You've written the Fan's View" my son told me.
In a way I had. I'm not proud of such language but still feel the same way the following morning.
This was by far our worst performance of the new season and Burton the best team we have encountered. The two probably go hand in hand.
Even though Cameron Brannagan had a good game we never got a grip in central midfield and never stopped the opposition playing. They bossed that area and realistically bossed the whole game even though at one stage we manage to briefly hold a lead.
They were more physical than we were. They had stronger runners and broke at pace. Our defence didn't have the unified help it needed from the rest of the team. There were times when players did get back to help out in fine fashion but we looked far from being an organised, soundly set up outfit.
Burton had us sussed. They closed us down quicker than we did them. For the most part they stopped us playing although there was an occasional outbreak of neat effective play from our yellow boys as witnessed by the two we did score.
It was noticeable that when Simon Eastwood had the ball they usually put men on our full-backs which meant he had to kick it long. When he's forced to do that the inevitable happens – we lose possession because we never win anything in the air because when compared to towering centre-halves we've tiny forwards. It's quite soul destroying really.
Nigel Clough had clearly done his homework and indeed set his team up and motivated them to take it out on us.
We lacked any consistent zip and snap and I have to agree with the comment on Radio Oxford that we looked tired. No way should this be so in August. Yet we'd looked so fit in previous games.
I'd like to write this one off as just one of those things but I can't help feeling that another Radio Oxford comment rings very true, "this just goes to show how far we're still short". Or words to that effect.
The writing was on the wall before the visitors took the lead with half an hour gone. None of our defenders could get their heads on a corner that came in with plenty of height on it. (I wouldn't have been surprised if Elliott Moore had been in the starting line-up). Eastwood was therefore forced to make a good save which resulted in another corner, this time from the right. This one was hit lower and shorter but with plenty of pace on it and expertly put away with a diving header from the angle of the six yard box by Jake Buxton. That was his first goal for Burton in his 54th league start. Mous tried to go with him but got nowhere near and didn't put in a challenge for the ball. Although well worked we do seem to have a weakness defending corners.
Although mostly second best we did have opportunities to score in the first half. In no particular order: Ben Woodburn failed to make any connection with a volley from a superb James Henry ball. It could have been a worldie, instead it told of a player very much in need of a goal to get him up and running. We had a break where we had a man with a very good chance to get through on goal, and there were not many of them, when we suffered another shitty refereeing decision. Brett Huxtable must have completely forgotten, or chose to ignore just because he can, the advantage we had by immediately stopping play for a free-kick. He wasn't the worst official we've had this season but he appeared to be a contender based on this incident. W****r. Matty Taylor, when faced with just keeper Kieran O'Hara, on loan from Manchester United, to beat, failed to do so. His attempted chip (or whatever) never got anywhere near enough height on it to beat the well positioned O'Hara.
I've not been properly pissed off with my team this season until we entered the first lot of added time. Two minutes were signalled and even when clearly they had almost run out we persisted in passing the ball to one another in areas where damage cannot be done. Even though we've got no aerial power it surely would have been worth slinging a ball in with seconds left, no?
We started the second period as if we'd been given a bit of a talking to during the break and within eleven minutes had turned the game around. (It soon got turned back though).
For once we got forward at pace and had even numbers up against the defenders that had got back. Taylor fed Tony Forde on his outside and a first time ball was perfectly dispatched by our current main goal-scorer Brannagan.
The second was another quality finish. I'd describe it as a bent pass around O'Hara. Forde proving he can score as well as assist.
Even then though I didn't feel confident that we would see the game out. There was still way too long to go and for all this new zest we didn't look solid.
Five minutes later my absence of faith was justified. There was lack of closing down on our part early in the move that led to the equaliser. I may be asking a lot of Taylor because he had some distance to get there but I think he should have made the effort to get across and stop the defender who ran a long way to set up the attack, doing so with such ease. Once they got to the bye-line and pulled the ball back we weren't assertive in getting it to safety. If Mous had not got in his way I think Eastwood would have claimed it. Instead it came out to Nathan Broadhead, on loan from Everton, who controlled with his chest and despite having three Oxford players within touching distance got a shot away which was blocked. Again it fell to a white shirt and this time was rifled into the back of the net by Scott Fraser.
Less than 10 minutes later we were behind again. The deflection may have been one of those supposed "wicked" ones but it a team allows the opposition to carry the ball through midfield so easily and give them space to shoot even if it is some way out, they deserve to get punished. I don't think Alex Gorrin was doing what he has done in previous games. His fitness may have been a factor although it was decided not to be I assume after his half-time fitness test on the pitch whilst the others were having their cuppa, or whatever they down these days. He has maintained a certain consistency though: booked in every game so far. He'll soon be facing a suspension.
Burton then hit the post with a header from a free-kick. Each time this happens Moore's name must have another letter inked in on the team sheet, surely.
We got away with this but it was our keeper more than theirs who was being forced into making saves.
With six of the 90 minutes remaining the immensely impressive Fraser completed his hat-trick. He was the stand-out player on show and given how he was playing, tighter marking would have made some sense. This fourth wouldn't have looked out of place in football at a much higher level.
I knew we were going to come away pointless before this happened and when Robbie Hall was brought on was inspired not one little bit.
Losing 4-2 at home is bad enough but by the end it really could have been more. We'd been well beaten. Our spells of looking dangerous were much too brief and the organised, clearly hard to beat side of the matches prior to this, had disappeared.  This though didn't mean that there weren't some pretty good individual displays. Chris Cadden once more got up and down and had a lot of the ball, James Henry particularly in the first half was picking some visionary passes with accuracy and Brannagan gave his all with no little determination and skill to try and turn the game our way. He lets it show that it matters to him when we lose and that's no bad thing.
Two games four points. Four games four points. Um, what next?
I expect Rovers to put as much fight into their game as Albion did but would be surprised if they have as many talented individuals or play as well as our opponents here did. Hopefully weaknesses at the back and in midfield will be addressed in training before we run out at the Memorial Stadium on Saturday. I'm not sure what to say about the strikers. Is Dan Agyei one and when will he be fit? If we could wave a magic wand to add six inches to the height of Mackie and Taylor then we might be able to compete with your average sized centre-halves on something resembling equal terms.
Although it's only one game, after all the positivity to date this feels like a real downer but I can only call it as I see it after each performance.  Huge praise one day, balanced gloom and criticism another. That's the lot of a dedicated football fan.
Any neutral and the Burton fans in attendance will have thoroughly enjoyed the night out though. A night where the 161 travellers made more noise than the 5,950 home fans in a Stadium where the quietness and lack of atmosphere was a horrible feature. No points doesn't help but neither does no Ultras and no colour. The latter is of course soon to be addressed with the East Stand mural. Murals however don't get chanting going or wave banners and flags.
Referee about to blow his whilst for a minute of silence to think of PC Andrew Harper and his family. This really does make one think deeply and puts football into perspective.