SHREWSBURY TOWN 2 OXFORD UNITED 3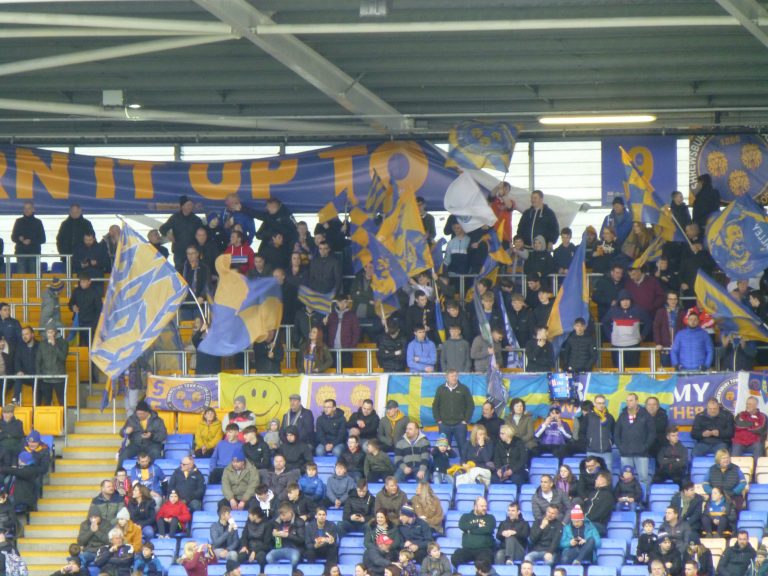 Fans stood on safe terracing at the back of  the home end
Many businesses in the area had been badly hit by the recent floods when the Severn burst its banks and I strongly suspect that if STFC were still located at Gay Meadow in the town centre we would not have had a game to play on Saturday. That quaint old ground being located on the banks of the river used to quite regularly end up under deep water and that was before climate change had tightened its grasp.
For the third year in a row our pre-match mini tour had taken in just two public houses, the Cross Foxes and the Prince of Wales. That might be rather unimaginative but to wander over the nearby bridge and into the centre is going away from Montgomery Waters Meadow on the outskirts where the Shrews now reside.
I'd calculate that the Cross Foxes is situated about 100 metres from the river. They've been under water twice recently being unable to open for three days and a bit later four more. When I asked the landlord if he had insurance he said no. Insurance companies would provide cover but the excess is £80k and that is obviously prohibitive.
In our previous two visits the pub had been sparsely populated; this time it was much fuller. It could be that we were a bit later in this year or possibly that locals were making up for lost time and trying to help them get back on their feet. There was some football noise which I'd not detected before but it transpired that a fair bit of that was coming from an Oxford fan who seemed to have hooked up with a home fan or two. I'm fairly confident in saying that he consumed a lot more beer than we did.
A kind man pointed us to a short cut to the Prince which is no distance away at all but far enough not to have suffered water damage. As ever it had that proper football pub vibe and there's always a Salopian or two we end up talking football with. Oh, and the ales, they are very good too. For £2.50 the pub run a bus to and from the game but as the walk is only one and a half miles we gave that a miss even though our party were carrying injuries; a broken collar bone and damaged knee ligaments.
Beforehand I weighed up the chances of an Oxford win and concluded that the growing betting kitty should be invested (thrown away?) at odds of 27/20. Reasons not to being: despite our four game winning run we'd been poor in the first half against Accrington and had only just beaten Southend last week. Reasons to do it: Shrewsbury are on a poor run (although they did beat Donny a couple of weeks back) and yes, let's say it, we're pretty darned good and have belief.
The first ten minutes or so produced some end to end football with both teams playing well and seemingly really going for it. A cracking match was in prospect.
A goal arrived on 12 minutes but one that wasn't welcomed in the North Stand amongst the 928 fans backing the team in white with the yellow and blue sash. When the ball fell loose near the centre circle Jason Cummings lofted a first time through ball in the direction of Daniel Udoh who made a run with Rob Dickie as his direct opponent. I would have expected our captain to have enough strength and nous to deal with the situation although we know that he will probably lose more races than he wins when one v one against central strikers. Perhaps he was worried that he could concede a penalty and with it a likely red card. It is however hard not to conclude that Udoh was just that bit more determined on this occasion.
Now Shrewsbury became the dominant force and Simon Eastwood was working overtime pulling off good saves to keep the score against at just one. Defenders were having to get blocks in too but if another goal was to be registered it didn't look like we'd be doing the registering. Other than an Elliot Moore header from a corner we'd not gone anywhere near worrying Max O'Leary, the guardian of the home net.
We were off the pace, not winning the battles and without wanting to be harsh to any particular player, I thought Nathen Holland looked like a luxury player not suited to this type of game where work rate and effort from our opponents was evident. Fair play to Sam Ricketts for setting them up thus as he will not have anywhere near the resources to hand that the bigger clubs in this league can call upon.
It got worse on 34 minutes. A sliding Alex Gorrin was inches away from cutting out a low cross field pass to Callum Lang. In such circumstances if you get the ball great but if you don't then the golden rule of stay on your feet rings loud and true. A player on his arse can't do a lot. Also in this day and age going in like that can be asking for trouble card wise. Lang now had space ahead to get into the box, run across Sam Long and cut the ball back to beat Eastwood at his near post. He shouldn't be letting goals in like that should he? Not the first time either recently is it? He was still my man of the match though.
It wasn't looking good for the bet and I was considering what the league table was going to look like at 5 o'clock. We'd be down a place to 8th with teams below us ready to pounce and push us down further when they cashed in their games in hand.
The nature of a game can change in an instant and a minute after the score became 2-0 it did. Josh Vela got his marching orders for a second yellow following an incident with Marcus Browne. I can't remember the first one shown but this was one of those where I would have been far from happy if it had been an Oxford player dismissed. Ethan Ebanks-Landell, who was never going to be outjumped by diminutive Matty Taylor got a strong defensive header away and as Vela turned to give it some extra encouragement away from the goal his team were defending he wouldn't have had much awareness of Browne looking to take possession. Our man got there first, just fractionally but enough, and nicked the ball and be caught by Vela. There was no intent whatsoever.  For Sam Ricketts to claim that it was Vela who was fouled is stretching bias quite some way. It didn't go unnoticed that Vela was holding his shin as if hurt only to forget to continue his play acting and leap to his feet immediately when he saw the free-kick had been awarded against him.  I'll be kind to Ro-Shaun Williams and say he can't have heard the whistle when he whacked the ball into the prone Browne. All the other players had stopped though.
After this had happened my son, who was following the game at home, said to Mrs FV that if we were to get a goal before half time we would win.
As the 45 minute mark arrived and we had not done so that win looked unlikely. Another minute passed, then another, then …. Cameron Brannagan hit a long ball over centre-half Williams in the full-back position. Browne with greater momentum was onto it, hurdling around and over the defender and out of nothing he had the sight of goal within the whites of his eyes albeit from an angle. Maintaining his balance for long enough he slotted home.
Perhaps we did have a game on after all.
At the break Les Taylor (no not that one, the Oxford fan who lives in Rugby) informed me that we would win 3-2 just like we had done last season. I told him he was more confident than I was but promised a mention in the FV if it did come to pass.
It was only with the players back on the pitch and Oxford now kicking towards their followers that I appreciated the part the wind was playing in this encounter.  Any gusts that now blew in fed our sails and with a man advantage we became the controlling force. The final possession stats which show that we had the ball 66% of the time tell how one sided the second period was given the way the first had gone. For the record though Shrewsbury did have more shots on target than we did, 7-6.
At a corner there was a scramble in the six yard box where half the players on the pitch had placed themselves but we couldn't force the ball over the line as it seemed attracted to the keeper's chest.
Never mind, there was still plenty of time.
Dan Agyei replaced Gorrin on 57 minutes and two minutes later had equalised. He's got a remarkable record of scoring just after being brought on. This was his third league goal. The other two both away, at Southend and Burton, were netted a minute after his introduction. If only rolling substitutions were allowed he'd be breaking all scoring records.
Still can't get my head round him though. He's something of an enigma. He took the ball into the Shrewsbury area and after allowing James Henry to take it off him for an instant appeared to be slowly jogging on by as if he'd been distracted by his Mum shouting across the local park that his tea was ready. When JH immediately gave him the ball back he snapped back to where he really was and heading away from goal swivelled and hit a magnificent shot from the corner of the area into the opposite top corner. I'll catalogue this strike under "you won't see many better goals than this."
This still left ample time to seek out a winner but as the clock hurried forward and one wasn't forthcoming I tried to console myself with the fact that perhaps this could be the point that ensured we'd sneak into the play-offs.
But then the outlook became altogether healthier. There were just two of the ninety minutes to go when we were awarded a free-kick about eight yards out on the right hand side of the penalty area. As Browne stepped up to take it I had visions of him trying something spectacular, with little chance of success, and the ball sailing into the Oxford gathering behind the goal. That's not what he did at all. He's a better player than that. He aimed for the far post. Josh Ruffels often attacks the ball in these circumstances and that's what he did heading back across O'Leary to trigger pandemonium in those of an Oxford persuasion.
Bloody hell, "we're fourth" someone said. And the betting kitty had survived. But there was still a minute or so left plus added time. No worries, bring Jamie Mackie on, parade around near the corner flag and see it out. To be fair Agyei did as much as JM to make this happen.
Game over, points won. Five wins in a row. "We're third." What, I thought we were fourth. "No Gillingham equalised at Sunderland in the 96th minute".
Celebrations at the final whistle
Who'd have thought any of this would have been possible when we'd gone two down. Football, don't you just love it.
Fleetwood dropped points at home to Blackpool. Coventry, my tip for quite a while now to be champions, may have seen off Ipswich as play-off challengers. Pompey got beaten, although it was by Peterborough.
Second place now looks very achievable but that's not just by us but many other rivals. Five clubs have just one fewer point than we do and of those, three have played a game less.  Interestingly we are still to play each of those teams, Portsmouth, Fleetwood and Wycombe so it is still very much in our own hands. By Tuesday evening though we could have dropped a couple of places as Sunderland travel to Bristol Rovers and the Gas are on an appalling league run of one win since mid-December. Pompey v Fleetwood grabs the attention.
This was in no way our best performance of the season but it's never about aesthetics at this stage. That old mantra of "getting the job done" will always be the one that matters.  We're doing that. Of those five wins three have been by just the one goal margin. They all bring three points.
We had a number of players who were far from hitting their top form so in theory we should be able to improve in the run in.  Henry had a bit of an off day with his radar being off and Brannagan was nowhere near as influential as he usually is.  These are two of our most crucial players. KR picked Sam Long for his defensive qualities but there were times in Salop when we could have done with the attacking prowess of a Chris Cadden or Anthony Forde.
I hope Holland's injury isn't serious because the guy clearly has talent but this wasn't the game for him although he could well have won us a penalty just before he went off. I might be going way over the top here but I was really angry with the way he just walked off. For me he should have gone down on the field of play so that we could have readied sub Sykes quicker and reduced the time we only had ten against their ten. Football is a game of such fine margins that everything legal that can be done to turn the advantage your way should be utilised.
We have another week to recover on and off the pitch. Until the midweek games are over I will continue to keep glancing at the table. It brings a warm feeling but there's always the potential for the cold hand of fate to whip that away.
Mrs FV informed me that Robbo still sounded a bit downbeat on the radio after the game and that he still has not had the conversation with Tiger about the plans and promises for next season. That does worry me a bit. As does coronavirus. I can honestly see fixtures being played behind closed doors or in an even worse case scenario the season put on hold or in the very worst case abandoned. This is our best season since 1995/96. Please let us see it through. Yet I can't fail to throw off a "what might have been" feeling that is forming in the back of my mind. The biggest "what might have been" so far is without doubt our lack of European adventure in 1986/87. That won't go away. It's still there alongside Maradona's handball.