ACCRINGTON AT HOME
Following our wins against Wimbledon and Ipswich which have seen much improved showings on most of what we had produced in the league in 2020 I got thinking about what could stop us making the play-offs. What are the risks and challenges? Obviously it could be that there are genuinely six teams that are better than us. However when we're at our best, or close to it, turning on the style and at the same time looking solid at the back it's not difficult to believe that there are not.
So for me probably the greatest risk that could scupper our chances of still being involved after May 3rd is one which every team carries, that of loss of key players through injury and suspension. My greatest worry had been that Rob Dickie is one booking away from a further two games on the side lines which, with Mous out for quite some time, leaves us really light at centre-half. The obvious cover being Sam Long but …… we're informed ahead of this fixture that Anthony Forde, Nathan Holland and Mark Sykes are all major injury doubts with the first two having hamstring strains and the latter not training because he has been ill for a few days. When will it end? Forde has really added something attacking wise from right back and has almost overnight become the best dead ball deliverer we've got. That means that Long will be required to come back in at r-b.  Little surprise then that Rob Atkinson has been recalled from Eastleigh. Holland and Sykes will be big misses but now is possibly a golden opportunity for someone like Dan Agyei or even James Hanson to show they can contribute as well as the next man. Could it be that some of the names of those who will be our heroes between now and the end of the campaign will be surprise ones?
Oxford United 3 Accrington Stanley 0
If the journey to Minchery Farm was to be an indication of how well the evening was going to go then we would have been buggered. We struggled to get out of Bicester such is the traffic situation coming along the Oxford Road towards Bicester Village, the Aylesbury Roundabout and Tesco. We should have learned our lesson from going to the supermarket a day earlier. With lanes blocked off for no logical reason, at least to my untrained eye, it was gridlock. Traffic lights went to green and nothing moved. Eventually we managed to escape by turning back on ourselves and following the "Oxford" marking on the road which I think as it stands might have been a lane just for on-coming traffic.
To top it all it was another bloody freezing night and brought on the first appearance of the thermals this season. It was so cold that the woman sat at the back of the SSU doing TV commentating/score updating had an electric heater near her feet. The things you see at football.
Post abandoned at half time but heater still on
As it turned out my risk assessment was somewhat wide of the mark. Long had a very influential game and Anthony Forde wasn't really missed and both Holland and Sykes were on the bench with the latter coming on without showing signs of not being quite right.
The first half was, from an Oxford perspective, one to forget yet we were a goal to the good when it was brought to an end.
Accrington had been the better team, no question. They'd played some very neat football with good close control although it has to be said that this was combined with the occasional very wayward pass and some hopeless finishing.
Another side to their game which I can't recall from previous encounters was an element of cynical dirtiness and again it wasn't something that the referee did much to clamp down on. David Rock was the official with the whistle. This is his first season on the league list and this game was only his fourth in L1. There's definitely a trend now not to book as many players. Or at least that's what it seems to me compared to earlier in the season. As is a given Marcus Browne is targeted. Heading down the touch line in the first half he was blatantly blocked off by Ross Sykes who had the gall to complain. A card would have confirmed who was in charge. We did though get a free-kick. Almost immediately Sykes (R) committed another foul and this time he kicked the ball away. A yellow surely now, but no. Callum Johnson, their number two, looked a bit thuggish too but eventually he did end up having his name taken as did Sam Finley.
The most clear cut shirt pull of the night was missed by Rock but that is understandable because neither he nor anyone in the ground would have been expecting it. The perpetrator was Karl Robinson on a visiting player about to take a throw-in. No need for that Karl.
Rock did provide a moment to remember when using his spray can. He started off drawing a straight line but when he saw where the Oxford wall had placed itself just looped his artwork round them. It reminded me of the Roy Carrol / Pedro Mendes incident in 2005 and humorous photo-shopping (was that a thing that long ago?) of the white line between the posts at Old Trafford.
We didn't have our first attack until the 13th minute and that brought the first goal. For all Accrington's possession and apparent superiority they were leaving themselves a little open at the back.
Long had come up with a tremendous block to prevent damage being done. That block was helped on its way by Cameron Brannagan and collected by Browne. His intent was immediately to go forward and he quickly carried the ball over the halfway line.  With three defenders soon within touching distance the pass was released to James Henry on the right who was marginally onside. His second touch was to hit the ball low and hard across keeper Josef Bursik from the edge of the area after controlling on his instep.
Other than the score line this didn't change matters much and we appeared to be lacking the solid shape we had about us in the previous two games.
Dickie the centre-half is some player. Strong, an improving reader of the game and with the ability to bring the ball forward from the back that few in his position at this level have in their locker. Dickie in the full-back area, whether because he's been pulled out there or having to go and cover is an altogether different animal. That's where he ended up when Dion Charles went past him and got a cross over. Jordan Clark, who'd scored three in the last four, and Josh Ruffels got their heads to the ball at about the same time and the combination sent it up and on its way into the goal. Simon Eastwood's (harshest) critics might say he should have come and claimed it but what he did next was very good goalkeeping. Throwing himself backwards he was able to claw the ball away. On the evening I thought it might have crossed the line but it had not.  The danger was far from over. Some players can sniff this out. George Thorne did and had placed himself behind our keeper and was thus able to block Charles's close range effort when the Stanley forward must have thought he was bound to equalise. With his momentum having the better of him he was only able to put his follow up from that block way over the bar from inches out. No wonder white shirts then had heads in hands.
Although way off our best we did have other chances before the break. When Thorne returned a cleared corner a twisting Dickie (rather painful I should imagine) header was met by Matty Taylor but put straight at Bursik.
"I bet they're getting a right rollicking" I heard someone say at half-time. The way we began the first couple of the second 45 minutes one could be forgiven for thinking that the manager's half-time words had been nothing other than, "more of the same lads".
Then not much later our quality was put on show, five minutes in we had doubled our lead and we became the team in almost total control. Eastwood could have done with borrowing the heater which was still glowing away to our left. Our footballers looked way superior to theirs.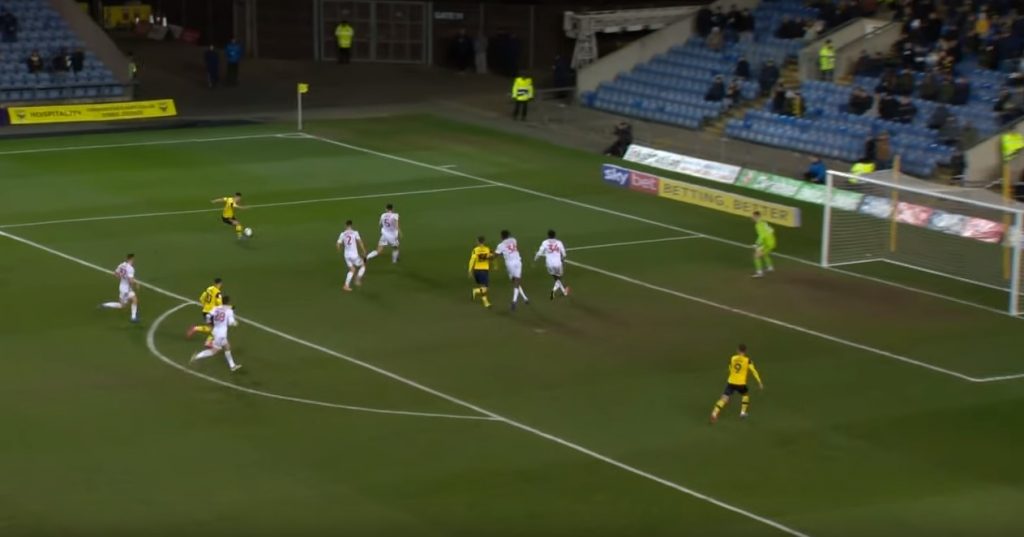 Number two coming up
For the second goal Cameron Brannagan had time to bring the ball forward and on the half way line played it to Browne who took it on at speed coming partially inside. Brannagan ran outside and a great pass back to him, a deflection off a defender only meaning it ended up in his path sooner rather than later, was crossed to Taylor who only had to find an almost empty net on the half volley. I make that sound easy. It is not. All white eyes were on the ball but it is no fluke that MT so often finds himself unmarked. That's what potent strikers are capable of. Mrs FV contributed "I've changed my mind about him".
Now really moving the ball quickly Thorne clipped a pass over to Taylor who had popped up on the right and when he fed Henry a repeat of the sand wedge finish produced against Wimbledon looked a possibility. This time JH chose the wrong club and put(ted) it just wide. Or perhaps Bursik made a save.
There's a noticeable understanding between Henry and Taylor developing that bodes well as does the form of these two and Brannagan who, having come back from injury, now look proper match sharp in both body and mind.
Browne had probably been our best player in that poor showing before the turn around, taking on and beating opponents in various ways that made a statement he was better than them. I wouldn't call it arrogant I'd say it was his way of telling them for all the fouls and attempted fouls he was not going to be stopped.
He's got class there's no doubt about that but comparing him to Ronaldo is pushing it a bit. However, he almost emulated the Portuguese with a second half free-kick from about 30 yards. First the legs apart stance, then a couple of little steps on the spot before sending a real dipper that Bursik had to fly through the air and get a hand to in order to get it away.
With no need to force the game we kept the ball patiently in the knowledge that we'd be able to create more chances at some stage and a third goal did arrive with 18 minutes to go. Dickie sent a low ball down the line to Long and although he tried to immediately flick it on this was mis-timed. No matter, as the ball came down the pass he made behind him on the volley to find the already moving Henry was one of the best you'll see anywhere. Henry's anticipation in moving as he did got him all the space required to get a cross over for Taylor to meet with his forehead. Was Taylor marked?  Of course not.
It wasn't just the scoring of goals that MT brought to this game. He dropped deep on occasion and linked up neatly in a fashion that suggests he could play in midfield.
There were others who had games worthy of mention.  When we asserted ourselves Alex Gorrin was doing so much to pick the ball up and often not only won it in the air, admittedly when not being challenged much, but used his head to pass it as accurately as some do with their feet.
Moore is growing by the game which is a real bonus as he could soon find himself as the senior partner at CB if RD is yellowed once more soon.
There's no doubting Thorne's class in stroking the ball around and once he got into his stride early worries that he couldn't get about the pitch were allayed.
So there we have it, another three points and following the other fixtures here's an update of the table I put in the previous FV.
| | | | | |
| --- | --- | --- | --- | --- |
| Position | | Games played compared to Oxford | Points compared to Oxford | Still to play |
| 1 | Rotherham | Same | 7 more | No |
| 2 | Coventry | One fewer | 7 more | Yes – away |
| 3 | Wycombe | Same | 5 more | Yes – away |
| 4 | Sunderland | Same | 4 more | No |
| 5 | Portsmouth | One fewer | 2 more | Yes – at home |
| 6 | Peterborough | Same | 1 more | No |
| 7 | Fleetwood | One fewer | 1 more | Yes – at home |
| 8 | Oxford | | | |
| 9 | Ipswich | Same | 2 fewer | No |
| 10 | Gillingham | Same | 4 fewer | No |
| 11 | Doncaster | One fewer | 6 fewer | No |
| 12 | Burton | One fewer | 8 fewer | No |
It's still a big ask and I'm not sure whether it would have been more helpful to us if Coventry v Rotherham and Sunderland v Fleetwood had gone one way or the other instead of being draws. To argue positively they all dropped points and we didn't. Nor did Pompey though.
This coming weekend just about every club near the top of the table face opposition they will be expected to beat. We've got Southend who must be having the worst season in their history. After 33 games they've only got 16 points and if it hadn't been for Bolton's 12 point deduction would have been adrift at the bottom by seven. The best odds available for an Oxford win are 2/7.  The biggest potential complacency trap of the season?
The standout game is Coventry at home to Sunderland on Sunday.
And now back to the risk to OUFC continuing onwards and upwards. Karl Robinson to Blackpool? Although there had been earlier rumours I'd just laughed them off. When an approach comes in that is different. I feel sorry for KR having to answer the question post-match not having talked to Tiger and the Board. I would have been a lot happier if he'd said no way am I going there I'm here to see the season out/fulfil my contract for the long term. Money of course talks as we know. What are Blackpool offering? I support Oxford United, nobody else.  Karl has managed MK Dons, Charlton and Oxford and in the future be that tomorrow, next week, next year or much further into the future will manage another club.
This timing is obviously far from helpful.
I wonder where Blackpool's money is coming from and how rich new owner Simon Sadler is. He founded Segantii Capital Management in 2007 which focuses mostly on investing in Asian securites. The markets are currently taking a big hit thanks to the Coronavirus.
Robbo's comments that he wants to know what our owners' plans are for the future came across as a little strange. I'm surprised that he didn't have some idea. I guess it boils down to two things. What will the budget be next season if we are still in L1 and if we make it to the Championship what then? That is a massive question. Think Burton. And probably Rotherham too. But there are financial fair play rules and if money is thrown at this in a carefree manner the ensuing financial burden can drag a club down much further than where they started from. The worst case scenario being to oblivion.
And this is without, "how much are you willing to pay to keep me then"?
I think he'd be nuts to jump ship now given what position he's got us into. But I'm a fan not someone who can hop on and off the managerial merry-go-round.
Watch this space. Listen to the five minutes forum. Turn up on Saturday. Hang on for the ride.