F.A. CUP 4th ROUND REPLAY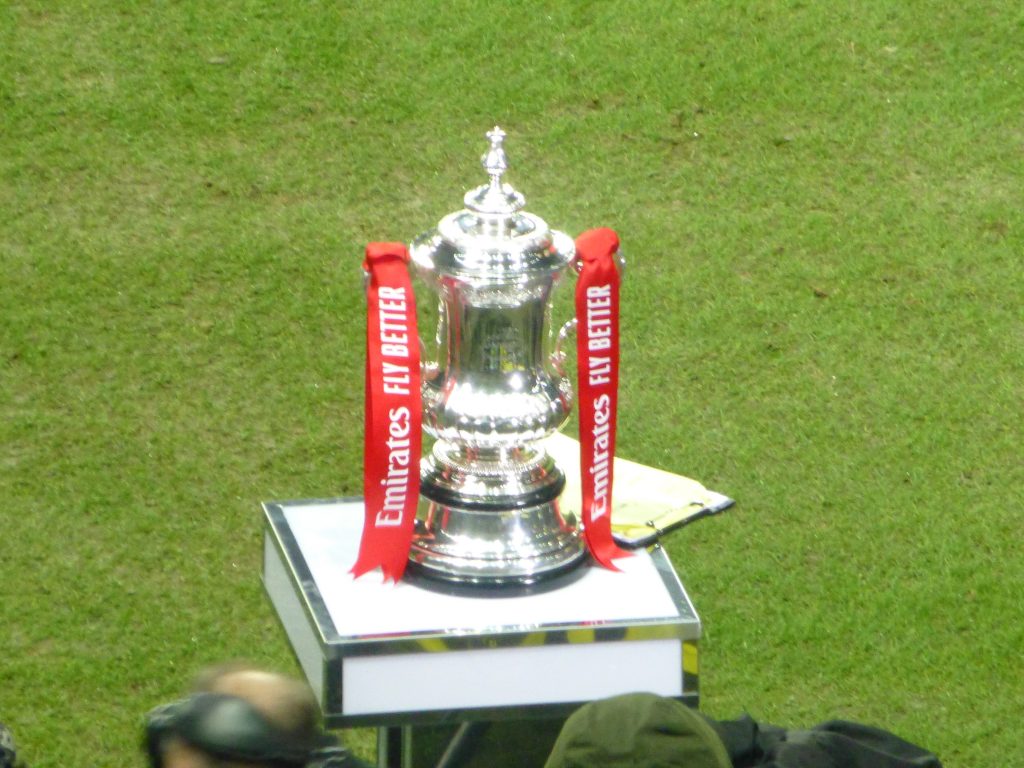 OXFORD UNITED 2 NEWCASTLE UNITED 3 (aet)
At least it is a leap year meaning that February contains 29 days in 2020 but it is still the shortest month and OUFC have to cram in nine fixtures during this period. And to think that some Premier League teams bleat on about how hard done by they are.
This was our second of those nine and what a game it turned out to be in the end but for a large part of the initial 90 minutes I though one sentence would adequately cover the game.
Here it is – Newcastle were bossing both the game and the referee and whilst we were not out of it we were never truly in it.
I felt that the score was likely to stay at 2-0 with them quite likely to add a third. The hope I had was based on the fact that Simon Eastwood wasn't being given a particularly difficult time. That said they were moving the ball quicker than us, had real pace and power when in possession and were closing us down really well and intelligently. Their top flight class compared to what we were showing was evident.
I admire the way we try and play our football in all areas of the pitch but there is a time and place particularly when your opponent has you sussed.
The Magpies first on 15 minutes came after Mark Sykes had played the ball back to Rob Dickie who was about six yards outside our penalty area. Dickie played it first time to Alex Gorrin who also with his first touch moved the ball on, this time back to Sykes who headed it towards Sam Long. In none of this did we look comfortable such was Newcastle's pressing. Our full-back lost out in the air.   £21m Miguel Almiron got a cross in. £40m Joelinton controlled and laid the ball to Sean Longstaff, who cost them nothing and the finish was emphatic. We had five players in the box compared to Newcastle's two and to be honest our defending was poor. The older Longstaff should have had someone much closer to him.
The alternative to playing the ball around in tight areas is of course whacking it forward which, if done in the right way and with the right players in the team, can have its benefits. Some players can play telling long passes that if a team has forwards making runs to get on the end of can be a very effective weapon indeed. I love our footballing philosophy and in no way advocate a hit and hope approach to the game but there are times when I'm screaming inside – and sometimes out too – to get the bloody thing away. Some teams have a man up front who can make himself a genuine nuisance in such circumstances. Jamie Mackie was better here than he has been recently but was never going to noticeably unsettle the Newcastle back line.
That goal came after a quarter of an hour. Their second came exactly another 15 minutes in. The debate on this one is whether Marcus Browne was fouled when the visitors took possession in the build-up. Like Fosu he's one of those who "tends to go down easily". There's that whole discussion to be had covering the issue that if they don't go down they don't get free-kicks when fouled. At the time I thought he did go to ground too readily but wasn't sure. Having seen it again I don't think it was a foul although I know many disagree with this view. In fact I think it was an excellent bit of stealing the ball by Newcastle and that Browne needs to be much stronger in such situations. Anyway, referee Peter Bankes who has just started to be given Premier League games to officiate wasn't helping the cause of the underdog in any way shape or form.  I thought Newcastle were lucky not to get more yellow cards than they did. When we started to play – and we most certainly did later on – there were times when the professional foul put a stop to our little game. A free-kick yes but rarely even a word. He for some reason chose to ignore push after push on Matty Taylor when he came on. Bankes also allowed himself to be surrounded by black and white shirts on occasion. More than once they tried to tell him that an Oxford player had gone in with stamping studs. They were clearly trying to get our guys booked and once it was even them that had committed the foul.
Once Browne had lost possession a long ball was the starting pistol for a race between Dickie and Joelinton. The forward was the quicker and went through to finish well. As this unfolded my fear was that Dickie would bring the forward down and as last man would have to walk. The finish was clinical although possibly a bit of a stubbing into the ground. I'm not a goal-keeping coach so I can't provide meaningful comment on Eastwood's positioning nor whether he did the right thing in coming so far then stopping, then slightly retreating. I suppose he could have ended up getting a red himself and it wasn't his fault he'd been so cruelly exposed.
The longer the second half went on the stronger we got and we started playing our football. Newcastle were no longer able to pin us down so tightly. We were certainly no more tired than them and if anything had found a second wind from somewhere.
Anyone having seen the team play since Browne's return would have been forgiven for thinking that any small chance we had of turning the game around would have departed with him when he was replaced by Liam Kelly in the 62nd minute.
That turned out to be very wide of the mark. Kelly immediately looked the class act in our ranks. The way he put foot to ball shouted superior technique and for the first time we had vision with probing passes being hit forward. Some were a bit of over hit but they were close to being on the money and we were at last asking real questions. Also Mark Sykes and Nathan Holland came fully to life.
Had we been playing a waiting game all along? With those two doing what they were now doing it was a case of Baptiste and Fosu who? Earlier in the game a player in black and white stripes produced a wondrous twisty turny movement which got the Geordie's singing that "always taking the piss" thing. Now Sykes matched that.
Dan Agyei came on for Alex Gorrin with 18 of the 90 minutes remaining. Any worries about losing something in midfield were unfounded. Karl was playing a great game and planning for Posh on Saturday at the same time too.
It was Agyei who was deliberately brought down to win us a free-kick a few yards outside the box. As Kelly was about to take it there were comments nearby about the kick hitting certain cars in the car park. I was thinking hasn't what this lad been doing registered with you? "It's going in" I said and I genuinely believed it would.  And it did. The Geordie cup keeper, Karl Darlow, got a hand to it having taken a couple of steps then a dive but couldn't keep it out because it was too good for him.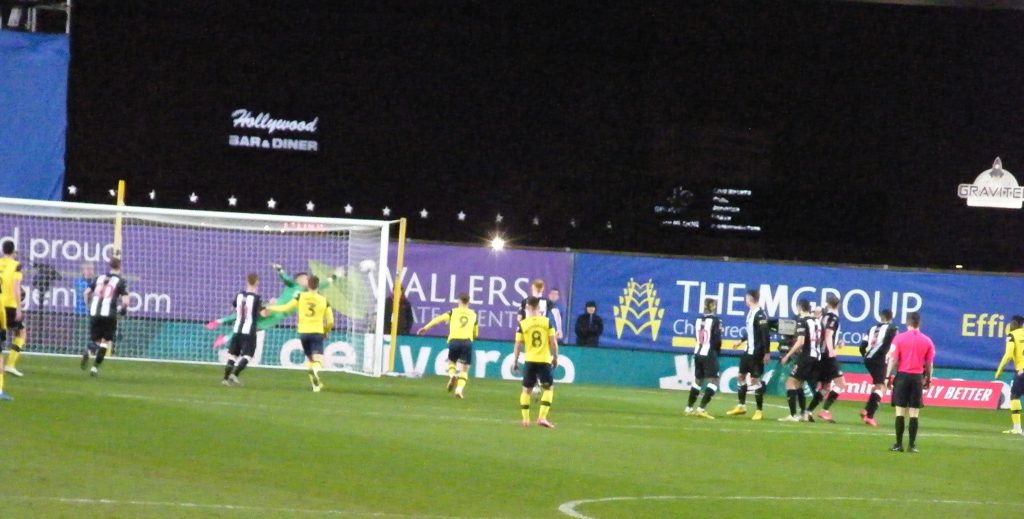 Our first. Photo, Simon Jaggs
We were giving it everything and some but were going to go down fighting. It's desperation when a keeper goes up for a corner or free-kick in the very last minute and I'm not a great advocate of that because I think they're just as likely to get in the way as help the cause.
Final minute, up Eastwood goes. There will be a goal. They'll break away and seal it by placing the ball into an empty net. Kelly launches a free-kick from the centre-circle. Long wins the header on the corner of the penalty area. A defender is marking Eastwood. Josh Ruffels jumps with another defender. The ball is knocked away from the goal and there is to be no mad scramble. But wait it's going to Holland stood right on the edge and a first time volley that seriously could not have been bettered gives us another thirty minutes.
This is incredible and we are in the ascendency. Fair play to the travelling fans they didn't turn on their team they just kept supporting. Any anger and frustration they had is all directed at Mike Ashley who they want to **** off away from NUFC.
Extra time saw an end to end game of football with both teams having chances but unfortunately for us it was again a bit of Premier League class that won the tie with just four minutes remaining. £16m Allan Saint-Maximin ran at Long who retreated, cut the ball past Dickie, then left E-T sub George Thorne on his knees before thrashing a pile-driver past Eastwood. We had the opportunity to bring him down outside the box and with other players on the scene the card shown would not have been red. Just saying. If the attacking boot had been on the Oxford foot and not the Newcastle one I think that's what they would have done and we would have gone mad.
The madness that ensued was in the form of wild celebrations in the away section and also amongst the Newcastle staff on the bench which tells so much of how hard we'd pushed them. Sometimes emotions just can't be held back – that's what makes football such a sport to be involved in and addicted to. There's one Newcastle fan of course who got a little over excited and celebrated in a way that's not for family viewing.
There was no coming back this time but out we went with our heads held as high as they can go.
That might not be how the players feel though and they've been taken away for some rejuvenation to a spa. On Saturday they have to do battle with Peterborough who are now bang back on form having won their last four league games (we've not achieved such a run this season). They've got Ivan Toney, the best striker in L1. They've brought in Sammie  Szmodics on loan and he's scored four goals in three games meaning Mo Isa is now only on the bench. They didn't play 90 minutes let alone 120 four days before our visit which I can honestly see being as testing as the Newcastle game. And it is almost certainly more important.
We need to dig deep and deeper still. On Tuesday our boys showed that they are capable of doing so.