F.A. CUP ROUND 4
NEWCASTLE UNITED 0 OXFORD UNITED 0
On 4 Jan 2003 we lost 2-0 to Arsenal at Highbury in the third round of the F.A. Cup and with each passing year since then I've more and more thought we really could do with another away FA Cup tie against a big Premier League team in one of the country's biggest and best stadiums where we would take thousands of supporters.
That day finally arrived on Saturday. Our last visit to St James' Park was way back in 1993 for a Second Division league game. The ground has been developed to such an extent that it bears little resemblance to what it did 27 years ago. It is the seventh largest football ground in England by capacity, holding 52,405.
As everyone will know away fans are situated high in the sky on level seven in the Leazes Stand West. I'd heard tales of vertigo and being so far away that it was difficult to make out much of the action.
It's claimed that the distance from the back of this stand to the center spot is a quarter of a mile.
As I'm not great with heights I carried with me a little apprehension as I climbed step after step but on coming out the other side found the view to be absolutely superb. Okay, the players are not as close as at AFC Wimbledon (that's an understatement if ever there was one) but every part of the game is there to be seen and taken in. Even though the far end is obviously some distance it still felt like I was staring down on all the action. That's how I like to see my football these days as an old man. More about the tactics, the chess game, the movement off the ball than the leaping up and down crammed in lower down behind a goal of my youth. (Yes, yes. I loved the Manor. Still do).
This turned out to be an almost perfect weekend. A win instead of the draw would have seen to that but I shouldn't be greedy and having to face the Magpies again a week on Tuesday was a fair outcome on the balance of play.
Like many I took the opportunity to stay a couple of nights in this very fine and friendly city with some mates. My only regret is that I only got round eight of the fifteen real ale pubs on my list of drinking establishments to visit. For quality micro pubs I've never come across a city like it and there are so many of them that most are not crowded.  If I'd disciplined myself to move on after one pint each time I might have got the lot ticked off but that's not the way it works when you're with a group of people, you keep seeing loads of other Oxford fans and it is impossible not to get into conversation with the locals. I do now of course have an excuse to go back, I liked the place that much.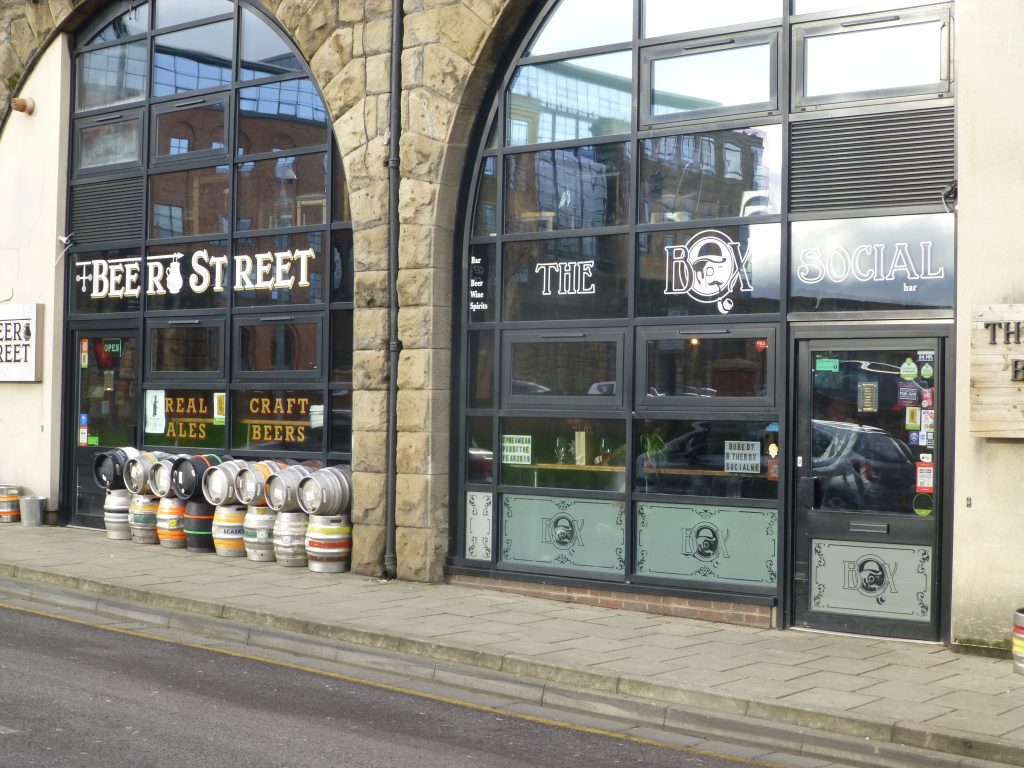 Not far from one micro pub to the next
It's been well documented that this was the biggest attendance we've played in front of other than at Wembley and the game did have a special feel about it. NUFC have to be congratulated on setting the prices at a level that achieved a sell-out for both home and away fans. Whether the 48,511 Geordies there were mostly those that turn up for League games I don't know. They might have been fans who can't afford Premier prices and thought they'd get in there when they had a chance whilst the regulars who feel that they're being screwed over by Mike Ashley decided they'd have a rest day as it was only little Oxford.
A full ground equals atmosphere and there was one here but from where we were sitting (make that standing for 95% of the game) it was us lower league types who were making the noise. This may have come across differently from other sections of the stadium. When I say "us" I don't particularly mean me because I'm too ancient to be singing throughout and I get caught up in the tension of the game focusing almost 100% on what's before me.
It was a nail bitter. Well as we did throughout, I had this horrible thought that one little slip or special moment from them (they are top flight, we're not) would be enough. Scott Parker right at the death for West Ham in the League Cup in 2010 kept popping into my mind.
But the game remained goal-less and ignoring what Newcastle brought to our big day out that highlights where we're at right now. Defence pretty much sorted but we've stopped scoring goals.
Rotherham was a bit of a bad blip defensively when we let in three but we've only shipped one in the last three games and here it was a Rob Dickie/Elliott Moore combination which bodes well for the future.
We've failed to score in three of the last six games and although we had plenty of players on the park capable of scoring a spectacular goal, you wouldn't describe any of them as finishers in the true sense. Matty Taylor is that, provided the chances are created for him. He's close to a return. The same can be said about our leading scorer James Henry. This is something else that bodes really well particularly as we have to contend with two games a week throughout February.
And we have Cameron Brannagan also likely to be ready again soon. On the bench here we had George Thorne who has been out for four months and Jamie Hanson, another who has been treated cruelly by injuries, came on in the last minute. The midfield options have now increased many fold. Nearly forgot the not quite yet match fit Liam Kelly too.
Our style of play is such that in league fixtures we usually have more than 50% possession. The Geordies are the opposite whether by design or because they can't get the ball off their opponents and keep it. Their last two Premier League home games against Chelsea and Leicester saw them with the ball just 30% and 23% of the time.
Saturday was very different for both teams. The stats for possession gave the home side 62%. You'd probably expect that given where each side resides in the football pyramid but it would also be a bit alien to what they are both usually accustomed to. In these circumstances a 100% fully focussed professional performance was required from us and that's what we got.
We kept great shape all game long and not only did we match Newcastle in the fitness stakes but remained mentally alert, not once switching off for even a brief moment.  Bodies were placed between striped shirts and our goal and shots were blocked when need be. Simon Eastwood did everything that was asked of him and not one chance was fashioned by the home side with the "definitely should score that" label attached to it.
Every man in a yellow shirt contributed fully and I could hardly believe what I heard at half time. "We're playing with ten. And Mackie." "All he does is give free-kicks away". I've said in many of the last FVs that he's not playing well at the moment but in the first half I'd actually thought that he was doing his harrying in a sensible way. On one occasion I recall he got close to a Newcastle defender but then hung back slightly instead of making contact, placing himself in a position making it difficult for their man to play out. Result, a throw to us. To be honest I can't remember him giving away a free-kick but he probably did. The task he is asked to do is a thankless one and it is not as if we've got many options to fill that role. That said I would have liked to have seen a few more minutes of Dan Agyei but looking good against Hartlepool and Gillingham doesn't mean the same will necessarily be so against a top flight team.
On the subject of giving away free-kicks, Mark Sykes and Alex Gorrin each took a yellow for the team which again yells, job to do, professional approach needed. Cynical perhaps but every team does it. We should be no different. The punishment was totally appropriate as was being put in a position whereby if they'd done it again they would have been off.
Sykes has improved the more game time he has had and it could be argued that this was a true coming of age game for him. Just over a year ago he was playing for Glenavon in front of 1,200 people.
Gorrin was instrumental in securing this draw. It was a game made for him. With only a minute of normal time to go and on that yellow, Karl reasoned it was the right thing to do to take him off. Sensible, low risk but I rated him so highly that I would probably have left him on.
There are many others who are worthy of an individual mention. Sam Long had one second half run where one had to check that the number on his back was 12 and not 30.
It was in this second period that we became much more of a threat going forward and had a spell where we knocked the ball around delightfully and got more men forward. Chances started to materialise.
Marcus Browne looked the man most likely to.  We know he can play at a higher level than L1. In situations where Tariqe Fosu might lose the ball Browne didn't. After showing his pace down the right he placed a left foot shot just wide (or possibly a lot wide, it was hard to tell being where we were) and then had the best opportunity of the entire match. Gorrin robbed the ball and then with total determination beat another Newcastle player before driving forward. The sprinting Browne took his pass on into the area but was unable to apply the brakes meaning he couldn't get the ball properly out from under his rapid feet. He was unable to set himself for a composed finish, instead the shot going straight at keeper Karl Darlow. That was in the 70th minute and we came quite close again in added time when another pacey run, this time from sub Nathan Holland, ended with Darlow being forced to make a good save.
Every game now Dickie wins a ball from a corner but gets under it to send it over the bar.  If he could perfect the technique required to execute this effectively we would be winning more games than we are. Like here, for example.
Newcastle fans booed their team off and Steve Bruce, their manager, considered it "a poor performance all round". We were to them what Hartlepool were to us and if we'd not beaten the Monkey Hangers there's no doubt I would have been pissed off. However I didn't think that Newcastle were that bad and at times could see that they are a Premier League outfit. It goes without saying that they're no Liverpool or Manchester City but other than a small handful of other teams, the rest are much of a muchness. The bookies have the Geordies as the seventh most likely team to get relegated. Even though they don't score many goals – only Watford, Bournemouth and Palace have got fewer – I don't think they'll drop to the Championship.
They regularly moved the ball first time and had some in their ranks who could go past players but were not quite switched on enough to make it pay. The best example of this was £40m Joelinton's first offside goal. The blame for this not counting has to rest with £16m Allan Saint-Maximin for not releasing the pass sooner. Very much the right decision by the linesman and we had VAR as back up should the goal have initially been awarded.
At the time I thought Joelinton's second would be awarded because it was a back pass he latched on to but had not seen that it was a blocked clearance that made its way to him in an obvious offside position.
I'm probably in the minority but I'm a big fan of VAR (but often not in the way it is currently being used/not used) and rightly Joelinton did not get a first half penalty when he just went to ground when not touched by Josh Ruffels. He was quite lucky to escape a booking but he did get up in an instant and got on with the game.
The re-match will be very different. A crowd only 20% the size of Saturday's. Ticket prices more than double (and the rest) and quite rightly so. No VAR just first time human decisions/errors. But I'm once again anticipating tension, a cracking game and of course that packed to the rafters cup atmosphere.
Now we must forget that and think about Blackpool at home this coming weekend. We have not won a league game in 2020. It is imperative that we get back on track in this competition which is after all the bread and butter stuff and what we'll ultimately be judged on. We've now slipped to 7th and will likely drop a bit further as we've got a Bury day off on Tuesday. All other L1 teams are in action this midweek.
Chatting to some of the friendly locals