IPSWICH AT HOME
The opposition
Ipswich are a team we have not played this century. Our last encounter was on the 20 Feb 1999 in a league game at Portman Road when we lost 2-1. Our goal scorer was Christophe Remy and manager Malcolm Shotton, two very different characters. Football has changed a lot since then. It has become more Remy than Shotton.
From 1968/69 to 1985/86 Ipswich operated in the top flight in those long forgotten days before the Premier League. They were very much established at that level and if the Champions League in its current format had been around at the time would have benefitted from the profile and riches that competition has to offer. During those heady days they finished 4th twice, third three times and second twice.
After relegation in 1985/86 there were seasons in Division 2 which they won in 1991/92 to get back to what had by now become the promised land of the Premiership. After finishes of 16th and 19th they then came bottom.
At the fifth time of asking they went back up and on their return in 2000/01 only Manchester United, Arsenal, Liverpool and Leeds finished above them meaning they were in that now long gone tournament, the UEFA Cup, the following season. A season which saw them go down again and since then they remained at Championship level for an eternity. That must have been boring so perhaps dropping down to tier three to meet the likes of us wasn't so bad for them after all.
For some fans winning lots of games in an inferior competition has more appeal than getting beaten regularly by better opposition.
They definitely set about giving their supporters a strong message that they would not be having Accrington and Rochdale on their fixture list next season. They remained unbeaten in the league until 20 October. They then lost two on the spin but got back to winning ways in the next two but if anyone thought they'd got over a minor blip they were very much mistaken. They drew five and lost four of the next nine league games before brushing Accrington aside on Saturday. That's all it took to get them back above us. These nasty runs can creep up on a team. Have they stopped the rot? We're obviously hoping not as three defeats in a row damages morale as well as league status.
To the year ended 30 June 2019 ITFC lost £3.2m before tax even though they made a net profit of £5.4m profit on trading players. Turnover was £17.7m but this didn't even cover their wage bill of £19m. That's a great big Championship level warning sign. Now being in L1 that turnover figure (gate receipts £4.6m, commercial income £5m, and EFL including TV and radio fees £8.1m) will reduce and player contracts don't disappear.
Their net debt is £96m mostly covered by loans from other companies owned by Marcus Evans who is the majority shareholder of the football club.
 Oxford United 0 Ipswich Town 0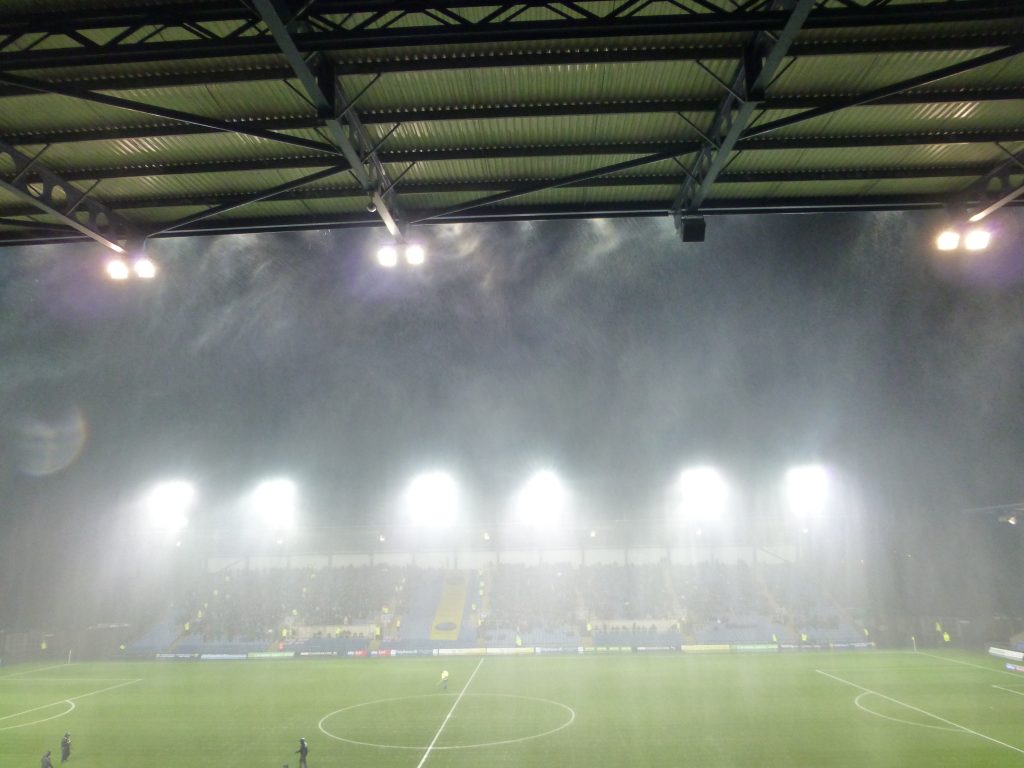 To state the blatantly obvious the overarching theme of the night was without doubt the adverse weather conditions. Before leaving home I usually take a peek at the BBC weather forecast in order to decide how many layers of clothing are needed and whether waterproofs are required. Light rain it said turning heavy for an hour at 22:00. No real problem then. I'd not bothered to research the strength of the wind but driving down the M40 soon realised that would be a factor thus decreasing the likelihood of pure football being played and increase the likelihood of the outcome being decided by lottery. It's the same for both sides of course so can't really grumble although I bloody well will. I'm allowed to at my age.
What I had not anticipated was what fell out of the sky at the rate it did just before kick-off. Given the gale, the rain attacked both pitch and players at an angle of about 20 degrees. In all my time watching OUFC I cannot recall anything quite like this at a home game before.
I thought referee Tom Nield dealt with the downpour very well indeed. I absolutely do not agree with the booing, particularly from the Jim Smith stand, when he brought the players off. By then there was so much standing water around the centre of the field that the ball just wasn't rolling. Not only does that make proper football almost impossible to play but it also puts players at risk as challenges are more likely than ever to be mistimed when the behaviour of the ball becomes far from consistent. The players' safety and whether the game will become a farce are two things officials are told to consider when deciding if pitches are playable or not.
The quarter of an hour break worked as the rain stopped and a team of forkers got forking.
Such a playing surface does not help our normal style so perhaps we were a little more reluctant to see the game resume than the Tractor Boys who were better prepared for hitting it long. Perhaps they were just more adaptable than us.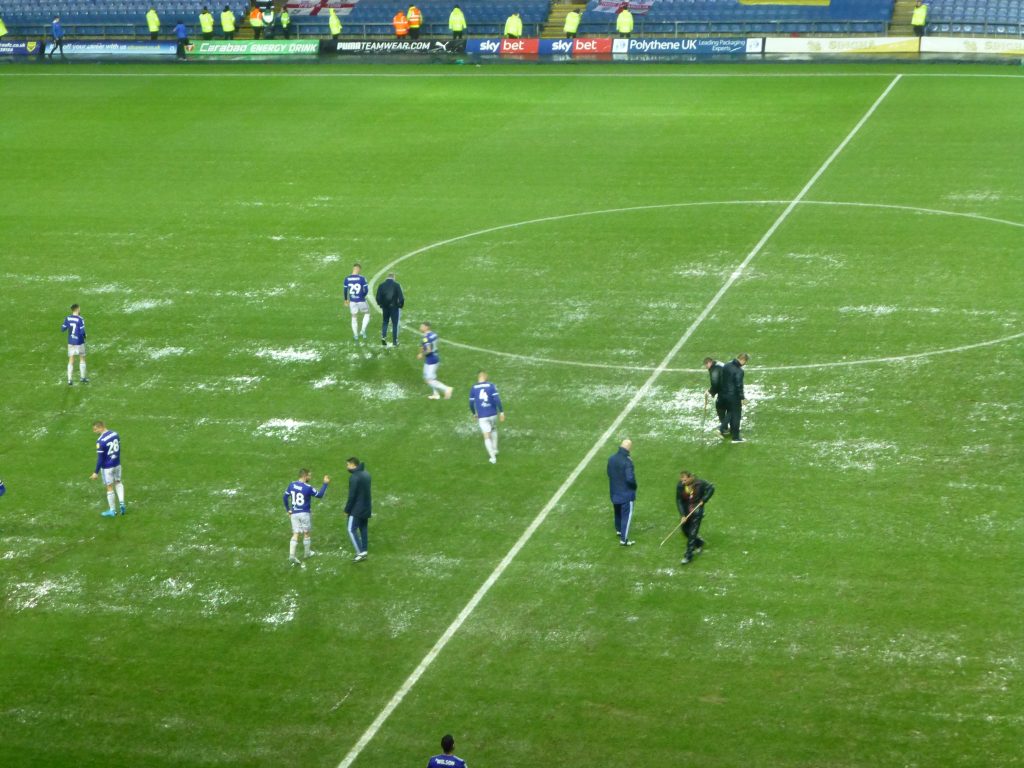 There's many reasons for our decline in form and the lack of pristine(ish) late summer/earlier autumn pitches may be one of them.
Putting the inclement weather to one side there was much here from Oxford that mirrored recent efforts. We again did not play well but were much better in the second than the first period. Karl Robinson, without question, understands football much better than me but I can't go along with his opinion that these were two Championship level teams. On viewing this I would have said mid-table.
Again we had many players nowhere near their top form and we don't seem to be playing as a collective unit.
When I saw the team sheet I thought this could be exciting if we can get our attacking going but had a concern that we had selected too many flair players. Players whose natural instinct is more to run with the ball than look for a simple, or even inventive, pass.
The huge positive to be taken is that we kept a clean sheet, the first since Boxing Day. This is even more remarkable because a couple in the rear guard are struggling to varying degrees.
Josh Ruffels has played in every league game this season to date. The only games he has been spared are a couple in the EFL Trophy, Millwall in the EFL Cup and Hayes & Yeading in the FA Cup. He's noticeably looked more tired and battered these last few games. We've had no authentic cover at left back so he just keeps going and keep going he did here again to his credit.  It was he who hit the best shot of the game with about a quarter of an hour to go when for the only time either keeper had to throw themselves through the air to prevent a goal. But it was that sliding tackle in the first half where he won the ball as two players skimmed across the surface both with 100% determination to take possession that will stick in my mind more. It was JR who was up and away down the wing. He went for something similar at Pompey and got hurt. The no holding back shows what he will give for our club.
There is a marked contrast regarding the situation at right back. With the now departed Chris Cadden having been first choice, Sam Long was not getting shagged out. This was only his fourth start in the league this season. The sponsors of late have been much more on the ball in picking their man of the match. Long was their choice and I wouldn't argue against. Coming forward towards the covered end he played one low pass into the Ipswich area which went straight to an opponent and there was a bit of muttering but other than that I can't remember him doing anything wrong. His defending was strong and when in the second half we were a bit under the cosh he won two great headers and even managed to keep the ball in play instead of just settling on getting it into touch. It's not often one talks about a defender looking fresh but he did even though he, like all the others, was completely drenched.
For me Rob Dickie was a worry. He again nearly got caught out for pace, no longer looks commanding and isn't bringing the ball out from the back. Yes the conditions were a big factor but his body language didn't look great. He didn't seem to be a happy chap. Another who needs a rest? He has only missed one league game. Would a John Mousinho/Elliott Moore combo work?
Mous had to work hard to get near to his now customary assured and intelligent performance and got away with what looked like a nailed on penalty. However, as a foul on him a second or two earlier wasn't given, it was a case of two wrongs making a right.  Nield probably making allowance for the conditions or at least using it as an excuse for getting a few things wrong, like missing so many pushes by the men in blue. Will Keane was a culprit and a handful.
When dishing out particular praise for those helping secure this clean sheet, Simon Eastwood and Alex Gorrin have to be included too. Our keeper coming way off his line and out of his box to tidy up well when we looked vulnerable and our midfield worker putting in exactly the type of shift needed in the circumstances as he did his usual stuff. It would have helped the cause no end if others had followed his example.
I was greatly disappointed in some. Have I fallen for the Shandon Baptiste hype? He clearly has talent to dream of. He produces eye popping dribbles and can hammer a ball goalwards from distance but winning football matches is about a lot more than that. He didn't get involved in a meaningful way, closing down, wasn't looking for the ball all the time when we were in possession nor seemed to play the simple pass. More likely to dribble until caught.
I thought Nathan Holland was even more anonymous and Tariqe Fosu was light weight and easily brushed aside.
I'm probably again being harsh to all concerned but this was a day for picking those you'd want alongside you in a battle when the chips were down. On that note I have to stand and applaud Cameron Brannagan. We only saw just over 20 minutes of him and we now know that he is playing in pain but what an example he set and others should take note. He did things they were not. Harrying, looking for the ball at every opportunity, playing sensible simple passes and immediately getting into a position to get it back again. We need him back fully fit.
The only two starters I've not yet mentioned are Marcus Browne and Matty Taylor. There was some wild talk of securing Marcus's services again after his loan spell with us last season but that was never going to happen once a Championship team came a calling. My disappointment was only mild because he's another player who frustrates with his lack of passing.  I was happy though when I learned we'd got him back again as things have not really worked out for him at Middlesbrough. For much of this match he looked our best player. A strong speedy runner with the ball, he was our most likely source for getting through the Ipswich defence and creating a goal either for himself or a colleague. He did look Championship class. However by the time he was taken off in the 84th minute I had again become frustrated with him as that running with the ball too much became more evident. The reason for this though may have been that others were not operating on the same wavelength as him or with the same speed of thought.
Taylor got no service and at times showed his displeasure at this. A prime example being when a Dickie clearance went into touch. He wasn't under much pressure and if he'd aimed it 15 yards to the right instead our only true predator would likely have had a run on goal.
That's now just one point gained from a possible nine and on Saturday we travel to Gillingham who have won four and drawn one of their previous five league games letting in just two goals in the process. That run includes beating Sunderland and drawing with in form Pompey.  The Gills are 14th but only six points behind us in 5th. Four teams are now in a position whereby they could climb above us in the table if they win games in hand.
There's plenty that has to be sorted out otherwise we'll soon find ourselves in the middle of the chasing pack instead of being one of the front runners. That wouldn't mean promotion would be a write-off but it would be a damn sight harder to achieve.