SUNDERLAND AWAY
THE BUILD UP
Five days to go
Still no signings since Tariqe Fosu joined a month ago. So no centre forward. So no centre half. Whilst that remains the case I'd say we don't have a strike force fit for purpose and likewise regarding the defence. That's not meant as a criticism of those we have in the building, it's just that they need help, big time. It's not fair on them otherwise.
As so few bodies have come in that must mean a sizeable portion of our, albeit slightly reduced, budget has not yet been spent. Why is that? Is it that most players we are after just don't want to come for whatever reason or are made better offers elsewhere? Could our negotiators not be up to the task? Or given our poor financial well-being, the budget is rather more reduced than we've been led to believe?
As matters stand I can't see us getting anything at the Stadium of Light (but as ever hope to be proven totally wrong) so found odds of 3/5 on a home win too good to ignore and place. The leftover drinks kitty is now Bet365's. Well most of it, we have one dissenter who thinks its sacrilege to back against the Yellows, and I kind of agree with him. His share has gone on an away win at 11/2. Good odds but I'd say incredibly unlikely.
Sunderland are the bookies favourites to be champions at 7/2. We're 25/1 which I think gives no value whatsoever. The only teams they think have a much better chance than us are the Black Cats, Ipswich, Pompey, Rotherham, Peterborough, Lincoln, Burton and Doncaster.
You can get 500/1 on Bury and 150/1 on Bolton. Lifted from a Bolton fan on Facebook, "the season starts on Saturday and we've got 6 players, none of whom have been paid since March, no owner, no safety certificate for the ground and we start on minus 12 points".
I don't wish such a situation on any club (well perhaps one or two) but as we've not yet reached that level of misery it does make me feel marginally better about our plight. My mind-set at the moment is to find four teams that are worse than us and will finish below us. Having a 12 point start on two of them helps.
It's that time of the year again when Piers Pennington gives his opinion on how OUFC will do in the When Saturday Comes Season Guide. He says, "We finished the season in promotion form after looking relegation certainties for a lot of it so the fringes of the play-offs might not be out of the question. But continual murmurings about unpaid bills and the club's finances could derail any ambitions in that direction". Quite.
Four days to go
News has broken that Bury have had their opening day fixture, when they were due to host MK Dons, suspended by the EFL. They'd been given until 5 p.m. on Monday to provide evidence of their financial viability. They are now to be referred to an independent disciplinary panel for further investigation with a decision on their second fixture away at Accrington yet to be made.
Bolton though were given the go ahead to play their match.
It goes without saying that football, other than at the very top of the tree, is in a real mess financially. Perhaps we're at a tipping point now. It's impossible to keep loss making businesses going year after year. Something has to give.
How far are we from becoming a Bury?
Meanwhile back in the market place there has been activity involving OUFC.
There had been talk in the press for days that Gavin Whyte was off to join Curtis Nelson at Cardiff so it certainly was no surprise when the official announcement was made. We don't know how much he went for although £2m is being mentioned or some figure "north" of that amount whatever that means.  Purely from a financial point of view that is good business as we only payed £100k for him from Crusaders a year ago. So a massive pat on the back to whoever got him into our club in the first place. The side from Northern Ireland take 10% of the selling price and I hope we have been similarly astute in this latest deal.
If the debt to DE hadn't already been fully paid off that's what this money will end up being used for.  It's that Schedule One, Material Contracts in the Registration of a Charge document from Feb 2018, "…. and any other contract, agreement or other arrangement under which payments maybe, or become due or payable to OUFC in respect of the transfer of the registration of any football player".
The quicker that debt is wiped out the better. We're a club running at a loss who will always be waving goodbye to saleable assets.
We won't know if £2m was a good price until we see how GW does in the Championship. Much as I have had lots of time for lots of Oxford players over the years and have marvelled at some of the things I've seen produced, there are genuinely very few players that excite in the click of a finger and get you out of your seat. Whyte is one such player when in full flow and when sprinting at defenders there were many times when I thought he'd played the ball too far ahead and was bound to lose it. His opponents thought that too and were as astounded as we were in the stands when he continued on his way. I'd like to know who is the fastest, Whyte or Marvin Johnson. Pace is such an asset but Whyte has more than that. He also got round markers with skill.
At times I thought his shooting let him down a bit and he was far from the finished article having just one season in English football but seven goals from 29 league starts was an impressive return.
The men in the Championship trying to stop him in 19/20 will provide a bigger challenge than he has faced to date other than in his time in an international shirt. They may be quicker and I suspect possibly a little cleverer in standing off and denying him space. We shall see but other than the sell on clause if there is one, it doesn't really matter.
It's disappointing but we've got the money and he's gone. Good luck to him. We move on.
The subsequent announcement that we'd got Ben Woodburn for a year just about cancelled this out. This could turn out to be something very special but I'm not going to make assumptions that it will necessarily be a success. The young man has proven what a talent he is but that was mostly a couple of years back even though he is still only 19 years old. He only got one start in the time he had at Sheffield Utd last season and struggled with injuries.  The general view on social media from some Liverpool fans is that he's not up to it for them and perhaps L1 is his level. I'm still quite excited though.
But still not got that vital centre half and centre forward. Yawn.
Three days to go
Another signing, Anthony Forde on a two year deal from Rotherham having turned down the Millers' offer. So as far as wages are concerned we can out bid a club that has just been relegated. He will be something of a replacement for Whyte bringing our number of wingers in the mid twentyish age bracket up to three.
Nothing mentioned about a centre-forward but a very strong indication we'll be getting centre-half Elliott Moore from Leicester. He's 6 foot 5. I can't recall us having a defender that tall before. Seems the Foxes rate him but clearly not highly enough for first team duties any time ever. They've valued him at £750k apparently so we'll be paying to get him if indeed it does come off. Something is needed on this front.
Meanwhile Rob Dickie has signed a new two year contract. That's okay.
And so too has Karl Robinson. His previous contract ran out in the summer of 2020 but now that's been extended until 2022. I'm a lot happier about this than I would have been if it had happened in the first couple of months of this year.
Two days to go
We're no longer looking so short. Moore is now ours on a three year deal. To get him we've had to pay an undisclosed fee. Given what Leicester thought he was worth I'd guess at something like half a million which is a load of money for a club our size particularly with our state of indebtedness. I could of course be well wide of the mark but this is evidence that perhaps we do have some ambition after all.
From the official Leicester site, "Moore, who captained OH Leuven and earned a reputation as a commanding figure in central defence during his time in Belgium ………."
I'm getting even more excited now.
One day to go
Headed north with no further signings to report. I felt surprisingly ready for the marathon of a season ahead. The big question – are the team?
MATCH DAY – SUNDERLAND AFC 1 OXFORD UNITED FC 1
Two things stood out for me in the 90 plus minutes witnessed at the Stadium of Light. First how well we played, particularly given the pre-season and lack of signings for so long with there still being an apparent glaring gap in the squad. Second the (perceived) downright rank performance of the officials which I sincerely hope has not given notice of what we're going to have to suffer between now and May. It gets worse doesn't it?
I'll start with referee Peter Wright, who before last season had not officiated above National League level, and his side-kicks.
As always I'll hold my hand up (and probably get booked for it being in an un-natural position) and admit that there's bound to be an element of bias in my comments. I've never thought we've had all the luck in the world from any referee as far as I can remember but time and again have felt incredibly hard done by. And so it was here, and some.
At the end of the game at least half of the excellent 1,122 travelling supporters joined in the refrain of "shit referee, shit referee." A couple of fans who are usually quite restrained in their opinions and whose views I have a lot of time for didn't hold back. Top photographer Steve Daniels posted a few of his pics on FB with the comment, "Great goal, good result, but what a shit ref". Regular post-match Radio Oxford caller Tim thought the ref had to be on the take with the EFL clearly wanting Sunderland back in the Championship. Was he joking?  I'd say there was enough evidence to say not.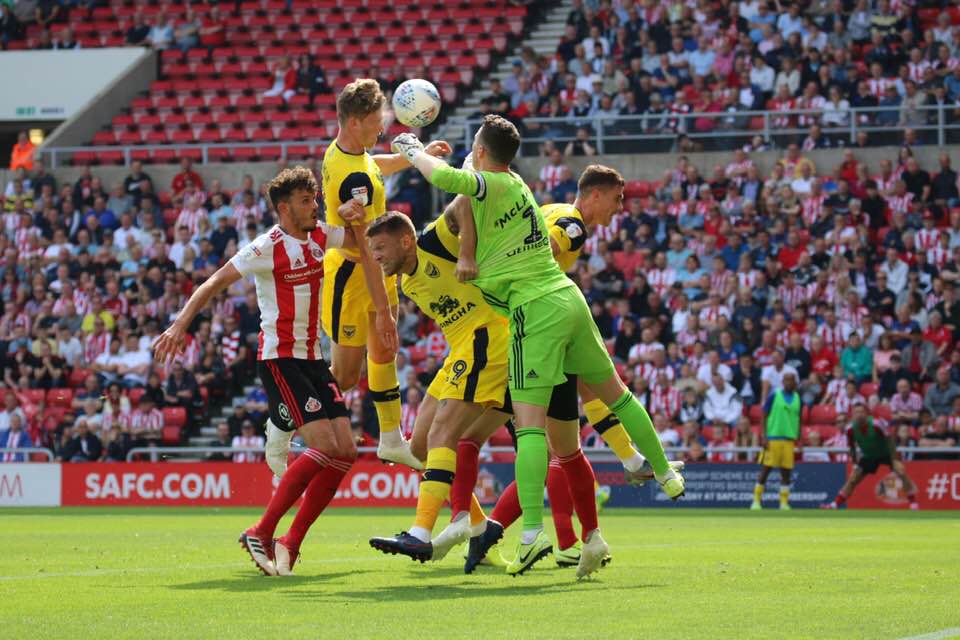 There's the evidence. Photo Steve Daniels
At the time I could not see anything wrong with Rob Dickie's disallowed goal which would have put us 2-0 up. However, photographic evidence clearly shows Jamie Mackie with a handful of keeper Jon McLaughlan's shirt. That's a foul. A brilliant spot if indeed Wright did spot it. Could he just have guessed there was an infringement? In the second half there was an extended arm double handed shove into Mackie's back. We could see it from the other end of the ground. From a few yards away Wright let play go on.
We ended up with bookings for very little or nothing whereas constant fouls on Fosu did not result in a card being brandished. I also thought the challenge on young Ben Woodburn when he nicked the ball through to set up the goal was quite a nasty studs up affair. No card.
Under the new laws of the game though Cameron Brannagan's yellow was correct in that he didn't leave the field of play when substituted as he is now supposed to.
As for the penalty: on the day I thought it was as did some around me but others were just as adamant that it wasn't. If Josh Ruffels did get a touch on the ball Wright didn't see it or if he did he decided to ignore it. The Sunderland player made sure he went over and it was one of those where we all felt "he couldn't wait to give it". I reckon if the boot had been on the other foot we would have suffered a card for diving.
On one occasion when the home side were awarded a free-kick Wright side footed the ball back to the man in the red and white shirt which meant that they could get on with the game quickly. I thought that was an absolute no no. He never helped us out in similar fashion but then again he didn't give us that many free-kicks.
As the game neared its conclusion it had an air of he's going to keep giving them things until they score about it. A great bit of defending when a 50:50 challenge right on the edge of the box resulted in the ball shooting up in the air was deemed, to the ire of the yellows behind the goal, to be a Sunderland free-kick. Thankfully Chris Maguire didn't take it and we blocked it well with the ball ending up once more just outside the box in our left back position. Nothing seemed to happen before the linesman waved his flag. He'd conjured yet another free-kick out of thin air. It had gone beyond ridiculous.
When even Wright realised we weren't going to buckle despite his efforts, he ended the game when we seemed to be about to do a bit of attacking. Funny that.
One last incident deserves a mention and if someone can help me out I would be grateful. Of our very few chances in the second half one was a Robbie Hall shot which was blocked by a Sunderland defender who went down. We retained possession to the right of their box when seeing the man down Wright stops the play. The trainer comes on and gives treatment and off goes the supposedly injured player.  The game is restarted with a Sunderland free-kick, the not really injured man is immediately waved back on and sets an attack going. I may have missed one of the many new laws but I'm utterly confused. We were in possession in quite a dangerous situation and then this happens.
It's a shame there has to be so much talk about this ineptitude because I'd much rather all focus was on the tremendous performance the Oxford side put on.
On the train back to Newcastle a Sunderland fan told us that he thought we were the better team and deserved to win. "You were more organised than us", he said. That is really good to hear. Organisation and shape is so important. It tells that a team is playing as a unit and that's how I saw things for much of the game and at times I was hardly aware of who was actually playing for us. (Perhaps that's an excuse for not yet being used to the new players in our ranks).
With a bit of thought though individual performances can be picked out and not one player let the side down.
Simon Eastwood made one outstanding save to his right and played with a lot of confidence but thanks to those in front of him he hardly had any efforts on target to deal with.
At right back I like the look of Chris Cadden and in the middle Dickie was immense. Perhaps he can fill the boots of now non-playing Cardiff substitute, Nelson. I don't remember him looking this assured on the ball before even though he's had a go at it previously. Alongside him Mous didn't let us down.
We had bodies in midfield all the time and allowed the Black Cats very little space there. That is largely down to the work rates of Brannagan and Alex Gorrin.
When we were really playing some great passing football and were on top in the first period James Henry was producing some incisive angled passes that from up in the gods had to be admired.
That Fosu could only be stopped by being brought down told us what an asset he could be and if only he'd got his finishing boots on earlier than he did he wouldn't have missed what looked like a sitter after good work with Brannagan early on.
It was a surprise that Mackie was able to last the entire match and he was at his "shithouse" best. I genuinely mean that as a compliment. He plays on the edge as many who play that thankless role on their own up top do. Take note of the way he came up with a little block on the defender as Fosu ran through to score. Missed by the referee, thankfully.
All in all a very good start and it wasn't far off being so much better. We mustn't get carried away though because as far as gelling goes Sunderland with only one outfield player from their starting line-up in May's play-off final are probably even more of a work in progress than we are, and that's saying something.
Before I sign off I have to say that the pubs Sunderland has to offer are on the whole rather disappointing compared with many places on our itinerary. The Port of Call is GBG listed. Disappointing then that there was only one hand pump. Even more disappointing when the pump was pulled and only water came out. "New barrel, will be about 15 minutes". So I opted for a half of a craft ale of average strength. It was only after I'd paid and was supping it that I realised the price of a pint of it was about six quid. Scandalous. Coffee was a quality cup and cheap but that's hardly a saving grace. The Museum Vaults looked very tired inside and that they didn't even have a proper wine glass in which to serve Mrs FV's red was a let-down. It was far from packed out.
But not to worry, there's nearly always one and almost next door was the Ship Isis. A pub of Victorian splendour with many rooms, many beers and packed with satisfied customers. At last a quality pint, as were those consumed in Newcastle and Durham. The latter providing a most agreeable base for a few days away exactly as it did last season with the fixture list being kind to us on both occasions.