MILTON KEYNES AWAY
Our opponents
At the start of every season When Saturday Comes invite a fan of every club bar one of the 92 to give their view on how they will do in the nine months ahead. The excluded club being Milton Keynes for reasons that many fans across the country will fully understand and quite probably sympathise with.
I've expressed my feelings time and again and don't intend to repeat them in detail once more but can see that having had a Football League club in their city since 2003 there will be supporters in their mid 20's who have grown up knowing nothing else. They will likely have an attachment to their club in the same way Oxford United fans of a similar age have to ours. It pains me to say it but I believe that to be true. I will never though change my opinion that it was contrary to the spirit of fair play and sportsmanship that a city with no professional football team can be given one with a place in the Football League without having to earn it by starting way down the pyramid and gaining promotion after promotion.
In doing a bit of MKD research I discovered an excellent article by Robert Kidd on tifofootball.com written in 2018. Here are some extracts:
"A brief recap: in 2001, after a fruitless search for a new ground and deep in financial trouble, Wimbledon's Norwegian owners announced plans to relocate to Milton Keynes. Pete Winkelman, a music executive, had been looking for a league club to fill a stadium as part of a new commercial development in Milton Keynes. He had attempted to lure several other clubs. The Football League rejected the plan but, after an appeal and surprise 2-1 vote in favour from an independent panel, it was approved in May 2002".
"I grew up happily in Milton Keynes, but for outsiders the place best-known for its concrete cows, sprawling shopping centre and roundabouts is – like the MK Dons – hard to love. Established in the late 1960s to cater for London overspill, the 'new town' in Buckinghamshire was supposed to represent a new era of urban planning".
"Wimbledon moved to Milton Keynes in September 2003, eight matches into the season. My dad spent his teenage years in Wimbledon and followed them closely in the 1960s. He and Mum moved to Milton Keynes soon after I was born, before, by coincidence, his old team turned up at his new home. His response when I asked about the ethics of the move was something like: "they need to play somewhere"."
"I had long before pledged allegiance to Spurs, apparently in the misguided hope they would bring a lifetime of happiness. But for a 15-year-old not used to regular 'live' professional football, a £60 season ticket for a Championship team was too good to pass up".
"The club have weaved themselves into the fabric of the town. It is not Wimbledon. It was a mistake to try to claim the history – and trophies – of their predecessors and it would not be surprising if, one day, the Dons was dropped from MK".
"In the 15 years since the move, a generation of fans have grown up with MK Dons as their local team. The club does excellent community work and have started to tap talent in the area".
"A football truism is a club doesn't exist without its fans. And as long as people from the unusual place keep following their unusual team, MK Dons will survive – even if no one else likes them".
That's a very informative perspective and the cheap season ticket which I believe is still very much part of their approach explains why it has been said over and over that their declared gates must surely be greatly inflated.
Their average home gate is currently 8,954, which is over 2k better than ours, making them the 7th highest in L1.
The strategic report section of their latest accounts, to y/e 30 June 2018 notes that "as with all football clubs, the challenge is to control player wages while remaining competitive". These are very true words. Turnover was £5.6m compared to £6.6m in 2017 due to "balancing funding received in 2017 following relegation from the Championship not being received this year." This handout is insignificant when compared to the parachute payments teams relegated from the Premier League receive but a million pound advantage is significant at this level when one considers the size of some of the opposition like Accrington. It didn't help a lot though, unless perhaps it prevented immediate relegation. They finished mid-table in 2016/17 but dropped through the L1 trap door a year later. They did though come straight back up to be where they are now.
Their current form is terrible. Prior to last Saturday when they got a point at Doncaster in their previous 16 games in all competitions they've won just two and those were both EFL Trophy games. Of the others they drew just one and lost the rest. At home in the league they've won three, drawn one and been beaten six times letting in 17 and scoring just eight in the process.
More and more our myriad of injured midfielders are increasing the size of the banana skin I see before my eyes.
In that latest accounting period the Dons (sorry Wimbledon) recorded a loss before tax of £4.5m but once tax credits are brought into the equation the figure is down to just -£1.3m. Net liabilities stood at £10.6m.
Wages were £4.7m which isn't outlandish by L1 standards but that was an eye popping 97.4% of turnover. My knowledge of the workings of the EFL Salary Cost Management Protocol (SCMP) for L1 isn't that good but can satisfy myself that Milton Keynes achieved this in these accounts.
The requirement is that player related expenditure shall not exceed 60% of the Club's Relevant Turnover plus 100% of the club's "Football Fortune Income".  If you are as much of an anorak as me you'll probably look up what comes under each category. (It is boring).
The ultimate parent company of the football club is Stadium MK Group Ltd which is 100% owned by Peter Winkleman. In addition to the football side of the business the other two key activities are listed as property development and the operation of a hotel.
They too recorded a loss during the year totalling £4.6m after tax. This surprises me immensely because I thought with club and ground being under the same ownership they would be making a small fortune with all the commercial opportunities this brings with their large and plush stadium. Shareholders' funds were a whopping £73.6m of which £81.6m was shown as "Revaluation Reserve". That's the benefit of owning your own ground. Or as I've always argued, no they don't. Peter Winkelman owns the football club and the ground. He could quite easily sell one and not the other.
MK Dons 1 Oxford United 0
Photo, Simon Jaggs
It is not just with hindsight that I'll say I could see this coming. We've stopped scoring. This is the third game in a row where we've failed to register and according to the stats in this game we only had one effort on target and I can't remember that stretching keeper Lee Nicholls.
Obviously if a team doesn't score all the opposition has to do is get one to take all three points which is what happened here and it wasn't as if our defence didn't play quite well.
I wouldn't go as far as saying that we've been running on empty for a while now but the tank has been draining game on game and it was bound to catch up with us at some stage. It is a real positive to see Cameron Brannagan back after six weeks out but he'll take a little while to get back to full match fitness.
Perhaps I'm getting too fixed in my opinion of certain players but I thought Robbie Hall and Mark Sykes were little more than passengers and that we improved immensely once they'd been replaced by Jamie Mackie and Shandon Baptiste. I'm a big fan of both of these subs but almost every time I see SB there is at least one moment where I get frustrated with him as he tries something flash and loses the ball instead of playing the obvious simple pass.
The Dons played much better than one would expect from a team struggling third bottom of the table and were worth the win. They had good work rate, quickly closed us down and had a confidence about them that we were never able to shake by really imposing ourselves at any stage of the game.
The home team mostly played football in the right way, building from the back where Dean Lewington, who has been there since time began, was given complete freedom in the left back position to receive the ball time and again.  I was surprised we never tried to disrupt this method they were using to build.
The goal came in the 59th minute. MK were keeping the ball, playing it around neatly and patiently but not in a particularly threatening fashion. Hiram Boateng got a shot away which John Mousinho diverted and with one touch Joe Mason beat Josh Ruffels before thrashing it in the net. I heard at least one comment that Simon Eastwood would have kept it out. I doubt that and do not blame Jordan Archer. It was one of those things. The way the white shirts were playing they'd earned the right for this particular thing to happen.
No way is there a case to claim we deserved even a point from this but there are certain other factors that have to be taken into consideration when picking over this loss. It has become customary to groan when the allocated referee is announced. The biggest of groan can be heard when it is Trevor Kettle. Kettle put in a Trevor Kettle performance. Football fans of L1 and L2 clubs across the country are aware of Kettle. He was as bad here as we've come to expect and did not help our cause. It is now the norm that Tariqe Fosu is targeted early on. It is also the norm that the referee, whoever they are, may or may not give a free-kick but never show an early yellow card. The result is that his effectiveness is greatly reduced. Oh for a referee who shows some balls and actually controls the game in a sensible way from the off without being over officious. The linesmen were no better.
Here's a few quotes from the web.
"An MK Dons fan said how bad the ref was and actually said that he couldn't believe how the ref gave so many poor decisions against us! That doesn't get said often by an opposing fan".
"I was at the game with a neutral (Watford) supporting friend, and he said Kettle gave everything in MK's favour. He did seem to blow up on any little contact we had with them, but was happy to let go the same when it was against us".
"The lack of protection for Fosu is the reason I reckon he tried to stay on his feet after being clipped in the area, with the irony that Kettle looked like he was bringing the whistle to his lips to give it if Fosu had gone down".
I also noted the usual inconsistency in sometimes insisting a free-kick be taken from the correct (in his mind) spot where a foul was committed and other times letting play recommence with the dead ball played about ten yards from where it should have been.
There's no getting away from the stats which show the Dons having 54% possession and making more passes than us, 434 to 362. Their accuracy of passing was better than ours, overall 81% to 74% and in the opponents half 67% to 64%.
It's all about goals and with us creating almost nothing it is almost a waste having Matty Taylor on the pitch.
After going behind when we did start to play better and more in the MK half as is usually the way we were always vulnerable to a swift counter attack. When sub David Kasumu legged it from mid-way in his own half in stoppage time it took superb work from Baptiste to prevent a second goal being conceded. He got back and got a little nick on the ball when he could easily have given away a penalty.
That's three league games we've played at Stadium MK and although this was the first time we've lost, we are yet to win and have scored just the one goal which came from Hall in 2017. I hope they're not going to become what Southend were until this season. Milton Keynes is very much a place I don't relish visiting for football although one can't argue that the stadium with its posh cushioned seats puts most places we visit to complete shame.
Like last time we took nearly 3000 fans to this fixture but on this occasion the area directly behind the goal was sectioned off which means vocal backing is not concentrated in one area and there's no possibility of sucking the ball in. This detracts from the atmosphere but it's understandable as it takes away a possible advantage for a visiting team and apparently is something the home players have asked for. Call it gamesmanship or whatever it is something that has to be lived with.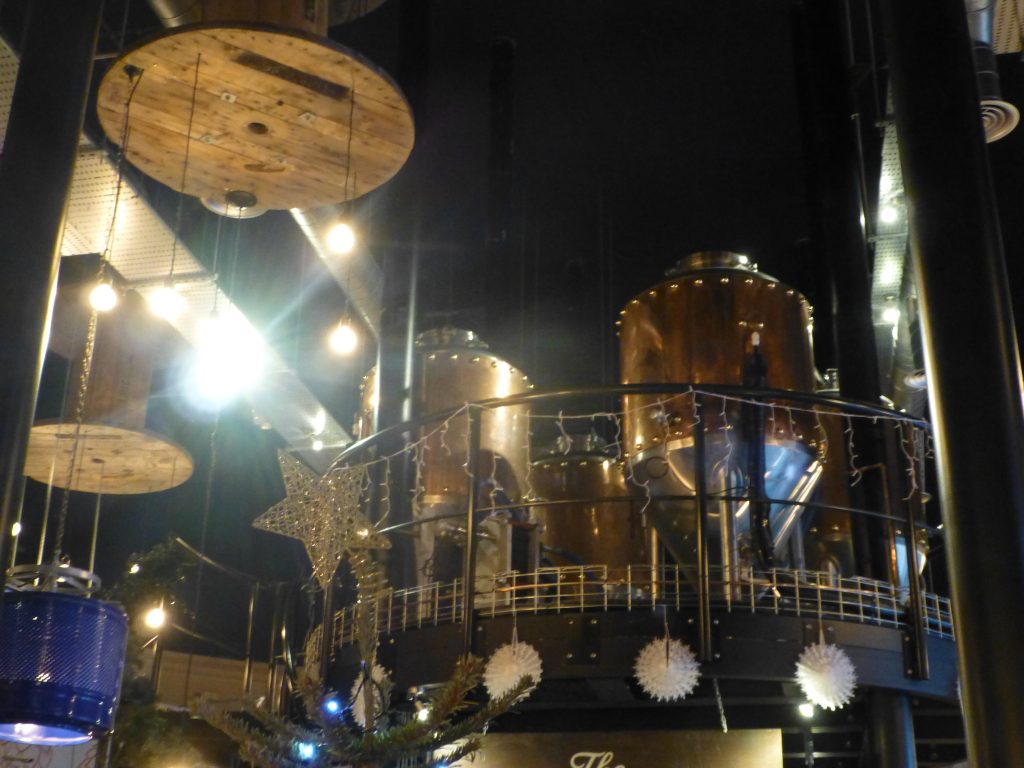 Brewhouse and Kitchen
Pre-match we did find some beers, which helped with what was to come. The Brewhouse & Kitchen in CMK has its own microbrewery on site and although I wouldn't complain about the beers the "warm welcome" claimed by their website didn't really ring true. The bar containing the four hand pumps was completely blocked off by three blokes drinking halves who made no effort whatsoever to move as we tried to look at the pump clips to decide what PINTS to consume. They made no effort to get out of the way and the barmaid asked us go to a different bar area to be served. She was told no we wouldn't and although we made it clear by manoeuvring our way in there was no apology from the blockers. Rather ignorant I thought.
I've got a friend who lives in Milton Keynes who texted me saying he was in the Bletchley Workingmen's Club with his mates and that whilst nowhere near as salubrious as the Brewhouse and Kitchen, away fans are welcome and the beer would be a lot cheaper. We did indeed join them and can confirm he was very correct on prices and the lack of salubriousness. In here the barmaid asked who's next. "That man" I said. She said to the bloke on my left, "He's just called you a fat man." No I haven't I insisted. Banter, hey.
There's no way we've become a bad team overnight or even over a few games but our decline in form has to be a concern with Man City coming to Oxfordshire on Wednesday followed by table toppers Wycombe three days later.
And finally, we lost Jim Smith in the week. There's so much that has been, and still could be, written about those heady days when he took us to the top flight at our beloved Manor ground and got us playing unbelievable football with some of the best players in the country in our team. But I'll just say, R.I.P Bald Eagle. It was a pleasure to have had you as our manager.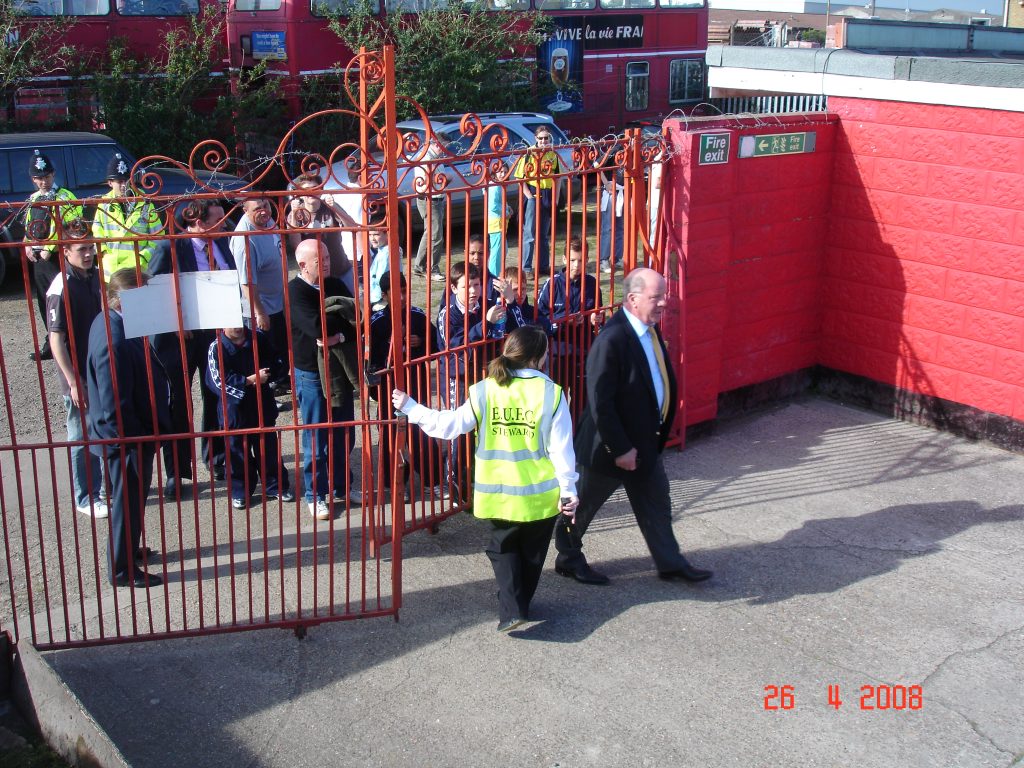 The great man entering the ground at Ebbsfleet