SHREWSBURY AT HOME
But first
Josh Ruffels – I should have mentioned the lad in the previous FV. What a professional. What a loyal servant and still only 26 years old. Here's to the next 200 games. And the 200 after that.
Recommendations – There's a seemingly ever increasing amount of football material out there to read and view in the vlog age, so I'm a bit reluctant to recommend or push anything because everyone knows what appeals to them and how much time they have available to consume more information and opinion on this game we love. But I'm going to anyway. On a parochial level OxBlogger's stuff is highly humorous, entertaining and informative and at times brings back so many memories it's almost as if I've been transported back in time. I recently relived the 83/84 league cup run. It was a privilege to have been there, twice. I don't know who Oxblogger is but I might if I knew who Oxblogger was, if you know what I mean. And on a national level: When Saturday Comes (WSC), a publication from which I've lifted quotes on many an occasion over the years. It launched in 1986 and I've been subscribing ever since. When it first started it was more amateurish than it is now and a bit more irreverent but it is now the leading independent football magazine. It goes places no other journalism covering my favourite sport does on a regular basis and always digs deep and uncovers information I had no idea existed.  On their website they say they aim to provide a voice for intelligent football supporters, offering both a serious and humorous view of the sport. They most certainly do achieve that. Print media in the UK is struggling and WSC is under pressure. One of the ways they've asked regular readers to help is spread the word. So I'm trying to do a bit of spreading here. It's monthly and cover price is £3.95 but taking out a subscription reduces that significantly. Christmas present, perhaps? It would be a real shame to see it go.
FA Cup 3rd round draw – At home to a team that is playing either one or two levels below us is quite a satisfactory outcome but there's absolutely no room for complacency.
EFL Trophy – So we're out and I have to say I didn't feel down in the least. Having been the penalty kings unable to miss, we turned into the penalty clowns unable to score, but as we went out in this manner I'll claim we didn't really lose and our unbeaten run goes on. Plus it wasn't as if we put our first team out was it? The crowd of 483 is what this competition deserves but to those in that number who went along to get behind our boys, well done.
Our opponents
Until I looked it up I'd forgotten that Shrewsbury spent a season at Conference level. That was back in 2003/04. They didn't hang about like we did. They beat Aldershot in the play-off final at the  Britannia Stadium in Stoke in front of just 19,216 spectators.
Next came eight seasons in L2 before winning automatic promotion in 2011/12 finishing second to Swindon. Since then all but one campaign has been played out in L1 with just 2014/15 being back down a division when they were again runners up, this time behind Burton. Their subsequent L1 finishes have been 20th, 18th, 3rd and 18th. Making the L1 play-offs, which they did in 2017/18, is some achievement for a club their size. They missed out at Wembley to Rotherham 2-1. The gate again wasn't much to shout about with just 26,218 turning up.
Their latest available accounts are for the period ended 30 June 2018. The Chairman and owner, Roland Wycherley, notes, "It was extremely disappointing to finish runners up in the Checkatrade Final and coming so close to a return to the EFL Championship which would have fulfilled the stated ambition of the Board and Chief Executive". More big dreams. The Shrews have not been at that level for about 30 years (I think I've got that right) but Burton give all minnows hope they can, if luck goes their way, compete against the likes of Forest, Wednesday, Leeds, and the latest bunch who couldn't hack the Premier League, even if it is just for one year. What would football be if dreaming was not allowed?
Turnover was £6.58m, the second highest in their history, boosted by unbudgeted income from an FA Cup run including a live TV game against West Ham and the Play Off and Checkatrade finals. Perhaps surprising then that net profit was only £345k but bonuses and appearance monies paid to players as well as an increase in match day costs kicked in. This was though the third year in a row that they made a profit and since this accounting period they have sold three players and are due sell on percentages from onward transfers of two former academy players.
Once again this brings home how difficult it is to operate at L1 level because this is clearly a season which Shrewsbury are not going to emulate year on year on the pitch. They just have to keep selling their best players. Familiar story but they've not been throwing money at success with the risk of jeopardising their existence. They're another L1 club with low staff costs, £3.77m of which £3.46m were wages and salaries.
Paul Hurst, their manager at the time, knew he had taken them as far as he could and was gone to Ipswich the day after the play-off loss. Can't blame him. Money talks. The Tractor Boys though will have regretted letting it talk to him.
Shrewsbury had net assets totalling £14.2m so therefore looking quite secure and have a stadium that generates valuable income streams with its banqueting and conference facilities.
The biggest gate they've had at the New Meadow was 15,000 even though the capacity for football is just under 10,000. That was when Reg Dwight played a gig there in 2011.
Their average league gate last season was 6,407 putting them 15th best. We were only 13th best. This season their average is down to 6,021 and that is with Pompey and the Black Cats already having visited Salop.
Their current league position is 12th with six fewer points than us having played the same number of games. Of their last 12 in all competitions they've only lost two and one of their victories was against Peterborough. Having let in just five goals in their eight league away games to date they appear to have a very parsimonious defence. This is of course just another challenge to overcome, as they all are.
Oxford United 0 Shrewsbury Town 0
This may have been our first home game for six weeks but as we had a trip of 180 miles to get there, having attended a family 60th birthday bash in Barnstaple the night before, it had a bit of yet another away day feel about it for me. Not only that but also a sense that the day wasn't going to bring a joyful outcome.
Walking from Sandford it felt nothing like there was a football match about to take place in the vicinity. Walking back after the final whistle, whilst knowing it wasn't the end of the world, my three emotions were frustration, anger and bewilderment and that wasn't just in relation to the match itself.
This game had a very familiar Conference/L2 ring to it when many visiting teams used to come and do their utmost to prevent a game of football taking place and, aided and abetted by low standard spineless officials, would get away with it. Thankfully in L1 such sad spectacles are now much rarer but we had to suffer such an affair on Saturday.
I had no idea that the Shrews would play (if that is what they were doing) in the way they did. I had them down as rather more of a football outfit than that but perhaps they were so in awe of us, dazzled by our remarkable unbeaten run, that they thought the best they could hope for was to stop us playing and go away with a point.
I think they'd failed to spot that we're no longer hitting the highs of a couple of months back and that our horrendous injury crisis now looks like it has caught up with us. Strangely after the first half when we were poorer than we'd been all season and looked like we were there for the taking, they didn't become just a bit more attacking after the break. Instead they allowed us to have the ball and were just intent on doing the horrible stuff. That's the stuff that makes football so hard to watch and is hated by everyone but the supporters of the spoilers and then only if they achieve their objective, as Shrewsbury did here.
In the first 45 minutes we were supposed to be kicking towards the fence end but did hardly any of that at all.  To me we just didn't have a midfield worthy of the name and were not able to place our stamp on proceedings in any way, shape or form. The suspended Alex Gorrin was a huge miss and taken alongside the list of injured fellow central midfielders one wondered if this would be the fatal blow that finally did for this proud sequence of results that started on Sept 14th.
It's all bound to catch up with us eventually and even if KR had everyone available to pick from, form is bound to dip at some point anyway.
But let's just remind ourselves once more who we currently have missing. Cameron Brannagan, Shandon Baptiste, George Thorne, Ben Woodburn, Malachai Napa, and Jamie Hanson. Gareth Ainsworth was one of the EFL on Quest guests and when asked by Colin Murray why Wycombe had been so successful this season one of the reasons given was that they had not had many injuries at all. Wycombe are top. In contrast we could hardly have been treated worse by the footballing gods that decide which teams are to have their players struck down for lengthy periods.
Jamie Hanson, who is yet to do it for us but is a body we could do with right now, played just over 20 minutes in his comeback at Exeter having been out for two months and is now crocked again having strained his other hamstring.  An even bigger "oh, bugger" concerns the latest two to be consigned to the treatment room, particularly James Henry who is one of the first names we would want on the team sheet. How long he'll be out with his thigh problem we don't know. Anthony Forde has a versatility that is helpful in getting a team through long hard seasons but having been rushed to hospital with broken ribs we're not going to see him again. That can take a couple of months and one can only feel sympathy for the poor guy who was in real pain and had trouble breathing. Lungs can be damaged by the fractured bone.
It's just not fair, but on the bright side it's only in midfield we've had the vast majority of our players wiped out temporarily and Gorrin will be back next game and will be rested too. Plus we're told Brannagan and Baptiste may be available for the MK Dons game and Woodburn a week later. There will naturally be a temptation to rush some back when they're not quite ready with the risk of losing them for even longer. It is a bloody dilemma and one that the manager has to deal with. He's got no choice.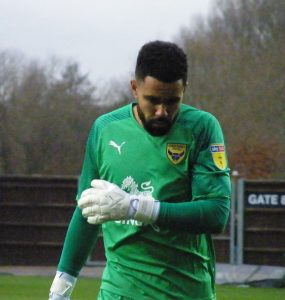 Our new keeper. Welcome. Photo Simon Jaggs
Whilst I'm at it time to mention the goal keeping situation. Simon Eastwood is another who has been crocked but here we were able to find a solution in the form of free agent Jordan Archer. He played in all Millwall's Championship games in 2017/18 and 24 last season but was released by the Lions in the summer and had not played a competitive game since March. Unlike some I wasn't bemoaning the fact that Jack Stevens wasn't picked to play.
Early on it looked like Archer would have a very busy afternoon. Shrewsbury were dominating. We had no battling midfield and the visitors were picking up all the loose balls. They then moved it to the wings and with space, as our full-backs had tucked in, were able to deliver crosses unimpeded. Our new recruit knows his trade and did everything asked of him and by the time it was all over had not had a particularly challenging afternoon. That is down to the defence in front of him, the Shrews depressing lack of ambition and the keeper himself.
After the game. Only one team should be shaking the referee's hand. 
At the heart of our back line Rob Dickie had a standout game. In the 14th minute he was quite rightly shown a yellow card for blatantly blocking a blue shirt when a dangerous break was on near the half way line. I was pleased he did this but equally as pleased that Craig Hicks booked him thinking this should help us as long as he was fair and consistent in his officiating thereafter. It turns out he was anything but. In fact his was an utterly inept performance, one of the worst we've seen in a long time and there have been some other shockers. The man had no authority, did little to ensure we had even a modicum of entertainment before us and allowed Shrewsbury to take the piss out of him. He was so obviously out of his depth it was scary.
He ended up showing four yellows to opposition players but incredibly the first wasn't produced until the 73rd minute. The others came on 84, 89 and 90 plus three. Tariqe Fosu was targeted time and again. Sometimes we got a foul, sometimes not but no booking came. If it had they may well have stopped doing it as a sending off could have followed. Occasionally Hicks had a word but it was meaningless.
I was initially impressed by the Shrewsbury pressing. They were able to get two men to each one of ours who had the ball which forced us to go nowhere in particular. On closer inspection though there was a bit of naughtiness going on too. One would go in with a tackle making sure there was plenty of physical contact, it is after all a man's game, but there would be a little hit from the second player too. There was a lot of pushing and shoving too. A push over the touch line when the ball had gone here, a shove in the back ensuring a yellow shirt was propelled into another participant there. The ball being kicked away when throws and free kicks were conceded. Hicks was helpless and hopeless in dealing with this.
The time wasting was on another level and Hicks not only did nothing of use to stop it, nor added on a reasonable amount of time to make up for it, but actively contributed. He really was next to useless. When the ball struck him in the first half he correctly stopped play but took an age to get it started again. Not that we were fast at getting the ball back in play but I've never seen a side as slow at taking throw-ins as Shrewsbury were. They deliberately stole yards and yards knowing full well they'd be told to move back. Objective achieved, more time wasted. Once they did this and then proceeded to return to the spot they'd been told was too far forward. With his back turned Hicks was oblivious, he was that incompetent but did once decide to give the throw to us when the Shrews were messing about.
The laws of the game state that a goal-keeper can only hold the ball for six seconds. I can't remember ever seeing that being enforced. Here Max O'Leary was hanging onto it for longer than that and with our fans getting noticeably even more frustrated instead of awarding us an indirect free-kick Hicks just motioned to the Shrewsbury stopper to release the ball. That's ridiculous but this was a ridiculous performance from a ridiculous official. A couple of seasons back Hicks was a National league referee and on this showing needs to drop back down to that level and further still.
As the first period progressed we began to get a lot more of the ball and although we didn't look much of a threat at least the Shrews no longer did either. Our shape and balance just wasn't right and we had some players that were operating nowhere near the level required of a top L1 side. I'm probably being harsh here but at times Mark Sykes looked lightweight and Robbie Hall just doesn't get around the pitch enough or do the defensive covering required. Even when RH beat a man, and that was rare, he then tried to do the same again only to fail. Fosu was nowhere near his best and that may or may not have been down to the fouls he had dished out to him.
Given where we are far from it for me to question Karl Robinson's selection but before the game my starting XI would have had Elliott Moore alongside Dickie at centre half with Mous just in front playing the Gorrin role best he can and as he is an intelligent footballer that should have been with no problem. As it was, Henry was kind of playing in that position which was something of a waste.
Each enforced replacement and a change of shape that may or may not have been brought about anyway, made us stronger and we totally dominated the second half without being anywhere near our clinical best.
Moore was introduced when Forde went off and I then had trouble working out what our formation was. A back four with our captain stationed just in front of them? Or a back three including Mous with our fullbacks pushed much further forward? The latter was certainly the case when Sam Long replaced Henry on 72 minutes with Chris Cadden, one of our better players, then pushed further forward as a winger.
Our second change had come ten minutes earlier when Jamie Mackie came on for Hall. This was very much a Mackie type of game and I can't help but think if we'd seen him sooner our chances of getting all three points would have increased.
Whilst never being anywhere close to our best it was us kicking towards the East stand who were the only team looking to win the game. Shrewsbury breakaways were nothing but very sporadic and it would have been a total injustice if they'd benefitted.
The stats once again give it to us straight. Oxford possession 69%. Oxford passes 527. Shrewsbury passes 227. Oxford passing accuracy 83%. Shrewsbury passing accuracy 56%. In opponents half the accuracy was down to 70% and 49% respectively. The Shrews did better at crosses than us in terms of numbers and accuracy. 20 to 18 and 35% to 22%. In this regard it is a shame Long's delivery is not improved because he's got total enthusiasm and a willingness to keep going for the cause.
We only had three shots on target of our eight in total but had the better of the few chances there were. There was one of those park football mad scramble moments when the number of bodies around appeared to be in excess of the maximum allowed with the likelihood of someone getting a clean shot away being lower than a player sitting on the ball. Even though we were near the try line we were never going to get over it. Then there was Ruffels effort at the far post from a Cadden cross but that was about it.
Given the circumstances and the way the other results went a point wasn't such a bad outcome but if the brightness we've become accustomed to is to return we need a number of key players to get back to full match fitness pretty damn quick and to have officials that permit football to be played.
It says something that I've gone away from a game feeling a bit down for the first time in months yet we're unbeaten in 18 in all competitions, seventh in the league with a game in hand on four of the teams above us and in our last four games, even though we've fielded three different keepers, we have kept four clean sheets. We're doing many things right.
As is usually the case I've written more than enough but I am still not going to stop.
The traffic management system  
It is possible that I've missed something essential in all this and have failed to understand some of the key issues but I can only call it as I see it until, if ever, persuaded by evidence otherwise. At present all I can say in baffled manner is WTF?
It has been known from day one that match day traffic was going to be problematic given that there is only one road, Grenoble Road, running past the stadium and that getting out of the car park after a match was going to take some time. That said there is parking on Grenoble Road itself and if you arrive early enough to get one of those spaces, get away time isn't bad at all. We don't always use the same tactic but we usually approach from the west and go all the way round the first science park entrance roundabout to see if there are any spaces left on Grenoble Road. If there aren't, we then just carry on to Sandford where we've been known to pop into the Catherine Wheel.
Although the Kassam is a few miles further from our home than the Manor, in all the years we've been located south of the city we've always got back to base 15 to 20 minutes quicker than during our last few seasons in Headington and that is even with the walk back to Sandford.
On Saturday at 10 past one I came off the A4074 and proceeded down Grenoble Road with the intention of going round the roundabout as described above. Entering the roundabout one lane was blocked off. Why? I signal to go round the roundabout to find the exit blocked off with cones and diversion signs. I tried the same at the next roundabout to find the same. Eff this for a game of soldiers I thought and I wasn't the only one. There was nothing about so I did a u turn and went on my merry way to Sandford. Not a problem.
Apparently there were drones in the air as part of this exercise but I didn't see any. It was only later that I learned OUFC were working in partnership with "Event Traffic Management" to alleviate some of the problems. That's "alleviate" not create.
I was taken aback at the number of yellow coated people involved and wondered how they got on site. Probably would have been a lot less traffic about if they'd stayed away.
On coming out there was someone holding the traffic up or waving it on as we crossed the cars exiting the car-park to walk down the footpath down the side of the decaying Priory.  It wasn't clear when we were supposed to proceed but normally the whole thing is quite self- policing if a little chaotic at times. Vehicles always stop to let people over. This was no better.
And an issue had been created where one had not existed before. Even though there's a sign up saying "private land" in the approach to the Priory a few cars had still gone in there, although not as many as in the past. Normally they can pull out with little difficulty but this time a queue of traffic, which I can only assume were locals trying to go about their business or even trying to get home if they lived in Main Avenue, Kiln Close or the Crescent and had been denied the right to go round the roundabout.  Completely blocked off frustration came to the fore, windows were wound down and aggressive exchanges of the eff word took place.
I don't know what others thought of this but it looked like a disaster to me and made the situation much worse than it was. Perhaps it was always intended to be a "lessons learned" exercise ahead of the Manchester City game but with the crowd being disappointingly, but not surprisingly, below 7,000 we'd all have got on with it as we have become used to doing for many years now.
Perhaps I've over reacted and my intention isn't to upset anyone who was involved and thought what a great idea but seriously this can't be a solution to anything can it? And how much did it cost the club?
Am I just miserable because we didn't win?