F.A. CUP ROUND 2 – WALSALL AWAY
Our opponents
Walsall's best period in recent(ish) times was at the beginning of the 21st century when they spent four seasons, 1999/2000, 2001/02, 2002/03 and 2003/04 in what is now the Championship. Since then they've been a L1 side in all but two seasons. They got relegated again for the second time in two seasons but won L2 in 2006/07 to bounce straight back up at the first time of asking.
Twelve seasons at our current level then followed but this came to an end in May this year when the final L1 table saw them three points short of safety in 22nd place. Which is where they currently find themselves in L2 meaning they have not found it easy even against teams of lesser ability.  Their home league record reads won 2, drawn 3 and lost 5 having conceded 13 and scored just 5.
Although before this cup tie they were unbeaten in five games in all competitions, the scalps they'd taken were not that impressive. This run is made up of their two FA cup games against National League North Darlington, a 6-0 victory against Forest Green in the EFL Trophy and in the league a goal-less draw against Stevenage and a 2-1 win against Cambridge both at the Bescot. Neither of these opponents are setting their division alight.
At the moment given where we're at many of our games are going to be of the banana skin variety and this again very much falls into that category.
I don't think there's much doubt that we're a bigger club than the Saddlers. Their ground may have four sides but it has a capacity that is about a thousand less than the Kassam however it is more than adequate for their needs. Last season their average home gate was 4,927 and it has dropped slightly this season to 4,717. 2015/16 was their best performance by far during that long stay at level three when they made the play-off semis only to lose to Barnsley 6-1 on aggregate. Even then they only averaged 5,382.
Financially they appear quite sound but have not been spending much on wages so perhaps their latest relegation wasn't surprising. You often do get what you pay for, but better to be where Walsall are than where Bury are, which is nowhere.
The latest listed accounts to y/e 31 May 2018 note that for the thirteenth consecutive year they made a trading profit. This time it was £9k. Not a lot but better than a loss. Borrowing was reduced slightly by £279k and net liabilities stood at £1.2m.
Turnover was £5.9m of which £1.1m was from match receipts with the rest being made up from "football and commercial income".
Staff costs totalled £3.4m of which £3.1m were wages and salaries.
Since then there has been a change of ownership. At the end of July 2019 Leigh Pomlett, who has been on the board since 2010, acquired a 76% majority shareholding from Jeff Bonser who stepped down as Chairman and Director after a 31 year involvement with the club. As part of the deal there's an option to purchase the freehold to reunite it with the club. What that actually means is another matter. Quite a familiar story there.
The local paper, the Express and Star at the time of the takeover reported that "Bonser's time in charge of the Saddlers has been a frustrating one for supporters – primarily due to the businessman owning both Walsall Football Club and the Banks's Stadium as separate entities. That has meant each year the club has had to pay rent to play at the stadium – with that money going into a pension pot of which Jeff and Robert are beneficiaries". Robert is Jeff's brother and was also a club director. He too stepped down.
Walsall's manager is Darrell Clarke who was appointed in May. Pomlett sat in on the job interviews and at the time of the takeover said "Darrell and his team are the right men to take this club forward". Will the ex-Bristol Rovers manager be given the time and money to take the club forward? We know these things take time but owners can be very impatient.
Walsall 0 Oxford United 1
With the threat of a train strike and Millwall being in England's second city for their game against Birmingham we opted to reach Walsall by road rather than rail. Having left early we avoided the stuck in traffic challenge that some encountered later. Another factor in taking this approach was that the latest Good Beer Guide listed two other pubs very close to our only ever previous port of call in Walsall centre, the Black Country Arms. This was up to its usual standard with hand pumps aplenty to choose from but if anything the others were even better. It mattered not that they didn't have quite as many beers to choose from as in the BCA.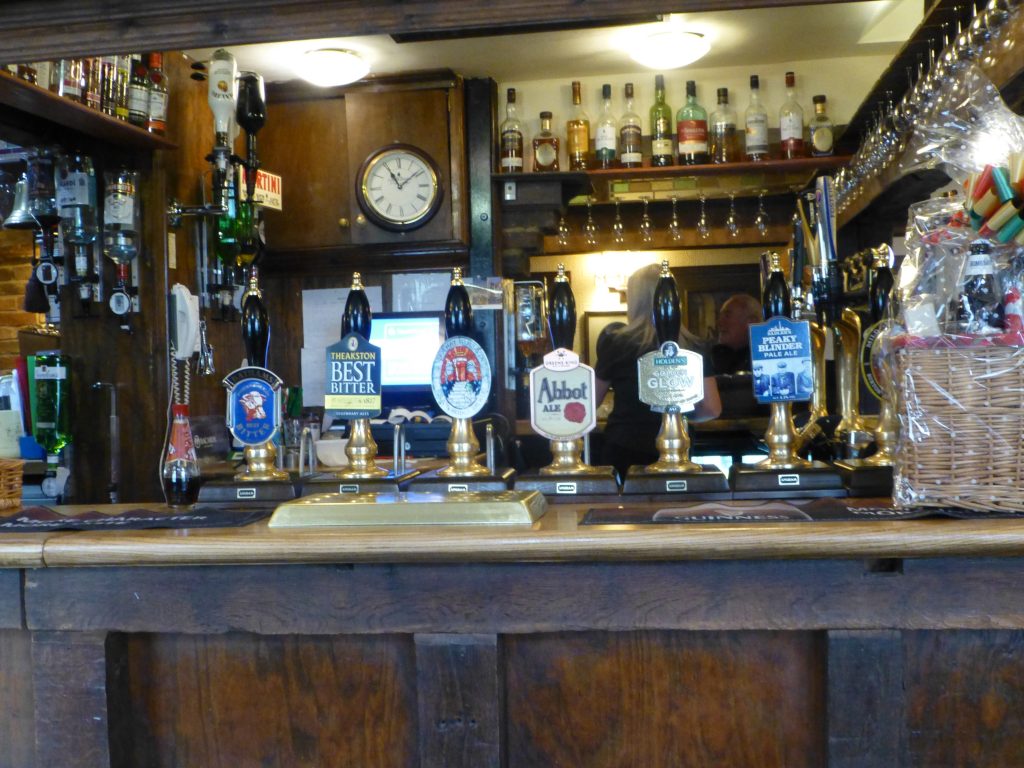 Lyndon House Hotel. We popped in here more than once on our little pre-match pub crawl
This all bores some people silly but for real ale heads it provided the perfect start to a football day and a bonus we'd not expected when initially planning this short trek from Oxfordshire. The Lyndon House Hotel was the only one of the three that opened at 11:00. We approached it quite slowly at about ten to. Give me some history demanded Mark so I started with "it used to be a Salvation Army hostel and …" Yes, that's right" said a woman who walked past us. Anything else you can tell us? I asked. "Yes, the cook is good" she replied. A second or so later she entered the pub. Goes without saying she was of course that cook. We went in and waited until the bar maid arrived. CAMRA's What Pub website tells that clientele are drawn from all over the town to give a slice of Walsall life. From somewhere in the building there were long and loud renditions of Elvis songs although it sounded more like Vic Reeves in club singer mode than the King himself.
The Victoria is a traditional cosy old fashioned boozer.
From the presence in these establishments there was no sign that the populace of Walsall were out in force ready to cheer on their side to a cup upset against the mighty yellows. Only 1849 turned up which is rather poor especially given that it was cheap to get in. On the other hand the 1375 in the away end was quite impressive and goes to show the belief we have in our side. Over a pint I asked a Walsall fan who went to his first game in 1959 what was wrong with his team and why they were struggling near the bottom of L2. He said that when we watched them we would know.
I understand his pessimism but I thought the Saddlers showed enough determination, organisation and resistance to survive if they play like they did in this for the rest of the season.
That said we were superior by quite a margin in every department. We were classier all round, had a better touch and controlled the game, without dominating in terms of goals scored, from start to finish. Our 71% possession backs this opinion up and we had six shots on target out of a total of 19. Our opponents had none of their five on target.
The only time they genuinely looked like scoring was five minutes into the second half when an unmarked Josh Gordon headed into the side netting when he should have done much better.
Other than that our defence did not look troubled.
It therefore goes without saying that Liam Roberts was much the busier of the two keepers and he did much to ensure the match remained without goals for as long as it did.
He had to fling an arm out to deny Tariqe Fosu who had come in from the left but needed the help of a linesman's flag to protect his goal with Matty Taylor's tap in from a James Henry pull back not counting. From the other end of the ground there's no way we could see whether it was actually offside or not but after seeing replays I'd say it was about 50:50 whether this decision was correct. It didn't affect our game though and we just carried on playing the same way, moving the ball around efficiently and being that little bit sharper than those in red.
We nearly broke the deadlock at the beginning of the second half when another Henry cross, after good work by Taylor, was met by Josh Ruffels whose header was somehow kept out by Roberts. By now it was very noticeable how much we were producing down our right with Henry and Taylor very involved and Chris Cadden too.
A clipped Henry pass found CC in the area and his shot/hard hit pass across the face of the goal wasn't quite what Taylor needed for a tap in.
As the clock ticked towards 90 minutes and we still had not got the ball beyond Roberts I still thought we'd played really well. If it was going to be a draw then so be it but if a goal was to come we looked ten times more likely to get it than Walsall.
We were never in a position where we needed to panic and patience was the order of the day. At no time did I detect annoyance from our followers that we had not taken the lead long before the end against a team 39 places below us in the EFL. However I suspect that very few were as pleased with this display as I was.
Another win and another clean sheet adds to the body of evidence that yells we're a bloody good team. We've proven that we can get all sorts of jobs done in an utterly professional fashion. This was in its own way as impressive as Lincoln and West Ham. Okay, perhaps the beers played a part in this but I felt total satisfaction in what I saw. I'm beginning to find it quite scary how much I'm now believing in this team. Of course we'll lose sometime. It might be against very good opposition or one that isn't all that but when we have an off day, but the way things are going at present that all seems a long way off.
Photo, Darrell Fisher
The goal six minutes from the end of regulation time was constructed in the area we'd been dangerous all afternoon. Cadden had given the ball to Taylor who held it despite being tracked out to the touch line. Meanwhile our attacking full-back had circled back on himself and into space. He aimed a peach of a pass towards the six yard box and with Henry striding forward all that was then required was the simple touch that at last gave Roberts no chance.
There can't be the slightest argument that we didn't deserve this.
We played five additional minutes but weren't troubled so left a freezing cold stadium feeling warm inside and looking forward to the draw on Monday and wondering if Beano will be amongst us in round three. Man City at home anyone?
Photo, Darrell Fisher