SOUTHEND AWAY
A week off of sorts
Leasing.com
With four eligible players being unavailable for Ipswich due to international call ups, their visit to the Kassam scheduled for 17 November never took place which meant a week off from banging out a Fan's View.
Since Hayes and Yeading we have of course played a competitive (I use the term lightly) fixture, winning 4-1 at Crawley in the Leasing.com Football League Trophy thingy in front of 412 at the People's Pension Stadium where nearly a quarter of attendees were of a yellow persuasion. This game was all but meaningless, other than there being £10k for the winners, as we'd already qualified for round two in second place and the home side were out. It was interesting to see another innovation here, a penalty shootout during the 90 minutes. We won that 3-0.
For all the slagging off I do of this competition I have to say that now the rules of selection have been relaxed plenty of youngsters can be given their first minutes as first teamers. Tyler Goodrham didn't turn 16 years old until early August. That takes some comprehension.
As I have not yet in any way warmed enough to this tournament I wasn't there and couldn't tell you how we played and who the stars of the future are going to be.
Training ground
There had been talk and strong rumours that the football club was to take control of the training ground and this has now happened. Management and the running of the site is now ours for the remaining 23 years of the lease. This is a very positive step in becoming an even more professional and sustainable football club. There should be money to be made with the hiring out of those state of the art facilities.
The not so positive was a few hours after we no longer had anyone else to turn to and say there's a problem you need to sort it out for us, the bloody complex flooded big time.
Womble
Although I've previously written of the sad passing of a unique supporter who was as loyal as they come to our football club, his final send-off deserves a little mention. The final act before we all headed to his local, the William Morris, was Tim Sirett giving three blasts on his referee's whistle. It was emotional.  RIP Andy James. You are missed.
Many employees of OUFC, including the manager, turned up for the service. The so called "football family" is perhaps at times over stated but not so here.
The post service (I twice erroneously wrote post-match and had to correct myself. Everything to do with Womble was, and is, football related) drinking gave the opportunity to see and talk to some folks for the first time in many many years. Old football stories were swapped and I learned some new and interesting things as is usually the case in good company.
The service was at 11 o'clock. I got home at about 7:45 p.m.
Our opponents
Have had the most nightmarish of starts to this season. Seventeen games played, five points gathered and just one of those at home – a 3-3 draw against Fleetwood. They have a goal difference of minus 31 and are only four points ahead of bottom placed Bolton who started with the handicap of being deducted 12 points. Their second last home game saw them turned over 7-1 by Donny. Being the football supporter I am and knowing that all excellent runs come to an end and that we rarely do well at Roots Hall, this fixture worries me. That banana skin is growing in size before my eyes but that's not to say I don't have faith in our team. In fact I probably have more faith in the squad now than I have had in many years. The players know that if their standards slip the quality of those who aren't starting will mean they are soon replaced and this is all only going to get more competitive with those that have been out injured getting back to match ready fitness. Kiss of death I hope this is not.
I've no idea why the Shrimpers are in such a state but they can't be that bad surely.  A Southend supporting mate who lives in MK informed me that they really are. "Shocking. Lacking confidence. Not good enough". Considering what state they're in their crowds have held up reasonably well. Last season their average home gate was 6,932. Before our visit this season's figure stood at 6165, the 14th best in L1. This though is largely boosted by the 8,632, including 2,450 Tractor Boys & Girls who turned up when Ipswich were in town.
Southend had one season in the Championship in 2006/07 but really come across as a L1/L2 outfit. In 2009/10 they were relegated from L1 in 23rd position on 43 points then spent the next five seasons in L2 and in three of those made the play-offs. They lost in the semis in 11/12 and 13/14 to Crewe and Burton respectively but in 14/15 beat Wycombe on penalties to go up.
Their time back in L1 has been pretty run of the mill. They've ended up 15th, 7th, 10th and last season 19th when they accumulated the same number of points as Plymouth who went down. In 16/17 one more point would have got them a crack at the Championship via the play-offs as they had a better goal difference than Millwall who claimed 6th place.
Their latest accounts covering year end 31 July 2018 focus heavily on the need for a new ground in the strategic report section. Their potential can only be fulfilled by moving to a "fit for purpose" stadium. They "can't grow" at Roots Hall which was "built in 1955 with the principal stand of timber construction necessitating continual maintenance, over £300,000 was spent last year to enable the Club to meet the needs of its Safety Certificate".
"Building the planned new stadium, leveraged by debt, is not sustainable and so enabling (Retail and Residential) development to help fund the proposals is essential.  Moving directly from Roots Hall to the new stadium adds to the complexity through the need to coordinate two major, inextricably linked developments.  It nevertheless remains a key objective of both the Club, the Council and the Board to not compromise that proposal by ground sharing during construction".
"A new planning application for the stadium (capacity 21,000) at Fossetts was submitted in April 2017 and it is anticipated that the Council will vote on this submission in the summer of 2019".
The Echo, the local paper, reported on 6 September that "permission for Southend United's stadium move has been delayed again…but the council will not say for how long".
More research needed I thought. From southendnewsnetwork.net I discovered that "a spokesperson for Southend United has confirmed that the club's new stadium at Fossetts Farm could be delayed for YEARS after investigators at the construction site discovered the remains of the Saxon King's cousin Barry".  Need to be a bit careful here I thought in these days of spoof, fake news and downright bullshit lies but quite funny I thought. This was confirmed when I saw links to "Dianne Abbott to replace Rachel Riley on Countdown" and "Britain celebrates 794 days since racist fuckwits were given the vote".
We need humour in these dark times particularly if your football team is not giving you light relief.
Southend's turnover was £6.3m which included player trading £1.2m, advertising £1.1m and league income £1.5m. Staff costs were £5.6m.
Operating loss was £3m but they turned a profit of £3.8m due to the write off of an associated company balance of £6.9m. Nice. Their retained earnings are now just a negative sum of £14.8m.
"The Club has been for many years, and continues to be, reliant on its parent company, Martin Dawn Plc, for support.  Without this support the Club could not successfully compete". "In the long term this is not sustainable."
Does one feel sorry for Sol Campbell particularly after his experiences at Macclesfield, who from afar look like they are a teetering domino not that dissimilar to Bury? Perhaps yes, but not on Saturday.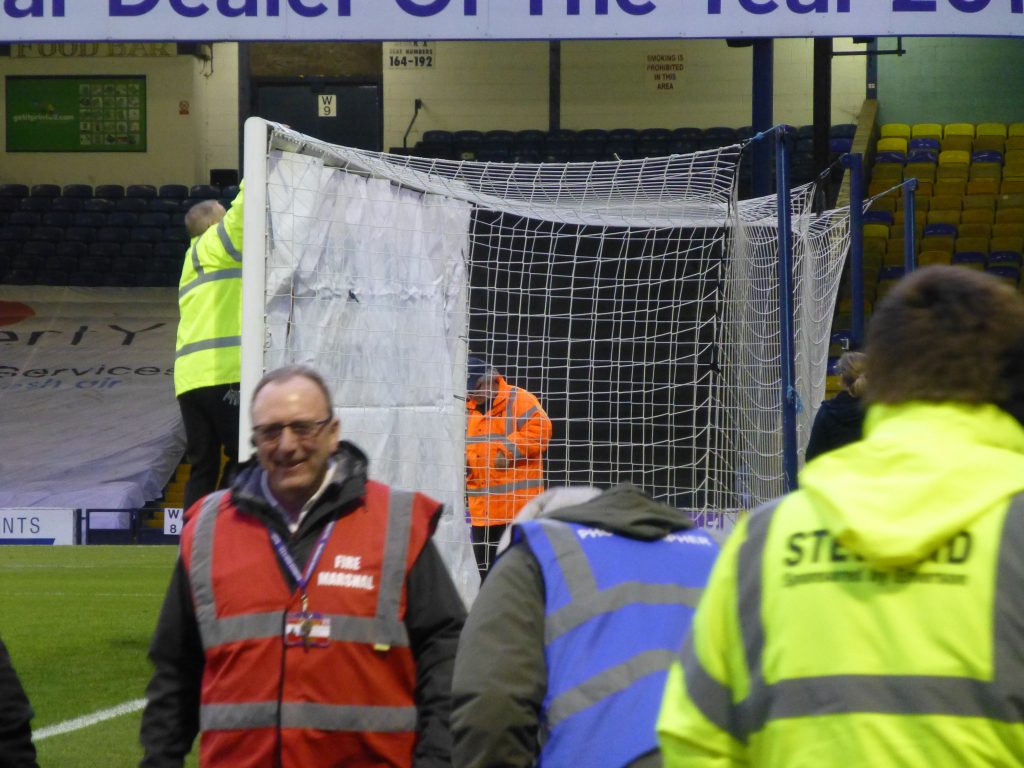 Being two down at half time Southend try new tactics to prevent Oxford scoring more after the break.
Southend United 0 Oxford United 4
Given that this was a game we were expected to win it was never going to be one of those that was going to produce fist pumping leaping a few feet into the air ecstasy. That's for Man City, Ipswich and er, Wycombe.
Nevertheless this turned out to be a very satisfactory day indeed all round. The day had been planned out for me. Train from Bicester. Walk from Marylebone to Euston to our first meeting point, the Doric Arch. It opens at 10:00. We got there a bit early. There was a little queue outside, scousers I think on the way to Selhurst Park. The doors were unlocked bang on time and even though there were immediately about three or four little groups at the bar waiting to be served, as if by magic a bar person popped up in front of each. With a CAMRA discount of 15% the price of a pint drops below four quid and with a good choice of well-kept beer this venue is an ideal rendezvous.
We were in there about an hour and with the Hophead Dark Star being that good one of the three of us had three pints. It wasn't me.
Next it was tube and over ground train to Upminster where in the Upminster Taproom the one customer, our driver for the last part of the journey, was waiting. This is another establishment well worth a visit if any real ale fan is in the area. Again a decent choice and all cask beers were £4 a pint. Easy to do the maths. I asked the proprietor why it was empty. It was because West Ham were about to kick off at home to Spurs.
So on to the match.
Most, if not all, of our goals were to varying degrees gifted to us, but once possession has been handed on a plate the ball still has to be put in the back of the net either directly or after a pass.
Southend tried to play passing football, even at the back, and whilst I have to say fair play to them for trying that, it was blatantly obvious that they were no good at doing so at all. It wasn't just one cock up; it was constant cock ups. The first came in the first minute. In the right hand corner of the pitch we had five players doing, as you would expect at that stage, some half decent but not too taxing pressing against an equal number of blue shirts when Richard Taylor inexplicably passed square straight to his name sake who was all alone in the box. Matty is a finisher and he finished after controlling, taking one touch and then beating Neil Bishop from close range at his near post. Thank you.
We then had other chances but Bishop kept us out and it wasn't until Southend were extremely generous again that we got our second. This came just after half an hour. With us having them semi-penned in the Shrimpers were still intent on passing across the back and this ended with Thimothee Dieng finding James Henry with the same accuracy as the early Taylor to Taylor combination. Although Henry was much further out he was able to bring the ball forward and with Dieng back pedalling never faced a meaningful challenge. The simply effective shot from just outside the box gave Bishop no chance and even if Henry's route forward had been blocked Taylor had placed himself where he would have been able to finish the job instead.
Despite this Southend still tried to play football and in our half from time to time did something that hinted there might be a team hidden away somewhere but every good thing they did was followed by something bad, a pass into touch or an over hit cross.
Their fans never got on the teams' back which is admirable and I had some concern as the second half got underway because our opponents showed improvement and if they had managed to pull one back I could see the crowd really getting behind them with the old underdog spirit kicking in. As it turned out Simon Eastwood didn't have to make a save that anywhere near stretched him until after we'd doubled that two goal lead. This being an excellent flying save when he punched away an effort from sub Isaac Hutchinson that, courtesy of a deflection, was heading in just under the bar.
Although we ran out easy winners and were never in danger of not taking the three points we had spells of sloppiness that had not been evident when we were at our very peak. Passes were not quite as accurate as they could have been at times and when Southend had their best spell, which came in a five to ten minutes period in the second half, we stopped passing it about and as soon as we hit longer balls forward we mostly gave away possession. Although I have to say Taylor, for a man who isn't the tallest, won a lot in the air, nodding the ball back to a colleague. It's not just his goals that are delighting me but his work rate too and willingness to drop back a bit and join in when the right thing to do is knock the ball about between us.
Once we realised what was happening we adjusted accordingly and got back to showing that we were superior by some distance. Our defence never looked anything other than together as a unit which isn't something that could be said of Southend's rear guard. Campbell, a centre-half with 73 England caps to his name, has had a month to improve this element of his team's game. It doesn't appear that he has.
We could have got the scoreboard moving once more before the third and fourth which came in the last ten minutes. Tariq Fosu, set up by Henry hit a post after Mark Sykes had skipped away down the right wing. Taylor nearly got his second after a great Chris Cadden cross but Dieng partially atoned for earlier sins ensuring all that his team suffered was a corner.
The third eventually came in the 84th minute. A headed clearance was latched onto by Henry who, with great technique, moved between two defenders. He then faced another two, both of whom obligingly backed off, before poking the ball to Taylor who'd taken up just the right position. With the minimum of fuss the ball was angled back into the opposite side of the goal.
It has been said that the definition of insanity is doing the same thing over and over again and expecting different results.  Still Southend continued with trying to pass to each other in their own half. Fools. Elvis Bwomono's pass to the experienced Simon Cox went wrong. The ex-Swindon man (it's over 10 years since he left them for £1.5m) with three Oxford players close by tried to move it on first time but the ball just cannoned off Sykes and fell perfectly for Dan Agyei who had only been on the pitch for a matter of seconds. The home defence, as had been customary throughout, wasn't in much of a position to stop him. Rob Kiernan was the only part of this disjointed unit he had to face. Agyei went to Kiernan's right as if the man who'd played over 50 games for Rangers didn't exist. Bishop again was nowhere near the shot. Another player, another potential goal machine? This was so much better than what he produced with that run on goal at Bolton. The celebrations gave a big clue as to the togetherness in the squad. Everyone seems to want everyone else to do well even if it means it will be harder for them to get first team game time. Fosu risked a booking to wildly join in the celebrations from the bench he'd only just sat down on. This competitiveness is driving and maintaining high standards.
We should also remember here we were without Cameron Brannagan, Shandon Baptiste (tightening of groin in the warm up), Jamie Mackie (suspended), Jamie Hanson (needs to up his game when fit again if he's to get to the level required to get into this team), Ben Woodburn and George Thorne (will we see him again?)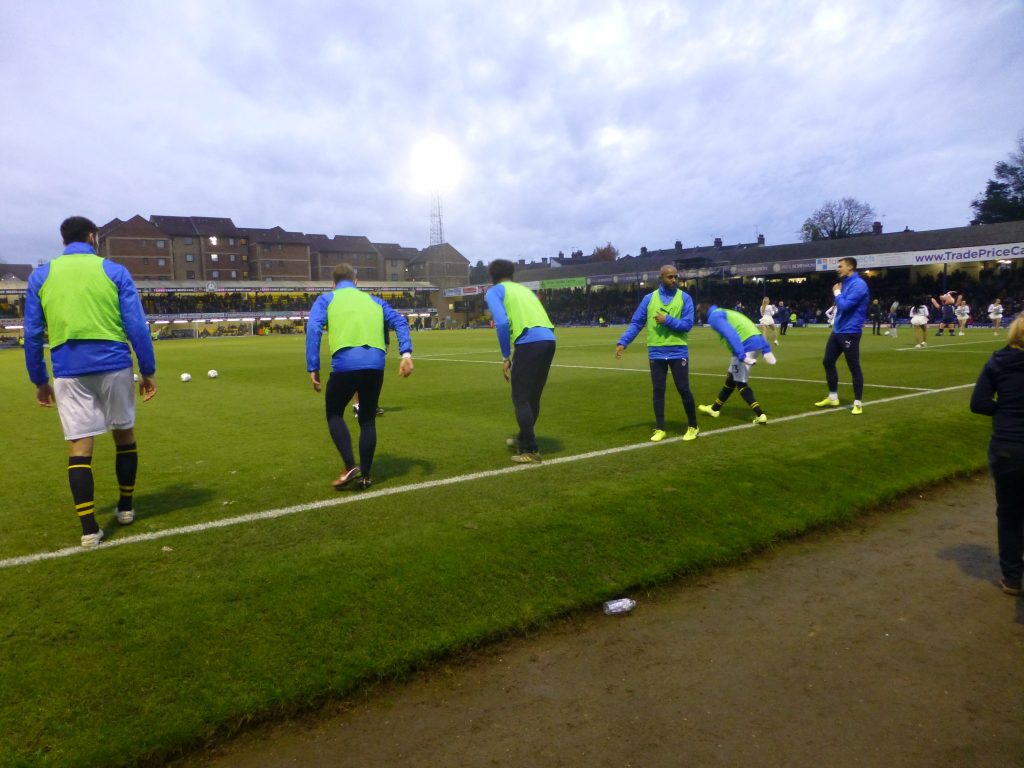 Six subs to rely on
Meanwhile those that did represent us did us proud. One would be greedy in the extreme to want more than a 4-0 away win. The defence continues to look solid and what a bonus it is to have Elliott Moore available to come on and shore things up as necessary. He's patiently biding his time and I have little doubt he'll play a big part in OUFC in the future.
That he replaced Alex Gorrin with eight minutes remaining was a very wise move by our manager. Already on a booking Gorrin must have had a rush of blood when he slid into a challenge that could easily have been deemed reckless but appeared so ill timed that referee Tom Nield who did very well probably didn't see it. Gorrin now misses the next league match. His break up play is very much part of our game.
Sykes looks better the more he plays and Anthony Forde, Baptiste's last minute replacement, had a sound match. Fosu was his tricky self but I'd have to give any man of the match award to Henry with Taylor not far behind.
Southend is not an away day that has much appeal about it when compared to many other trips. The view from the end allocated to travellers is quite poor with pillars being an irritant and there's no room to fit comfortably in the seats. There's no top pubs near the ground and not a lot to entice people into the centre either and with Christmas coming up and many more games with greater glitz ahead of us I could understand people saving their money to be spent elsewhere. So the fact that 905 Oxford supporters turned up speaks loud and clear that the loyal fans are behind this team. That is more than double the amount that went just over a year ago for our last league game at this venue. Another difference being last time it was goal-less. Oh how we've progressed.
Once more I have written lots more than I intended to at the outset but can't sign off without reference to the stats which give food for thought. Goals for and against truly trump everything else probably followed by total shots and those on target. Our figures were 20 and 12. Theirs were nine and three.
Even though I thought Southend had more of the ball than a lot of the opposition we have faced, most of the rest I am surprised to see.
Southend had 67% possession. They made 598 passes to our 349 and had pass success rate of 78% to our 72%. Yeah, right. I'm struggling to believe that. They also came out better regarding passing accuracy in the opponents half of the field. They won 58% of all duels and 60% of those deemed to be in the air.
With the three points well and truly in the bag and up to sixth in the table it was back to a now full Upminster Taproom before a final beer in the Parcel Office at Kings Cross, a pub I'd not previously been aware of.
Yes, all very satisfactory.