GILLINGHAM AT HOME
Our Opponents
I look on the Gills as very much a League One side, one that every now and again may drop down a division but will soon get themselves back up. As for the Championship: almost no chance unless there's new ownership and major investment. They last played at that level in the 2004/05 season but the financial structure of English football is much changed fifteen years on. This is their seventh consecutive season in tier three. Their average finish has been 14-15th and they currently occupy 16th spot on ten points two behind us but having played one game fewer.
Their average league gate this season is 5,337 with only five clubs drawing fewer supporters through the turnstiles. This makes our 6,861 look positively healthy.
Like us, and all clubs operating at our level, players that look like star men will soon be gone. Some for money, some not. Some will thrive at the higher level to which they move; others will not.
If anyone were to ask me to name Gills players I could only name some that have moved on. That's what happens when they catch the eye. Goalkeeping giant Tomas Holy is now between (if he can fit) the sticks for Ipswich. Okay, it's still L1 but the Tractor Boys are way larger than GFC. He went on a free. You couldn't miss Holy last season but the first name that I associated the Gills then was Tom Eaves, one of those big handfuls of a centre forward who not only puts themselves about, but scores goals too. Thirty eight league goals in sixty nine league starts over two seasons for the Kent club is impressive. Six starts and no goals for Hull in the Championship not so impressive. They're probably quite relieved they didn't pay for him. Presumably defenders at that level are better at dealing with his six foot three frame than at ours.
The other name I strongly associate with Gillingham is Bradley Dack yet it is two years since he moved on to Blackburn for £750k. Compared with the average L1 midfielder he was a class above. Since his move to Rovers he's scored 36 in 85 starts including netting in the last three Championship fixtures. He's still only 25 years old. What this is saying is enjoy the talent before you whilst you can. Some are obvious contenders for bigger clubs and wages. In some cases a brighter future too. It's all about selling at the right price. What value one or two of ours that are not far off the age when Dack was sold?
The last published accounts for Gillingham Football Club Ltd cover the period to 31 May 2018.  Like us they are classed as a small company as their turnover is less than £10.2m and their balance sheet total is not more than £5.1m and are permitted to submit less detailed accounts. Their turnover was £7m with a profit for the year of £111k. The balance sheet total was £1.7m.
Included in the turnover was £1.2m from banqueting and catering (something we cannot get our hands on) and £1.1m in transfer fees (which includes the Dack sale and isn't something that is going to happen year after year).
Wages including social security costs only amounted to £3.5m which is very low for L1. It can therefore be argued that they are actually punching above their weight.
Pat Scally has been Chairman for 25 years and in the summer was reported to be considering quitting this position after receiving a growing amount of abuse. In the year Scally took £311k out of the club for "consultancy services".  The previous year he'd had £208k. He also owed the club £22k.
GFC have a secured debt of £1.8m which is owed to Three Directors Limited, the Directors of each company being one and the same. Interest is charged at 3.5%.
The Ultimate controlling party of Gillingham Football Club Ltd is GFC Holdings Limited which owns the majority of the voting rights. The sole shareholder of GFC Holdings Limited is Mr Scally.
Their manager is now of course the likeable Steve Evans whose football knowledge and clever psychology make him one of the best in the country. I'd like to thank him for pointing out that a couple of our goals at Lincoln were lucky. It's not something I'd worked out and I'm open to being educated and learning something new every day. (Okay I'm taking the mick as if you hadn't worked that out)
Without needing it pointing out I do know that Gillingham have not lost any game by more than one goal this term and given the way he gets his teams to play, physical in the extreme, I'm not expecting anything other than a very hard game. It's one that we have to make sure isn't an after the Lord Mayor's show affair.
Oxford United 3 Gillingham 0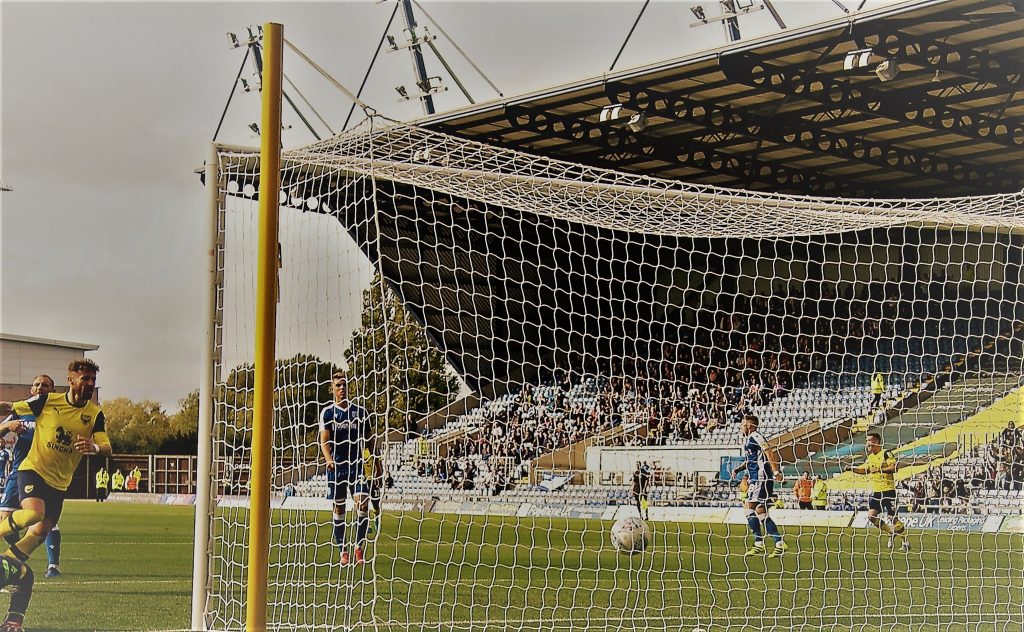 Henry's first goes in. Photo, Simon Jaggs
Walking past the Quadrangle at quarter to three I overheard a bloke in his sixties (a good age) asking his mate (well the bloke stood near him as I doubt such a miserable git has proper mates unless they're all of the same ilk) "have you seen the team he's put out?"  He was obviously not in agreement with Karl Robinson's selection and went on to mention Elliott Moore being on the bench. Thankfully I was out of ear-shot so didn't hear any more of the drivel he was spouting. I had been sorely tempted to walk up to him and say "for ****s sake man, we've not conceded a goal in the last four games, we've beaten West Ham 4-0, and Lincoln by our record away score and played some scintillating football all with teams selected by a manager who knows what he's doing you bloody moron". I know we need bigger gates but I wish people like that would just piss off and take their negativity with them. (Moan number one)
We knew what sort of a team Evans puts out and how he gets them to play. It is utterly tiresome and a disgrace to football. If I supported a club that had this huge blob as manager I would either vent my anger every week until he was gone or just give up going. "We want Scally out", sang the visiting supporters. I reckon anyone who employs Evans deserves to have that sung at them.
The game wasn't but four minutes old and Tariqe Fosu had been targeted. I've never seen such obvious shirt pulling at corners. Rob Dickie nearly had his removed on two or three occasions. Yes moan number two is regarding the performance of referee Andy Woolmer. The standard is so low it is pitiful and it says something that even though there was no incorrect big decision that affected the outcome, plenty of people were still talking about Woolmer throughout and after the game. He's refereed five Championship games this season. How's that been allowed to happen?
Just two yellow cards for Gillingham and only 11 fouls being awarded against them compared to us conceding 17 is a mockery.  I'm not sure what Dickie's injury, which KR said afterwards is nothing to worry about, actually is but I thought I saw him get a hefty elbow in the ribs before his mobility was reduced. Woolmer wasn't far away but I suppose he can't see everything. I wasn't surprised to see Moore on after the break.
Despite the visitors not wanting to play football and not wanting us to play any either, we refused to play ball by playing ball and not man. Some of the football we produced was again of such a standard that I'm now beginning to revise my opinion that we're not ready to be challenging at the very top and thinking about the Championship. If I'm not having such thoughts now when will I ever have them?
Gillingham are the type of rough team we've always had trouble getting a result against. Not here, so does that mean we've turned a corner? I've no idea if they've got any football in them but clearly Evans doesn't allow them to show it if they have. Terrible team. I feel sorry for their supporters and players who have to face that every day in training.
We're functioning in highly efficient and effective manner as a team and as individuals whilst producing periods of play that are the best we've seen in years.
Although we went in three up at half time it could easily have been more. We were that much better than Gillingham.  Every single United player looked comfortable on the ball with many able to beat an opponent just like that whilst being totally aware that football is basically a team game of passing when in possession.
It only took ten minutes for the first goal to arrive. Ben Woodburn kept the ball coming in from the right and found James Henry who had the option of moving it on to Chris Cadden on his right. That typified what we were about all afternoon, options all over the pitch. It was also noticeable that Matty Taylor was there ready to pounce however the attack panned out. CC's presence proved the perfect decoy as Henry beat Ben Pringle with some crisp skill and then with side foot accuracy placed the ball beyond keeper Jack Bonham from 17 yards out.
A second looked as if it was on the way and we thought we'd got it when John Mousinho met a Woodburn corner but we had to wait until the half hour mark before the lead was doubled.
Alex Gorrin stole the ball midway in his own half and positively drove forward. We had many runners and he opted to move it on to Henry who first time set Taylor on his way. MT was lurking with intent right on the Gills back line. He was just onside, which is the best place to be as long as the linesman doesn't get it wrong. After one bounce he nodded the ball into the area and then angled it into the goal past the advancing Bonham. The returning "one of our own" does look like the missing finisher we've been crying out for and on current performances my thoughts a few weeks back that we should have gone for a bigger taller more physical centre-forward instead look very misguided. I'll hold my hands up to that. (Perhaps that's Dan Agyei if needed. He didn't even make the bench for this. Nor did Mark Sykes. That tells me we have a really strong squad.)
Taylor was lively throughout this game and fitted in to the side as much more than a goal-scorer which is something I wasn't sure would be the case when he arrived. I do have a couple of tiny criticisms though. There was one instance when a move broke down and he ended up off the pitch beyond the bye line and took a few seconds to get himself back into a position where he was of any use. The other was when he turned and applauded the deliverer of a cross that he couldn't quite connect with. Bonham spilled the ball but he wasn't even looking. Overall though I thought this was his best game for us.
Henry's second goes in. Photo, Simon Jaggs
Less than five minutes later number three had gone in. Taylor and Ruffels were working well together down the left wing with the over-lapping full back taking the ball on and sending in a cross. Henry who had peeled away from his marker met this with his head from a distance goals are rarely scored from. Our in-form man sent the ball perfectly on its way for his second.
He was so close to getting a hat trick, hitting the post after another passing move and also curling a left footer just over as he aimed for the top corner.
In contrast the second 45 minutes were something of a non-event, a training session if you like in which we demonstrated that we can pass and keep the ball. We ended the game on 63% possession. We made 477 passes, Gillingham just 270. Our accuracy was 78%, theirs 57%. Our passing accuracy in their half was 72%, theirs in our half 42%.
We did though start this half quite shakily when the underworked Simon Eastwood tried to shepherd a ball out that never had the legs to roll over the line. It was kept in and with him out of position, if we'd been playing a good team we would have been punished. Gillingham are not a good team. Mous and Gorrin put challenges in and Oliver Lee tamely hit the post. Ruffels then tidied up.
It didn't take us long to become more awake again and even with the game won and us cruising in second gear we never sat back and still put together a couple of outstanding moves whilst kicking towards the fence end.
It would be an understatement to say things are looking good. Five clean sheets in a row and 13 goals in the last three games is a phenomenal achievement. But it's not just that, it's the quality of football we're playing too. The best since Michael Appleton took us out of L2. We're now 10th which makes much more comfortable reading than the table did after the defeat at Fleetwood. We do though need to remember that with games in hand four teams could go past us, although that won't happen because all those games won't be won as they'll almost certainly be playing each other. Pompey in 19th place have played three games fewer than us which shows how skewed the table currently is.
As Peterborough also scored three they've kept the record of being the only team to have a better average goals per game record, 2.3, than us. We've scored two per game as have Ipswich and Fleetwood. There's some entertaining attacking football out there in L1.
What a pleasant change it makes to look at the goal scoring charts and see two Oxford players there. Henry on five in joint sixth position and Tariqe Fosu in joint 12th with four. We must share our goals around a lot more than Posh who have the top two, Ivan Toney and Mo Eisa, with eight each and Marcus Maddison on six. Eisa looked really poor when Peterborough came to Minchery Farm early on but having seen recent clips of him on EFL on Quest he seems to be a top quality finisher. There are a few about.
In such happy times I shouldn't really have my grumpy old git head on but here's moan number three. It may be that I noticed this, particularly in the second half because the game was over as a contest and I wasn't quite as engrossed in the action as I normally am. Or it may be that I was distracted. I don't normally notice the stewards in the SSU, after all it's not a hot bed of bad behaviour, but I did on Saturday. There was a new bloke who during the entire game walked up and down the aisles and along the back immediately behind us. He continually was looking along the various rows as if he was supervising some naughty little school children. I heard someone murmur, "Little Hitler".  It might well be that he was carrying out instructions and was on the hunt for something specific but I don't think I was the only one that found it all a bit off putting.
On to Accrington. Well for the team and some of you guys and gals reading this, but not for me. A wedding says otherwise. When I left Highbury Stadium with Oxford sitting 20th I looked on this as a welcome distraction and good reason to break my run of consecutive games. Now I have very different feelings. To those of you that do attend I hope you see another clean sheet and many more OUFC goals.
Now really is a time to be watching your local football club home and away. I think the owners, the manager, the coaching staff and players deserve to see more fans turning up than is currently the case. There were though 415 more home fans in the ground for this than there were against Tranmere so presumably the message is slowly filtering through. Also I will say that the East stand got behind the team quite well, which takes some doing in that sterile environment with the stand too far from the pitch. It will never of course be the London Road. Just imagine being behind the goal at the Manor with the team knocking them in as we did here. Low roof, noise, swaying down the terraces ……
Talking of fans – welcome back Alan from Yeovil. For your first game of the season it wasn't a bad one was it?
Gillingham fans celebrating a shot on goal or throw in or something in the last minute.