TRANMERE AT HOME
Our opponents
Tranmere is a suburb in Birkenhead which lies to the east of the Mersey with the might of Liverpool FC and the top six wannabees of Everton just under six miles away to the west. No wonder then that they get relatively little national publicity and tend to largely go under the radar.
We last played them in the 2014/15 season. Not just twice but four times. They were pretty crap and in an obvious downward spiral. We won 2-0 at the Kassam in October and 3-0 away in April. They finished bottom and were relegated to the National League. Their fans knew this was inevitable long before it was mathematically impossible to survive.  They did though make it to the 3rd round of the FA Cup.  In the second round they drew 2-2 away and won the replay 2-1. The beaten side were OUFC and I remember how pathetic we were that evening.
The season before this Rovers had played in League One but only finished 21st.
In their first season in tier five they missed the play-offs by three points, in their second season they finished second but lost to Forest Green in the final and at the third time of asking, two seasons ago, reclaimed their Football League status again finishing second and completed the job at Wembley.
They didn't hang around in L2 and achieved promotion for a second consecutive season. Lincoln took two seasons to go from NL to L1 yet they've always seemed in recent years to have been the ones getting the press coverage.
A key factor in Tranmere's success was James Norwood (same height as Matty Taylor according to the internet) who was the division's top scorer with 29. He left on a free for Ipswich in the summer and I now couldn't name one Tranmere player without reverting to Google.
Rovers fans won't have cared one jot and it must have been anything but boring for them these past four or five years. Like Luton and Bristol Rovers before them they rode the momentum achieved on the back of the joy of a return to the FL to pass through L2 in the least possible time. That's something we were unable to achieve and I know quite a few hold this as a black mark against Chris Wilder. CW has of course moved on, and some, since then.
This season they've started as poorly as we have. Before Saturday they'd played a game less than us and got the same paltry points total of five but it should be noted that their only win was against Bolton Wanderers (Youth). They had though drawn the last two.
They've got a bigger and I'd say better ground than ours and one which was rather splendid for non-league. Three home games in their average attendance is 7,762 which betters ours by 712. Does that make them (currently) a bigger club than ours? I doubt it as their latest promotion average was 6,552. Ours, in 15/16, was 7,211.
Their finances appear to be in a healthier state than Oxford's but they still seem to be a loss making operation.
In 2016/17 they actually made a gross profit of £0.47m but that was only after the write off of a long standing loan of £2.18m from previous owner Peter Johnson which was part of the sale agreement in 2014 when Mark Palios and his wife Nicola took over.
Having a million pounds written off here and there helps. When have we ever had such fortune and I'm not talking about the Company Voluntary Agreement (CVA) back in the day?
Palios played nearly 300 games for Tranmere in the '70s and '80s and was Chief Executive of the F.A from July 2003 to August 2004.
When he took over he came up with these wise words, ""We have no illusions about the difficult environment in which lower league clubs operate but we have exciting ideas to ensure Tranmere thrives in the future as a successful and vibrant community club which is capable of sustaining itself without being reliant on a benefactor."
The number of times we hear this sustainability thing is way more than the instances of it actually being achieved. Has any FL club actually reached this ultimate goal and are now turning a profit year on year?
In 2017/18 Tranmere made a gross loss of £2.4m before a tax credit of £0.5m.
Earlier this month Palios agreed to sell a minority stake in TRFC to Santini Group, an Indonesian-based investment group which is owned by three brothers Wandi, Lukito and Paulus Wanandi. (What fantastic names). Palios said, "This is particularly important if the club is to aspire to a SUSTAINABLE life in the Championship." Dream, dream, dream, I'd say.
My Expectation
On Friday morning we were sat outside having a coffee when I felt the need to tell Mrs FV with firm certainty that we would win on Saturday. Tranmere were, on paper and as it turned out on grass, a much worse team by far than those we'd come up against in our first seven games. Those teams at close of play, after we had indeed beaten our visitors, sat first, fourth, fifth, sixth, ninth, eleventh and twelfth. If we had not won this one I would have been very angry.
For once I spent a few moments checking what Tranmere fans thought of Oxford and their chances. From Total Tranmere:
As I have said ,we are getting better but still a work in progress so another draw 1-1
Ignore Oxfords position in the table, they've had some very good results this season already. They do concede though. Two Jekyll & Hyde teams so I'll sit on the fence and agree with 1-1. Or 2-2.
That precious first away win's coming sometime soon though I feel. In all honesty, the Kassam isn't a ground I'm particularly relishing the visit to, but even the most tepid locations are cast in a new light by the ever-enthusiastic travelling SWA (Super White Army).
We don't tend to get much at Oxford. Suspect that will be the same today.
Second goal. Photo Simon Jaggs
Oxford United 3 Tranmere Rovers 0
This started as a pretty lethargic affair and the "tepid" description was spot on but the visiting support did, as predicted, generate an atmosphere even if a bloody drum was required. Better that than stony silence and this did to some extent get the home fans in the East Stand at it a bit too. Not that there was much going on in the welcoming mid-September sunshine to cause raucousness amongst those in the stands.
Neither team was producing top L1 quality football. As at many stages last season, until we got our act together late on I couldn't help thinking we've got some good players but not a good team.
Early on those in white were no worse than their yellow counterparts and had a reasonable amount of possession. Villa loanee Rushian Hepburn-Murphy sprinted past Josh Ruffels and hammered a ball back into the six yard box from the bye-line which Simon Eastwood blocked. It then took a brave slide in from Alex Gorrin as David Perkins was about to deliver a telling blow.
Gorrin was back to his best and fulfilling the role he has been brought in to perform. Covering, tackling and showing no little skill on the ball either in a sensible non flashy way along with simple passing.
Indeed our whole defensive shape and organisation was much better than it has been recently. This was down in no small part to the work of the midfielders and wide men too. Tariqe Fosu was back and helping out on more than one occasion. Such contribution is not always noticed but goes a very long way to winning games of football.
Another factor in achieving only our second clean sheet of the season was the calming influence of John Mousinho. I've often thought he's not really a centre half but if we can slot him in somewhere else without leaving out any other player his experience is extremely helpful. Here though he did look like a centre-half and Elliott Moore's enforced late withdrawal due to a back spasm may have inadvertently helped us. Mous had of course partnered Rob Dickie in our two game unbeaten start to the league season.  Tranmere never got close to exploiting a lack of height in our back line.
With the game still without goals Tranmere played a bit of football down the left flank which ended with them getting a shot away from the corner of the area. Eastwood took it on the bounce.
After this I can only remember two incidents where they were anywhere near troubling the scoreboard. One was a very weak second half header and the other the only time where we were caught on the break. Hepburn-Murphy looked to have got through and I feared the worst but referee Robert Lewis had spotted a handball.
It was half way through the first half when we took the lead. Ben Woodburn produced a block tackle well inside his own half which turned out to be a perfect pass to Fosu who had ventured over to the right and away he went with Liam Ridehalgh in retreat. Fosu knocked the ball to Ridehalgh's left and even though he'd given away a yard start raced past and into the area. At the time I thought penalty but as there was no immediate whistle blowing from Lewis, I wasn't expecting it. The linesman's flag wasn't raised and when Lewis did blow I thought darn it, he's going to book our guy for diving. But he didn't, he pointed to the spot.
"Nailed on" said Karl Robinson. "Soft one" said Rovers manager Micky Mellon. Having seen it again it was the correct decision for me. Ridehalgh's right foot came across Fosu and there was also some holding involved.
Fosu was our only starter with "genuine pace" and he can go past one player then another and another. It is a real asset. He probably quite rightly got the man of the match award from the sponsors but football is a team game and our signing from Charlton let himself down by getting involved in an argument over who should take the spot kick. That wasn't the first time he had annoyed me. Earlier he had superbly brought down a Dickie long ball from the centre circle but having cut inside he hit a shot into the side netting instead of looking to find a colleague.
Other than that his input was all positive and he wasn't the only one where apparent greed took over. Jamie Mackie should know better with his experience and had two players in much better positions when he curled one wide. His usual shithousery played a part but I wish he would spend more time paying attention to other details. He was caught offside twice and in the second half didn't look sharp enough when he had a sniff of a chance.
Without doubt our designated penalty taker is James Henry. He is currently demonstrating nerves of steel. He wasn't affected by Fosu's claim and stood hands on hips before calmly scoring. Keeper Scott Davies went to his right as the ball went to his left.
The question now was could we take control and stamp our authority on the game? Initially I thought nothing much had changed but as we passed the half hour mark there was evidence that we were the better team with better players.
We hadn't much looked like adding goal number two though and when the second period began we were playing more like we had done at just gone three o'clock than approaching quarter to four. However as the minutes ticked by our superiority did begin to show again.
Tranmere had men back but we were finding gaps. This came about through good passing, vision, movement and control with some of the play being produced at last well worth the entrance fee.
Our second with 20 minutes remaining was a goal of well worked beauty. Cameron Brannagan angled a ball through to the dangerously alert Fosu who nutmegged man mountain Emmanuel Monthe, who was possibly Tranmere's only positive performer, with a pass to Woodburn. He controlled and turned it back to Fosu with a handful of defenders chasing shadows. A perfect side foot pass set Brannagan up who struck it hard enough to score without the deflection the shot probably took. It is hard to tell whether it came off Mackie or a defender. Replays tell there's quite a strong suspicion that Mackie was offside.
With Tranmere offering nothing the game was all but over. A third was added in added time with another Henry penalty. This time he sent Davies the other way. Shandon Baptiste won this one with a Cruyff turn having made an intelligent run which was expertly picked out by Anthony Forde.
With Matty Taylor coming on too we at last had real strength on the bench.
Some may argue that a three goal margin flattered us but given how dreadful Tranmere were I don't think it did.  Many of their fans had the same opinion of their team as I did. Here's a post-match post from the Total Tranmere site, "We were rubbish today, I can't take any positives from that what so ever. This is not survival form, this is nailed on relegation".
You can only beat what's in front of you and no one present will get carried away following this victory but it is nevertheless very pleasing to end the winless streak we'd been on.
One disappointment was that only 5655 home fans bothered to turn up. This makes us look like a middling L1 club at best. If its goals you're after get along to the Minchery Farm. There's an average of four a game in league matches so far this season and all the better if most of them are going in to our opponents' net. Last season the average was 2.65.
I've not made much comment on the performance of Mr Lewis so before I sign off here goes. He gave each side decisions I couldn't work out and there was a foul given against Ruffels that was utterly diabolical. Ball, Ruffels, opponent in that order. Opponent clips JR's heels and goes over. A Tranmere free-kick. Explain that one.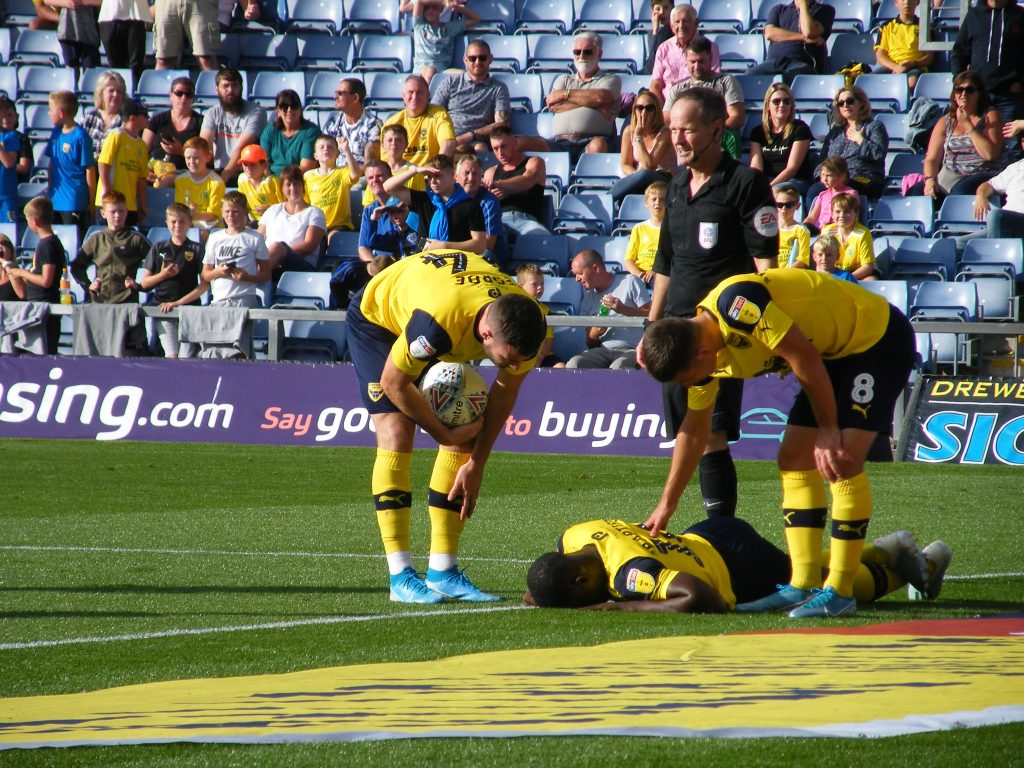 A prone Baptiste after he'd been brought down for penalty number two. Photo Simon Jaggs