FLEETWOOD AWAY
Our opponents
I covered their finances, ownership and BES Utilities back in 2017/18 both in my season preview and when we visited and think it merits a look again at a club with tiny gates that can pay bigger wages than us. Their average home league gate this season before our visit was 2,601. Before casting judgement though it is worth noting that Fleetwood has a population about the same as that of Witney. Our average home gate is 7,050 and I think that is quite poor, particularly if there are genuine ambitions to make it to the Championship in the medium term.
If you search for Fleetwood Town FC's accounts you won't find them. Try Fleetwood Wanderers Ltd and you will.
In 1976 Fleetwood F.C folded due to financial difficulties but were re-established as Fleetwood Town F.C the following year. By 1996 this club had also gone under but reformed in 1997 as Fleetwood Wanderers who were then renamed Fleetwood Town in 2002. That's somewhat confusing given the name "Wanderers" is on the accounts.
The latest accounts are to y/e 30/06/18.
The company's ultimate parent company is considered to be Jaymel Limited. The other subsidiary under Jaymel is Commercial Power Limited. They are both owned by Andy Pilliey, the owner of the football club as is BES Utilities.
As ever it is all very confusing for a layman like me but once again evidence points to a club being in far from sound financial health.
There is an excess of liabilities over assets of £8.6m and net current liabilities of £14m.
The auditors note that Fleetwood Town requires continuing financial support from its director, Mr A J Pilley, and other companies controlled by him and that he is willing to provide such support for the foreseeable future. However Mr Pilley felt it necessary to draw attention to the fact that the BES Utilities Group, who are a significant creditor, have disclosed a material uncertainty about their ability to continue as a going concern in their most recently published accounts.
BES Utilities Group breached one of four loan covenants they had with Lloyds Bank Plc and if not renegotiated, this facility could be withdrawn and a demand for repayment made. Given the indebtedness of Jaymel group companies to BES group companies this in turn indicated a material uncertainty of the football club as a subsidiary of Jaymel group to continue as a going concern
Presumably terms were re-negotiated.
Gross profit was £4.7m but admin expenses were £9.4m which would equate to quite a loss were it not for "other operating income", whatever that is of £5.1m. The previous year other operating income was much less at £1.7m. Creative accounting? Anyway this brought the final tally for the year to a profit of £416k.
Employee and directors costs came to £6.8m.
An intercompany loan of £4.8m was written off. (Something to do with the other operating income?)
Almost every time I look at accounts of football clubs I'm struck with the thought they can't keep going on like this. But they do. Or perhaps not in the case of Bury. Anyway if Pilley were to pull out what would become of Fleetwood and if his companies are struggling that must surely increase the likelihood of that happening. I am of course just guessing at this and fans of the Cod Army should have a more realistic and up to date picture of where their club is at.
On the field Fleetwood had an unbeaten home record stretching back to mid-February and we'd never beaten them home or away in eight previous attempts. They have goal scorers in their ranks and we leak goals for fun. The omens were not good.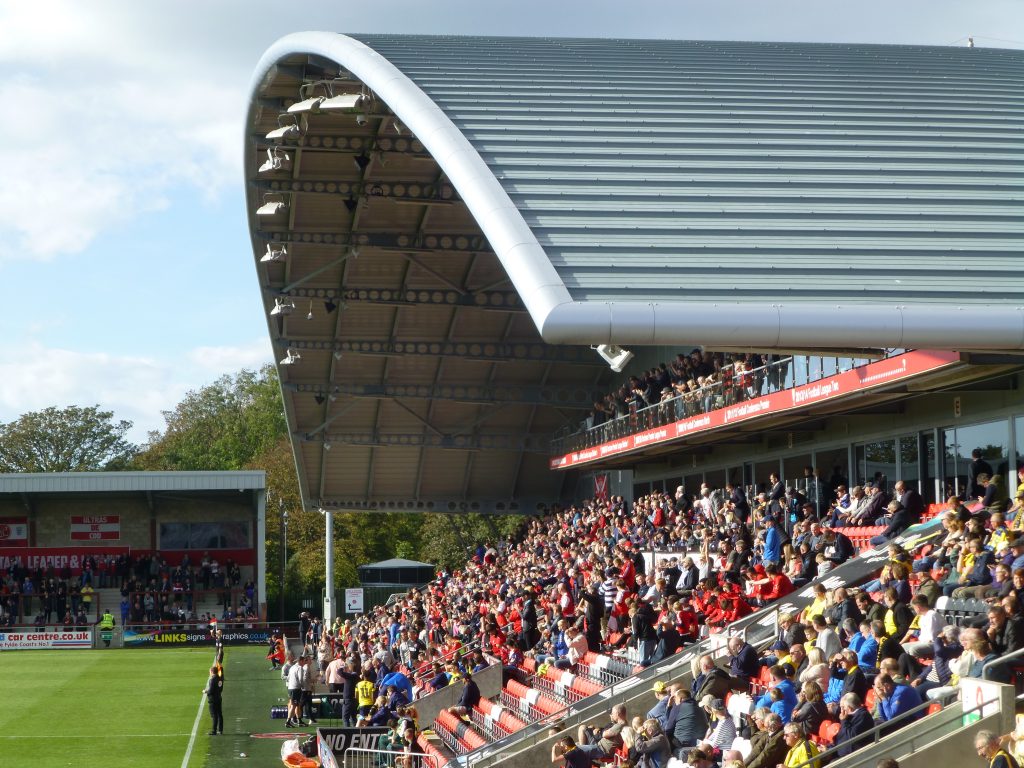 Fleetwood Town 2 Oxford United 1
It isn't just these facts that make this one of the trips I don't particularly look forward to. There's something a bit non-league about the Highbury Stadium. It's only the 111th largest in England and only holds 5,327 but never seems to be more than half full when we visit. Nor have I ever detected much of an atmosphere being generated by the home fans. The away terracing and seating is not going to be rocking as we never perform there.
The standard was set back in January 2013 on our first visit to the pretend Highbury when we had Wayne Brown in goal and embarrassingly let in three without replying.
On recent trips here pubs visited have largely let us down. We no longer bother with the Strawberry Gardens or the Steamer.  The Royal Oak though is somewhere to head for and enjoy. Now covered in scaffolding as it is having new windows put in, it is rightfully – unlike some pubs in my opinion – Good Beer Guide listed. CAMRA discount brings the price of a pint down to £3.05.
There was a guy at the bar in exactly the same place as he had been when we turned up last season. His mate said "he hasn't been home yet". We again had a good chat with him. The welcome, for us once a season types, was totally natural. A tattooed lad drinking on his own in the corner offered his services as photographer so all of our party could be in the picture. A bloke at the bar pointed out where the toilets were the split second it was clear I was struggling to remember from the last time.
I note that Sarge is friends on FB with the Paynes, who if not owners, are heavily involved in running the Royal Oak. Must be to do with the music.
The walk from pub to ground is but a short one. Tickets have to be purchased from a small office with two windows. "One for away standing please" and I immediately added "what is the age for concessions." The reply was "Seventeen". Bit young I thought so I asked again and got the same answer. So I rephrased the question, "How old do you have to be for a senior ticket". "Sixty five", now we were getting somewhere. But, and it was to my advantage, by then he'd already printed an over 65 ticket for me at the price of £17. I told the young fella I didn't want to rip his club off but he said take it. So I did. Another of our little group who could legitimately claim the reduced rate had great trouble in actually getting it for some reason. Bizarre.
The turnstiles directly next to the ticket office had a sign above them stating "away seats" so I set off down Nelson Road, right onto Hatfield Avenue, then on the corner with Highbury Avenue turned towards the entrance for the terraces. There I was met by two stewards, one of whom said "back down there first left, first left". "But that's where I've just come from and it says seats". "Health and safety". I later found out there was some problem with a floodlight.
I wasn't the only one who took an unnecessary little stroll. Why didn't they tell us when we purchased our tickets and why hadn't they put an additional sign up showing us where we should enter?
All very amateurish.
Shame for us that the football team we faced was anything but amateurish.
On the journey home I texted Mrs FV, "We were no good. Two goal margin would have been fairer".  She responded "Unfortunately that's what RadOx said too".  It wasn't just me. Tommo's face tells how he thinks we're doing. He was scowling. He's based up north so that's where he sees most of his Oxford games. "We were so good at Blackpool and now this".  Mark who normally has no truck with any perceived negativity didn't just agree that we were bad. He thought we were "very bad".
Facing an in form home side it was to be expected that the game would mostly be played in our half and that's how it went. The pattern was established from the start and with a quarter of an hour gone they'd scored. As the half an hour mark approached my thinking was we have not played yet and Fleetwood have not got a second so perhaps we've a plan to come on strong later on and take the spoils.
On 33 minutes we'd levelled and there was a slight spell in the second half when we were pressing as a collective and preventing Fleetwood from running proceedings. That didn't last though and it was far from being a shock when the third goal of the game went to them with just over ten minutes remaining.
They then saw the remaining minutes through to the final whistle out without noticeable panic such was the paucity of our attack. We had five shots in total with just two shots being on target.
Other than three incidents, I can't recall us coming anywhere near scoring a goal.
There was of course the goal itself.
Midway through the second period we put together possibly the best passing move of the game. Our possession was good and Fleetwood were chasing the ball and our players. The culmination of the move saw a very good save from Matt Gilks, a keeper who seems to have been around forever, to keep out a close range James Henry header. Even that wouldn't have counted as the linesman had raised his flag. That passage of play was a rare glimpse of effective football from the mediocre yellows.
The third incident again involved Henry.  He went very close with an unexpected shot from range. It was a great effort and basically all his own work.  For me that emphasises our lack of creativity. If it had gone in it would have put us 2-1 up and who knows how the game would then have played out? A win perhaps? Would my overall assessment have then been massively different? Possibly but I suspect I would have acknowledged that we had been lucky.
As it was, not that much further on the score was indeed 2-1 – but against us.
We're supposed to be a passing team that bases its game around keeping the ball. Fleetwood had 60% possession. They made 457 passes to our 303. They made 92 long passes to our 87. Their overall passing accuracy was 75%. Ours was 67%. In opponents' half these figures were 60% to 54%.
When Gilks had the ball he was quick at rolling it out very short to a willing red shirt. We never set about stopping this. I thought their long balls were more effective than ours but that's no wonder as they had more players ready and able to receive.
The stats do show us being superior to our hosts in certain areas. We won 52% of duels and 53% of aerial duels. There are however some duels that are more important to win, and win with meaning, than others. Winning the second ball can then become what it is all about.
One nil – A left wing CORNER is headed away by Rob Dickie but nowhere near far enough away to clear the danger. It went up and into the D where Shandon Baptiste was wrestled to the floor, the ball falling to Jordan Rossiter who turned and crashed a shot against Simon Eastwood's left hand post. Paddy Madden then reacted way quicker than our defenders to easily convert. On the day I thought it was 100% a foul and was surprised when Trevor Kettle didn't give it but there was a lot here that says we deserved to concede from this. The initial header didn't clear the ball. Baptiste could have been stronger. Both players were holding each other before the corner was taken. We should have played to the whistle and have been much more switched on and if Jamie Mackie had got out as quick as the rest of the yellow shirts it would have been offside.
One all – We had a CORNER that was headed out but Henry then feeding Anthony Forde meant we were able to recycle the ball and Elliott Moore sent a bullet of a header past Gilks. He wasn't marked but it was some finish and had probably as much power as some players can generate with their boots.
Two one – Another Fleetwood CORNER where the attacking side were able to pick the ball up once it left the penalty area and then get it back in with little pressure applied to prevent it happening. Josh Ruffels was then outjumped by 37 year old defender Peter Clarke with a flat footed stay at home Eastwood being a couple of yards away from keeping it out.
CORNERS – yes all the goals in this game came from them. It goes without saying we need to defend them better as a team from goal keeper, to the clearer, to the closing of the second ball to everyone knowing what their job is, and doing it to the best of their ability, once the first touch has been made. This also yells out to me that we need to be more focused on scoring a much greater amount of bread and butter type goals from dead balls played into the opponent's penalty area. We have not got a forward with anywhere near average strength in the air from what I've seen but we do have Elliott Moore so again I'll say it – why the f**k do we persist in playing free kicks backwards and sideways only to lose the ball when they are easily within range to be launched at the opposition goal? I get so angry about this. We even do it as on Saturday when we'd proven that in possession we'd been very poor at creating chances. I'd like to know what the analysts make of this. What percentage of goals/chances created come from set pieces?
It is also evident that our opponents, like us, are not that great in repelling such attacks and look quite vulnerable. A goal that is put in the back of the net after a 20 pass move only counts the same as one scrambled over the line when a giant has caused confusion following a corner.
With an average now of 2.14 goals conceded per game, every team other than Bolton, who may now be a different beast to the children they've been to date and the so far hopelessly pointless Southend, are statistically better defenders than us.
It's not just about becoming stronger and solid when facing corners. There's greater weaknesses than that. We could have let in more here. I'm pretty sure a slowed down TV replay shows a Fleetwood shot hit the bar before going over. We got away with just a corner when a bit of pinball defending could very easily have resulted in an own goal or a tap in and there were other instances when a goal wasn't far away.
A lot of this is a broken record but given it is not new, I'm at a loss to understand why there's little, if any, evidence to show we've gone about fixing what is broken. Have we not got the players to do so?
Our back line gets very little protection from the midfield. Mark observed that the fullbacks particularly lacked support. My focus was more on what was happening more centrally. I thought Alex Gorrin was going to be the guy who played deep, broke up play, harried, was a nuisance, and covered space. Fleetwood players were going past him really easily. I didn't think his replacement Jamie Hanson was any better and now he's injured.
Baptiste too wasn't providing anything much defensively. All round there was a lot of getting the wrong side and then in effect having no value from a defensive perspective.  In a way I can kind of forgive SB that provided he's at it with his attacking hat on, going past players and making things happen. He didn't do that here and had no noticeable influence nor did Tarique Fosu in the 10-15 minutes he was given. For me they made a big difference when they arrived against Coventry. Not the same by any stretch of the imagination against Fleetwood.
Cameron Brannagan's frustration in our inability to play as a good sound well organised L1 team was palpable and I liked that because it shows he really cares.
Once more we had a lack of leaders on the pitch. No-one was organising, pointing, encouraging and ensuring we moulded into a cohesive force. Mackie was captain and with his experience I expected a lot more. If it wasn't for the [c] against his name on the scoreboard I wouldn't have known.
For all the moaning, and you can include me in that, about our lack of having a strike force we're the 12th best at goal-scoring with an average of 1.43 per game, although we must thank  Coventry's Dabo for 20% of our total scored.
Since his shithousery style began to help us out I've been much more of a Mackie fan than many but the fact that we keep playing a 33 year old, who doesn't score many goals, for the full 90 minutes as the lone man up front highlights a huge problem.
Would a fit Matty Taylor be answer? I really am not convinced. Firstly though he needs to get fit but secondly I'd need to research what made him as potent as he was during his successful spell at Bristol Rovers. What type of chances was he putting away? What type of player was creating them? Do we have a similar player?
Having deliberately missed the Leasing.com Trophy I can't comment on Dan Agyei. Will he be our goal scorer? Will he have physical presence? Is he any good in the air? Does he have pace? Not once on Saturday did I see an Oxford player running which made me think he's quick he's causing problems.
As he's been given a three year contract he is obviously seen as a long term project but I do find it a little galling that we've now played 16% of this season's league games and we've got recruited players that are not yet ready. There's midfielder George Thorne too. Perhaps I'm being too much of a short- view but how many other teams are in a similar situation?
It also annoys me intensely (what doesn't) that Ben Woodburn can be taken away from us by being called up to the Wales squad only to not even be on a bench of twelve outfield players. He could have played for us, no problem. We really could have done with his talent.
There are very few mugs in this league and if we continue to play as we have been we'll be battling against relegation throughout a season when the Bury and Bolton situations have meant that any team other than the Trotters who suffer the drop should go down with the reddest of red faces.